André Leon Talley's Biggest Bombshells About Anna Wintour & More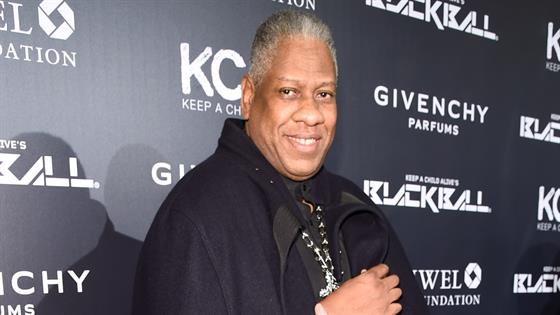 André Leon Talley is ready to tell his story. All of it.
The larger-than-life former editor-at-large of Vogue is taking fans of the venerable fashion magazine deep into what life working alongside famed editrix Anna Wintour is really like in his new memoir The Chiffon Trenches. In the just-released book, his second memoir following 2003's A.L.T, Talley chronicles the ups-and-downs of his tumultuous relationship with Wintour, revealing what The Devil Wears Prada got wrong, and more importantly, right about her.
Along the way, he gives fresh insight into a groundbreaking career in fashion that dates back to the '70s, revealing shocking stories about his interactions with luminaries like Andy Warhol, Halston, Yves Saint Laurent, Princess Diana, Madonna and more. While Wintour takes center stage for much of the book, we also learn about his longtime and, ultimately, tragic friendship with the late Karl Lagerfeld, who perhaps kept Talley on his toes as much as Wintour did.
Why the second book now, all these years later?
"That book is something I'm immensely proud of, and if you read that book you'll truly get a sense of what shaped my personality and my aesthetic eye early on," he write of A.L.T. in The Chiffon Trenches. "But I still had to bite my tongue about certain people, for fear of reprisal."
Suffice to say, he's not fearing reprisal anymore. For the 20 biggest bombshells from Talley's new book, read on!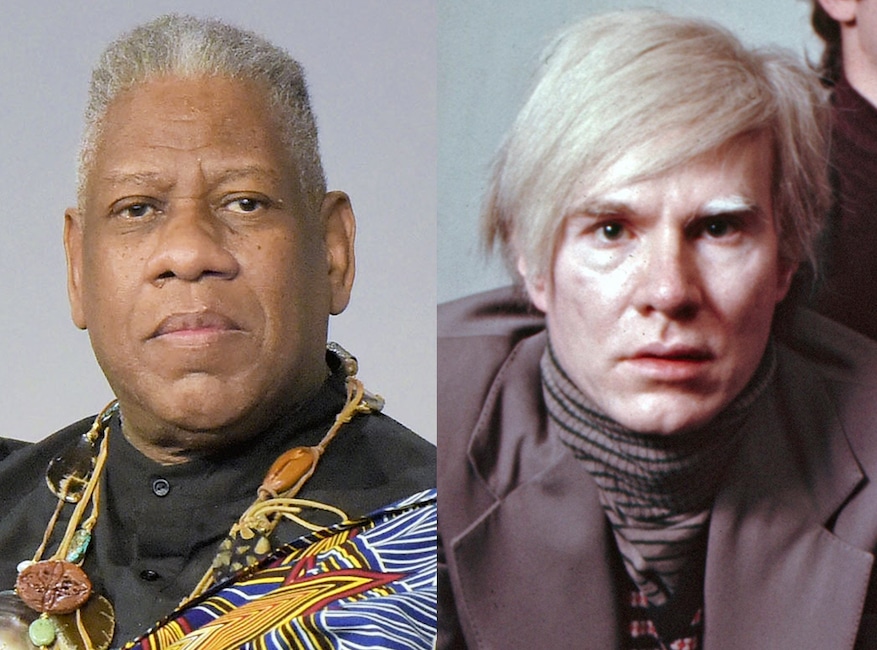 Chance Yeh/Getty Images, Jack Mitchell/Getty Images
In his first job as an assistant at Andy Warhol's Interview magazine, a position he secured with the help of mentor and then-Vogue EIC Diana Vreeland, André Leon Talley was asked by the eccentric artist to participate in both his Oxidation ("aka the 'piss paintings'") and Sex Part (exactly what they sound like) paintings. "We were in Interview editor Bob Colacello's office and Andy said, 'Gee, André, just think,'" he writes. "'You could become famous, make your c–k famous. All you have to do is let me take a Polaroid of you peeing on the canvas. And I will give you one as a gift.'" Andre turned him down on both offers.
"Instantly I said, 'No thank you, Andy.' All I could think of was my grandmother, or my mother, or father, hearing about me. Peeing for art? It would have broken Mama's heart to think that although I was living a successful, adventurous life in New York, I was spending my time creating paintings with urine."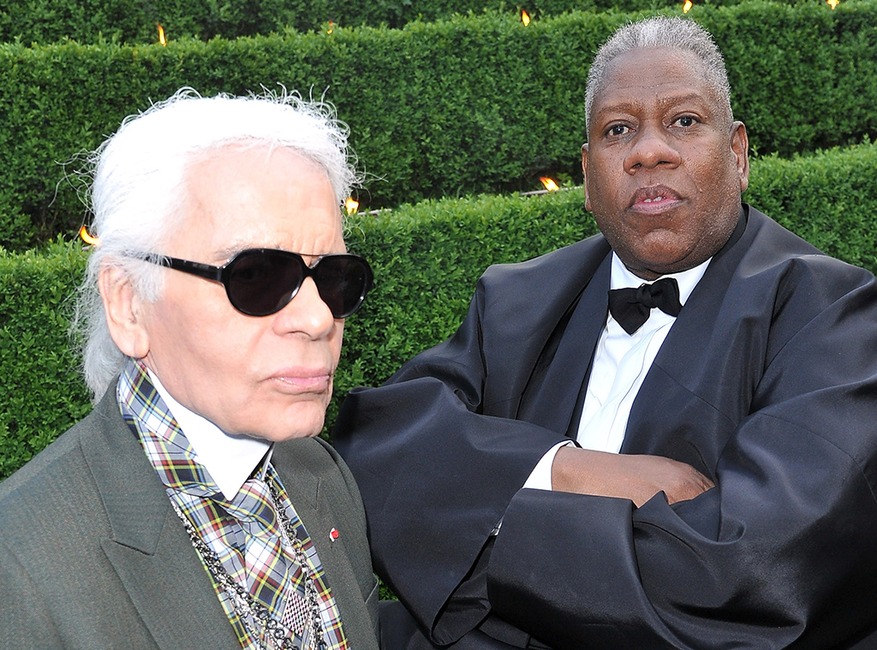 Pascal Le Segretain/Getty Images for Chanel
Andre's iconic wardrobe choices began when his friendship with Karl Lagerfeld did. "I followed Karl into the huge bedroom, crowded with Goyard jacquard trunks and suitcases of every possible size and dimension. He opened the trunks and, out like a geyser spitting forth toxic ash, he threw beautiful silk crêpe de chine shirts in kelly green and pink peony, each with a matching scarf. 'Take this. It will look good on you. Take that. I am tired of these shirts! You should have them,'" he writes. "He'd had these shirts specially made by the gross at the Paris firm of London haberdashery Hilditch & Key. They had long sleeves and beautiful buttons, like smocks. I took them happily. Those shirts were the stars of my wardrobe; I wore them like a badge of honor, until they wore out. That's how Karl and I first met."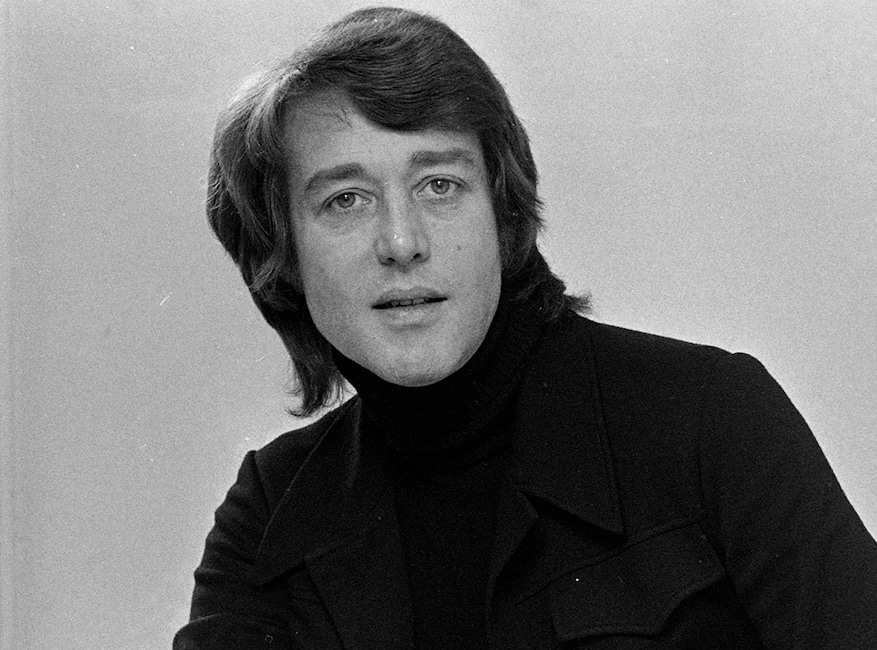 Fairchild Archive/Penske Media/Shutterstock
Working as a reporter for Women's Wear Daily, he would soon be invited to dinner at the legendary designer Roy Halston's house and the menu was quite wild. "Halston used to have me over for dinner, just the two of us, and he would serve a baked potato with caviar and sour cream. For dessert: a small mountain of high- class cocaine served in an Elsa Peretti sterling silver bowl," Andre writes, adding that that particular dessert wasn't his cup of tea. "I snorted a line or two, to be polite to my host, and that was it. I never wanted to feel out of my sphere of control. My destiny was not to be hooked on coke."
Article continues below
PL Gould/IMAGES/Getty Images
While explaining how sex left him both "confused and bewildered," Andre admits that his "innocence" had been "shattered by a man who lived on the next street" when he was just a child. "His name was Coke Brown, or at least that was his nickname in the neighborhood. He lured me into the woodshed, directly underneath my wood- framed house, in the damp, dark earth, where he proceeded to take advantage of my youth and my naïveté when it came to sexual encounters. Afterward, as he zipped up his fly, he said, 'This is our secret game,'" he explains.
Soon, "a series of older brothers" began luring him into their woodsheds and, confused and afraid of being "discovered," he suffered in silence, never telling anyone in his family he was being assaulted. "I felt I had no choice. I kept it all to myself. I simply pushed through the pain and betrayal in silence, never having counsel or seeking psychiatric help," he continues, adding, "I survived the destruction and taking of my innocence, though I know it is the cause of many of my personal issues as an adult. The hard drive in my brain was scrambled early on. It kept me from ever knowing how to respond to romance."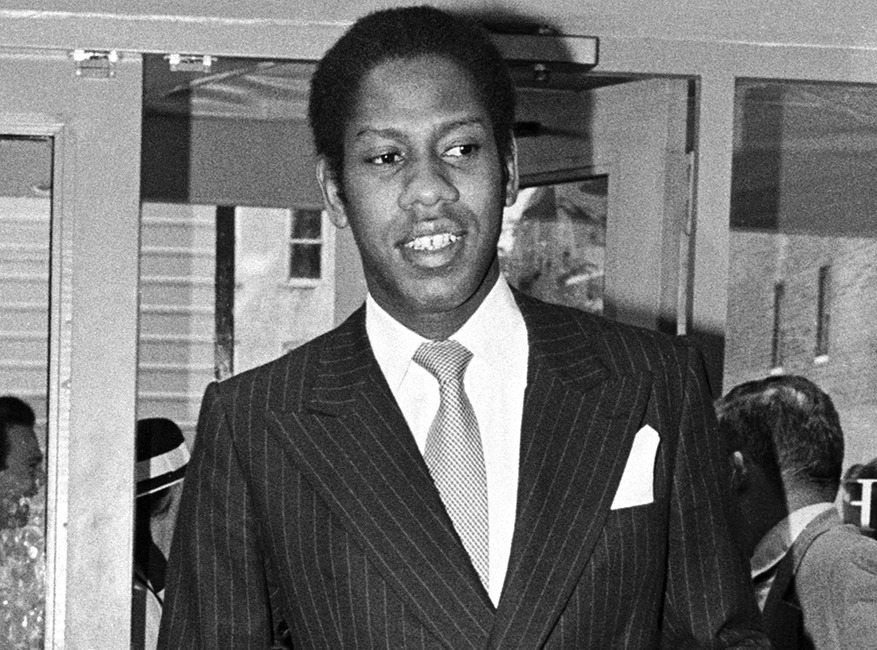 Fairchild Archive/Penske Media/Shutterstock
After moving to Paris in the late '70s and eventually becoming European fashion editor of WWD and W, Andre soon learned that the people he'd begun palling around with weren't always so kind behind his back. "One night at a party, Paloma Picasso asked to speak to me privately. 'André, I don't know how to say this, but I think you should know. Clara Saint has been going around all of Paris referring to you as 'Queen Kong.,'" he writes, explaining that Clara was the publicist for YSL Rive Gauce. After being accused publicly by one of his bosses at WWD of being "in and out of every designer's bed in Paris," Andre resigned his post, feeling so disrespected at the accusation. He would later learn through Oscar de la Renta that the resignation had been orchestrated by John Fairchild, the editor and founder of both WWD and W, after being given an ultimatum by Pierre Berge, the co-founder of Yves Saint Laurent, who said that if Andre were to remain in Paris, the fashion line would pull all their advertising revenue from both publications. (Karl and Yves were personal and professional nemeses and YSL believed Andre posed a threat to them through his friendship with Karl.) Years later, the same YSL publicist offers Andre, then a big name at Vogue, the opportunity to write Yves' biography.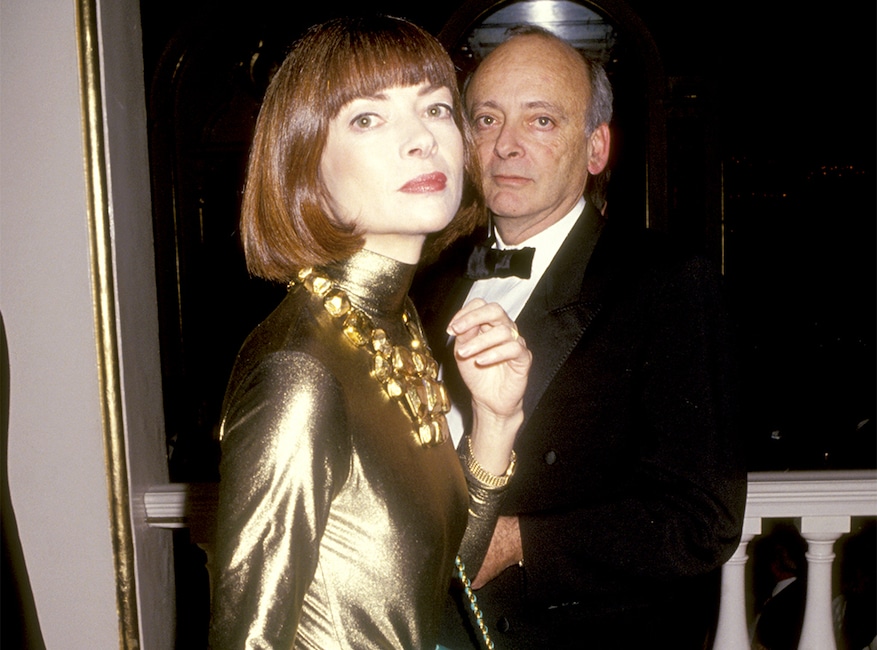 Getty Images
After returning to New York, he eventually lands a role with Vogue, serving as fashion editor. It's then that he meets Anna Wintour, then the publication's creative director, and gets caught in the power struggle between her and EIC Grace Mirabella. When she marries psychiatrist Dr. David Shaffer in 1984—" in the middle of the day, in the middle of the week"—he's invited to the luncheon for 40 and Grace is not. He is one of only two people from Vogue there. Rather than throw her bouquet, "Anna ignored the eager crowd, walked down the steps, came directly to me, and thrust the bouquet into my chest," Andre writes. "'Here, take care of this.'"
Article continues below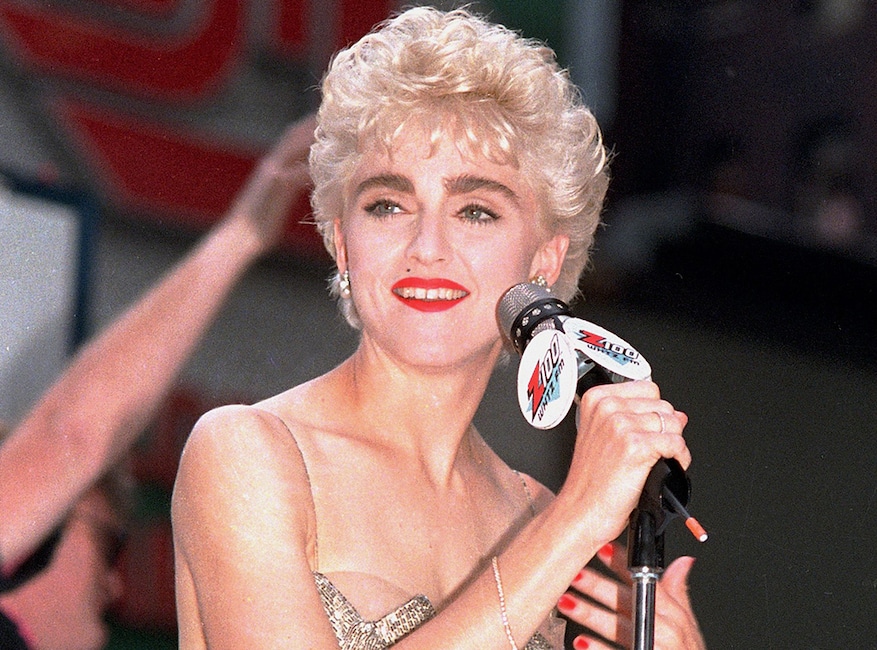 Susan Ragan/AP/Shutterstock
When Anna returned to Vogue in 1988 as EIC, replacing Grace, she named Andre creative director. "There was no higher accolade she could give me, as the masthead portrayed. Anna Wintour made me the highest-ranking black man in the history of fashion journalism," he writes of a ranking he'd maintain until Edward Enninful's promotion to EIC of British Vogue 30 years later. One of his first big assignments was handling Madonna's first cover shoot in 1989. Upon meeting the pop diva in Los Angeles, "she smiled warmly when she introduced herself and said, 'Hi, I'm Madonna, you want a blow job?" he reveals. "'No thanks,' I replied. I am sure she was joking and just breaking the ice, as we had never met before. I was flattered and continued to unpack my large black cases from Paris."
Eugene Gologursky/WireImage
While revealing what the offices of Vogue are really like, he breaks down what The Devil Wears Prada got wrong. "For instance, Anna Wintour would never throw down her bags and coats," he writes. "And girls didn't run up and down the halls in high heels. People did not carry on like that. Vogue was a culture of deportment, a culture of manners. This was all unspoken, yet it was crystal clear. Flowers were sent and thank- you notes were handwritten. You established relationships and you adhered to them. You were meticulously groomed. There was no vulgar language, you did not walk into the office drunk or hungover, and you certainly did not bed designers."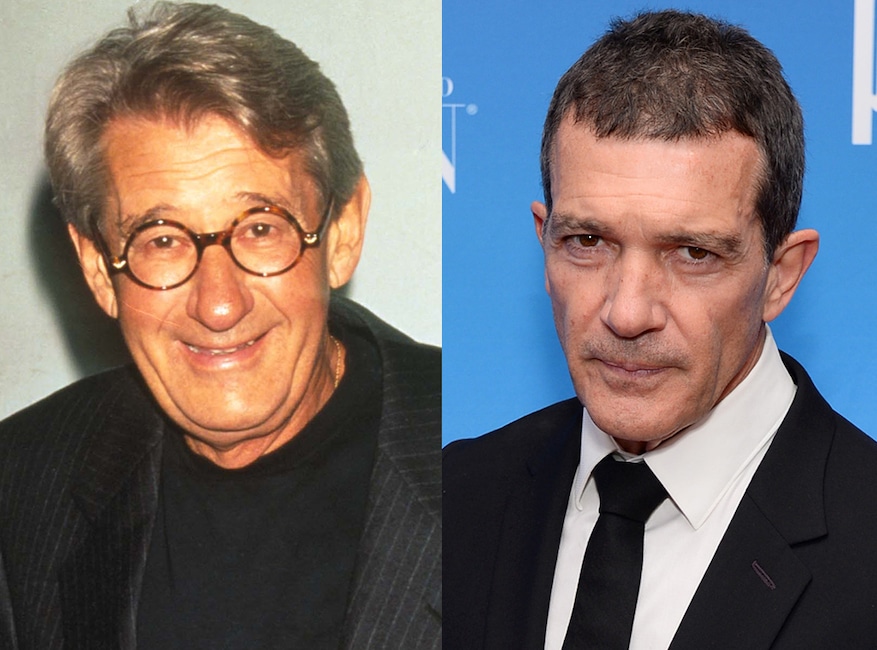 Evan Agostini/Liaison, Andrew Toth/Getty Images
After returning to Europe as Vogue's Paris editor in early 1990, one of his main jobs became accompanying photographer Helmut Newton on shoots for the magazine. After a shoot with an up-and-coming Antonio Banderas, in which Helmut "sprayed talcum powder on the mirror and had Antonio simulate sniffing a substance." Anna did not take kindly to this artistic direction. "Soon after the pictures arrived at Vogue, I got a call from Anna. She screamed at me, 'This is a woman's magazine, what were you thinking?!'" The photos were never used and Andre was never sent to work with Helmut again.
Article continues below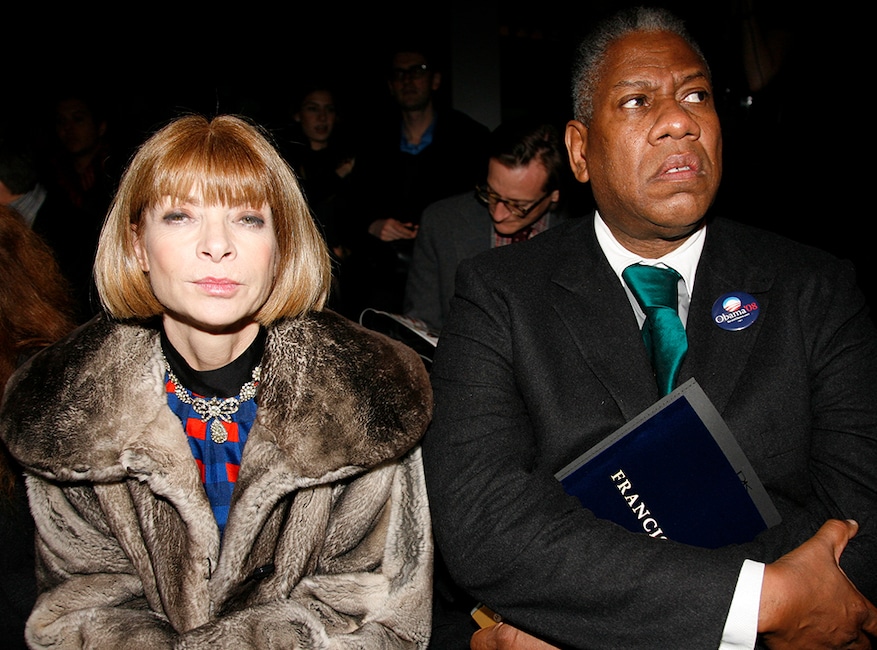 DAVID X PRUTTING/Patrick McMullan via Getty Images
Andre left Vogue in the mid-'90s after his relationship with Anna deteriorated and he returned to Durham, N.C. to live in the house he'd purchased for his late grandma. One night, he received a call from Anna telling him her mother had died. She was in London and her husband was in NYC with their kids, unable to get to her because of a blizzard. David asked if he might be able to instead, so Andre went. "From a pew in the back, I watched Anna give her eulogy. She was close to her mother, though she didn't talk about her that much. So it was a shock when, at the end of her eulogy, tears welled up in her eyes. Anna broke down, in front of everyone, and ran out. I instinctively got up and walked beside her, cradling her in my arms as we made an exit. It was perhaps the one time I really ever held Anna Wintour," he writes. "In this moment, I was not her employee, I was her close friend. We officially made up and began spending time together socially."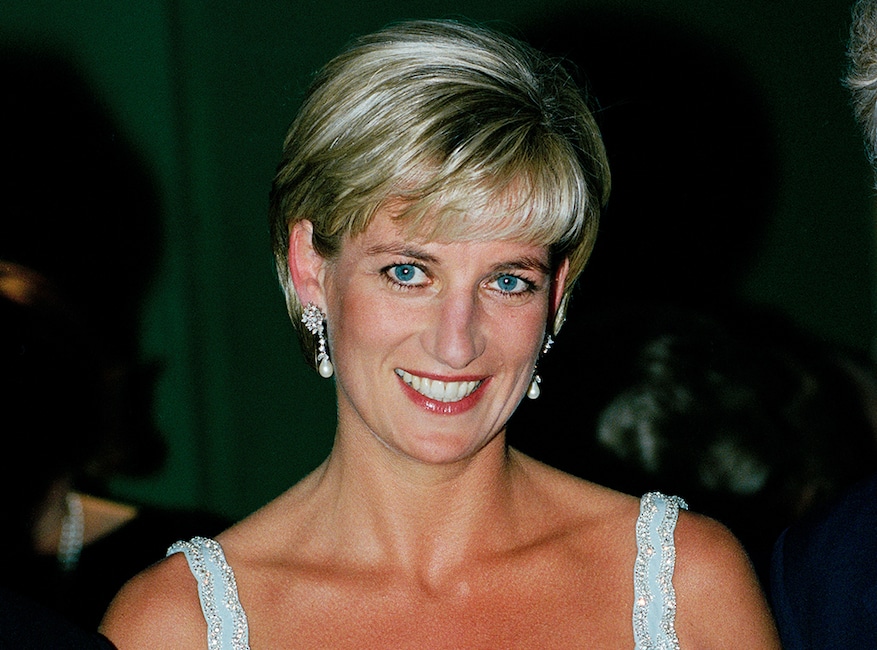 Tim Graham Photo Library via Getty Images
While working for Vanity Fair, Andre attended a luncheon with Anna in Washington D.C. in honor of Princess Diana. "To my surprise, I was seated to the right of Diana. This was indeed an honor. I was the only black man in the room," he writes. After clarifying with her that models lived on more than a diet of lettuce and Diet Coke, he made "a colossal blunder."
"My elbow knocked Princess Diana's red wine glass straight into her lap. There was an audible gasp at the table. I said to myself, inside my head, Oh, well, this is it, you'll never be asked anywhere ever again. You are sunk. With grace and total ease, Diana dipped the edge of her linen napkin in her water glass and looked at me with a beautiful smile as she blotted her dress. 'Oh, it's nothing,' she said."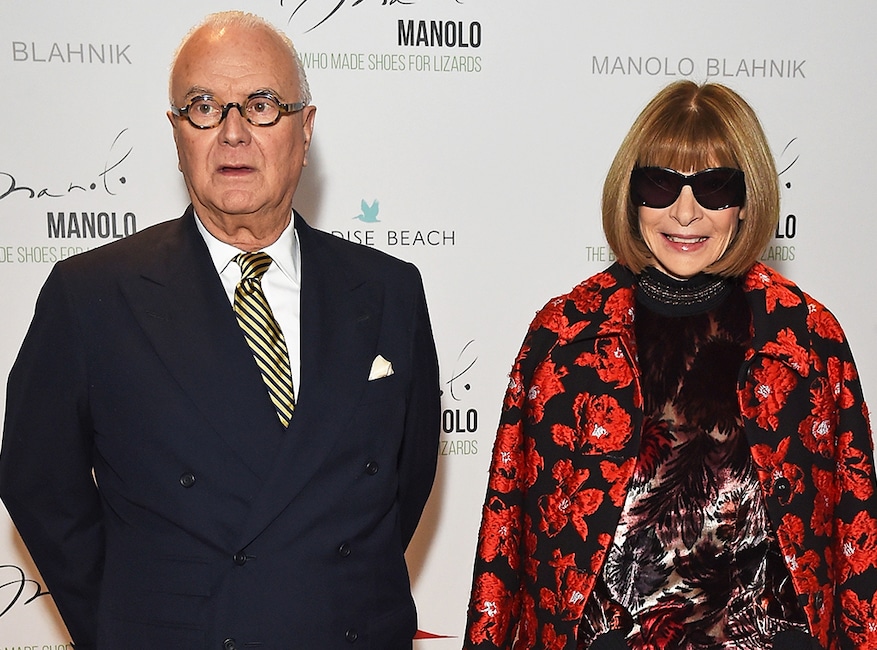 David M. Benett/Dave Benett/Getty Images
If you've ever wondered what shoe Anna is wearing at all time, allow Andre to explain. "Now, I can say with all authority, Anna's had a lifetime of Manolo Blahnik custom- ordered footwear given to her by our mutual friends, Manolo Blahnik and George Malkemus III," he writes. "Manolo Blahnik holds back nothing for Anna Wintour. In turn, Anna Wintour has not worn any other shoe but Manolo Blahnik— except for little Chanel ballerinas on the weekends— since 1989. I would meet Manolo and tell him what colors and styles Anna wanted, then he would create eight or nine versions for her to choose from."
Article continues below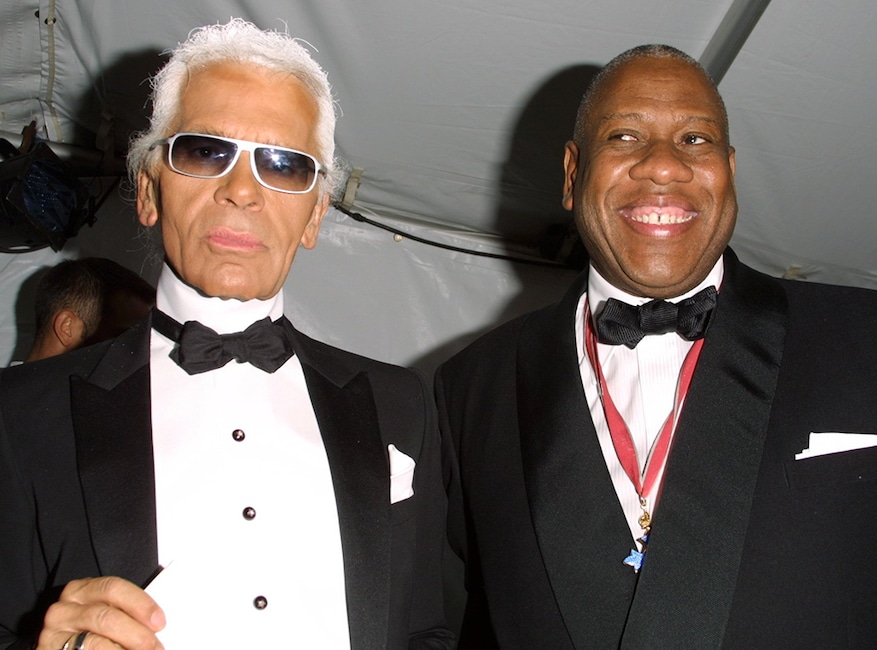 Matt Baron/BEI/Shutterstock
After a visit with Karl at his villa in Biarritz for the entire month of August 2000, for which the designer footed the entire bill and then some, Andre wanted to give him a gift that would express his gratitude and somehow impress his extravagant friend. "He loved four- leaf clovers as symbols of good luck, so I thought it was particularly good luck when a jewelry dealer showed me an antique eighteen- karat- gold stickpin with a four- leaf- clover diamond embellishment. It was, for me, a very expensive gift, even on a solid salary. I bought it and was proud to give it to Karl. At last, as a gesture of friendship, I could offer him a gift worthy of his vast collection of jeweled stickpins," he writes. "How hurtful it was when I found out soon after that he had regifted it to Eric Wright. No one could ever give Karl anything."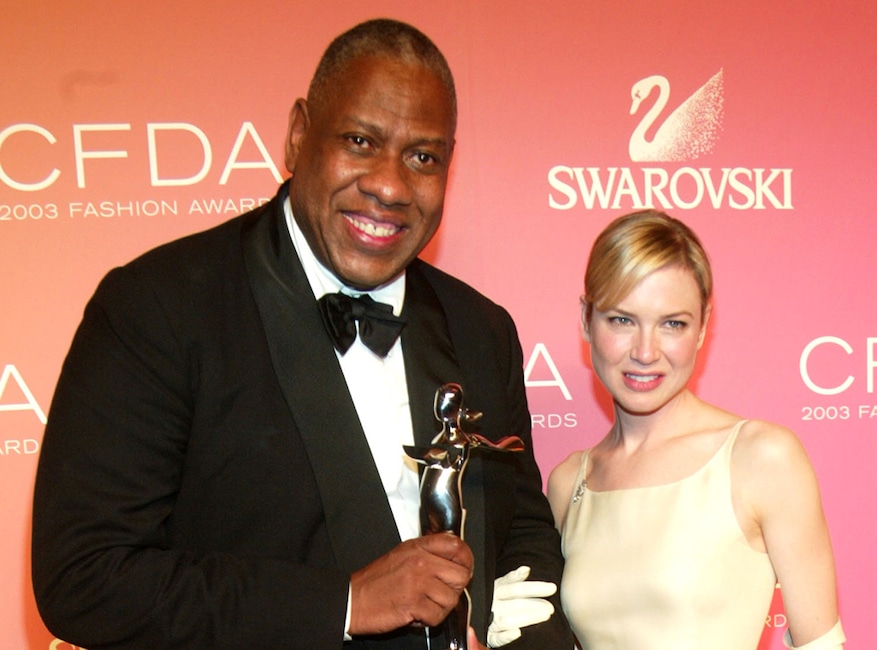 Evan Agostini/Getty Images
Having returned to Vogue as a freelancer, Andre was entrusted to do a full couture photo shoot with Renee Zellweger, who had just won her first Golden Globe for Nurse Betty. And she made a serious impression on him. "Of all the Hollywood film actors I ever met, Renée is the only one who has the eye and mental agility necessary to be a serious fashion editor," he writes. "We remain friends to this day, regularly exchanging details of our lives by e- mail."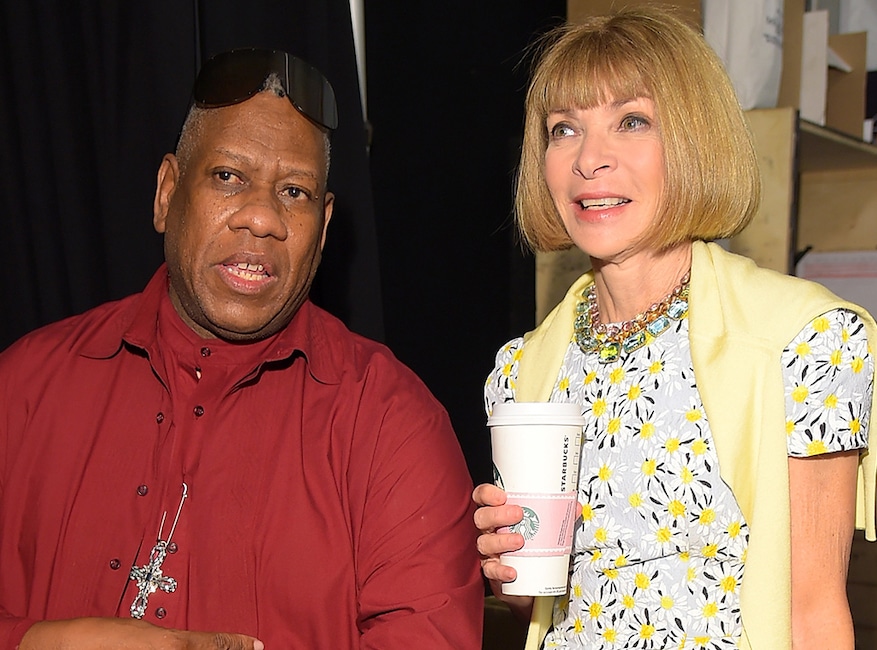 Michael Loccisano/Getty Images for Mercedes-Benz Fashion Week
One day, he arrived at work at Vogue's offices and was greeted by the publication's public relations director, who said they were needed in a conference room downstairs. He thought he was being fired. Instead he found himself in a room with his pastor, Dr. Calvin O. Butts III, of Abyssinian Baptist Church, Oscar and Annette de la Renta, and Anna and her new boyfriend Shelby Bryan, gathered to hold an intervention on Andre's weight. "It was explained that my weight was out of control and I was being sent off to rehabilitation at the Duke Diet and Fitness Center in my hometown of Durham, North Carolina. A first- class plane ticket had already been purchased for that same day," he writes, explaining that he didn't get on the plane until a year later. Vogue paid for the entire three months, where he lost a total of 55 pounds. But after returning to New York, he eventually fell off the wagon and gained all the weight back. "Since then, I've returned to Duke three times. It's been a yo- yo battle I long ago realized I will never win." He writes that he tried gastric Lap-Band surgery (under the fake name Dolly Longstocking) which also didn't work. "I have no answer as to how to overcome this," he says of his struggles with food. "I will try until I die, every day. Just keep trying to be well. Enough said."
Article continues below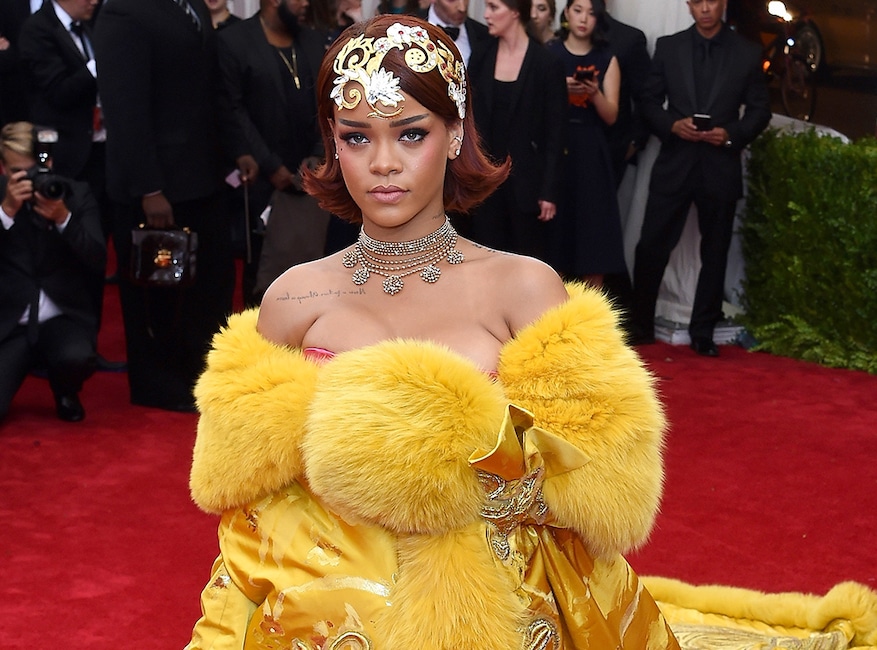 Jamie McCarthy/FilmMagic
A long-time fixture of the Met Gala, Andre has seen plenty of A-listers strut their stuff on the steps of the red carpet. But only one warrants the high praise of "real-life dream," and that's Rihanna in her mandarin yellow Guo Pei cape from 2015. "Rihanna arrived exactly on time and slowly did her RiRi formation, giving the paparazzi what they wanted. As she climbed and posed, eight tuxedo- clad trainbearers carefully arranged the coat in a dramatic pool of fabric, spangles, and fur. The coat expanded, like a wingspan, across the entire width of the carpeted steps," he gushes. "Rihanna is forever in the annals of the Met. A real- life dream. The power of a woman of color, ascending to her deserved moment in the sun. She outshined every single star that night. It was glorious to behold."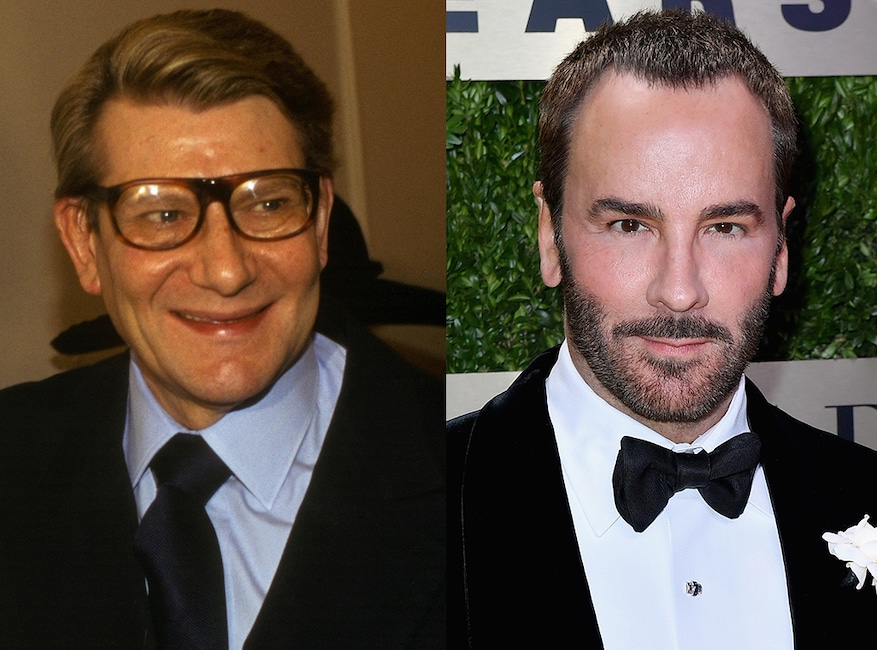 William STEVENS/Gamma-Rapho via Getty Images, ANGELA WEISS/AFP via Getty Images
Andre also dishes on the bitterness between Yves Saint Laurent and Tom Ford after the latter began designing for the former's namesake label. "Tom told me over dinner at the Carlyle Hotel that he has terrible letters in his possession, handwritten to him by Yves," he writes. "After one particular show, Yves wrote: 'In 13 minutes you have managed to destroy 40 years of my work.' Tom won't reveal any further contents but assures me they are the meanest and most vicious letters he has ever received in his lifetime."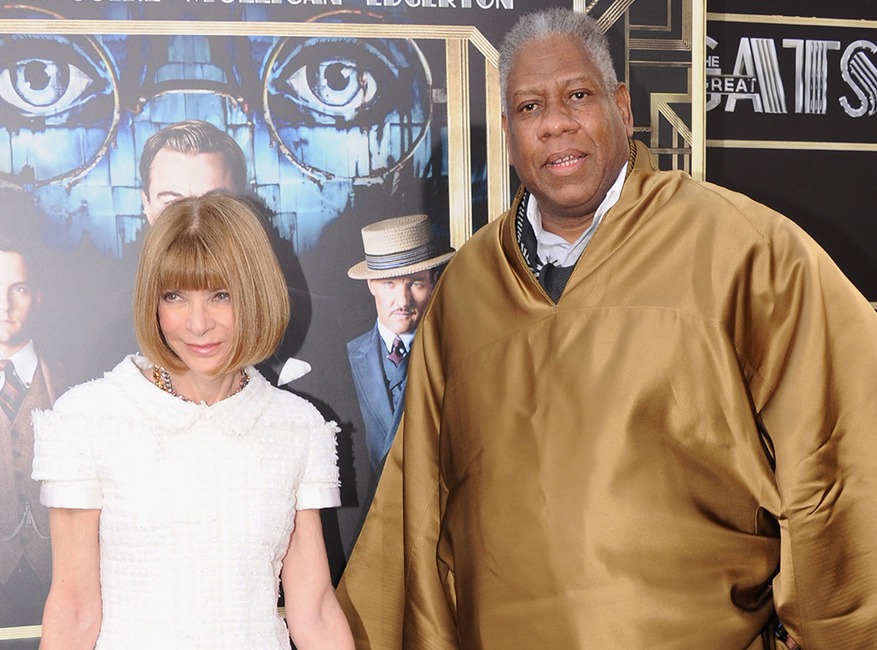 Jamie McCarthy/WireImage
After being named the host of Vogue's podcast by Anna and being paid little for the work, the podcast was unceremoniously canceled with no warning or mention from her. "No explanation or financial severance compensation. Just sphinx-like silence from Anna Wintour. She decimated me with this silent treatment so many times. That is just the way she resolves any issue," he writes, explaining that, though he'd suffered this before, at 69, he'd finally had enough. "It was time to stand up for my dignity and take this silent treatment from the great Anna Wintour no more."
Article continues below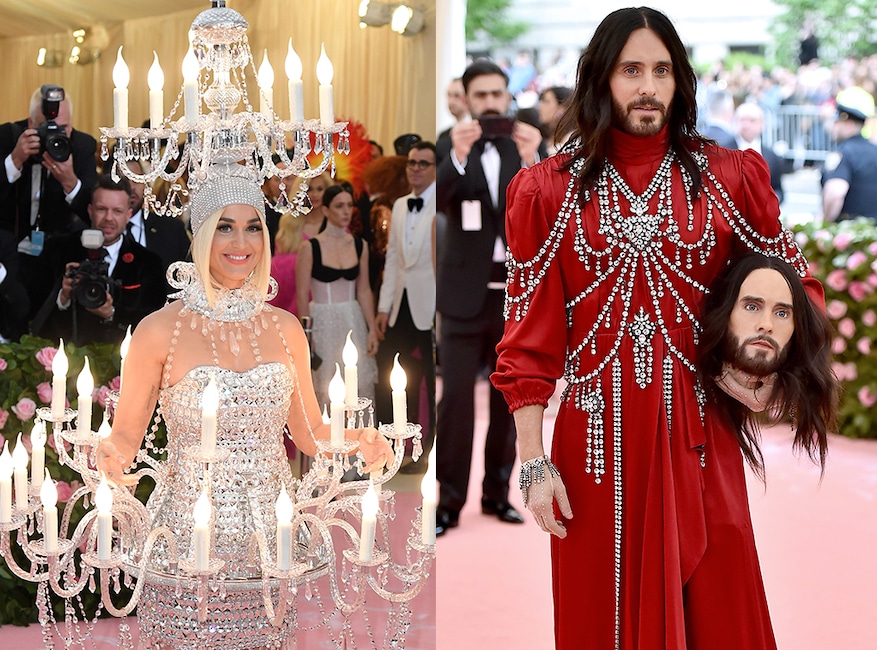 Karwai Tang/Getty Images, Theo Wargo/WireImage
After being iced out of his gig performing interviews on the red carpet at the Met Gala in 2018, he stopped attending altogether in 2019. And he doesn't mince words regarding what went down. "Mercifully, I opted out at the right time. Two thousand nineteen was indeed the ball of the emperor's new clothes, or, as one of my best friends said, 'Halloween at the Met.' It's now a ball where young YouTube influencers are suddenly skyrocketed to positions of credibility. And most often these so- called social media influencers are devoid of any knowledge of taste, fashion, or culture," he writes, taking particular issue with Jared Leto's severed head and Katy Perry's chandelier and hamburger costumes.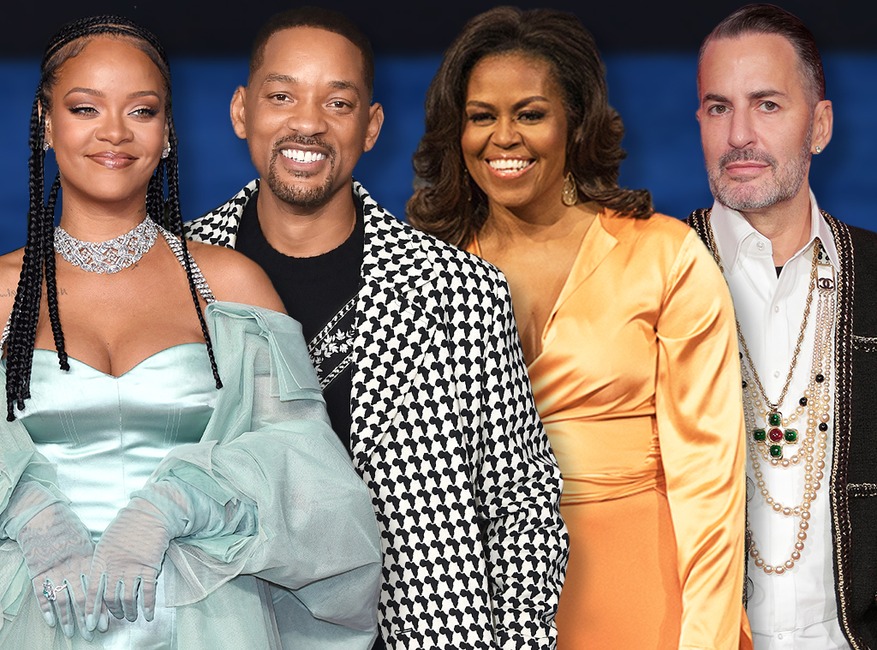 Karwai Tang/WireImage, Axelle/Bauer-Griffin/FilmMagic, Rick Kern/WireImage, Randy Brooke/WireImage
In the final pages of his book, Andre lays out his official Best-Dressed List. For the ladies, he lists: Anna Wintour, Annette de la Renta, Bianca Jagger, Comtesse Jacqueline de Ribes, Diana Vreeland, Rihanna, Michelle Obama, Diana Ross, Alexandra Rotur, Barbra Streisand, Betty Catroux, Mica Ertegun, Isabel Toledo, Tamron Hall, Renee Zellweger, Catie Marron, Tina Brown and Carolina Herrera. On the men's side of things, he lists: Manolo Blahnik, Dr. Cornel West, Tom Ford, Oscar de la Renta, Baron Eric de Rothscild, Marc Jacobs, Dr. Calvin O. Butts III, Thelonious Monk, Will Smith and Ralph Lauren.
The Chiffon Trenches is available now.
Source: Read Full Article