Everyday Inspiration: All of the Timeless Looks in Palm Springs Explained
How many Hawaiian shirts were needed?! Costume designer Colin Wilkes shares the details on dressing the cast of Hulu's timely summer comedy about the meaning of forever.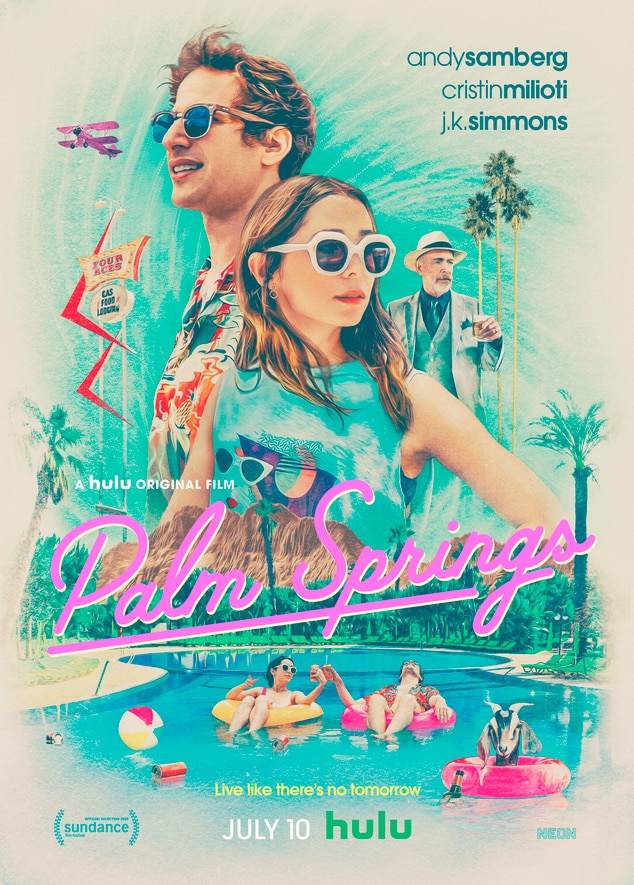 How to pick the perfect everyday outfit? Literally?
Such was one of the conundrums built into Palm Springs, the heartwarming and hilarious yet sneakily disturbing film that couldn't have been more timely, premiering on Hulu last month and cannonballing straight into our sparkling blue pool of existential dread.
Luckily Andy Samberg's Niles and Cristin Milioti's Sarah, aided and abetted by a pitch-perfect supporting cast, keep the R-rated laughs coming as they face the prospect of living forever—if, in fact, they're still alive and not in some demented purgatory—and what to do, or not do, whatever, as they while away the endless day they've been doomed (or blessed?!) to repeat until…
We won't spoil it. (But get thee to the Hulu if you haven't watched yet!)
Meanwhile, the movie itself, a Grand Jury Prize nominee at Sundance in January back when film festivals happened in person, is a veritable confection of wish-you-were-here-postcard color set against the muted desert tones of infamously arid Palm Springs, Calif.—and the pops of brightness start with Sarah and Niles themselves.
Costume designer Colin Wilkes (Support the Girls, Little Woods) had about four weeks to scour the world for just the right garments to clothe the Palm Springs cast, some as dictated by Andy Siara's script and all of it meant to reflect the essence of the characters, from Niles and Sarah's "so this is it, huh?" garb to the wedding dress worn by Camila Mendes as Sarah's sister, Tala.
"Max [Barbakow, the director] and Andy [Siara] did such a good job at creating these very complex, emotional beings on paper," Wilkes told E! News in an interview. "And I knew that Cristin and Andy [Samberg] were going to be our two leads so that was a good segue into talking about, "OK, what would make these two who they are?'"
With help from a relatively compact wardrobe team that included one set costumer, three shoppers "and a whole slew of PAs," as well as input from the actors themselves along the way, Wilkes got to work.
Screenwriter Andy Siara envisioned Andy Samberg's Niles in swim trunks and a Hawaiian shirt—timeless, fit for the occasion (weekend wedding getaway that lasts forevvvvver) and casual, but still presentable because he is trying to get the girl, after all. But which Hawaiian shirt?!
Costume designer Colin Wilkes searched vintage shops (isn't there always a rack dedicated to the style?) and stores galore before happening upon the right print on this Polo Ralph Lauren button-down. You're thinking, well, Samberg must have needed a few, to allow for getting dirty. Wrong. Wilkes bought 18 or 19 shirts, and then gave them the eyeball to see which patterns differed the least, because no two are exactly the same. About three made the cut.
"If you notice, none of the shirts have an identical pattern," Wilkes said slyly. "It kind of made it fun, because there is a subtle shift that your eye is catching, but it's slowly evolving."
Wilkes has received many calls asking where people can find the effortlessly cool band tee that Milioti rocks for most of the film. While you can expect to see it at a costume party near you soon, the aqua muscle tank she's relegated to put on every day for eternity sports a custom image promoting a made-up band, created by Austin-based artist and graphic designer Shaina Hedlund.
"We wanted to set her apart from her very sweet, almost wholesome, sister," Wilkes explained Milioti's slightly disheveled but fetching look. "It just struck the right balance of creating her, juxtaposing her within the world of her family and the wedding."
And at the end of the day, she acknowledged, "I think that we also wanted to created something that you don't get tired of seeing. We were very aware that we were going to be looking at Niles and Sarah, together, in the same frame for so long. So we wanted to make sure that whatever they were wearing complemented each other, too."
Abe and Tala's wedding has a very specific color palette, lots of ivory, blush, rose and bisque playing off the romantic desert setting. Even the bridesmaids dresses, tonally adjacent but all different, fit into the idea that the bride and groom were shooting for the epitome of a "California casual" wedding.
"That scheme, we really wanted to make it like that was Tala's touch and she had carefully planned out this wedding ridiculously," Wilkes recalled, "from the florals to these incredible macramé hangings, that also feel like her earrings and a little like her wedding dress. Everything is very coordinated in that world."
As opposed to Sarah and Niles' world, which purposely always harbors a hint of the surreal.
"We wanted to keep that color palette in the wedding really tight," Wilkes added, "so then when we left that wedding arena, it could be way more colorful and surprising and fun, and textured."
The final piece of the wedding puzzle, decided on after the other details were in place, was the Tara Lauren dress Camila Mendes' Tala wears.
"They have a great design sensibility that strikes a balance of being romantic, but also youthful, and timeless, but also current," Wilkes described the Los Angeles-based boutique brand. "It feels like all of the dresses I fell in love with immediately, they had a lot of presence and texture on their own."
Recalling the process, Wilkes said, "I ended up pulling four of five gowns and driving them up, and this was our favorite one. And we knew we needed two, just to be safe, because we were shooting in the elements, it was dusty." But as soon as they saw Mendes in this gown, it was the clear winner.
There is no explanation, however, for why wedding officiant and reception emcee Trevor is wearing a Nudie suit, except that he's That Guy.
The one who's so darn confident and hip that he can easily rock the style made famous by 1960s-era country singers (and revived by the likes of Post Malone and Diplo) and the reaction is, "Of course, because Trevor."
Siara and director Max Barbakow based the character, played by Australian actor Chris Pang, on a real-life wedding guest they had encountered and, Wilkes added, "I knew the type of people that were going to be at that wedding. OK, I know that this is an eclectic, very hip [guy], they either live in Brooklyn and are flying in, or they live in [the famously hipster L.A. neighborhoods of] Silver Lake or Echo Park… I just know these people. I'm friends with these people. I would have attended this wedding."
Wilkes called it a "dream" getting the chance to shop for Nudie suits, and this one came from Fort Lonesome, which makes custom pieces. "Often times, they're for grooms," she said. "Grooms or musicians."
As she gets used to her new circumstances, Sarah starts to accessorize with one thought in mind: FUN.
Hence the baby pink and leopard-print fur coats, her sparkly pom-pom sweater and matching earrings when she wishes Niles a happy millionth birthday, and the eye patch she dons (with her leopard coat and swimsuit, all the actress' idea) when they decide to really shake things up at the wedding one night.
"When it came to designing these characters, it was important for me to keep the energy of play alive," Wilkes said. "I wanted to show a little bit more texture and color, and I wanted that to be more of a visceral experience for the viewer because they're seeing the evolution of these two people together in this strange time and place, just giving it everything they have."
And "the coats were just super fun," she added. "Cristin was very onboard with them, in knowing where she wanted to wear certain things."
"What gets more complicated is, you're shooting a time loop movie, so you just have to keep track of which point of the loop you're in," Wilkes shared.
"Cristin kept these really thorough notes of which point of the loop she was in, because they're evolving emotionally, so we really wanted to integrate that costume-wise to show some kind of passage of time [for Niles and Sarah]. But with the rest of the characters, they're on camera again and again, repeating what they think is a new day."
Wilkes said that she was definitely going for an '80s vibe with the matching jean jackets, white tanks and red bandannas Niles and Sarah sport for their surprise dance sequence.
"It was actually an idea that both Cristin and Andy had come up with on set," she said. The whole thing is "kind of campy because they're doing this funny dance," part of a sequence of all the activities they're getting up to while passing an undisclosed amount of time, but "they do kind of evolve and you see this sweet moment between them where they are matching."
Wilkes had a clear vision when picking out Milioti's enviable swimwear—and this color-blocked one piece from & Other Stories fit the bill.
"I knew I wanted something bright and colorful—and knew I wanted a one-piece," the costume designer said. "It felt retro, it wasn't over-sexualizing her—that was really important to me. I wanted her to feel like a real woman."
And, of course, Milioti looked great in it. "It just had a great timeless shape as well," Wilkes continued, "and I knew it would play well against what Andy was wearing." The coordinated pool floaties were not a coincidence, either.
It's unclear what Niles ever saw in Meredith Hagner's Misty (and, in her case, vice versa), but her kimono, worn over a Free People bralette, is dreamy.
Wilkes found just the right garment from a vendor in Australia and had it shipped over.
Why, again, does J.K. Simmons' Roy look like he's getting ready to genteelly rob a bank in the 1930s?
Wilkes revealed that she was inspired by a photo she saw on the Instagram account Miserable Men, which she follows for character inspiration. In it, a guy was "sleeping at a shopping mall wearing a very similar three-piece suit, with a dark-colored shirt and tie, and a weird fedora."
Boom, Roy's wedding attire.
"It was just such a striking image," Wilkes explained, "and I thought, We don't know who this guy is, let's go all the way with him." In her mind, Roy was the kind of earnest fellow who, when invited to this wedding, went out and bought the suit on his way into Palm Springs from his house in the Irvine suburbs. The homicidal thirst for revenge comes later.
Tipping her hat to cinematographer Quyen Tran and production designer Jason Kisvarday, Wilkes said, "They staged the world. Max would send me a photo of the location, standing in for Niles, so we could get an idea of what these huge wide shots would look like, and we could then navigate how we wanted the costumes to play with color."
Trending Stories
The Truth About Prince Harry's Relationship With Prince William
Kanye West Adorably Dances with North, as Kim Kardashian Records Video
17 Books to Check Out Before the End of Summer
"It was a hard shoot for being 21 days and getting all of that in," Wilkes concluded. "Everyone worked really hard and did a great job. We had a huge team of just really professional people that knew what they were doing, so that made the difference."
And if you think Niles and Sarah would make for excellent his and hers Halloween costumes this fall, how about getting married in a Hawaiian shirt and aqua tank? Wilkes said that she's been getting calls about couples who want to tie the knot in character.
The vow to stay together forever never felt so apropos.
Palm Springs is streaming on Hulu.
Source: Read Full Article