May the Fourth Be With You With These 28 Star Wars Must-Haves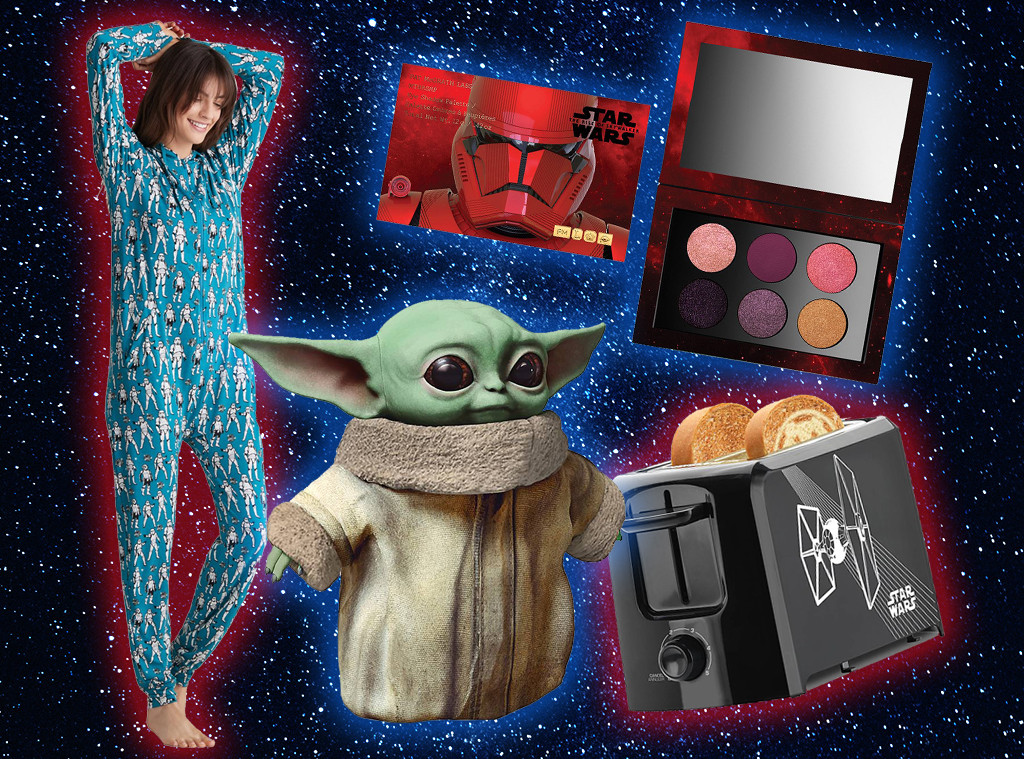 We love these products, and we hope you do too. E! has affiliate relationships, so we may get a small share of the revenue from your purchases. Items are sold by the retailer, not E!.
Happy May the 4th, a.k.a Star Wars Day! It's officially the fan-created holiday to celebrate the Star Wars franchise, and shop some awesome product drops throughout the day (we're looking at you, Lego and shopDisney).
In honor of this special day, we've collected a bunch of our favorite Star Wars goodies for everyone to shop. There's items for the Baby Yoda obsessive, the perfect onesie for binge-watching every movie in succession, even kitchen goods that'll pop your popcorn and make wine and cheese night extra special. And then there's that hotly anticipated Lego A-wing Starfighter that'll keep you busy until… well, until the next season of The Mandalorian launches!
Check out our favorite Star Wars items below, and may the force be with you!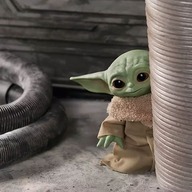 Read
Baby Yoda Dolls Are Here—But There's a Catch
Do a little dance in this super-soft and comfy onesie, featuring Stormtroopers boogieing the night away under a disco ball. And if this print isn't your bag, they have lightsabers and Ewoks, too.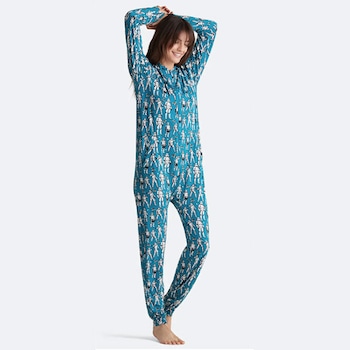 Because you deserve more cuteness than you can stand, there's a plush version of your favorite Internet obsession from 2019, standing 11″ tall and featuring a faux suede coat with fuzzy trim. Just lose yourself in those heart-melting eyes and know everything will be okay.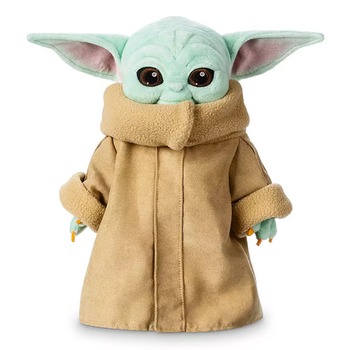 And don't forget you can still get the original Baby Yoda plush for pre-order, with its cuddly, squishy body and its ridiculously adorable face. How could you not?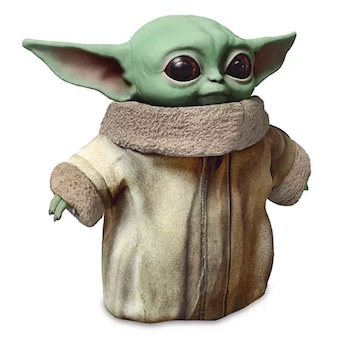 We promise this list isn't entirely Baby Yoda, but there's one more figurine you should get your hands on: this Funko Pop! of The Child sipping on his bone broth, quietly judging the scene playing out in front of him. It definitely belongs on the desk in your home office.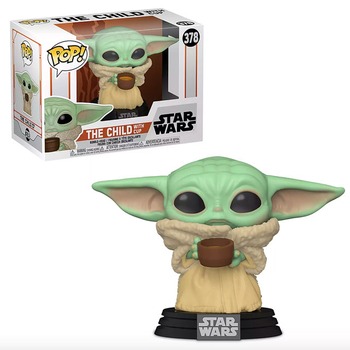 Every well-stocked kitchen should have an immersion blender, so why not get one that pays homage to Luke Skywalker? It'll blend, whip and stir pretty much everything you want to throw at it (or rather, immerse it in), with five speeds and a non-slip handle. We won't judge if you leave it on display after using it.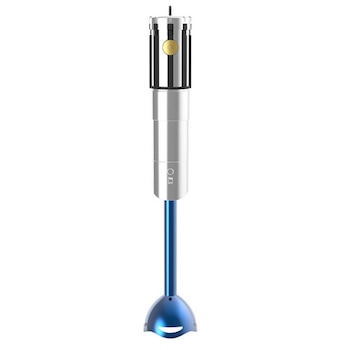 Today's the last day of Lego's "May the Fourth" shopping event, so grab deals while you can. We recommend snapping up this hotly anticipated A-wing Starfighter as seen in Return of the Jedi. At long last it's finally part of the Lego Ultimate Collector Series, and it'll definitely keep you busy for a while, with 1673 pieces to put together.
You know how they say, "Say it with jewelry"? We're pretty sure this isn't what they had in mind, but we like this interpretation of the saying better. Show off your allegiance to the Rebel Alliance in style with this necklace and earring set, made of nickel-free brass and covered in polished gold coating.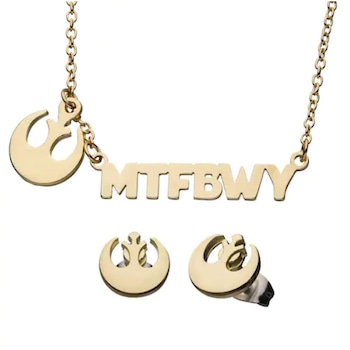 Show your original trilogy spirit with this spirt jersey, recalling the salad days of Tatooine before The Empire burnt Uncle Owen and Aunt Beru's farm to the ground. We love how it perfectly captures that moment where Luke looked on to the setting suns and hoped for adventure.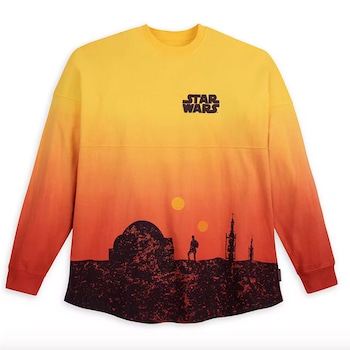 Just because you're big business doesn't mean you can't show your love of The Mandalorian. Do it with this grey-on-grey silk tie featuring a Mandalorian mythosaur skull pattern, making for a chic way to show off your fandom when you're in a suit.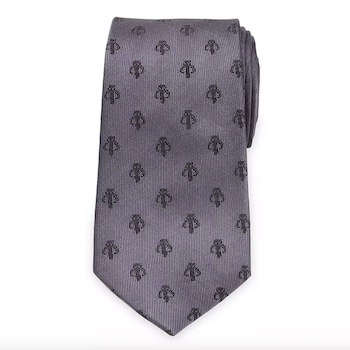 We admit that this might not be the world's most soothing night light, but it's damn cool, no? It comes with a decal that makes it look like Kylo Ren came smashing into your room, with red LED light glowing from his helmet. Plus, it's battery operated and comes with an on/off switch.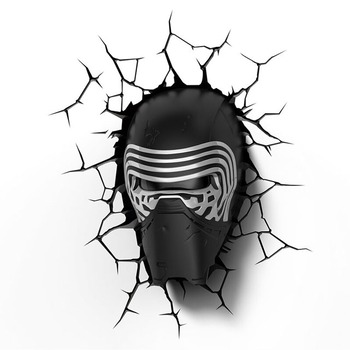 This gorgeous hardcover coffee table book features script pages, concept art, storyboards, on-set photography, behind-the-scenes tales from George Lucas himself, and so much more, all spread out in glorious color across 604 pages.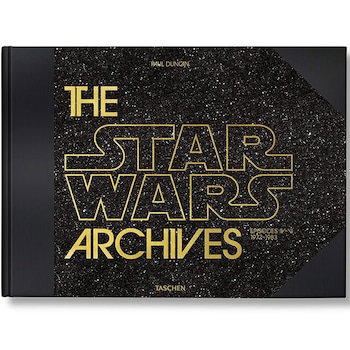 No trilogy movie marathon would be complete without popcorn, so why not pop it in R2-D2? Plus, it pops using hot air and makes for super easy clean up—just wipe it down when you're done.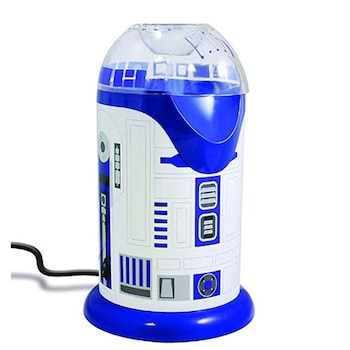 Take aim at the Death Star in this replica of Luke's helmet, which sports lighting and sound effects that simulate blasts from the enemy—and communications from R2-D2!—either during the Battle of Yavin or the Battle of Hoth. Your choice!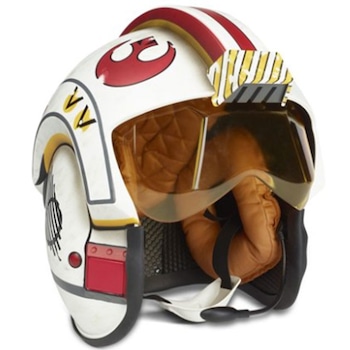 Okay, we know: so much Baby Yoda! But can you blame us? He's so cute, and he comes in so many different fashionable options, like these espadrilles that are perfect for summer. Plus, they come in both men's and women's sizing.
We love Baby Yoda. You love Baby Yoda. Everyone loves Baby Yoda! (Just admit it, you know you do.) Prove your adoration with this lightweight cotton tee with a ribbed crew neck.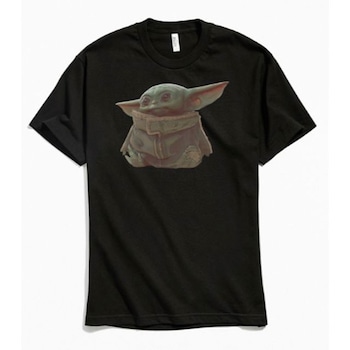 Ditch your cliched "Not Until I've Had My Coffee" mug and say it with a Stormtrooper instead. Made to hold 18oz of coffee (or tea, or whatever other hot beverage you prefer), it'll tell everyone around you to move it along while you're shifting into high gear for the day.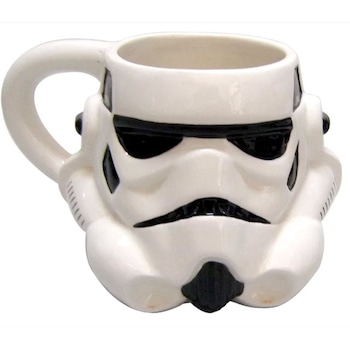 This cotton tee shows off the original dynamic duo of C-3P0 and R2-D2 in bold, bright color, in an all-over pattern that demands to be seen.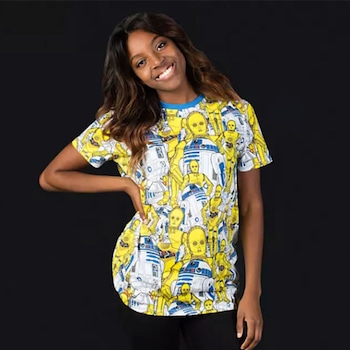 Make your next wine and cheese night super fancy with this cutting board made of rubberwood and bamboo, and a tempered glass tray featuring everyone's favorite droid (sorry, BB-8!). Plus, there's a spot made specifically for the fork-tipped cheese knife to await the tastiest of bries.
You have the cutting board, which would also work great for a picnic, so naturally you should get a picnic blanket to match! When you slide the blanket out of its case, it magically pops open to its intended Death Star shape thanks to a fiberglass frame—and it's easy to refold and slip back into its case when your picnic is done.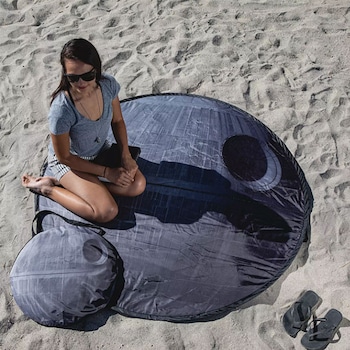 Of course, you're going to need something to stash your food in when you go on your picnic. Shouldn't it be this Darth Vader Lunch Tote? Not only does it have isolated sections for hot and cold food, but it has an adjustable strap for easy carrying, a hidden flatware section (and it comes with stainless steel utensils), and side mesh handles. Bonus: it's a great lunchpail for school and work, too.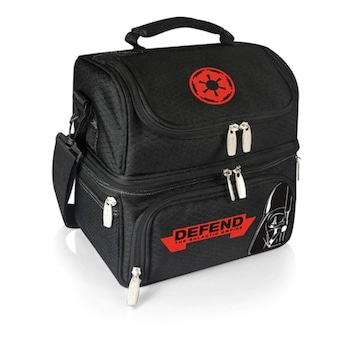 And if you happen to be picknicing on a particularly chilly day, you're gonna need something to warm up with. So it might as well be this cute Baby Yoda hoodie, showing your allegiance to The Child. (Yes, we're obsessed. No, we're not sorry.)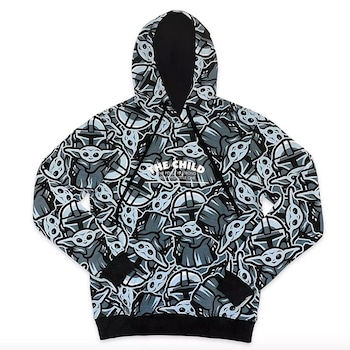 This set of stud-button cufflinks pays homage to one of the most famous moments in Star Wars history. Honor this moment of mutual love and adoration from The Empire Strikes Back by sliding these in your dress shirt cuffs.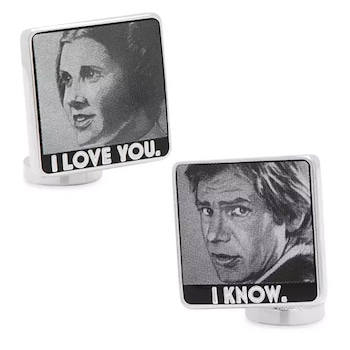 It doesn't matter if you're low-carb: everyone should have this awesome toaster. First off, it's Darth Vader's head. Secondly, it emblazons the iconic Star Wars logo on to your bread (or whatever you want to toast… we won't judge if it's a vegan burger or something). And it has an adjustable thermostat dial to ensure you don't burn whatever you're toasting. C'mon, the power of the dark side demands it.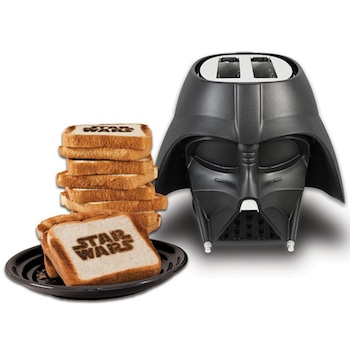 This 20 x 20 pillow is cute, cozy, and ready for cuddling with R2-D2's face as its centerpiece. It's made of polyester inside and out, easy to spot clean, and it's ready for your next trilogy viewing marathon.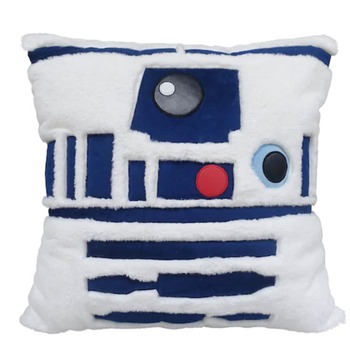 This special edition Garmin smartwatch was inspired by Rey, right down to the leather band that was modeled after her look in The Rise of Skywalker. Among its bells and whistles? Themed watch faces, goal animations, fitness and wellness tracking tools, smart notifications that connect to your smartphone, music storage and more. Plus, the battery will last up to eight days when in smartwatch mode.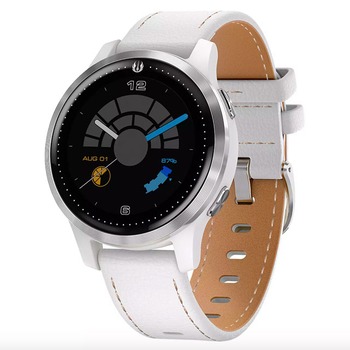 Tokyo artist Masumi Ishikawa puts his take on Darth Vader on this dark gray cotton tee, featuring the Sith Lord engulfed in rainbow flames.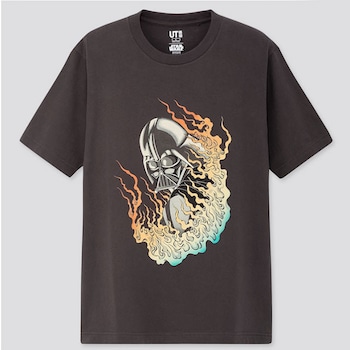 The Star Wars Scream Saber Lightsaber is ready to sound off! This out-of this-galaxy toy has three awesome audio options. Kids can record their own crazy combat noises, activate unexpected Star Wars sounds, and, of course, imagine battles with authentic Lightsaber sound FX.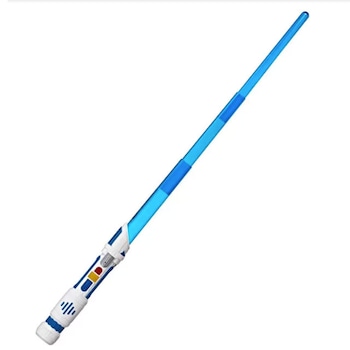 And lastly, an oldie but a goodie. The old-school among us remember the frenzy that happened when Kenner didn't have toys ready for the throngs of Star Wars fans that demanded them. This one is offered in honor of the 40th anniversary of The Empire Strikes Back, with a poseable Luke in that classic black packaging from back in the day. (And yes, there are Leia and Han versions, too!)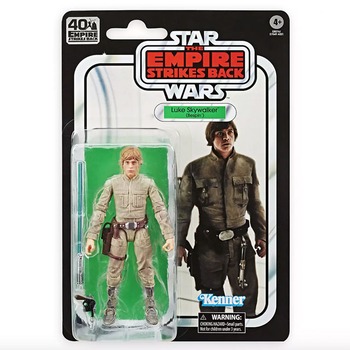 Tomorrow is Cinco de Mayo, so make sure you check out 10 saucy gifts for the tequila lover in your life!
—Originally published Dec. 12, 2019 12:10 p.m. PT
Source: Read Full Article