Pregnant Chrissy Teigen Defends Kim Kardashian Amid Maternity Shapewear Backlash
Chrissy Teigen posted a video of herself wearing shapewear and defending Kim Kardashian's maternity collection on Instagram. "Actual pregnant person here," she said.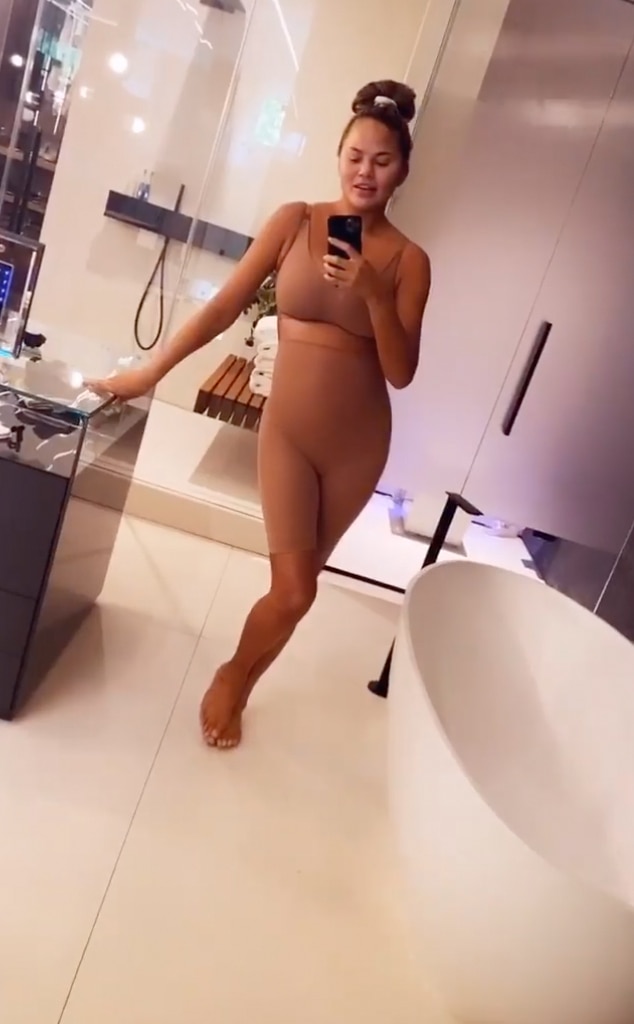 Chrissy Teigen is standing by Kim Kardashian.
After the 39-year-old Keeping Up With the Kardashians star received backlash over her SKIMS maternity line, the 34-year-old cookbook author took to Instagram to share her experience with pregnancy shapewear.
"Hi guys! Actual pregnant person, here," Teigen, who was wearing the brand, began. "Just wanting to show you and maybe talk a little bit about what pregnancy shapewear is. Basically, the reason I love pregnancy shapewear is because it stops all the folds of my vagina and stomach from eating any other type of underwear. When you're pregnant and you're sitting down a lot or on bedrest like me, you tend to just sit there. And if you're wearing regular, basic-ass underwear, all it does is roll inside of folds I didn't even know I had. It rolls up in there and it doesn't even look like I have underwear on." 
The Chrissy's Court star, who is expecting her third child with John Legend, then made it clear "this is not about creating a body that we don't know we have."
"Like, we're not trying to do anything to trick you. We're pregnant," she said. "We just like to feel good about ourselves in a time where mentally, it can be really challenging."
Teigen also noted "SPANX has been doing this for a long time" in addition to SKIMS.
"Like, what's the big deal?" she asked. "I don't think I have some f–kin' magic waistline, no? Do you guys think that? I'm not doing it to get a waistline. I merely want to wear underwear that's pretty, that I feel good in, that's soft, that's comfortable, that stretches nicely over my belly, and that my p—y doesn't eat. So, there you have it."
The Cravings celebrity then addressed the critics.
"If you are one of the thousands of people who wrote 1,000, 2,000, 3,000 words on it, that's just me," she continued. "This is coming from an actual pregnant person. The people talking about this tend to never even get it in the first place. They're like, 'I want to get made about something.' But listen, we good. We're good over here. If you don't like it, don't wear it. But trust me, we're not idiots. We don't think that we're giving you some magical hot body now, OK? Thanks."
In addition, she insisted "it is not at all about making pregnant women feel like our bodies aren't beautiful and miracles."
"We know that's true …. We're very happy to get pregnant," Teigen said. "We don't think that these are, like, making us feel like we can't look like ourselves. We don't think that. We feel good. We feel very happy, trust me. We just want a hole built in that we can piss out of."
In fact, Teigen said it's "even kind of condescending to think you have to defend us on this."
"Obviously, the message is that, you know, pregnant women shouldn't have to feel like they have to make themselves smaller. They should feel beautiful. And yes, absolutely I 1,000 percent agree with that," she said. "But what you're forgetting is that none of think that this is making us smaller. Nobody thinks that. Yeah, just trust me when I say that. We do it so we feel high and tight. Honestly, it feels easier to get up. It feels easier to move around when you're not flopping around all over the place. It just makes you feel better."
As far as how Teigen wears it, she said she doesn't "even wear it underneath dresses or things," but acknowledges others do.
"It gets rid of, like, you know, any kind of, like, bulkiness you feel," she claimed. "But for the most part, it's just the most comfortable thing to wear. It gets rid of, like, any, you know, those rolls that show up underneath and around regular underwear—that build up just because your body is kind of, like, eating away at it. So, it isn't about slimming it down. It's just about making sure that you're comfortable and that things are kind of seamless against your body."
Near the end, Teigen summed up her "personal think piece" on the topic and reiterated once again that she's "1,000 percent not trying to make" herself "smaller" and that she does it "for comfort." She also made it clear "this is not an ad" and that she's "not being paid."
"I just really like this shapewear," she continued.
Trending Stories
How Cassie Randolph Feels About Colton Underwood Restraining Order
Checking in on the Top Chef Winners: Where Are They Now?
Taylor Swift Sends Katy Perry an Embroidered Blanket for Baby Daisy
Kardashian addressed the criticism, as well in a post shared to Twitter.
"To anyone who has an issue with maternity solutionwear, and if you haven't been pregnant before you may not know the struggle of what it's like carrying all this weight the way I did along with millions of strong women," she tweeted. 
The reality star then noted that "@Skims maternity line is not to slim but to support."
"The belly part doesn't slim your belly, it's actually sheer and a thinner layered material compared to the rest of the garment," she continued. "It provides support to help with the uncomfortable weight being carried in your stomach which affects your lower back and the compression on the leggings helps with pain relief caused by swelling. It is also worn after you have given birth and provides the comfort and support that most women need after delivery especially if you are recovering from a cesarean."
Kardashian also claimed her company launched this category after hearing from "tens of thousands of pregnant women" who requested it. Furthermore, she noted it was something she "personally needed" when she was pregnant.
"Based on the majority of positive feedback we have received so far from pregnant women around the world," she concluded, "I am incredibly proud to provide a solution that will provide comfort and support during the times that we all need it most, during pregnancy and after."
The line is scheduled to drop Sept. 16.
Source: Read Full Article