Bewitched Stars We've Sadly Lost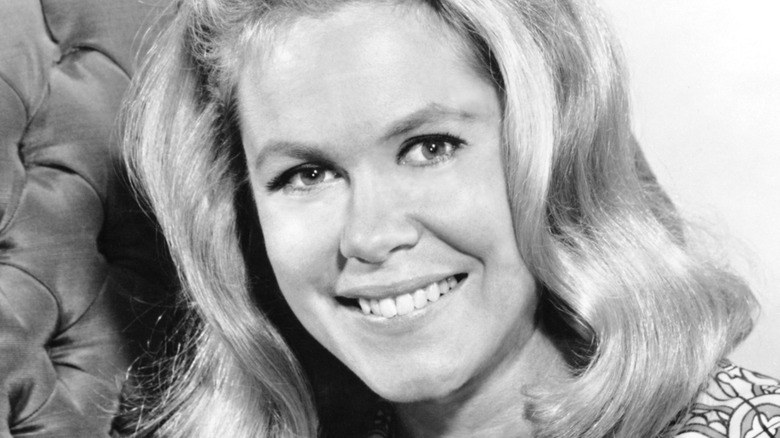 Did it make sense that "Bewitched" was such a big TV hit? The campy sitcom told the story of Samantha, a beautiful witch, who married Darrin, a type-A mortal, and their misadventures living in the suburbs of the 1960s, while raising their daughter, Tabitha. With plenty of bad special effects and obvious plot lines, "Bewitched" was a silly show that turned into a smash. As reported by the Sun Sentinel, the sitcom was ranked No. 2 in national ratings by the end of its first season — ABC's greatest success at that time. The series also went on to win three Primetime Emmy Awards during its run from 1964 to 1972, as per IMDb.
Perhaps it was the effortlessly feminist character of Samantha, played by Elizabeth Montgomery, that made the show so popular. Or, maybe, it was the deliciously hilarious and unendingly heartwarming cast of characters that made up Samantha and Darrin's unique lives. From nosy neighbors to witches and warlocks, the cast of "Bewitched" was one of stars. However, in the years since the show ended, many of those stars have since died. Here are the "Bewitched" stars we've sadly lost.
Series star Elizabeth Montgomery, who put the "witch" in Bewitched, died of cancer in 1995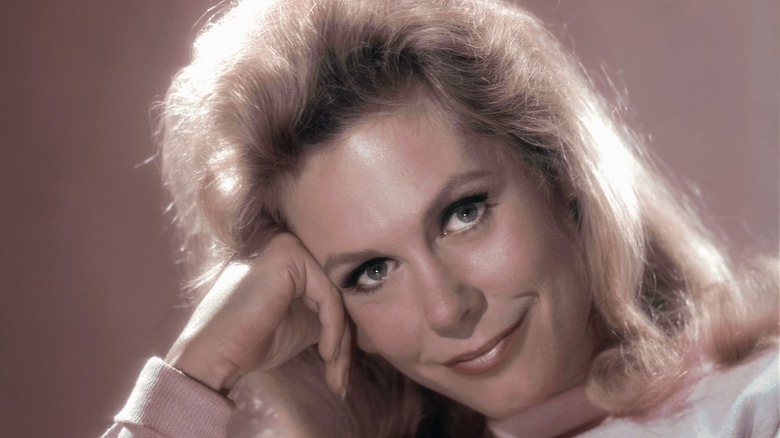 Elizabeth Montgomery starred in "Bewitched" as Samantha, the charming, blonde witch who makes her way through the mortal world with plenty of help from her magical powers. Montgomery also appeared on the show as Serena, Samantha's look-alike, mischievous cousin. Both roles earned her rave reviews, adoring fans, and, according to IMDb, several nominations for both Primetime Emmys and Golden Globes. After "Bewitched" ended in 1972, the actress went on to appear in several successful TV movies, including "A Case of Rape," "The Legend of Lizzie Borden," "Black Widow Murders: The Blanche Taylor Moore Story," and "The Corpse Had a Familiar Face."
Sadly, Montgomery's career was cut short when she died in 1995 from cancer. As reported by AP News, she died in her home with her husband and children by her side. A statement from her family, via AP News, stated that the actress was "a friend who has been in our living room thousands of times and has impacted our lives in many ways.″
Dick York, who played Darrin on Bewitched, died from various health complications in 1992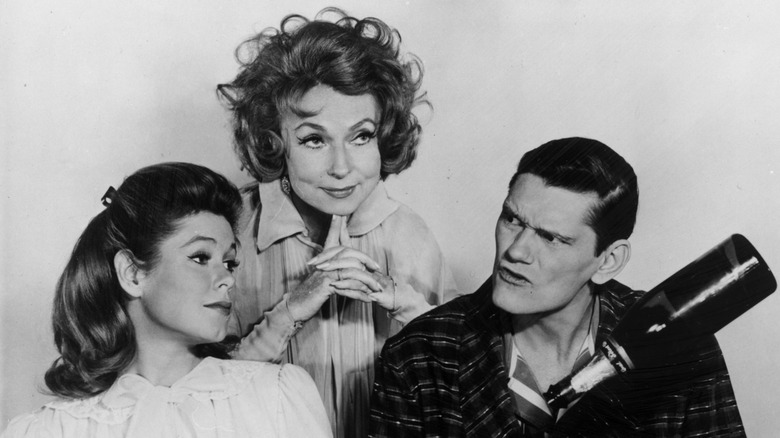 Dick York played the original Darrin Stephens — Samantha's straight-laced, yet charming, husband on "Bewitched" for 170 episodes — from the show's premiere in 1964 until Season 5 in 1969, as reported by IMDb. Unfortunately, York had to be recast at that point due to ongoing health problems. According to the Orlando Sentinel, the actor sustained a terrible back injury in a previous role that plagued him well into his time on "Bewitched." The constant pain led to a dependence on drugs and alcohol that got in the way of filming, but York didn't officially leave the sitcom until September of 1969 when he suffered a seizure and had to be rushed to the hospital from the set. "I left in an ambulance writhing in pain," he later recalled, "but I never missed the show, nor have I ever regretted the decision to leave."
Sadly, York died in 1992 of complications from his spine injury and emphysema, as reported by The New York Times. However, the publication also noted that in his final years, the actor was a dedicated philanthropist, who even started a fundraising campaign for the homeless called Acting for Life.
Agnes Moorehead, who played Samantha's mother, Endora, on Bewitched, died in 1974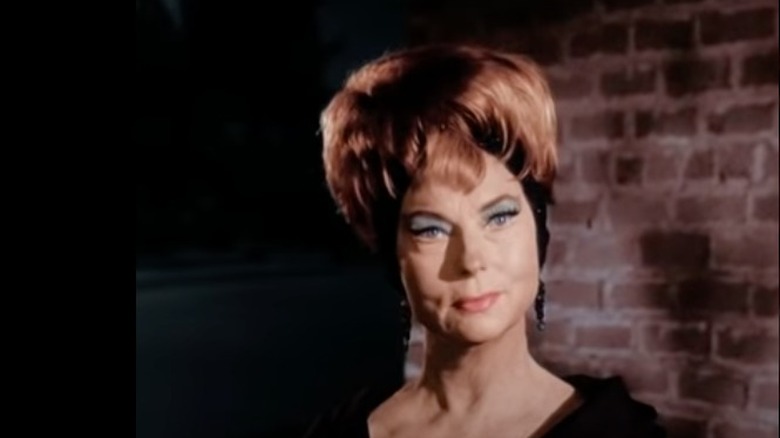 Agnes Moorehead played the formidable Endora on "Bewitched" for 254 episodes, as per IMDb. As Samantha's witchy mother, Endora was the bane of poor Darrin's existence, always popping in and out of his suburban home and causing magic-based trouble. Moorehead was just as imposing and impressive in real life as she was while playing Endora. The actress worked in film, TV, theater, and radio for decades, permanently carving her name in the world of entertainment.
According to The New York Times, Moorehead first appeared onstage when she was just 10 years old. During the Great Depression, she turned her talents to radio, starring in airwave hits like "The March of Time," as Eleanor Roosevelt and as the star of the murder mystery thriller "Sorry, Wrong Number." After starring in her first movie, the smash "Citizen Kane," she went on appear in 100 movies and win five Oscars. Moorehead died in 1974 at the age of 73. Though her exact cause of death is unknown, she had been hospitalized for a month prior to her death at the Methodist Hospital in Rochester, Minnesota (via The New York Times).
Bernard Fox, who played Dr. Bombay on Bewitched, died at the age of 89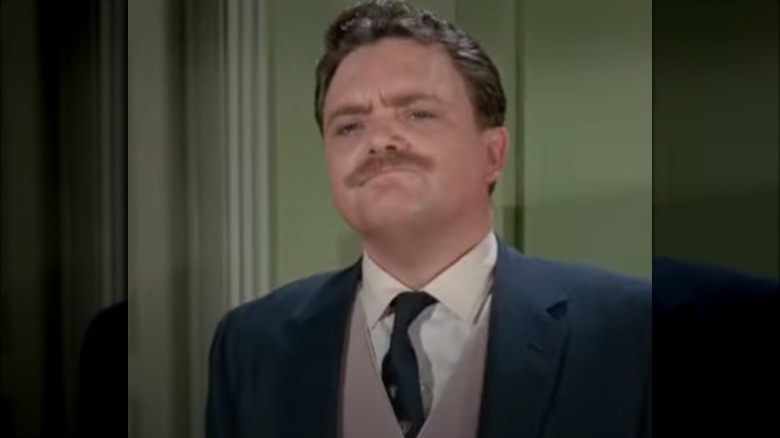 What happens when a witch gets sick? She can't go to a regular doctor, can she? According to "Bewitched," she can't. And that's why fans were graced with the hilarious, heartwarming character of Dr. Bombay. Welsh actor Bernard Fox appeared as Dr. Bombay in 19 episodes of the sitcom, via IMDb, solving magical maladies with one ridiculous cure after another. But Fox wasn't just a witch doctor. According to his IMDb page, throughout his long career, he collected 30 film credits, including hits like "The Mummy" and Disney cartoons like "The Rescuers" and "The Rescuers Down Under." As Deadline reported, he also appeared in two movies about the sinking of the Titanic: the 1997 Box Office Blockbuster "Titanic" and "A Night To Remember" from 1958.
Unfortunately, Fox's career ended when he died in 2016. According to Deadline, he died of heart failure at a hospital in California at the age of 89. The actor's smile — and his fabulous mustache — will be sorely missed.
Dick Sargent, the second actor to play Darrin on Bewitched, died in 1994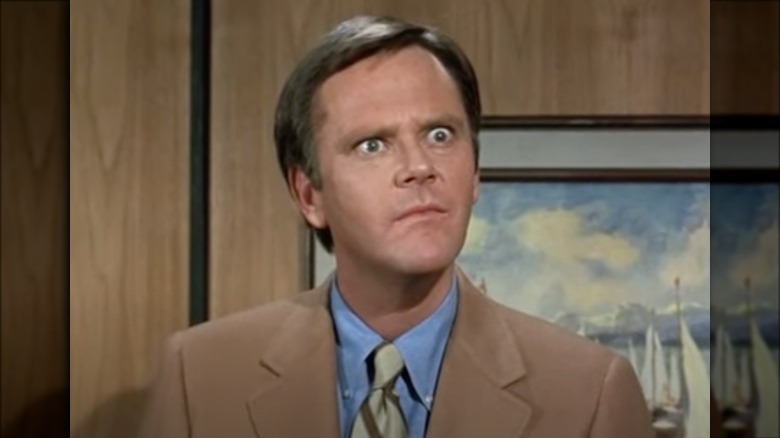 Dick York's departure from "Bewitched" at the end of Season 5 left a very big, Darrin-shaped hole in the show. Luckily, Dick Sargent was there to fill it with his easygoing charm. While York's portrayal of the witch Samantha's mortal husband, Darrin, was very much focused on his dislike of magic, Sargent's was more about simply loving his wife. Even actress Elizabeth Montgomery noticed the change in Darrin after Sargent took on the role. "Darrin was becoming a more easygoing presence," she noted in the book "Bewitched Forever" (via Medium). "He would lapse into this kind of complacency [about witchcraft] and maybe into something that he just might enjoy for a minute or two."
Sargent went on to play Darrin in "Bewitched" for three seasons and 84 episodes, according to IMDb. But the sitcom was far from the end of his acting career. He appeared in retro hits like "Bernardine," "Operation Petticoat," and "A Touch of Mink," as well as more than 300 TV shows — everything from "Gunsmoke" and "Family Ties" to the sitcom "One Happy Family." Sadly, as reported by The New York Times, the actor died in 1994 from prostate cancer. He was 64.
Estelle Winwood, who portrayed Aunt Enchantra on Bewitched, died at this old age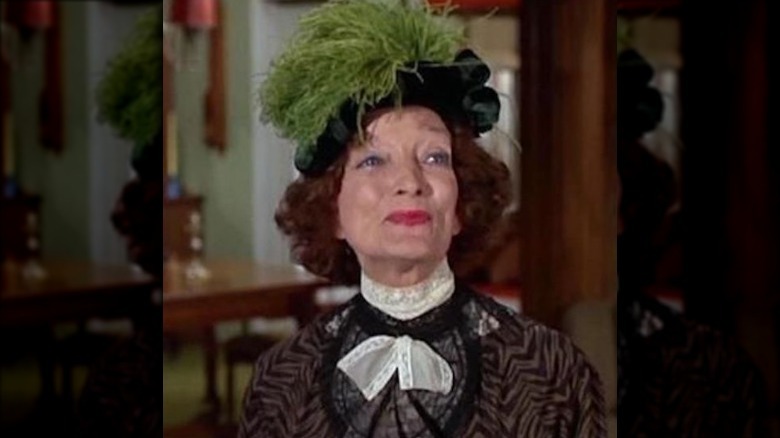 Perhaps one of the best parts of "Bewitched" was the crazy cast of witches and warlocks that would pop in and out of Darrin and Samantha's home — much to Darrin's chagrin. One of the craziest of the bunch was Aunt Enchantra, a member of the Witch Committee and a lover of fluffy hats. While more than one actress played Aunt Enchantra throughout the sitcom's run (as per IMDb), Estelle Winwood was seemingly the favorite. The tiny British actress brought plenty of flair and fun to the role, even though she was 83 years old at the time.
Winwood, according to The New York Times, began acting in 1888. Beyond "Bewitched," some of her most famous roles were in "The Producers," the Cinderella movie "The Glass Slipper," and Broadway shows like "The Madwoman of Chaillot" and "The Importance of Being Earnest." The publication also reported that Winwood died in her sleep in 1984 at the age of 101, leaving behind this sage advice: "My advice to actresses is don't worry about your looks. The very thing that makes you unhappy in your appearance may be the one thing to make you a star."
Alice Ghostley, who played Esmerelda on Bewitched, died in 2007 at age 81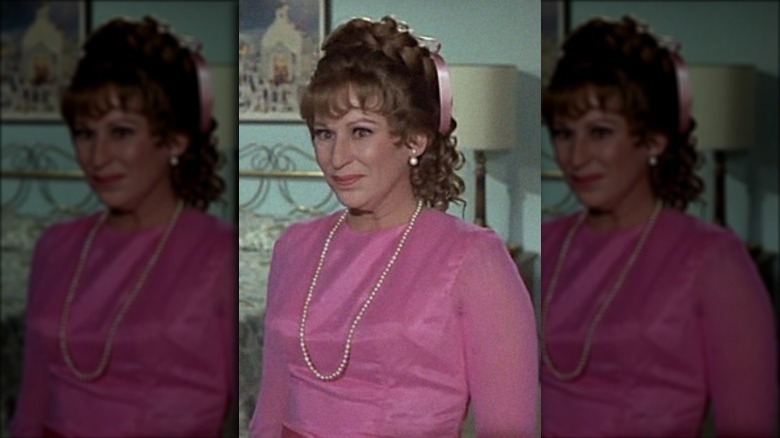 Alice Ghostley's name was very fitting for her "Bewitched" character — a shy housemaid and witch who would turn invisible whenever she got particularly nervous or scared. Ghostley joined the cast in Season 6 and went on to play Esmerelda for 16 episodes until the show ended in 1972, as per IMDb. Unfortunately, the actress died in her home in California in 2007 at the age of 81. The Hollywood Reporter noted that she died after having colon cancer and a series of strokes.
Ghostley had an incredible career, carving out a name for herself as a character actress on Broadway and in TV and film. According to The Hollywood Reporter, she was nominated for a Tony Award for "The Beauty Part" and went on to win the Tony for Best Featured Actress in "The Sign in Sidney Brustein's Window." The actress also received an Emmy nomination for "Designing Women" and appeared in popular movies like "Grease" and "The Graduate." "I knew I didn't look like an ingenue," she told The Boston Globe (via The Hollywood Reporter). "But I also knew I'd find a way."
Maurice Evans, whose Bewitched character had the same name, died in 1989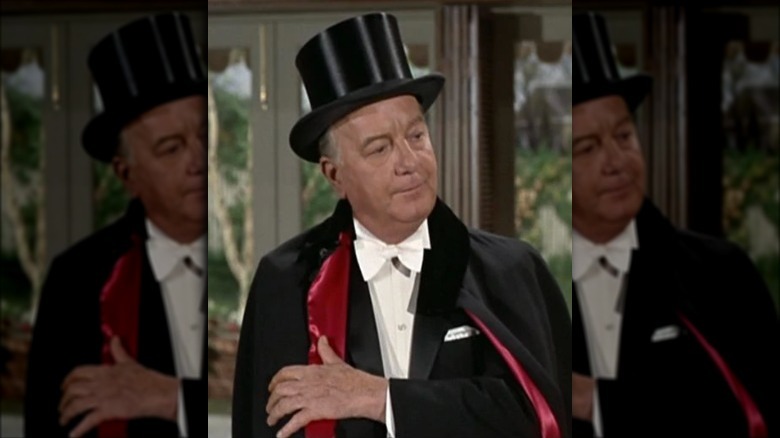 Lots of people don't like their in-laws, but poor Darrin on "Bewitched" really had it bad with his witch wife's magical parents. Both Samantha's mother, Endora, and her father, Maurice, weren't big fans of Darrin and his mortal-ness — and they made it crystal clear. Maurice, played by British actor Maurice Evans, liked to let Darrin know he wasn't a fan by calling his son-in-law ridiculous names like Dumbo, Durwin, or Durwood, according to Geeks. Despite this name-calling, Evans and his character, Maurice, were beloved. 
Evans was, perhaps, best known for his work on the stage, specifically in Shakespeare plays. As per The New York Times, he famously appeared in "Richard II," "Hamlet," "Henry IV, Part I," "Twelfth Night," and "Macbeth." He also starred in "Planet of the Apes" and "Rosemary's Baby." The publication reported that the actor died at a nursing home in England in 1989 at the age of 87.
David White, who portrayed Larry Tate on Bewitched, died in 1990 of a heart attack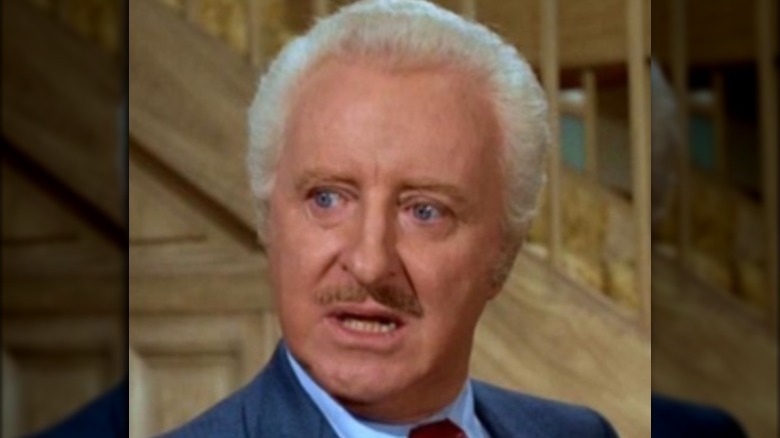 Much like the modern "WandaVision," a large part of "Bewitched" was Samantha and Darrin's trying to hide Samantha's magical powers — especially from Darrin's boss, Larry Tate. Actor David White brought the straight-laced, bottom-line-obsessed Tate to life for 191 episodes, according to IMDb. One of White's most famous episodes was in Season 2 when Samantha transforms Darrin into Larry so he could help out with a big account.
White wasn't just a "Bewitched" star. The actor also appeared in other TV hits like ″Cagney & Lacey,″ ″Remington Steele,″ ″The Twilight Zone,″ ″The Love Boat,″ and ″The Mary Tyler Moore Show" (via IMDb). He also landed large roles in Broadway shows like "Leaf and Bough," "Affairs of State," "The Bird Cage,″ and "One Foot in the Door," as per AP News. His last role was in the short film "Mergers & Acquisitions" in 1989. Sadly, the publication also reported that White died of a heart attack in 1990.
Alice Pearce, who played Gladys on Bewitched, died from ovarian cancer at this young age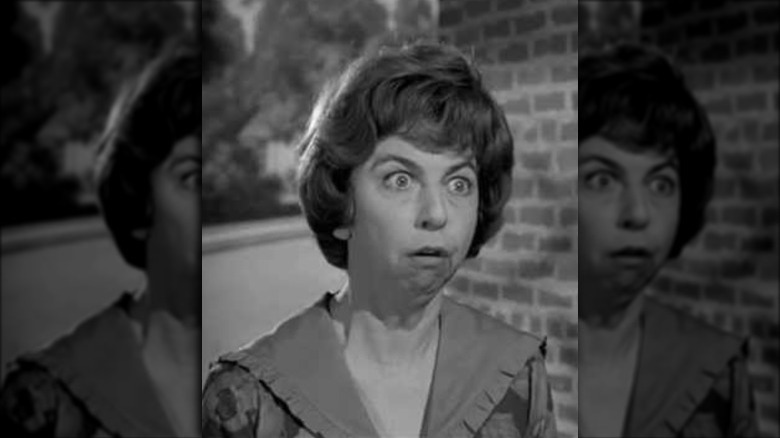 In "Bewitched," Samantha and her mortal husband didn't just have to hide magic from Darrin's boss. They also spend a good deal of the show trying to hide Samantha's abilities from their nosy neighbor, Gladys Kravitz. Actress Alice Pearce played Gladys for Seasons 1 and 2 of the hit sitcom, according to IMDb, lending her perfectly hilarious nasal voice and knack for physical comedy to the role with great success. Sadly, however, Pearce's time on "Bewitched" came to an abrupt end when she died from ovarian cancer in 1966. As per The New York Times, she was only 47 years old.
While "Bewitched" was, perhaps, Pearce's most famous role, she was an accomplished comedian on both the stage and screen. According to The New York Times, she collected laughs in 10 Broadway shows and even earned the record at the time for the longest individual run at a venue — 67 weeks. The publication also reported that she was a favorite of playwright Noel Coward, who once called Pearce "a noble artist." As per IMDb, Pearce was also lauded with a posthumous Emmy win for her time as Gladys on "Bewitched."
Sandra Gould, the second actress to portray Gladys on Bewitched, died in 1999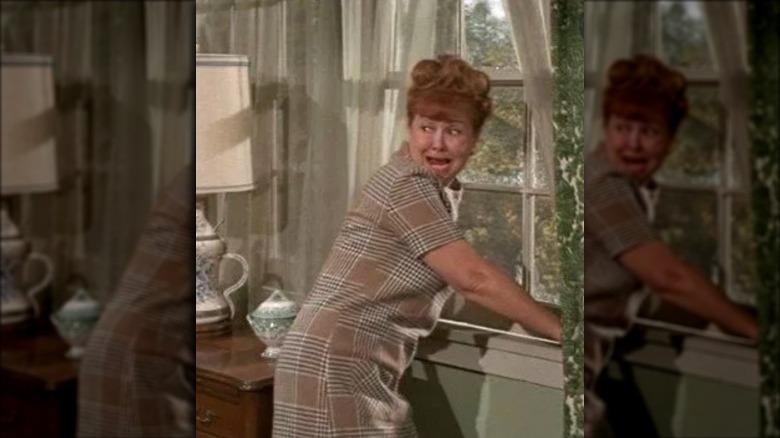 Alice Pearce left big shoes to fill on "Bewitched," but Sanda Gould filled them with humor, charm, and plenty of grace. Gould took over for Pearce as nosy neighbor Gladys Kravitz in 1966 and appeared on the show for five seasons, as reported by IMDb. The actress also saw great success in other TV hits like "I Love Lucy," "The Twilight Zone," and "My Three Sons." She even went on to voice Betty Rubble on "The Flintstones" for six years and make an appearance on "Friends" (via IMDb). According to Variety, in addition to acting, Gould authored two books and was very involved in several charities like Actors and Others for Animals.
Sadly, the publication also reported that Gould died at age 73 of a stroke in 1999. Kasey Rogers, another "Bewitched" star, told Variety that Gould adored her time on the sitcom, remembering, "She could walk into any room and as soon as she said, 'Abner!,' everyone would turn around and laugh."
Marion Lorne, who played Aunt Clara on Bewitched, died of a heart attack in 1968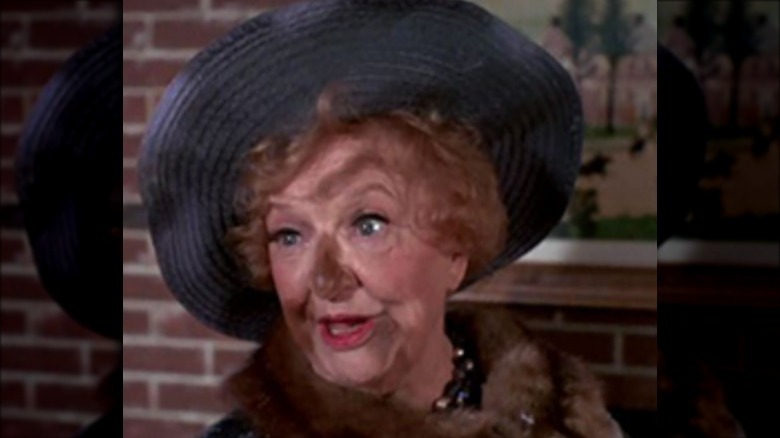 Not all of Samantha's witchy relatives on "Bewitched" hated her mortal husband, Darrin. In fact, Samantha's Aunt Clara got along with Darrin quite well — though her malfunctioning powers caused lots of trouble for the Stephens, and she always arrived at their home via the chimney instead of the front door. Actress Marion Lorne brought Aunt Clara to life for four seasons of "Bewitched," appearing in 27 episodes between 1964 and 1968, as per IMDb. Unfortunately, fans never got a chance to see Aunt Clara in Season 5 as Lorne died of a heart attack before filming began in 1968. As The Gettysburg Times reported at the time, the actress died at age 82.
The Gettysburg Times also reported that Lorne's decades-long career began in 1905 when she appeared in a local stage production. Her first role on TV was in 1952, and she went on to act in many more shows like "Mr. Peepers," "Sally," and "Suspicion," according to IMDb. Lorne's agent also told the publication that she'd appeared in as many as 100 theatrical productions throughout her career.
Rita Shaw, who portrayed two characters on Bewitched, died in 1982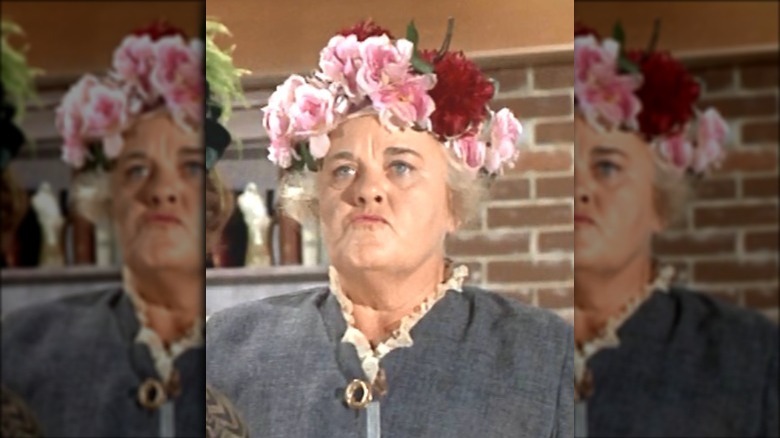 The cast of magical characters that (literally) popped in and out of Samantha and Darrin's house was arguably one of the best parts of "Bewitched." And actress Rita Shaw was responsible for not one, but two of these characters. According to IMDb, Shaw played both Aunt Hagatha, one of Samantha's witchy family members, and Bertha, another magical relation, on the sitcom. Her boisterous presence and commanding comedy skills were greatly appreciated on each of her four episodes.
Shaw brought that same energy to other roles on both stage and screen, most notably as Mabel in the stage and movie version of the musical "The Pajama Game," as per The New York Times. She also had roles in "Gentlemen Prefer Blondes," "Picnic," and "Annie Get Your Gun" on Broadway and in "The Lucy Show," "Here's Lucy," "The Andy Griffith Show," and "I Dream of Jeannie" on TV. According to the same publication, Shaw, unfortunately, died in 1982 at the age of 69.
Paul Lynde, who played Uncle Arthur on Bewitched, died from a heart attack at age 55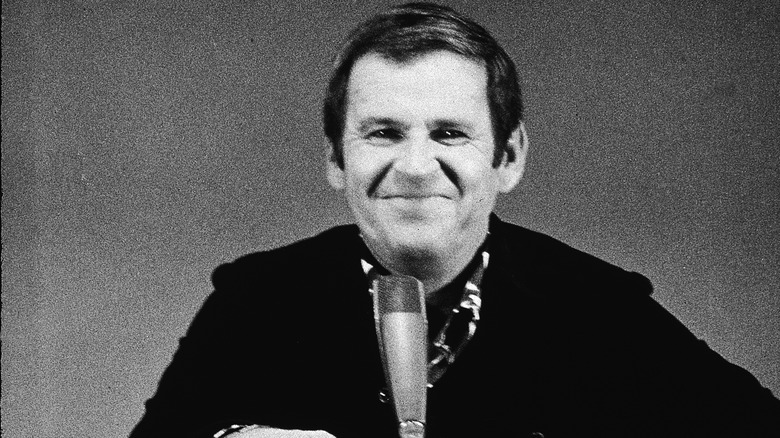 On "Bewitched," there was actually one other member of Samantha's family who liked her husband, Darrin: her Uncle Arthur. Uncle Arthur was a smiley, boisterous, and downright hilarious warlock, who, according to "Bewitched" director Richard Michaels, was 100% inspired by Paul Lynde, the actor who brought Arthur to life. "His personality was the same off camera as it was on camera," Michaels told Entertainment Weekly. "There was nobody really like him; he saw everything as a joke, and it made him a natural."
As reported by IMDb, Lynde played Uncle Arthur for 11 "Bewitched" episodes, but it was, perhaps, his long tenure on the game show "Hollywood Squares" and his status as a gay celebrity that made him famous. "He was probably the first gay person … in a lot of people's homes across America," Billy Eichner explained to Entertainment Weekly, noting, "he was ahead of his time" for being his true self on the screen. Sadly, the same publication reported that Lynde died of a heart attack in 1982. He was only 55. As comedian Whoopi Goldberg — whose name was actually inspired by a whoopee cushion — told Entertainment Weekly, "There was no one funnier than Paul Lynde."
Source: Read Full Article