Inside Trisha Paytas And Ethan Klein's Rocky Relationship
For YouTube fans, the names Trisha Paytas and Ethan Klein are nothing new. Both Paytas and Klein are hugely popular internet personalities respectively boasting millions of subscribers across their YouTube channels and other social media platforms. Paytas made a name for themself with a more comedic yet personal approach to their YouTube channel by posting various skits and storytelling videos surrounding pop culture and their life. They've also reached into the more raunchy side of the Internet with tales of their sexual escapades that bring in millions of views as well.
Klein built a platform with his wife, Hila. Together, the pair runs the h3h3Productions YouTube channel, which like Paytas', gained a massive following from reaction videos and comedic commentary on what was happening in the zeitgeist. Paytas and Klein soon built an off-again, on-again friendship that consisted of short-term online feuds and drama, which eventually led to their "Frenemies" podcast, where they hash out their disagreements and learn from each other's perspectives, which Junkee called the internet's most "unexpectedly cathartic" podcast. It was a hit!
But there now appears to be actual trouble in the "Frenemies" world. So what's going on? Read on to find out.
Trisha Paytas and Ethan Klein feuded over "Frenemies" ownership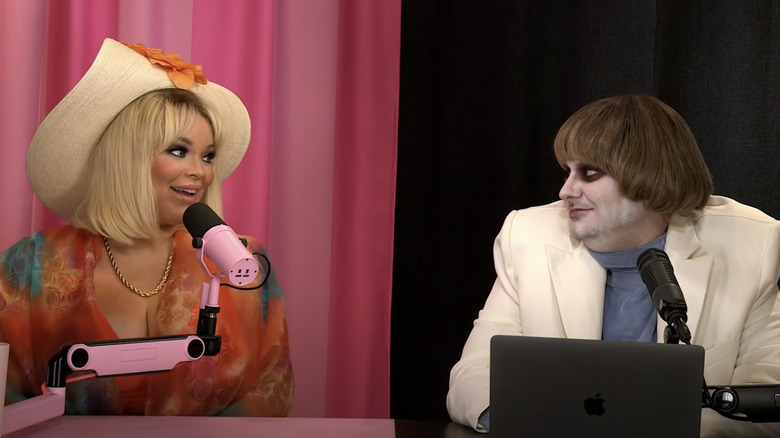 YouTube personalities Trisha Paytas and Ethan Klein have always had a rocky relationship. In fact, their entire "friendship" began because of internet feuds over YouTube and Twitter, reported Junkee. Somehow, the two were able to make some kind of relationship work and started the "Frenemies" podcast as part of the H3 Podcast network, but there's now real trouble in paradise.
The success of the "Frenemies" podcast came to a halt in June when Paytas quit citing ownership disputes. According to Insider, Paytas left the podcast because they wanted a "50/50 partnership" between them and Klein, but Paytas says that Klein's idea was that H3H3 produced the podcast while Paytas was simply "the talent." Paytas and Klein have yet to come to any sort of agreement regarding a new partnership, so the podcast has ended for now. Bummer.
"At the end of the day, Frenemies was a beautiful experiment that I will always cherish," Klein tweeted. "I've learned and grown so much from the experience and have Trisha to thank for that." Paytas also posted her own response. "I apologize. I apologize for everything. This got blown out of proportion. I don't want enemies." they tweeted. "And most of all I'm sad to leave. But alas all good things come to an end." 
There's no telling whether Paytas and Klein will reconcile in the future, but things are quiet for now. 
Source: Read Full Article