'Jersey Shore' Fans Are Calling Pauly D 'Fine' for His Isolation Beard
Many people can't get their hair done professionally during the coronavirus pandemic so they're rocking different looks. Jersey Shore stars are included in this. Paul "Pauly D" DelVecchio is getting a lot of compliments for his isolation beard. Find out what people are saying and more.
Pauly D is also social distancing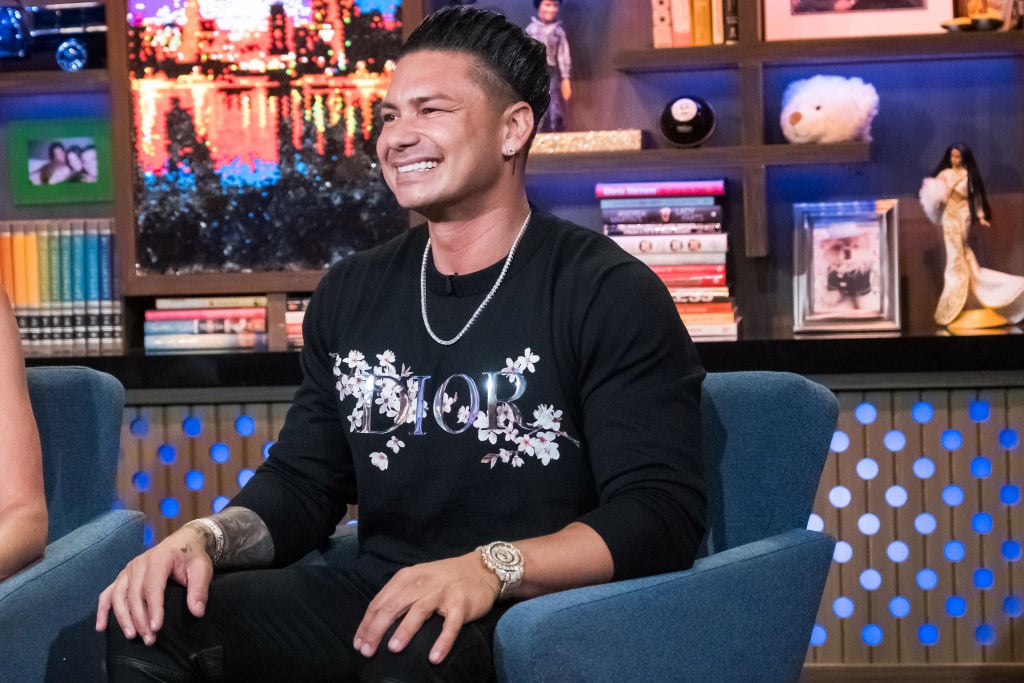 RELATED: 'Jersey Shore' Fans Aren't Sure About DJ Pauly D's Quarantine Look
DJ Pauly D is one of many celebrities who have been posting online about staying inside. He put his DJ skills to use by going live on Facebook and Instagram to do DJ sets for his fans.
Jersey Shore: Family Vacation has continued to air and it revealed DelVecchio actually turned down Jenni Farley.
"Remember that time we were in New York City?" Farley asked Angelina Pivarnick during the episode. "Me and Pauly had a nice dinner together that night. And then we went home together. And he shut the door on me."
Pivarnick then talked to DelVecchio to get his side of the story. "Obviously, I wanted to [hook up with Jenni], but I didn't know if I was supposed to cross that line or not," he said.
"I slept on it and [then] dude swooped in," he said referring to Farley's on-an-off-again boyfriend, Zack Carpinello. "At that point, I didn't even know she wanted to." Although Farley wasn't with Carpinello during the filming of the episode, DelVecchio was against the idea of hooking up with her.
"What happens if I do it, and she gets back with the dude tomorrow?" he asked. They didn't hook up and Farley is reportedly back with Carpinello.
There will be another season of 'Double Shot At Love'
RELATED: Why Did Aubrey O'Day and Pauly D. Call It Quits?
The dating show Double Shot At Love is coming back for a second season. This time it will be called Pauly D and Vinny's Vegas Pool Party, Double Shot at Love.
Brittani "B-lashes" Schwartz, Derynn Paige, Maria Elizondo, Marissa Lucchese, Nikki Hall, and Susan "Suzi" Baidya from the first season have returned. This time they won't be competing to find love with the DJ and Vinny Guadagnino.
Instead, they will be living with the Jersey Shore stars in Las Vegas. The show will premiere on June 11 on MTV.
He posted a video showing off his isolation beard
RELATED: 'Double Shot At Love': Did Pauly D Lead Nikki Hall On?
The DJ posted a video on Twitter stroking his beard on May 13. "Beard's coming in quite nicely, " he says. It seems like fans agree given their comments.
"Omg!! I had to watch this a few times. Didn't see the hair due so I was in total denial it was you. But now I see it's actually you.looks good!!!" tweeted one fan.
"Don't ever shave," wrote another fan. "Omg another person! But you look good too," wrote someone else. Many other people also noted how different he looks with facial hair. "Holy sh*t. You look so different with [t]hat and beard. Had no clue it was you," wrote one fan.
He shared the same video on Instagram where his co-stars left comments. Guadagnino wrote "You gotta get the skin fade now and 2 on top!" Mike "The Situation" Sorrentino wrote, "New look is fire."
Source: Read Full Article