Khloé Kardashian Reportedly Unfollows Tristan Thompson After Larsa Pippen Interview
Some weird drama is going down with the Kardashians right now—and by that I mean it looks like Khloé Kardashian has unfollowed Tristan Thompson. Again. Despite news that Tristan and Khloé are getting along better than ever lately (and some reports that they are, in fact, dating again), multiple outlets including our friends at Cosmopolitan UK are reporting that Khloé hit unfollow on her ex. And yeah, when you search his name in her IG follows he's most definitely not there: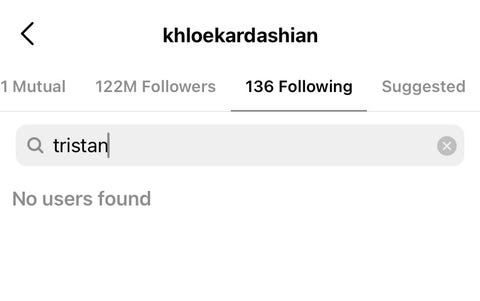 Meanwhile, OK! Magazine reports that Kylie Jenner, Kendall Jenner, Kris Jenner, and Scott Disick have also unfollowed Tristan (though, TBH it's possible that they never did).
TBD on the reason why, but this move comes just days after former Kardashian BFF Larsa Pippen claimed that she had dated Tristan right before Khloé, saying "I was seeing him, I had him come to L.A. I brought him to a party Kim had. I introduced him to all of them. Then a week later, or 10 days later, he started seeing Khloé. Which is fine, I don't even care. It's whatever. I'm the type of person that doesn't chase what's not for me."
The Kardashians haven't spoken out directly about Larsa's claims, but a source did tell Us Weekly that "No one remembers Khloé meeting Tristan before that or being introduced to him through Larsa. Larsa was never dating Tristan. They may have gone out in a group or met up, but they did not date. The family thinks she is embarrassing and seeking attention."
This has been an update!
Source: Read Full Article