Khloé Kardashian Slammed for Teepeeing Kourtney's House Amid Coronavirus Toilet Paper Shortages
There's nothing the Kardashians love more than a good prank. From playing on each other's phones to smashing cake in each other's faces, they genuinely love teasing and wreaking havoc on one another. However, this doesn't always go over well with the general public. Khloé Kardashian most recently came under fire after covering Kourtney Kardashian's house in toilet paper amid global shortages due to the coronavirus pandemic.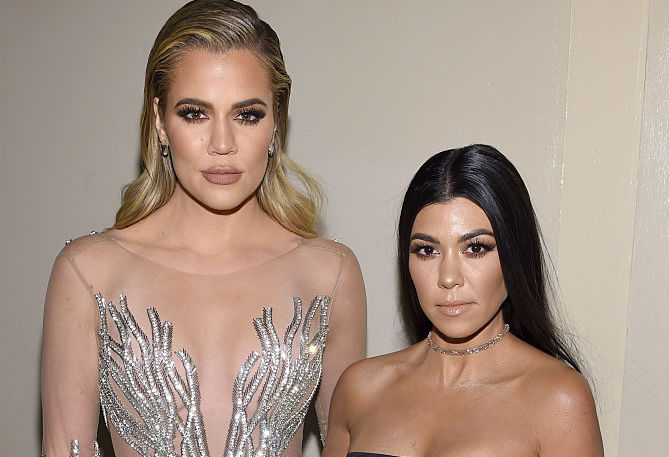 Khloé Kardashian's prank on Kourtney Kardashian
Kardashian apparently pulled the prank with help from her nephew Mason Disick over the weekend of May 8.
Early on May 9, Kourtney posted a video to Instagram of herself waking up to the scene. Walking outside, she showed off heaps of toilet paper covering the yard of her Calabasas, California home.
"So I haven't had this much excitement in months. This is what Mason and KoKo do when they have a sleepover," she said in the video.
"It's actually genius. P, look at this!" Kourtney said to her daughter, Penelope, who was walking nearby.
"I know I saw. That was Mason and KoKo, I saw them," Penelope replied. Her mom then vowed revenge against the Good American designer.
Fans reactions to Khloé Kardashian's teepee prank
Normally, this probably wouldn't be a huge deal. But considering how hard it has become to get toilet paper due to the coronavirus pandemic, fans feel that Kardashian was being wasteful, selfish, and careless with the items. She faced criticism on multiple social media platforms, including Instagram and Twitter.
"we're in the middle of a pandemic and khloe tp'd kourtneys house while some people are literally struggling to find toilet paper in stores. the privilege jumped out," read one tweet.
"khloe kardashian deciding to teepee kourtneys house with rolls of toilet paper just shows how obnoxious & selfish rich people are even during a pandemic," read another tweet.
"I guess they don't know what's going on in the world," a third message said in part.
Even the most diehard Kardashian fans were disappointed.
"I STAN the Kardashians but Khloe tee-pee'd her sisters houses today when there is a TOILET PAPER SHORTAGE. Love u khlo but not a good time for pranks like dat," tweeted a fan.
"Love you @khloekardashian but wasting toilet paper during a time like this was insensitive," said a second person.
As of writing, Kardashian has not addressed the criticism.
It's not the first time Khloé Kardashian has done this prank
If you haven't kept up with the Kardashians since they landed on the world's radar in 2007, you might not remember this. But Kardashian pulled the same prank in an earlier episode of Keeping Up with the Kardashians.
She had been out having drinks with Kris Jenner when she and her mom decided to teepee Kim Kardashian West's house. After racking up on materials at a local drugstore, they drove to Kim's house and hurled toilet paper all over the yard. Kim had a fit when she saw what happened but came to realize that it was all in good fun.
We have to admit that it was pretty hilarious but now probably isn't the best time to recreate such a thing.
Source: Read Full Article