The Sad Thing Meghan Markle Remembers About Her Childhood
Meghan Markle has not been shy about her struggles with living life in the spotlight. From going to a Hollywood actor to the Duchess of Sussex, Meghan has candidly detailed her tumultuous journey navigating life in the public eye. Now, in her illustrated book "The Bench," the "Suits" alum revealed a sad admission about her childhood.
Meghan said "The Bench" began "as a Father's Day poem" for her husband, Prince Harry. On their Archewell Foundation website, she explained how the story "expanded into a children's book" because she was "encouraged to see [how] its universal themes of love, representation, and inclusivity" could be received by others. "Equally, to depict another side of masculinity — one grounded in connection, emotion, and softness — is to model a world that so many would like to see for their sons and daughters alike," she added in the message.
"The Bench" was released on June 8, and it has already reached No. 1 on The New York Times Bestseller list for children's picture books. In the post on their official Archewell Foundation website, Meghan thanked her fans for "supporting [her' in this special project." While it's clear Meghan's words have already left a big impact on all of her readers, she revealed a heartbreaking memory about her childhood during a new interview. To find out what Meghan shared about her life as a little girl, keep scrolling.
Meghan Markle recalls not feeling 'represented' in books as a child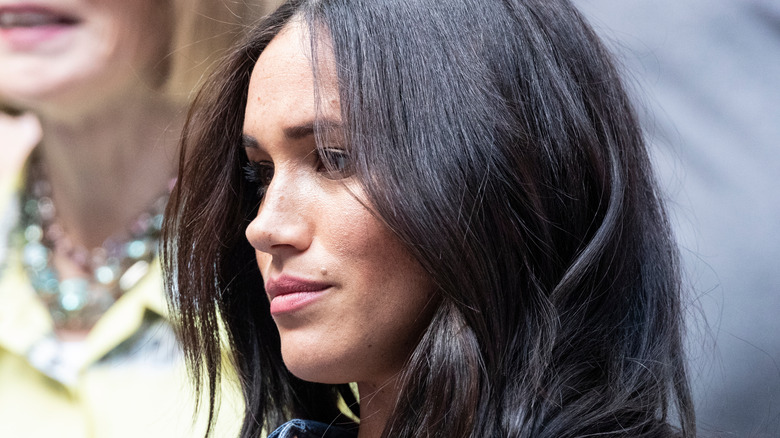 Although it started as a gift to her husband, Prince Harry, Meghan Markle transformed her children's book, "The Bench," into a story to which other families can relate. Because the "Remember Me" actor said she felt like there was not enough diversity when it came to characters in other children's books when she was a little girl, her main goal was for "any family" to feel represented when they read the pages of her story.
"Growing up, I remember so much how it felt to not see yourself represented," Meghan shared in an interview with National Public Radio (NPR) host Samantha Balaban, published on June 20. "Any child or any family hopefully can open this book and see themselves in it, whether that means glasses or freckled or a different body shape or a different ethnicity or religion." Meghan added, "This story that I wrote for my husband and son could really be your story also."
The release of Meghan's No. 1 NYT Bestseller comes mere months after her explosive interview with Oprah Winfrey in March. During a two-hour CBS primetime special, Meghan — along with Prince Harry — opened up about their life as royal family members, as well as what it's been like since their step back from the British monarchy in January 2020. In addition to detailing her thoughts of suicide and depression, the couple claimed allegations of racism within the royal family (via CNN). 
Source: Read Full Article