The Stunning Transformation Of Guy Fieri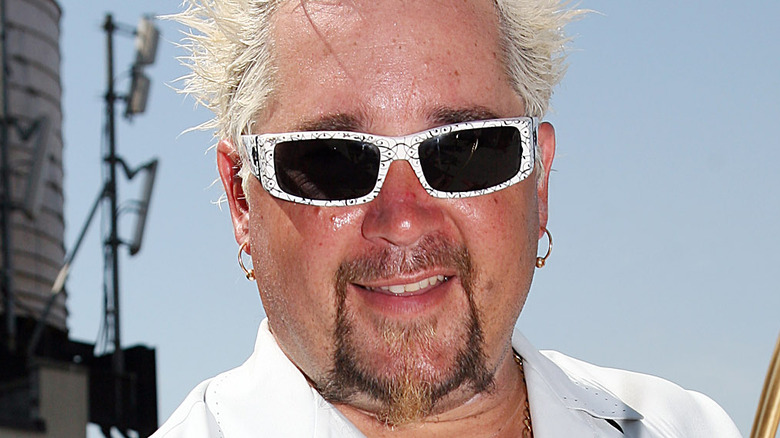 Love him, hate him, or idolize him, but chances are you know exactly who Guy Fieri is. The celebrity chef is ubiquitous on food-centric television and hosts a variety of programs including (but not limited to) "Diners, Drive-Ins and Dives," "Guy's Grocery Games," "Tournament of Champions," and "Guy's Ranch Kitchen." Indeed, Fieri is a busy guy when it comes to TV work, and that's on top of his culinary career, to boot. How does he find the time?
For as famous and lauded as Fieri is today, he wasn't born with a whisk in one hand and a meat tenderizer in the other — and he also didn't have spiky bleached hair as a baby. Rather, Fieri is a self-made man who deeply treasures the simple things and aspires to make the world a better place than the one he came into. You might actually be surprised to learn all the good deeds that Fieri has been behind, as they're impressive by any measure (per Thrillest). Oh, and did you know he changed his last name from Ferry to Fieri after learning more about his real roots?
So what else is there to know about the Mayor of Flavortown? Read on to discover the stunning transformation of Guy Fieri.
Although Guy Fieri grew up in California, he was born in another state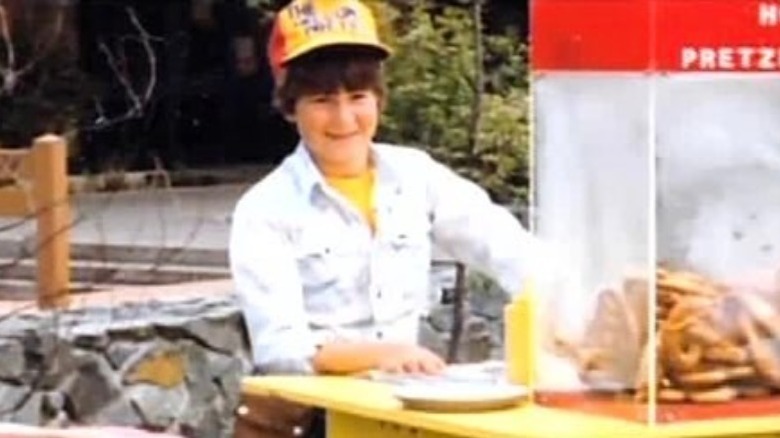 Guy Fieri was born on January 22, 1968 at the Riverside Maternity Unit in Columbus, Ohio, as noted by Ohio Health. At the time, Fieri's parents were students at Ohio State University, but they relocated the family to Northern California shortly after Fieri was born. And while Fieri is a California dude through and through, the denizens of Columbus still feel connected to him; they even started a petition — which a lot of people have signed — to change the name of their city to Flavortown (via Change.org).
Growing up, Fieri unabashedly looked up to his father, a self-made man who was capable enough to build their home after serving in the Navy. "My dad donates all his time to community," he told Thrillest. "He's always been this guy that I aspired to be, and still do." Fieri added that his love and respect for his father isn't "some goofy, delusional kid thing," as his pops is the real deal.
Guy Fieri started his hustle as a child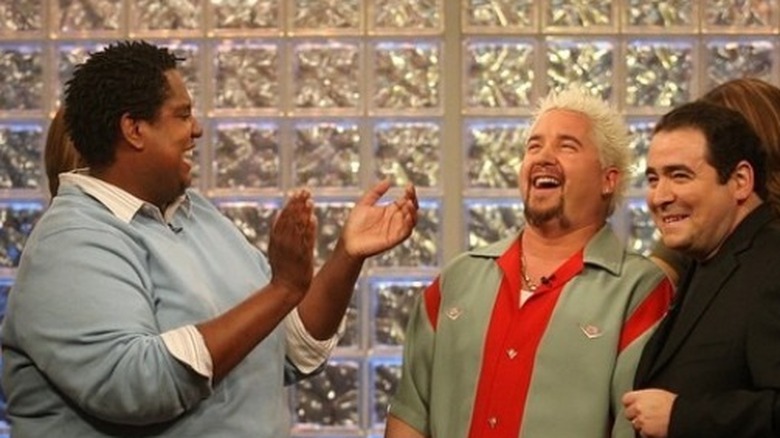 Guy Fieri's love of food was evident early on in his life. One especially notable example was his utter passion for the soft pretzels he would have for lunch on ski trips as a child. Fieri one day extolled the virtues of said snacks to his father, which inspired a business idea. "My dad says, 'If you're such a fan of these pretzels, why don't you own a pretzel business when we get back home?'" Fieri revealed in an interview with Variety. Why not, indeed?
To that end, the 10-year-old Fieri decided that the best way to go about opening a pretzel business would be to ask the man who sold them for the manufacturer's address — but that's when the man asked him if that was his plan. "I said, 'How'd you know?'" he continued. "He goes, 'I'm not giving them to you.' I said, 'I'm a kid!'" Oof, even as a child the restaurant business is brutal.
Fortunately, Fieri persevered — thanks to a little bit of dumpster diving — and went on to have a profitable pretzel enterprise for six years, according to his website. Start 'em young, huh?
When he was 16 years old, Guy Fieri moved to France for a year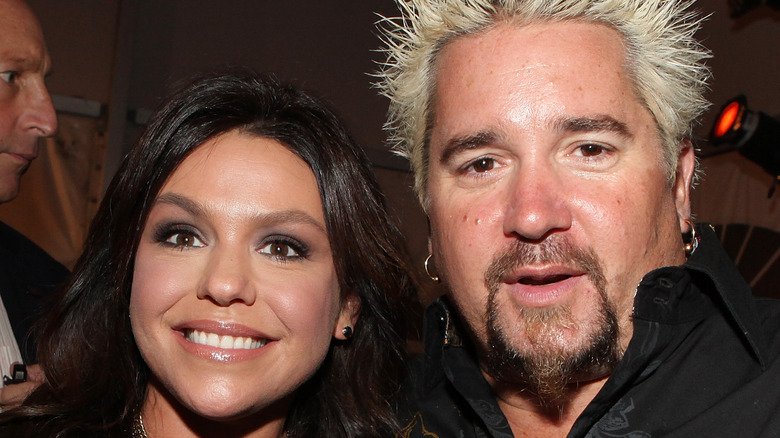 Even as a teenager, Guy Fieri was interested in traveling the world. "When I was a sophomore in high school, I made a deal with my parents," he recalled in an interview with Thrillest. "If I went to the junior college in our town and took French and got a B or better, they would let me go to France and live in a boarding house and go to school." So he did just that, and, sure enough, he met his academic goals.
Not long after, at the age of 16, Fieri hopped on a plane and flew to France, staying for a year in a town called Chantilly. "It was a family that rented me a room," he continued. "It was just such a different world where I came from." And, during that tenure, Fieri also got the chance to explore not only France, but other countries in Europe. Lucky!
Not surprisingly, Fieri expanded his love of food during this year abroad, which crystalized his desire to become a chef. "I came back and that was it," he added.
Guy Fieri became a restauranteur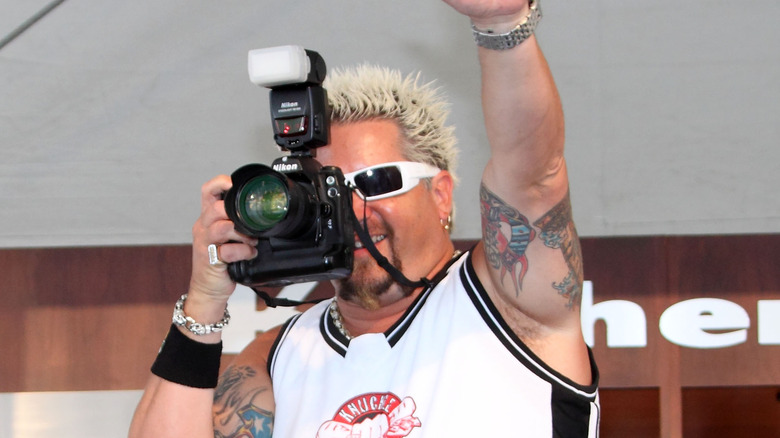 After returning to the States from France, Guy Fieri started college at the University of Nevada, Las Vegas, eventually getting a degree in hospitality management, according to his website. But, Fieri being Fieri, he, of course, had a side hustle or two while in school; he also worked a few different restaurant jobs, including as a flambé captain (which seems seriously on-brand), as noted by Biography.
Following graduation, Fieri returned home to Northern California, where he decided to start his own restaurants. To that end, he and his partner opened up their first eatery in 1996, a casual Italian dining joint called Johnny Garlic's. Once that venture was secure and successful, the pair launched a second restaurant in 2003 — this time a fusion concept called Tex Wasabi's. As you might have guessed by the name, Tex Wasabi's served both California-inspired sushi and Southern barbecue cuisine. Yum.
So, even before he was a star, Fieri had several successful businesses, which we have to admit is pretty impressive.
Guy Fieri tied the knot in 1995 and is still married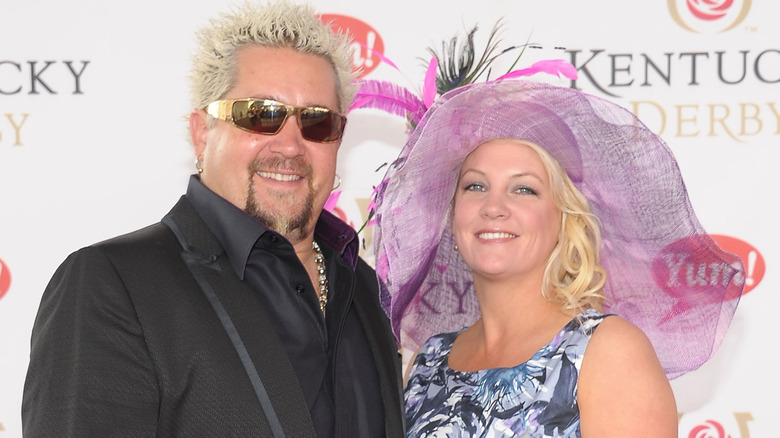 One thing that we didn't know until we did some serious digging is that Guy Fieri has been married since 1995 (via Grub Street). As he tells it, Guy met his wife, Lori Fieri, when she came into one of his Long Beach, California, establishments with an ex-employee. And, while Guy was trying to get the pair to leave, he couldn't help but take notice of his former worker's friend. "I knew as soon as I saw her," he revealed in a chat with Delish. "I just knew."
Since Lori and her friend refused to leave — instead, they held their ground, and Guy decided to let them stay — the trio ended up kicking it together. That's when Guy learned Lori was in the midst of a cross-country move all the way from Rhode Island. But Cupid had other ideas. "She never made it to San Diego," he continued.
After that fateful meeting, the Fieris have been peas and carrots, something that Guy says takes commitment. "To get here, you have to be willing to adapt and understand," he added. "It's all compromise and understanding."
Here's how Guy Fieri got his iconic hair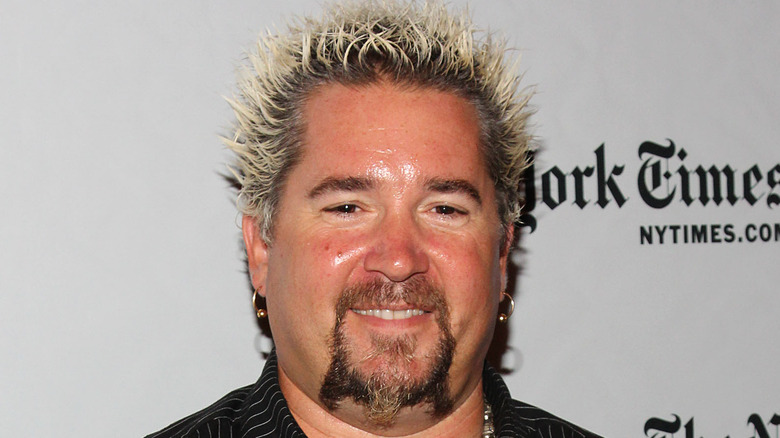 Anyone who's ever laid eyes on Guy Fieri can't help but notice his now-iconic hairstyle, which definitely gives us some serious '90s vibes. But what you might still wonder is just how the frosted tips and bleached goatee came to be. As it turns out, they're all thanks to Fieri's former hairstylist, a woman named Christina Jones. "I was just kind of having one of those moods one day, and said, 'Just do whatever you want,'" he explained in an interview with People.
That's exactly what Jones did, though believe it or not, at the time Fieri didn't like what he's clearly come to love. "It was Friday night at like six o'clock. I had to be at the restaurant," he continued. "So I put a ball cap on and walked to the restaurant."
Whatever reservations he had then clearly were temporary, as Fieri has been sporting that look to this day. However, there's one person who isn't exactly thrilled about it: his wife. "When I first met him, he had no goatee," she shared. "He had dark hair. He wore a suit to work every day." She added that although she prefers the clean-shaven look, she accepts it's just who her husband is.
After winning The Next Food Network Star in 2006, Guy Fieri's profile started rising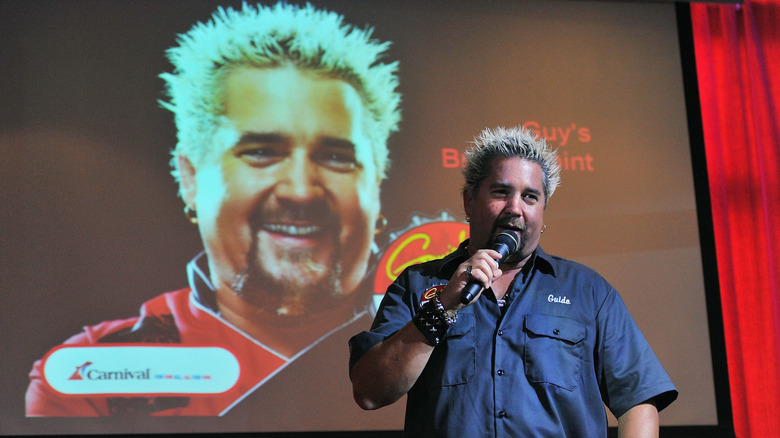 Guy Fieri was living his best life as a husband and a chef when the year 2005 rolled along — and his friends started telling him to send in an audition tape for "The Next Food Network Star." Fieri might not have known it then, but that was the path that set his career in motion.
As we all now know, Fieri won that season of the competitive cooking program, which launched his television career. "I keep in touch with my friends that I was on Season 2 with — most of them — and I think about where it's taken me and the opportunities it's given me, and I'm very humbled," he confessed to Food Network. "It's really mind-blowing."
Fast-forward all these years later, and Fieri is still enjoying the prime of his career at Food Network. "I feel blessed to be a member of the team," he added.
Being a dad is the most important thing in the world for Guy Fieri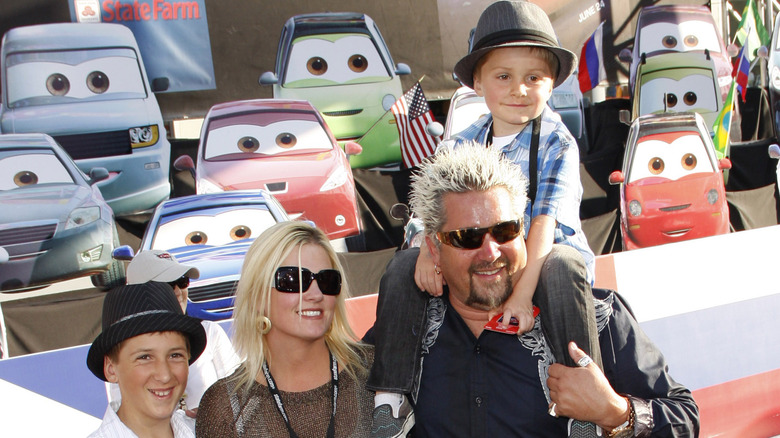 In the midst of his career as both a chef and a television celebrity, Guy Fieri became a father. Guy and his wife, Lori Fieri, have two children: a son named Hunter Fieri (born in 1996) and a son named Ryder Fieri (born in 2005). Unsurprisingly, Fieri is absolutely thrilled to be a father. "My whole world revolves around my family," he proclaimed in an interview with Delish. "That's what sets the tempo for everything I do." That's the truth, as Guy never commits to anything without consulting his wife and children's schedule first.
The Mayor of Flavortown also strives to bring his family into his work, which is evident from his shows "Guy's Family Road Trip" and "Guy and Hunter's European Vacation," as well as a show that features Guy and Hunter traveling throughout Asia (via Mashable). And, if you follow Guy on Instagram, you should know that his family, including his parents, all put their stamp of approval on the amazing memes Guy posts. We're so here for this!
Diners, Drive-Ins and Dives started in 2007 and is still going strong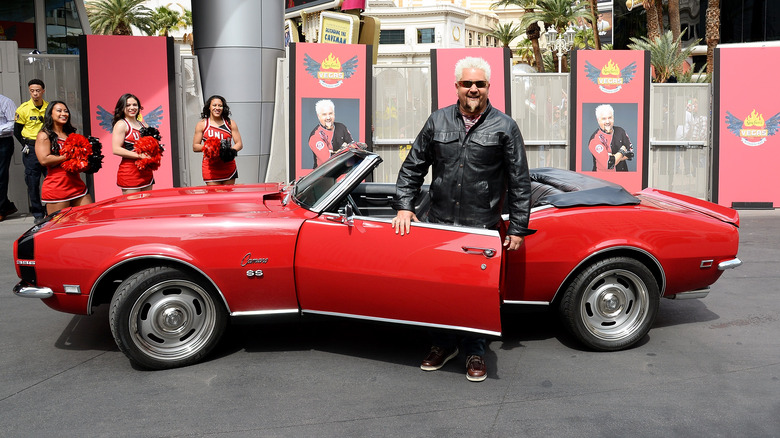 One of the first shows that Guy Fieri ever helmed is the insanely successful "Diners, Drive-Ins and Dives," which features the celebrity chef as he tours the country (and sometimes the world) and samples cuisine from mom-and-pop restaurants. The program debuted in 2006 and has lasted through three presidents — which Fieri finds amusing. "That is the funniest thing I've ever heard," he told Thrillest. "I didn't ever put it into perspective! When it spans three presidencies, I mean, come on."
While those of us who watch the show often curse Fieri for making us hungry at inopportune times, it's well known that appearing on "Diners, Drive-Ins, and Dives" can bring in tons of cash for restaurants. "The show brings a lot of happiness to a lot of people," Fieri gushed in a chat with Robert Irvine. "I get letters and e-mails all the time and that's the beauty of it."
Just how long does Fieri plan to bring his iconic red Camaro to eateries everywhere? "So as much as people will watch it and as many people as we can help with it, I'll do it until that stops." he added. We love to hear it.
Guy Fieri lost his sister to cancer in 2011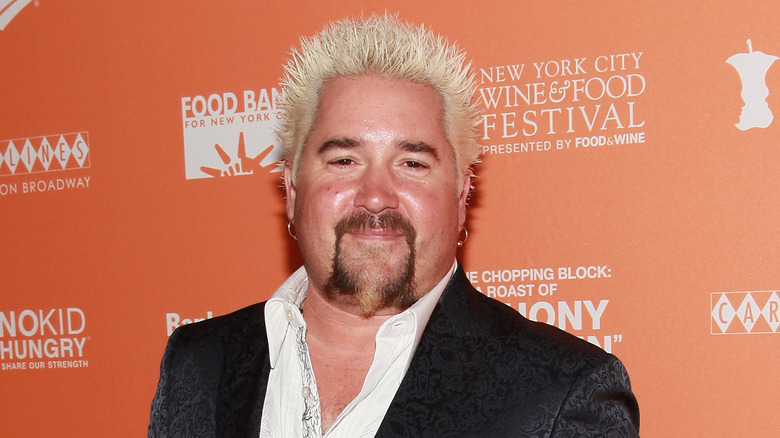 While Guy Fieri's life sounds pretty amazing — with his happy family, thriving career, and fame and fortune — not everything is sunshine and rainbows for the celebrity chef. For one, he has his fair share of haters. But even more sad is that Guy lost someone very special to him in 2011. "My little sister died of cancer eight years and three days ago," he lamented in an interview with Delish. "It was terrible. It was the worst thing." We're so sorry for your loss, Guy.
In honor of Morgan Fieri, Guy got a permanent piece of artwork inked on his arm. "I got this tattoo with her name on it because this keeps her with me every day," he continued. "Then I can talk about her." Guy added that the tattoo contains the word "namaste," which she would often say.
Guy also remembers his sister on social media on special occasions, like this Instagram post he shared in 2017. "Happy birthday to my little sister Morgan who would have been 45 today," he wrote in the caption.
Guy Fieri has become wildly successful and insanely wealthy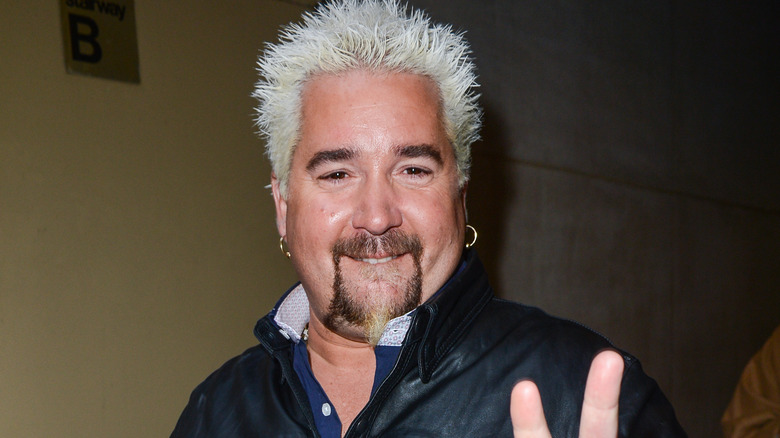 While Guy Fieri has always been comfortable when it comes to money, these days he's a seriously wealthy man. According to Celebrity Net Worth, the Mayor of Flavortown is worth a cool $40 million — wow. That makes him the highest paid chef on all of television, as noted by Forbes. Not only that, but Fieri is also the highest paid star on the entire Discovery network — which includes everyone from Chip and Joanna Gaines to The Pioneer Woman, Ree Drummond. That's pretty impressive for the former pretzel entrepreneur!
All of that wealth is mostly due to Fieri's work with the Food Network — he signed an $80 million-dollar contract with them in 2021, three years after inking a deal with them for $50 million. That's a $30 million raise! Additionally, Fieri also makes money from his fleet of restaurants, which include Flavortown Kitchen, Chicken Guy, Guy's Burger Joint, Guy's Sandwich Joint, and Guy's Highball Lounge (per his website). Oh, and don't forget his winery and various licensing deals (via Grub Street).
Giving back is important to Guy Fieri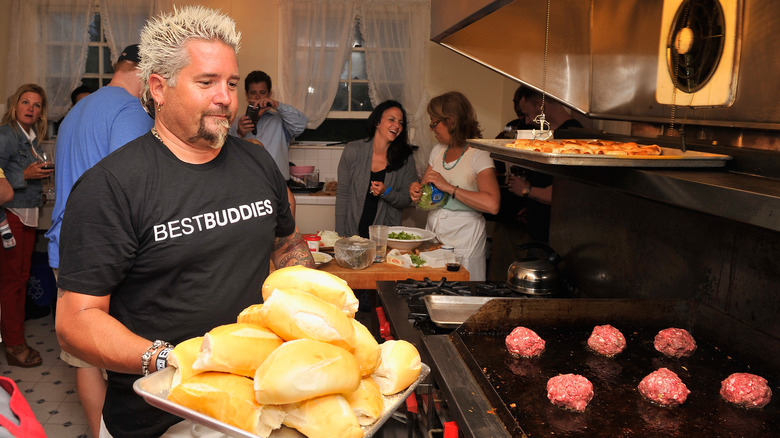 While Guy Fieri may be rolling in his riches a la Scrooge McDuck, he's not nearly as stingy as the cartoon character — quite the opposite, in fact. Fieri's charity work is actually quite extensive, as giving back is core to his ethos. "That's how I try to live my life," he explained in a chat with Thrillest. "When you get to be in my situation, how can you look at the situation and not say, 'Oh my gosh, I gotta give back. I gotta give back immediately.'"
Some of Fieri's charitable efforts include his work with the Make-A-Wish Foundation, which is near and dear to his heart because of his sister's cancer diagnosis and death. "I remember what it's like to be in a hospital with her," he continued. "I remember that feeling of just being bored and tired. I was a kid, she was a kid, and I didn't understand it."
Fieri also officiated a wedding for 101 same-sex couples in 2015, according to USA Today (FYI, his sister was a lesbian).
Guy Fieri has done a lot for first responders and the restaurant industry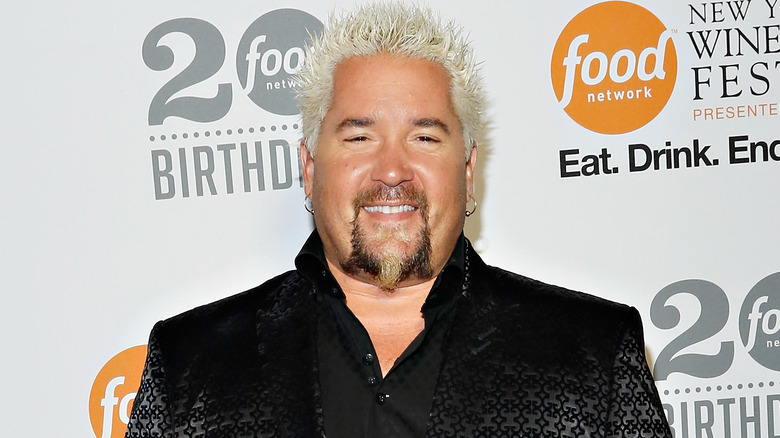 In addition to his work with the Make-A-Wish Foundation, Guy Fieri has worked extensively to support first responders. For example, he's cooked food for the firefighters working to put out blazes in California, as well as those displaced by those wildfires. He's also thrown parties for first responders, particularly in the wake of the 2017 shooting massacre in Las Vegas, as per Delish.
Additionally, Fieri has worked tirelessly to help those working in the restaurant industry. For one, his show "Diners, Drive-Ins and Dives" helps mom-and-pop restaurants dramatically in what's known as the "Triple-D effect." Additionally, during the COVID-19 pandemic, Fieri helped to raise over $20 million for struggling restaurant workers, as noted by Grub Street. "I've been through some sh*t in my day … but in a million years, you never could have told me a story as horrific, as decimating, as this has been," he declared.
And, in the wake of Hurricane Irma, Fieri wrote a check to chef José Andrés, who was on the ground in Puerto Rico feeding displaced families. Fieri cites the chef as major inspiration for his charity work, too (via Delish).
Guy Fieri doesn't care what you think of him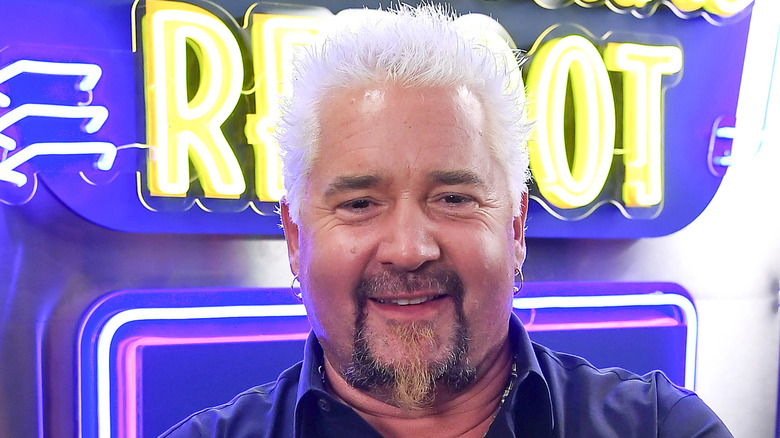 Remember that viral comedy video about Guy Fieri that made the rounds a while back, the one by Team Coco comedian Shane Torres? In it, Torres hit on the fact that despite being a good person — Fieri actually makes time for his fans when he goes to the grocery store – tons of people rag on Fieri all the time. And it's true — not everyone adores Fieri.
However, as far as Fieri sees it, he can't control how other people perceive him or what they make of aspects of his personality. "People can believe whatever the hell they want, I don't care," he explained in a chat with Thrillest. Who knew Fieri had a spicy side?
But, seriously, in a nutshell, Fieri doesn't care what people think of him. "You gotta know me to be able to tell me what you think I should be doing," he continued. "Because if you get thrown off by the fact that I have bleach-blonde hair and tattoos … then you really don't know me well enough to tell me to do anything or really have a position that you should be making an opinion about me." You tell 'em, Guy!
Source: Read Full Article