The Transformation Of Aly Raisman From Childhood To 27 Years Old
The following article contains references to sexual assault.
Gymnast Aly Raisman has had nothing short of an incredible career. Her work at the 2012 and 2016 Olympic Games has earned her a combined total of six medals, and she's been on not one, but two World Championships squads that've taken home the gold. As Bleacher Report wrote in 2012, "Raisman's name now deserves to be right up there with Michael Phelps, Usain Bolt and the other high-profile athletes that have received so much coverage and publicity during the London games." 
While the sport of gymnastics has played an immense role in her life, there's a great deal more to Raisman's story. She's gotten involved with non-profits, has spoken out about the issues that exist in the world of gymnastics, and is a survivor. And after putting her competitive career first for so long, she learned to prioritize herself. "If I'm not taking care of myself, nourishing my mind and my body, I'm not going to be the best I can be," Raisman said to Insider in 2021. "If you want to change the world, work on yourself first."
And the retired athlete is doing just that — in her own way. Find out how Raisman got started in gymnastics and became one of the United States' most celebrated athletes of the last decade, and learn more about her exciting future. 
A mommy and me gym class inspired an Olympic champion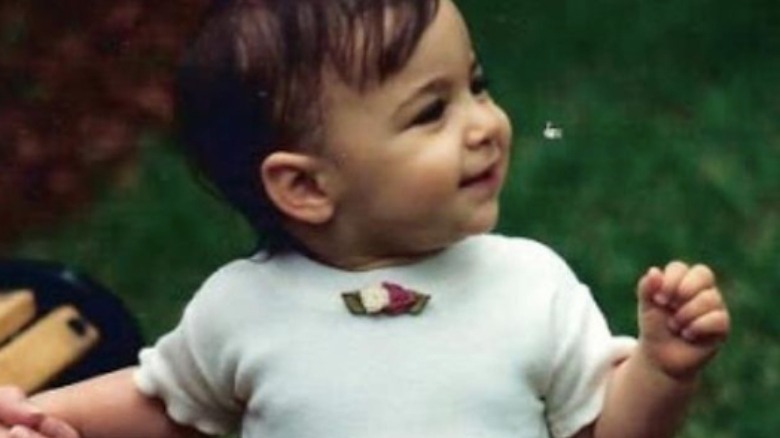 Aly Raisman's journey with gymnastics started when she was just a toddler. As she shared with USA Gymnastics, she was placed in mommy and me classes at age two, and that was that. "I always had a lot of energy so it was the perfect fit!" she said. "I have always loved it ever since!" And that was a source of joy for her mom, Lynn Raisman, who was a gymnast in high school. But those tiny tyke classes soon took on a more important role in her life; one class became two classes, which then snowballed into a real passion for the young athlete. 
Her source of inspiration was the Magnificent Seven, the 1996 gold medal-winning Olympics team that made a major impact on the sport at the Atlanta games. In 2016, Raisman opened up to "Today" about her fandom. "When I was younger, I loved the 1996 Olympic team," she said. "I used to watch [their performance] over and over again on a VHS tape. I was obsessed with it." And remember, she was only two years old when those Summer Games occurred, so she knew from a very young age that gymnastics was her destiny. But she had to get serious about the sport early on, so she had some decisions to make. 
Rising through the ranks at USA Gymnastics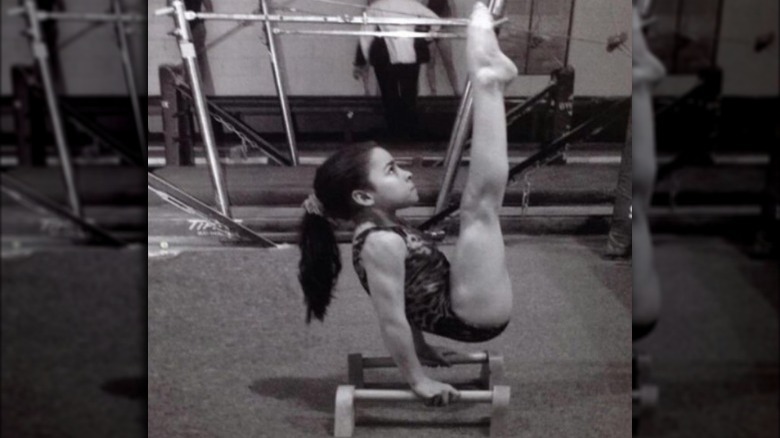 Aly Raisman's early years of training were spent at Exxcel Gymnastics in Newton, Massachusetts. Melissa McManus Flemming, Raisman's former babysitter and now the team director at Exxcel Gymnastics, told the Boston Herald that the drive was there from the start. The coach praised the hard work and time in the gym Raisman put in at such a young age: "There was definitely something different about Aly, she was always determined. Aly is the real deal. She has everything, the passion, the talent, the determination, and her family is 150 percent behind her." Suffice to say, she had the "it" factor. As McManus Fleming said in the Boston Ledger, "But what we look for in here, we could see it in Aly."
Per Biography, when she was still in elementary school, she began training at Brestyan's American Gymnastics Club under coaches Mihai and Silvia Brestyan in hopes of making the Olympic team in 2012. At this point, she had eight years left to refine her skills. That might sound like a long time on paper, but it goes by quickly when you're trying to become one of the best athletes in the United States. 
She had to come out from the shadow of teammate Alicia Sacramone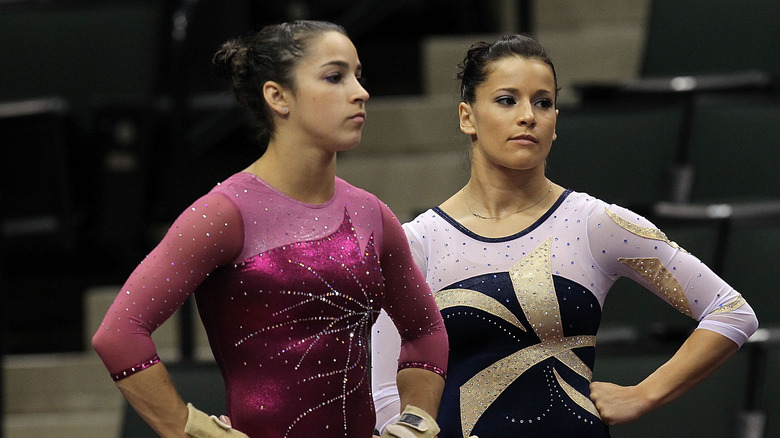 Moving to Brestyan's American Gymnastics Club was a big deal for Aly Raisman because the training was more serious than her prior gym. She had a good foundation of basic skills from her time at Exxcel Gymnastics, but now it was time to kick her gymnastics up a notch. At that gym, she met another future Olympian: Alicia Sacramone. 
In addition to being dominant in the vault and floor categories, Sacramone was a natural leader. As U.S. Gymnastics President Steve Penny said of the 2008 Olympic Games team captain (via NBC Sports), "Alicia has had a major impact on women's gymnastics. Her personality, sense of humor and leadership skills were important ingredients in the success of our team."
When Sacramone tore her Achilles' tendon mid-meet during the 2011 World Championships in Tokyo, it was Raisman who picked up the reins. "When you look at Aly in particular, she's become the veteran of this new generation, and I think she's learned from Alicia (Sacramone) that she can have a very important leadership role on this team," Penny said to Fox Sports in 2012 (via Bleacher Report). "She was very instrumental in keeping the team together emotionally and mentally last year when we lost Alicia, and Aly really stepped into that role very well and very naturally." It's every reason why the Massachusetts athlete was named team captain for the two Olympic teams she made, too.
Aly Raisman made her mark in a big way at the 2012 London Olympics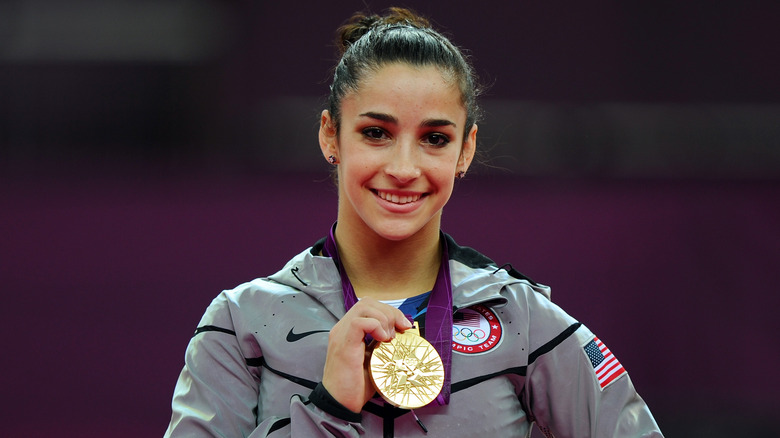 In 2012, the Fierce Five took on the London Olympic Games and came out on top during the Team Finals, and the gold medal winners became household names. Raisman also saw success during the individual event finals, winning a gold medal on floor exercise and a bronze medal on the balance beam. "Wow what a day!!!!!! It was the perfect ending to an amazing Olympic experience. I loved every second of it, thank you everyone for the love," she tweeted after the competition.
But there was one thing that was nagging her after her successful run in London: her fourth-place finish in the all-around competition. Technically, she tied for the bronze medal with Russia's Aliya Mustafina, scoring 59.566 points each, but that wouldn't fly. Per Slate, the Fédération Internationale de Gymnastique requires the judges to throw out the women's lowest score on one event, and then the total points are added again, which in 2012, put Mustafina on top. "Of course it's a huge bummer, but I'm still fourth in the world, so that's something to be proud of," Raisman said to the Boston Globe. "It's also a bummer that they can't just let us both get a bronze medal, but I'm happy for the girls that are on the podium." But Raisman wouldn't be counted out just yet.
Aly Raisman took time off to participate in Dancing with the Stars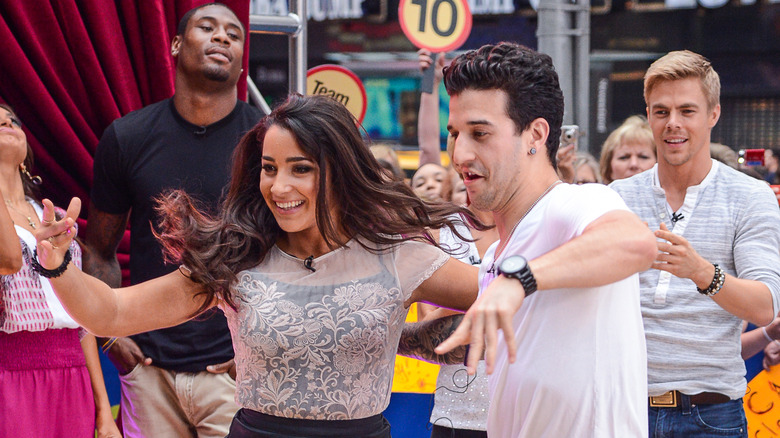 Aly Raisman took some much-needed time off after the Olympics and the USA Gymnastics tour by heading to "Dancing with the Stars" for its 16th season beginning in March 2013. She was partnered with longtime pro Mark Ballas, who was tasked with showing the elite athlete how to cha-cha, samba and waltz. The two got along great both on and off the ballroom floor. "Mark is an amazing teacher. He always knows how to keep things fun, but at the same time, he can be tough and often pushes me so that I can improve," she shared with the Los Angeles Times. "Mark is also so funny and has a great personality."
Her competition included country singer Kellie Pickler, Disney Channel alum Zendaya, and NFL player Jacoby Jones. Raisman came in a very impressive fourth place on the show and said that appearing on the TV series was less about bringing home the coveted mirrorball trophy and "all about the journey."
"Of course it was a bummer when they announced we were in fourth place," she admitted to Team USA. "It was definitely upsetting, but then when you think about it, I'm lucky to even have been asked to do this show. It's not always all about winning." And she knew exactly where she was going to take her newfound dance skills: the 2016 Rio Olympics. 
The lure of the Olympics called to Aly Raisman again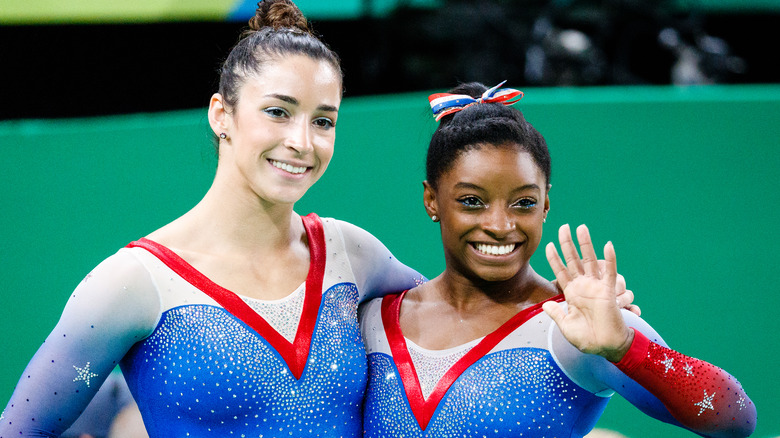 Aly Raisman returned to the 2016 Olympics in Rio to avenge her placement in the 2012 all-around competition. While no one was going to beat Simone Biles that year in that category, Raisman did come home with a silver medal around her neck. "It's obviously not something people expected or that's easy to do after taking a year off and being the 'Grandma,' as everyone likes to call me," she said to ESPN. "I'm happy I proved everyone wrong."
Raisman put in a lot of work before her second Olympics, telling ESPN in 2015 that though her "body is a little bit more achy than it was before," she had a better grasp on "staying hydrated and nutrition and the recovery process." And while fatigue, pain, and distractions could've slowed her down, she had a go-to move: "I try to think about using the Olympics as motivation, trying to win an Olympic gold medal again is pretty good motivation that normally does the trick." 
That extra attention to her training paid off with a team gold medal, silver in the AA, and on floor exercise. "I think I was more proud of Aly getting silver than me gold," Biles shared with ESPN. "She's worked so incredibly hard during her comeback. She's one of my role models, and I don't think there's anyone I'd rather share the podium with. I'm more happy for her than I am myself."
After the Olympics, there were difficult days ahead for Aly Raisman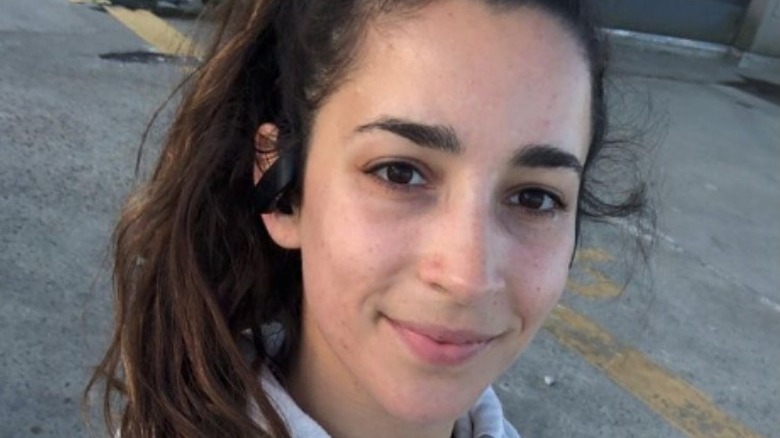 Right after the Rio Olympics, sexual abuse allegations about former team physician Dr. Larry Nassar surfaced in an Indy Star investigative report. As the months went by, more individuals came forward to reveal that they were victims of his abuse under the guise of medical treatment. Aly Raisman was one of the gymnasts to speak out against Nassar, and she bravely shared her story on "60 Minutes" in November 2017, stating, "I am angry. I'm really upset because it's been– I care a lot, you know, when I see these young girls that come up to me, and they ask for pictures or autographs, whatever it is, I just– I can't– every time I look at them, every time I see them smiling, I just think– I just want to create change so that they never, ever have to go through this."
Raisman went on to speak at Nassar's sentencing in January 2018. "Larry, you do realize now that we — this group of women you so heartlessly abused over such a long period of time — are now a force, and you are nothing," she said in her statement to the disgraced doctor (via Today). "The tables have turned, Larry. We are here, we have our voices and we are not going anywhere."
Nassar is serving 60 years in federal prison for child pornography charges and also has been sentenced to 175 years for criminal sexual misconduct in the state of Michigan. 
If you or anyone you know has been a victim of sexual assault, help is available. Visit the Rape, Abuse & Incest National Network website or contact RAINN's National Helpline at 1-800-656-HOPE (4673).
It was time to say goodbye to competing in the sport of gymnastics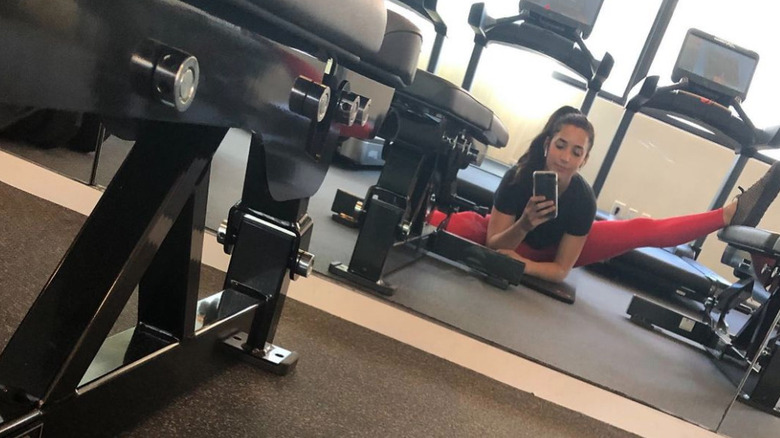 Aly Raisman took some time off from gymnastics after the Rio Olympics to let her body recover and also take time for herself to sort out the trauma from Larry Nassar's abuse. She knew long before her January 2020 retirement announcement that she wasn't returning to compete at the Tokyo Olympics, but her official goodbye message, via her Instagram page, was more emotional than she expected. "The past 10 years have been such a whirlwind that I haven't really processed all that has happened, and sometimes I wonder whether I ever will," she explained to her followers. Even though she wasn't giving any thought to making the next Olympic team, the athlete still needed "the space to really sit with these feelings and reflect."
She also followed up on her thoughts with Us Weekly in May 2021 about how hard the sport of gymnastics truly is. "It's not really one of those sports where you can just go back and practice. It's a little bit harder. It would have to be at a very basic level just because the skills that we were doing are so difficult that it would, if I were to go back right now, I would probably get very hurt unless I just did very basic stuff," Raisman said. "But I kind of lived my whole life in the gym that it's fun to try other stuff."
If you or anyone you know has been a victim of sexual assault, help is available. Visit the Rape, Abuse & Incest National Network website or contact RAINN's National Helpline at 1-800-656-HOPE (4673).
In the Larry Nassar aftermath, Aly Raisman decided to change narrative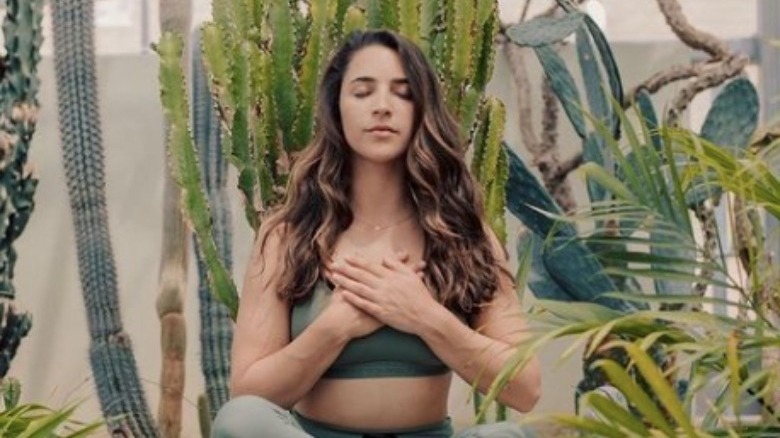 Aly Raisman decided to fight back, not only speaking out against USA Gymnastics, but also by becoming an advocate for sexual assault survivors. She wasn't going to let Larry Nassar define her legacy; she was going to rewrite her own story. Raisman was a part of the more than 140 "sister survivors" who were honored at the 2018 ESPY Awards with the Arthur Ashe Courage Award, where she delivered a moving speech. "Perhaps the greatest tragedy of this nightmare is that it could have been avoided" she said onstage. "Too often, abusers and enablers perpetuate suffering by making survivors feel their truth doesn't matter. To the survivors out there, don't let anyone write your story."
She teamed up with Darkness to Light, an organization that focuses on "child sexual abuse prevention and uses the power of behavior change to protect children." The former athlete has realized that by sharing her story, others are able to have the courage to come forward to seek help. "It's hard to put into words these last couple of years. I just didn't really realize how many people could relate to me," Raisman told Footwear News. "Although this is hard and it's very uncomfortable to talk about it, it is just such a widespread issue that we may never understand how common it is and how many people are survivors."
If you or anyone you know has been a victim of sexual assault, help is available. Visit the Rape, Abuse & Incest National Network website or contact RAINN's National Helpline at 1-800-656-HOPE (4673).
Aly Raisman continues to define herself outside the world of gymnastics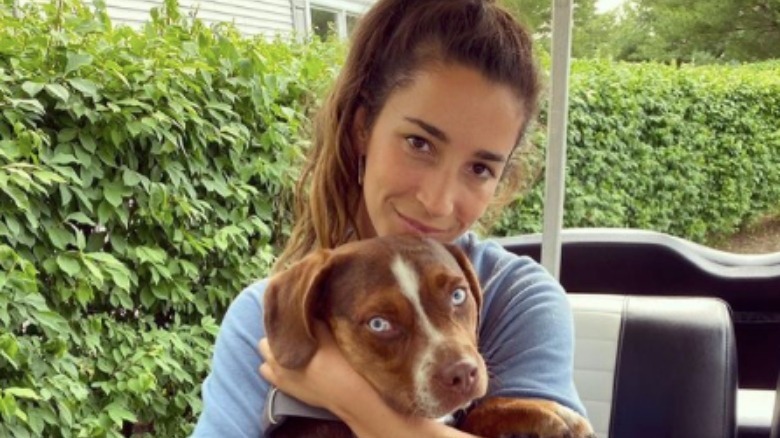 In her post-competition life, Aly Raisman has worked hard on her mental health, not only adjusting to life off the mat, but also taking care of herself after the whirlwind of the Larry Nassar story. "I read this quote the other day that said something like, 'I wanted to change the world so I changed myself,' and I really liked that a lot," she shared with People. "And I think when we work on ourselves, we can better help other people. So I try to live by that."
That's not all she's done, though. In 2020, she adopted the most adorable puppy, a rescue dog named Mylo. The following summer, he went missing after getting startled by a Fourth of July fireworks display, and Raisman took to social media for help. The good news is that Mylo was safe and back with his mom about a week later after two walkers and their dog found him. "It still feels a little too good to be true," the Olympian told the Boston Herald. 
Raisman is also still pushing for reform within USA Gymnastics, an organization she called "rotten from the inside out" in The New Yorker in 2021. "There needs to be a completely independent investigation so that USA Gymnastics and the United States Olympic Committee don't control what is actually released," she told the outlet. "The scope of the investigation matters. It needs to be that nobody's off-limits." 
If you or someone you know is struggling with mental health, please contact the Crisis Text Line by texting HOME to 741741, call the National Alliance on Mental Illness helpline at 1-800-950-NAMI (6264), or visit the National Institute of Mental Health website.
Source: Read Full Article