What You Need To Know About Ellie Kemper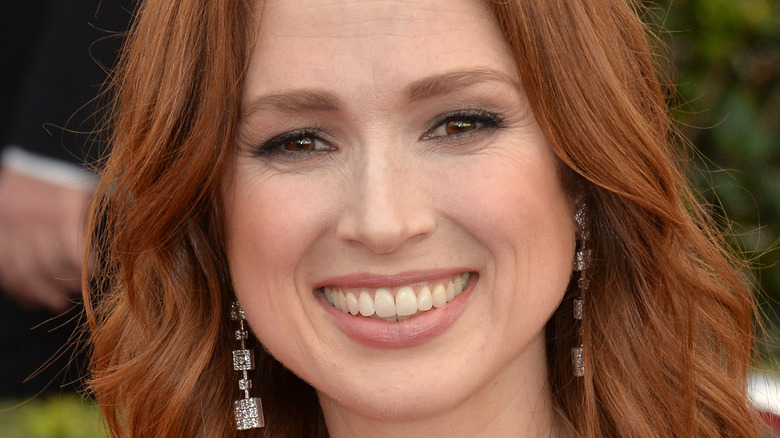 As fans of comedy will know, Ellie Kemper is one of the brightest comedic actresses working today. After bursting onto the scene as Erin in "The Office," Kemper went on to appear in many projects like "21 Jump Street," "The Mindy Project," and "Bridesmaids." And, of course, from 2015 to 2019, Kemper took on the titular role in Tina Fey's Netflix show "Unbreakable Kimmy Schmidt," in which she played a naïve woman who goes to live in New York City after escaping a cult.
Known for her exuberant personality, her flame-red hair, and her energetic performances, Kemper is likely just getting started. Most fans of Kemper probably already know all about her previous projects, her friends in the industry, and her ability to make just about any character or scene funny. But what is there to know about the rest of her life? Here are a few little-known facts about this comedic star.
Unbreakable Kimmy Schmidt was written for Ellie Kemper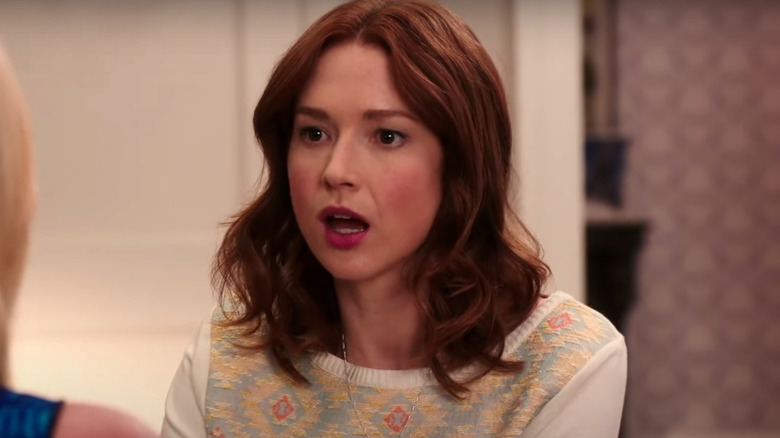 Fans of the show "Unbreakable Kimmy Schmidt" probably noticed that Ellie Kemper was pretty much perfect for the role. Like Kimmy, Ellie is naturally over the top, excitable, and infectiously happy. It would be easy to assume that she seemed like the perfect fit at her audition. However, it turns out, the star actually had the role from the beginning.
As Kemper revealed to The Guardian, her friend Tina Fey had actually written the part with her in mind. She said that she imagined that Fey had thought, "OK, thinking about her face, what could be funny? A cult victim!" Even though the part was written for the actress, she was initially unsure about it. "I was very worried when I heard the idea; I think it ran the risk of trivializing abuse," she said. However, once she got her hands on a script, she realized that Fey and co-creator Robert Carlock had "handled it perfectly." It's a good thing Kemper agreed to take the part — we can't imagine anyone else doing Kimmy justice.
Ellie Kemper will probably never forget filming this Bridesmaids scene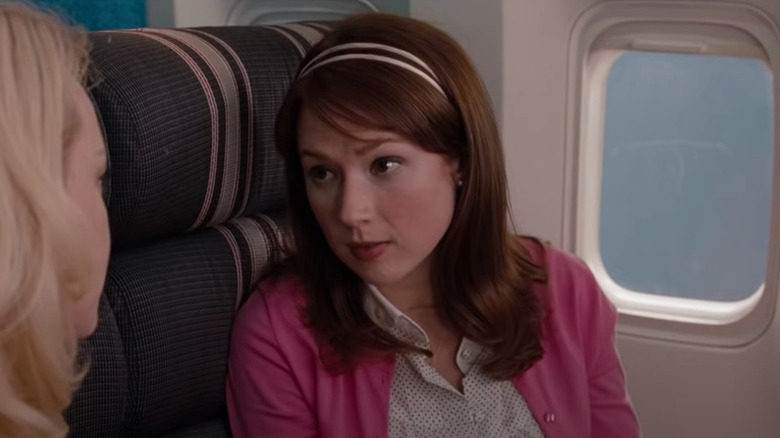 In 2011, Ellie Kemper appeared alongside Kristen Wiig, Maya Rudolf, and Rose Byrne in the popular film "Bridesmaids" as Becca, a sugary-sweet newlywed.
It's pretty clear that the hilarious film was a lot of fun to make, but there was one scene in particular that Kemper will likely always remember — the airplane scene. While the scene may have looked simple, there was something going on behind the scenes. As Kemper said during a Q&A at the 92nd Street Y center (via Page Six), it actually took days to film. What was one thing that made it so difficult? Well, Kemper said, "Someone ordered a tuna fish sandwich early on, and I don't think it ever left the set … I don't know if someone put it in the seat holder?" Yikes, that does not sound fun.
Another thing that made the scene tricky for Kemper was the kiss between her character and Wendi McLendon-Covey's Rita. As Kemper told Female.com.au, "The kiss, that's what was nerve-wracking for me … because you want it to play right." As far as we're concerned, the entire scene is iconic — even if it was stressful to get done.
Ellie Kemper once wrote for The Onion
Before Ellie Kemper became an actress, she showed some talent in a completely different field — writing. In fact, she actually used to write for the  satire publication The Onion. As she told Yahoo! Movies, she actually struggled to get the job. "I got in because I kept sending my headlines to this editor named Joe Garden, and he kept saying 'All right, thanks but no thanks,'" she recalled. "But I kept sending them to him for two years, so finally he was like, 'Just stop. Fine! You can do it.'" Wow, talk about perseverance paying off.
As Kemper went on to explain, her job was just to write headlines — other writers wrote the actual articles. Some of her favorite titles include "Grapes 'Big Hit' at Area Picnic," "Dog in Purse Stares Longingly at Dog in Yard," and "Nation Sickened by Sight of Happy Young Couple." It's clear that Kemper's long had a distinctive sense of humor.
This famous actor was once Ellie Kemper's drama teacher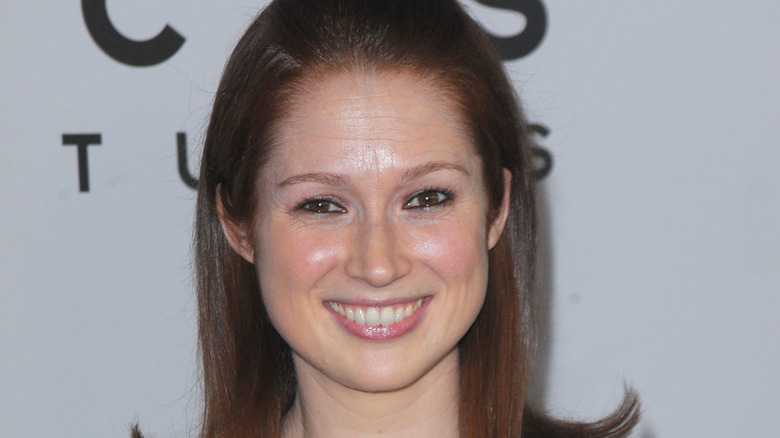 Having had roles in "Bridesmaids," "The Office," and "Unbreakable Kimmy Schmidt," Ellie Kemper has proven herself to be a top comedic actress. So where did she learn to act? Well, as she explained to Elle, "Mad Men" star Jon Hamm actually taught her acting for one year way back in high school. Of course, she's honed her skills since then, but he certainly made an impact.
"He made such a difference in that short amount of time," she said. "He was a great teacher, and he was leading our comedy and improv classes, so he taught me the greatest lesson for a comedian, which is that when you're performing onstage — or, really, in a lot of life — and someone throws something crazy at you, you just have to say, 'Yes, and.'" Kemper went on to become a successful performer, so Hamm's influence seems to have really paid off. And funnily enough, the pair both starred in "Bridesmaids" years later!
Ellie Kemper made headlines when it was discovered she participated in this pageant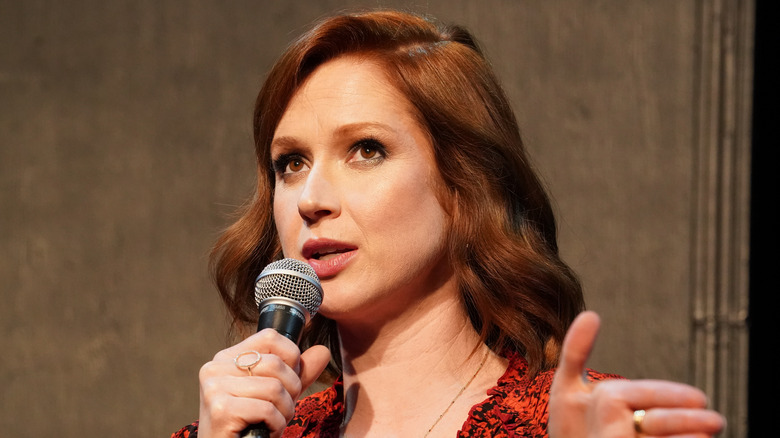 In 2021, Ellie Kemper went viral on Twitter when it was revealed that she had won a pageant back in 1999 at the Fair Saint Louis. Apparently, the pageant was once known as the Veiled Prophet Ball. Many were upset at her involvement given the history of the organization behind it. Citing info from "The St. Louis Veiled Prophet Celebration: Power On Parade 1877-1995," The Atlantic reported in 2014, "The primary goal of the VP events was to take back the public stage from populist demands for social and economic justice. … the parade and all its pomp was meant to reinforce the values of the elite on the working class of the city."
While Kemper's involvement with the pageant is troubling, some people disagreed with the outcry against the star. As Ella Whelan wrote for The Telegraph, "By the time Kemper joined, the organization had passed new rules to allow in Black debutantes and implemented a new name." She also noted that the event occurred when Kemper was a teen. "We're giving credence to the idea that there is no differentiation between past and present, intention and accident," she wrote. As of this writing, Kemper has yet to comment on the matter.
This is one of Ellie Kemper's favorite forms of exercise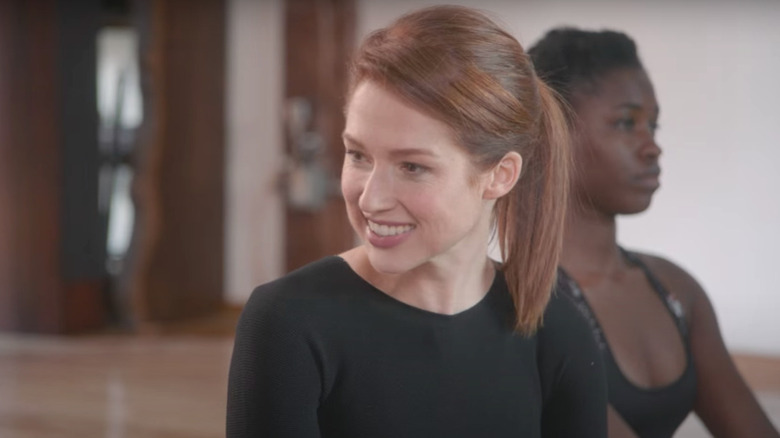 Everyone has their preferred form of exercise. For Ellie Kemper, it's running, which is hardly surprising considering she's a bundle of energy! As she explained to Self, she thinks exercise is a vital part of her routine. "I release a lot of stress that way and it keeps me positive and energized. I try to prioritize that as much as I can," she said.
She went on to explain that running is definitely her favorite way to get moving. "I've been running ever since middle school," she shared. "In terms of clearing your head and restarting everything, I love running." Unfortunately, the actress injured her foot and had to find another type of exercise. Eventually, she turned to spin class at SoulCycle. "It's absolutely cult-y. In the very best way," she said. Sounds like this actress knows how to stay in shape!
Ellie Kemper is a very, very proud mom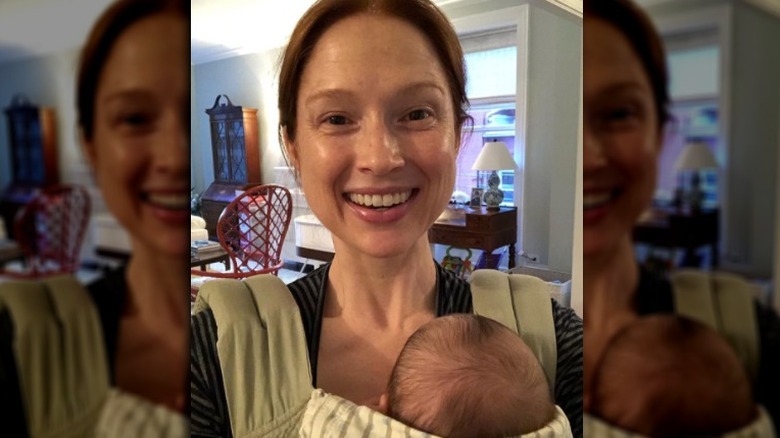 Ellie Kemper has two sons with husband Michael Koman, and like most moms, she loves talking about her kids. In 2017, she spoke about her first son on "The Tonight Show Starring Jimmy Fallon." "It's crazy, you think, 'I'm not going to be one of those parents who thinks that their baby is like the most adorable, perfect thing, I'm not going to be obnoxious,' but I'm fully obnoxious about it. He's perfect, he's flawless. It's incredible!" She went on, "He's a genius. Oh, he's the smartest baby you'll ever see." It's so cute to see Kemper gushing about her son.
When her second son was born, Kemper was just as excited. Soon after, she wrote on Instagram, "Happy 1-Month Birthday to our baby boy, Matthew! He has inherited his dad's brown hair and his mom's desire to be carried around all day in a baby sling. He's a good boy." So cute!
Ellie Kemper studied at these prestigious universities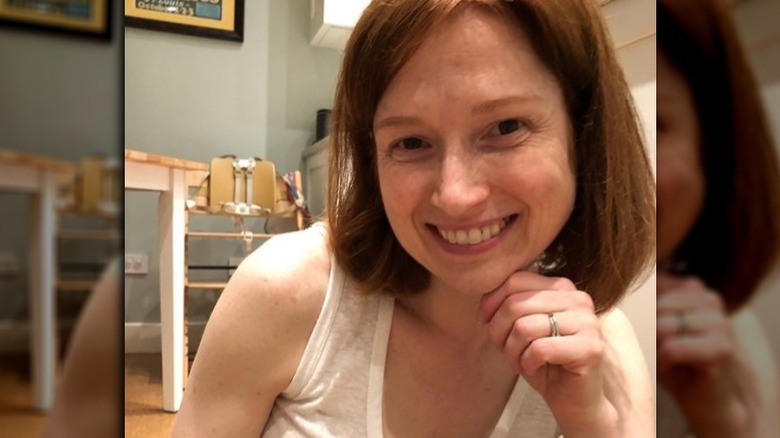 Ellie Kemper has not one but two impressive university degrees. In 2002, she graduated from Princeton University with a bachelor's degree in English, and then she spent a year at the University of Oxford studying English Literature (via WME). Not only is Kemper hilarious, but she's also clearly whip smart.
As she told The Daily Princetonian, she was interested in comedy even then. Her thesis, she explained, was "about irony in the face of tragedy." She shared, "As tragic as it was, it kind of grew out of 9/11, which happened in the beginning of my senior year and watching all these comedians' responses to it and how you deal with something like that." She was also part of Quipfire!, an improv group at the university. In fact, she said, "Quipfire! is the reason I pursued improv after college."
According to the Princeton Alumni Weekly, Kemper went to Oxford with a plan to become a teacher. However, she ultimately moved to New York to pursue comedy — and the rest is history.
Ellie Kemper wasn't a big fan of this relationship on The Office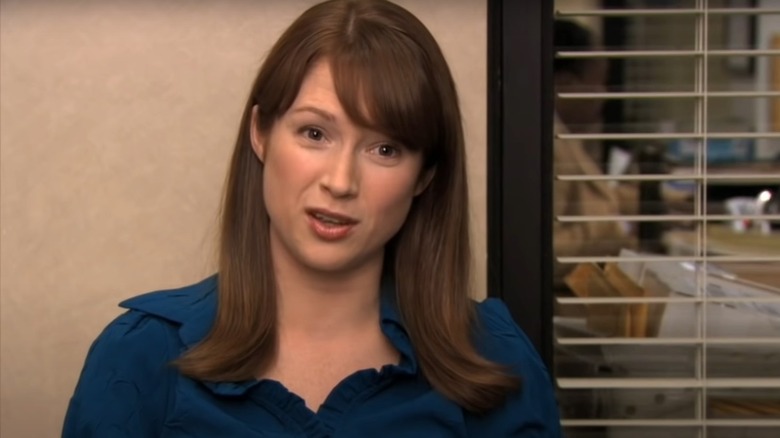 Ellie Kemper got her first big break on "The Office" as Erin, and some fans were especially happy to see her and Andy end up together on the show. As Entertainment Weekly noted at the time, the relationship was often compared to that of Jim and Pam. As producer and costar B.J. Novak said, "They're a comedy couple, but they're a sweet couple, too."
However, it turns out, Kemper didn't really agree. In fact, as she explained on Brian Baumgartner's podcast "An Oral History of 'The Office'" (via CinemaBlend), "I never thought [Andy and Erin were a good match]. Is that terrible to say?" The actress said, "I don't know, I felt like Andy was a bit too childish. I don't think he was ready to take care of Erin the way she needed to be. I think Erin was ready to take care of him, but I felt like it was uneven in that respect." Well, balance is key in any relationship, and clearly, it's something Kemper prioritizes — even with fictional couples!
Ellie Kemper is neighbors with this famous colleague of hers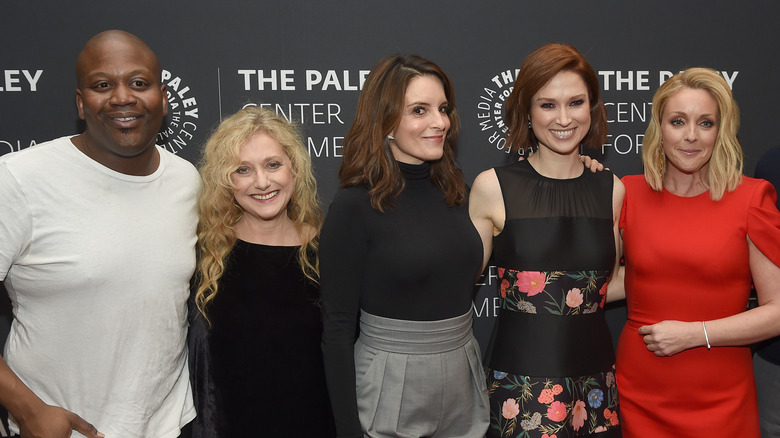 Ever wondered what Ellie Kemper's living situation is like? Well, in 2016, the Observer revealed that Kemper and her family had settled down in a gorgeous New York City home. Apparently, the house cost $2.8 million and had features like wood floors, a fireplace, and French doors. Another feature? Tina Fey, her friend and the co-creator of "Unbreakable Kimmy Schmidt," lives just around the corner.
Luckily, the two seem to get along extremely well. As Kemper explained in a red carpet interview, she first met Fey at a casual meeting about "Unbreakable Kimmy Schmidt." Apparently, Kemper was so nervous that she got to the meeting hours early and then complimented Fey's hair when she met her! Even though Fey and Kemper worked together for years and have even become neighbors, it seems that Kemper is still just as giddy around Fey as ever. As The Guardian reported, the editor of her 2018 book, "My Squirrel Days," once even said "she might want to ease up on the Fey-worship." How sweet!
Ellie Kemper felt weird about kissing this actor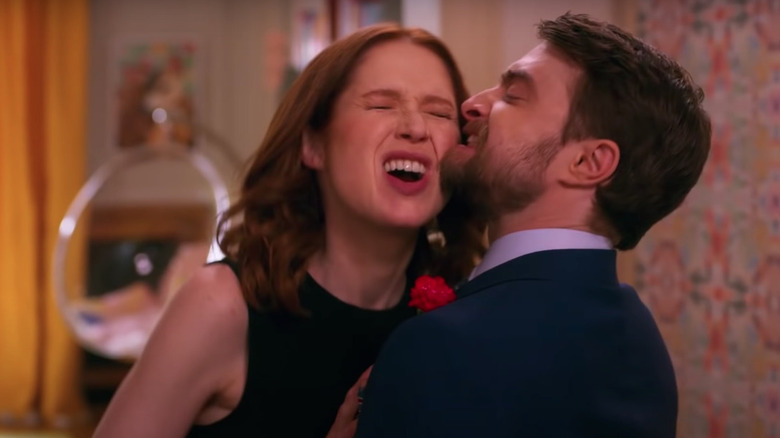 Usually, actors tell interviewers that kissing their co-stars is just part of the job. However, there was one co-star that Ellie Kemper did admit to feeling pretty weird about kissing. In the Netflix special "Unbreakable Kimmy Schmidt: Kimmy vs. the Reverend," Kemper had to kiss her co-star Daniel Radcliffe, Harry Potter himself.
Kemper shared on "The Ellen DeGeneres Show," "I kissed him multiple times, Ellen, and I felt so bad for him because, A, I'm three times as old as he is, but B, I was pregnant at the time of us shooting." She went on, "I felt so bad he had to kiss this old pregnant lady over and over again." She even said that he touched her belly once which made things even more uncomfortable. That's pretty hilarious! We can bet that it wasn't nearly as bad for Radcliffe as Kemper said — after all, they're both professionals! 
Ellie Kemper has a background in improv, which sometimes helps her in her acting work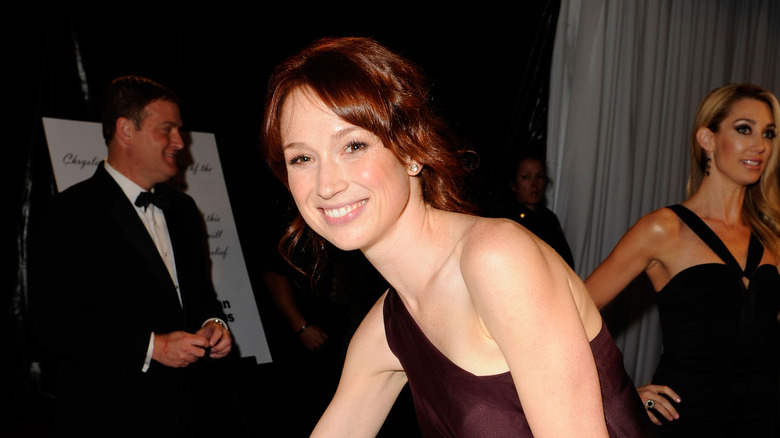 Ellie Kemper got her start with improv performances in New York City. She eventually landed in Amy Poehler's group, the Upright Citizens Brigade, as noted by The Guardian. As Kemper told The A.V. Club, she particularly enjoyed long-form improv. "I feel like even when you're doing it, I guess you've either performed enough together or know each other well enough or know improv well enough to just trust that something is going to come of it," she said. "But it really is, to me, still mysterious when something is cohesive like that as you're making it up."
She went on to explain that her background in improv eventually became useful for her scripted acting work, especially in "The Office." "There was certainly more room to improvise and to risk a little bit," she said. However, when it came to "Unbreakable Kimmy Schmidt," Kemper had to put her improv skills to the side. "On a show like 'Kimmy Schmidt,' the jokes are so finely crafted that the language is key, so you can't really veer too far from what is written in the script," she said.
Ellie Kemper has a hard time memorizing her lines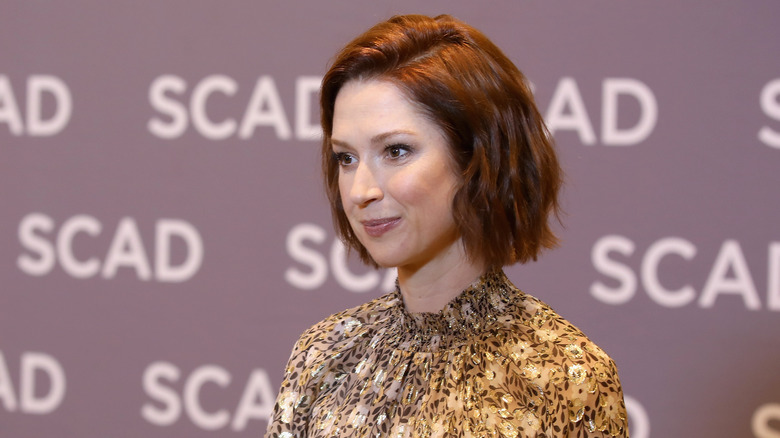 One question people love to ask actors is, "How do you memorize all those lines?" In Ellie Kemper's case, it's not that easy. As she explained to The Guardian, things got especially difficult when she started working on "Unbreakable Kimmy Schmidt," as she'd had fewer lines to memorize in "The Office" and "Bridesmaids." "I was amazed by my own inability to memorize scripts," she confessed. "I'd be like, 'Ellie, this is your job and you're having trouble with it.'" This made her realize just how much responsibility it is to be the lead in a show.
Luckily the writing on the show was so good, things became easy to her. "I swear it was easier to memorize [Tina Fey's] lines than other lines. It just was. Because they're so well written," she said. "I know that sounds like I'm kissing up to her, but there's a rhythm to it. It's effortless. She's the funniest writer there is." Kemper certainly makes it look easy, but it's nice to know that she is human after all!
It was hard for Ellie Kemper to say goodbye to playing Kimmy Scmidt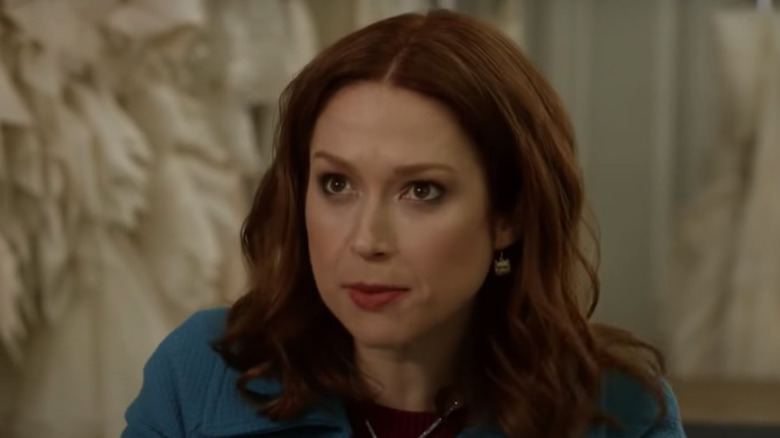 When "Unbreakable Kimmy Schmidt" came to an end in 2019, Ellie Kemper felt a mixture of sadness and relief. As she said in an interview at the time, "It's sad — but exciting — but sad." Of course, after spending three years playing Kimmy, Kemper had to adjust to life after the show. "It is weird," she told The A.V. Club in October 2018. "The whole thing ended … It felt very sudden."
She went on to reveal that the writers were talking about potentially making a movie, but regardless of what would happen, she said she still felt happy with the way things ended for the characters. "[The writers] gave them a very loving send-off," she said. 
Kemper also noted that felt inspired by the whole experience of shooting the show. As she put it, "I really do think that she's a great symbol of resilience and strength."
Source: Read Full Article