Where Is The Statue Of Princess Diana Located?
More than two decades after her untimely death, Princess Diana is still remembered for changing the face of the monarchy. CNN wrote how Lady Di was known as the People's Princess and wore her heart on her sleeve. Long before social media and the power of the hashtag, Diana used her platform to speak for the vulnerable and to raise awareness for causes that otherwise may have never found a champion. Tatler reports that in 1987, Diana dared to greet an HIV-positive person without wearing a glove when many believed the condition could be transmitted via skin contact. Diana fearlessly championed against ending the stigma against HIV/AIDS and her work was revolutionary.
Diana died in a car crash in 1997. She was only 36 years old when she left two young sons behind. Prince Harry recently shared a harrowing memory of his mother's funeral. In an episode of "The Me You Can't See," the Duke of Sussex told Oprah Winfrey (via Hello! Magazine), "For me, the thing I remember the most was the sound of the horses hooves going along the pavement." While the world at large was grieving Diana, Prince William and Harry's loss was far more personal. Harry confirmed, "Showing one-tenth of the emotion that everybody else was showing I thought, 'This is my mum. You never even met her.'" 
Now, thanks to Harry and Prince William's efforts, a statue of Princess Diana will be unveiled so that nobody will ever forget her. Here's where it's located.
Princess Diana's legacy lives on at this garden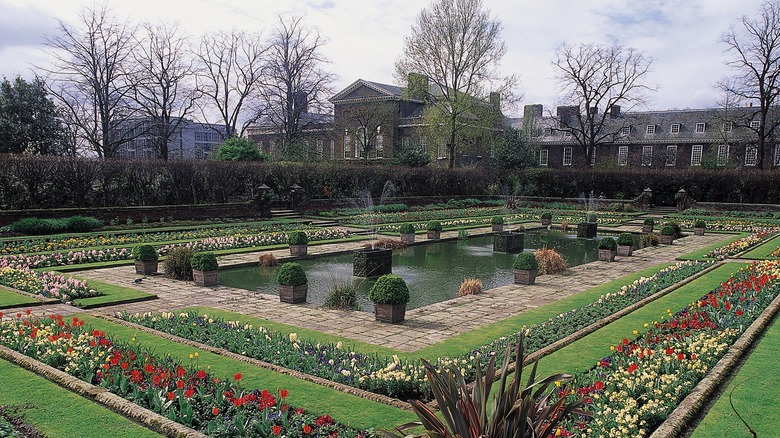 In 2017, Prince William and Prince Harry commissioned sculptor Ian Rank-Bradley to create a statue of Princess Diana. The statue's unveiling will take place on what would have been her 60th birthday on July 1, per Town and Country. And yes, both Diana's sons will be present for the ceremony despite the alleged tension between them. The publication dishes that Harry already arrived in the U.K. on June 25, and has been self-isolating at Frogmore Cottage since landing in London. But where will the statue be located?
Royal author Omid Scobie tweeted the palace's statement, including where the statue will be. "Prince William and Prince Harry will attend a small event to mark the unveiling of a statue they commissioned of their mother, Diana, Princess of Wales, in the Sunken Garden at Kensington Palace on Thursday 1st July," the statement read. "Close family of Diana," and "sculptor Ian Rank-Broadley, and garden designer, Pip Morrison" will also be present for the ceremony. The press statement ends by adding, "Further details about the statue and garden will be provided on the 1st July." 
Why did the princes choose this particular location for Princess Diana's statue? In an interview with Country Living, head gardener Sean Harkin dished that Lady Di had a soft spot for this particular garden. "She would say how much she liked the garden and comment on what it was looking like depending on the seasons," he revealed. 
Source: Read Full Article