Zoe Kravitz told Channing Tatum to stop wearing Crocs and so he did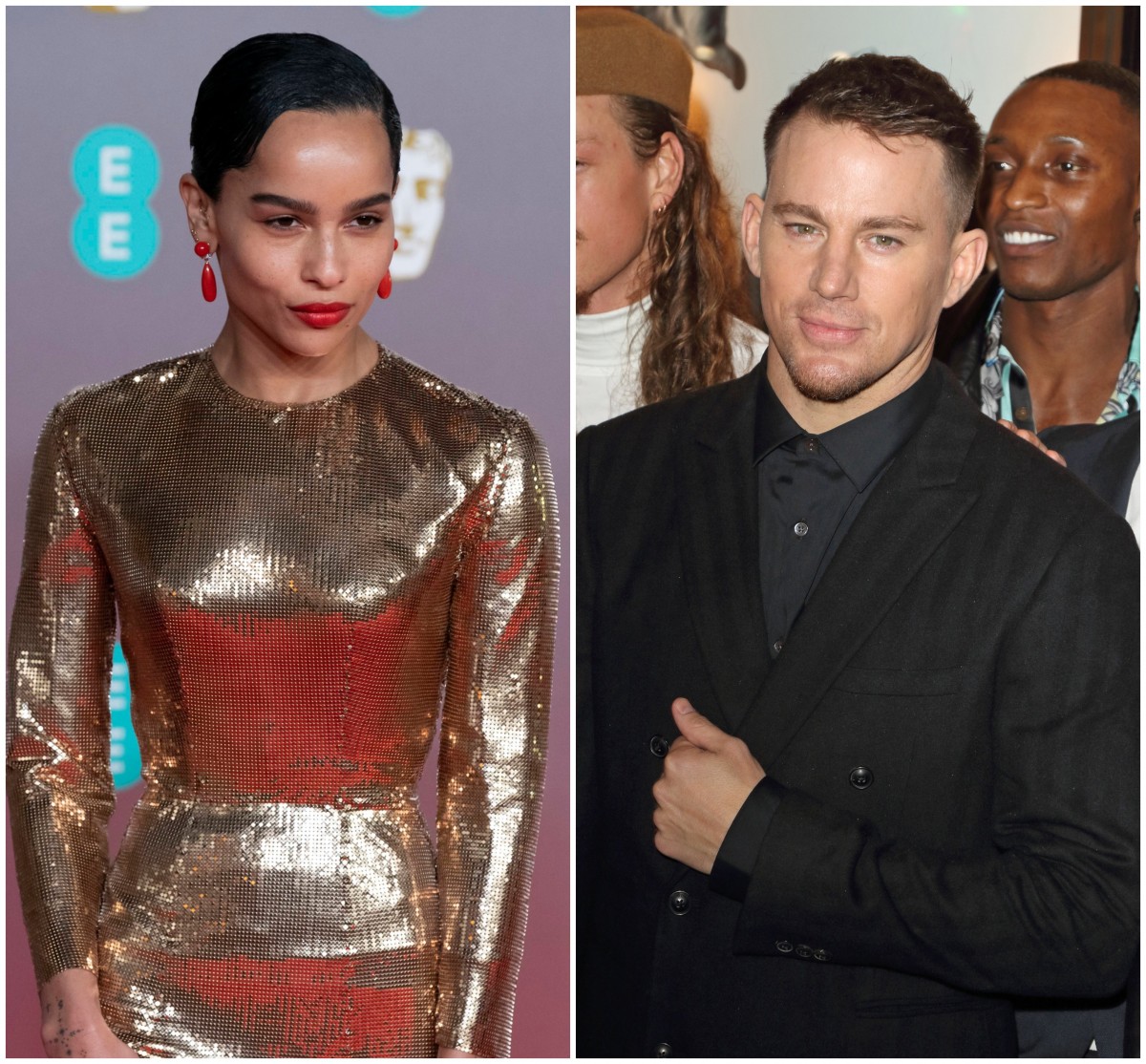 Although there were rumors earlier this year Zoe Kravitz was hooking up with Channing Tatum, it would seem that their bonding was more innocent than that. Zoe and Channing have been working together on Pussy Island. Pussy Island is Zoe's directing debut, she co-wrote the script with her High Fidelity co-writer, E.T. Feigenbaum, and Channing will star.
Zoe and Channing were profiled by Deadline and a lot of fun facts came to light. When Zoe began writing the script for Pussy Island in 2017, she felt Channing should play the main character, Slater King, a tech billionaire. Channing said that he was up for the challenge but was afraid to step out of the comfort zone of his normal characters (hot stripper and military man?). Channing stated that when he and Zoe met for the first time to talk about the project, he walked away fully understanding the vision she had. He also promised to never wear Crocs again. Below are a few more highlights from Deadline:
[Channing] also came away from their first meeting with the confidence she had in her vision, and, well, other things.

"When someone can just come out and tell me I should not be wearing Crocs, and is so adamant about it, she completely convinced me and I never wear Crocs anymore," Tatum said.

"I was just trying to be a good friend, Chan," she said.

"I get it, but I totally loved Crocs for a hot second, and in one hang she was like, you can't ever do that again. And I said, 'OK, fine.' "

Said Kravitz: "Just to be clear, there are people out there who can pull off the Crocs thing; I just wasn't sure you were one of them."

Tatum allowed that since he stopped rocking the Crocs, "I feel cooler, and her point of view on me and Crocs was legit. She had a good argument. The one thing I can pull off, is listening."
[From Deadline]
I love how Zoe was like, "Bruh, I was just trying to be a good friend by letting you know that Crocs ain't it." And Channing took it like a champ. Also, Crocs are not sexy at all. So thanks Zoe. I really like Zoe's spunk. Zoe is definitely her parents' child.
I am looking forward to this movie because I actually liked High Fidelity. I also like that Zoe is not satisfied with just an acting career and is already on the other side of the camera. I am not sure how I feel about Channing playing a tech billionaire, I don't feel he has the range. Then again this is probably because I have only seen him play action heroes and strippers. Maybe it would be a good thing to see him stretch his ability in this role. I also like that Zoe is not leading with her ego. The fact that she tried to write the role for herself but found that someone else would be better suited is remarkable. I hope that the writing and acting are solid. I need this generation's Fatal Attraction.
Pussy Island will begin filming in January 2022 on an undisclosed tropical island. I look forward to the set photos.
https://www.instagram.com/p/CPeJleBNuRf/
A post shared by Zoë Kravitz (@zoeisabellakravitz)
https://www.instagram.com/p/CPDoizst01Q/
A post shared by Zoë Kravitz (@zoeisabellakravitz)
https://www.instagram.com/p/CQRIgnvlBQd/
A post shared by Channing Tatum (@channingtatum)
Source: Read Full Article