A Definitive Timeline of Hailey Baldwin and Justin Bieber's Dramatic, PDA-Filled Relationship
Hailey Baldwin and Justin Bieber are together again like it's 2015, and in the interest of understanding their up-and-down 'ship turned marriage, the time has come to morph into Hilary Duff and go back…back to the beginning.
Who Knows When 2009
Hailey and Justin meet for the first time! Her dad introduces them! And it's captured on video! And she looks so not into it!
FYI, this moment was captured on Vine (RIP, ol' friend) and Justin RT'd it in 2016.
https://www.instagram.com/p/_4zGqlgvmc
January 4, 2016
Justin posts a photo of himself and Hailey making out on Instagram. If that's not confirmation that they're dating, IDK what is.
https://www.instagram.com/p/BAGLktogvj2
Oh, and he also posted a photo of himself staring longingly at Hailey's boobs. ROMANCE! Chivalry isn't dead, guys, and this photo is proof!
https://www.instagram.com/p/BAGLlG7Avj3
February 10, 2016
Hailey confirms that she and Justin are dating—just not exclusively. "We are not an exclusive couple," she told E!. "He's about to go on tour. Relationships at this age are already complicated, but I don't really like to talk about it because it's between me and him."
February 11, 2016
In an interview with GQ, Justin basically says the same thing as his gal, explaining Hailey is "someone I really love" but that he doesn't "want to be held down by anything."
"I don't want to feel like the girl I love is an added responsibility," he muses. "I know that in the past, I've hurt people and said things that I didn't mean to make them happy in the moment. So now I'm just more so looking at the future, making sure I'm not damaging them. What if Hailey ends up being the girl I'm gonna marry, right? If I rush into anything, if I damage her, then it's always gonna be damaged."
August 15, 2016
Justin unfollows Hailey on Instagram. Who knows why, but apparently, he was jealous of Drake, LOL. "Justin unfollowed Hailey on social media, and now all their friends are talking sh*t on Sofia [Richie] and him and how messed up it is," a source tells People. The source adds, "Bieber wasn't happy about [her friendship with Drake] and so they haven't really been in touch in a bit. But out of nowhere, Sofia apparently made him unfollow Hailey and now she and her friends are all super upset."
2016 to 2018: The Dark Ages
Justin and Hailey are NOT friends for almost two years. Hailey recently explained this period in their relationship, saying, "[We] went through a long period of time when we weren't friends. We didn't speak for quite some time and there was a lot of weirdness that went on."
Speaking of weirdness, here's a GIF for you to enjoy:
June 10, 2018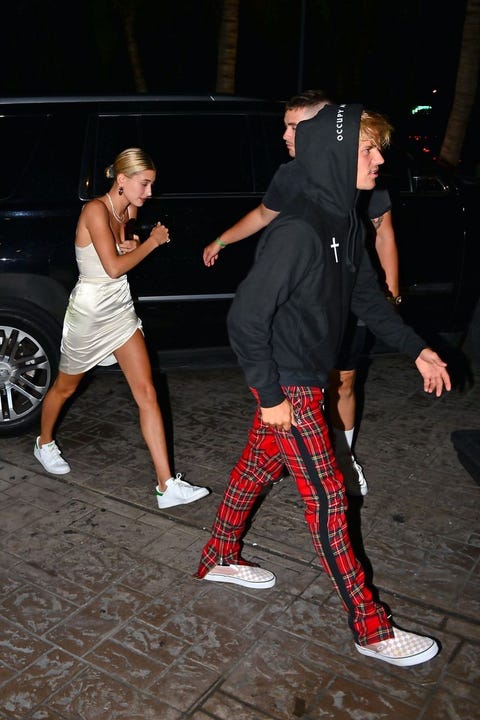 Justin and Hailey are spotted in Miami looking all kinds of flirty at a church conference. LOL, sorry, God. E! reports that the pair have two things in common: "They love to party and they love their church organization." The source also adds that Justin and Hailey have "finally cleared the air and rekindled their friendship and realized they genuinely have a lot of fun together."
June 13, 2018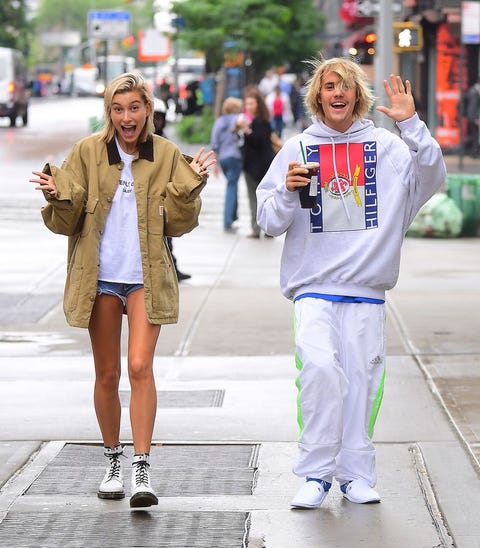 Justin and Hailey are spotted strolling around NYC, where they decide to make faces at the paps together. Meanwhile, a source tells Us Weekly, "Hailey has always loved Justin and they have been best friends, so it's no surprise that they're hooking up again."
June 17, 2018
Justin and Hailey are spotted making out in multiple NYC parks over the weekend, and a fan caught them locking lips in Brooklyn's Domino Park along the East River. And yes, there was video footage.
June 29, 2018
A source confirms to Entertainment Tonight that these two are definitely dating (duh) and it's casual BUT it's heating up. This comes after they spend the weekend going to more church services in Washington.
September 14, 2018
After Justin and Hailey went to a New York City courthouse to get their marriage license, everyone assumed they got married. But shortly after that news destroyed every Belieber out there, Hailey tweeted, "I understand where the speculation is coming from, but I'm not married yet!" However! Hailey later deleted that tweet, which was super sus.
September 15, 2018
Justin and Hailey went on a little outing to their neighborhood Starbucks, and Justin kept his left hand out of the paparazzi's sight the entire time. Interestingggg.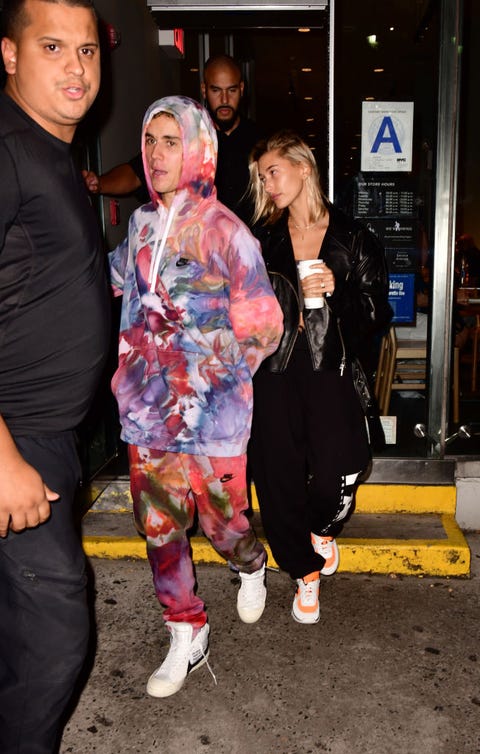 September 17, 2018
Us Weekly confirmed Justin and Hailey got married and didn't sign a prenup. If you need further proof, Hailey's uncle Alec Baldwin said they are indeed married. He said, "They went off and got married, and I don't know what the deal is!" So there ya go!
That same day, Justin and his "baby boo" were spotted making out in London. The pics are truly something.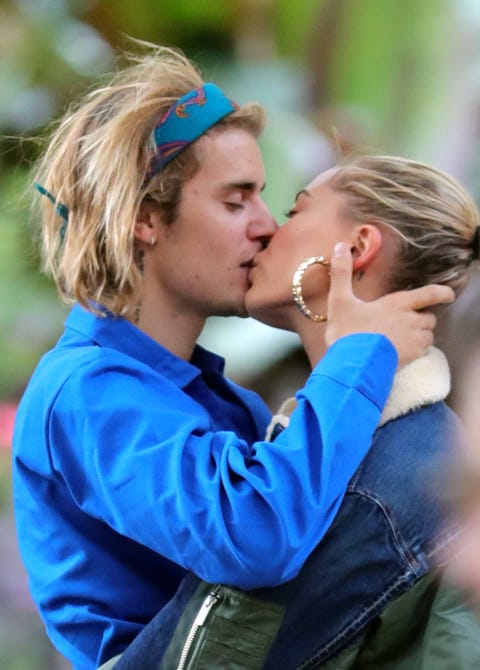 September 18, 2018
Justin shoved an unidentified object (probs one of those minty inhaler things you use when you have a stuffy nose) up his nose and serenaded Hailey while out and about in London. Again, it was truly something.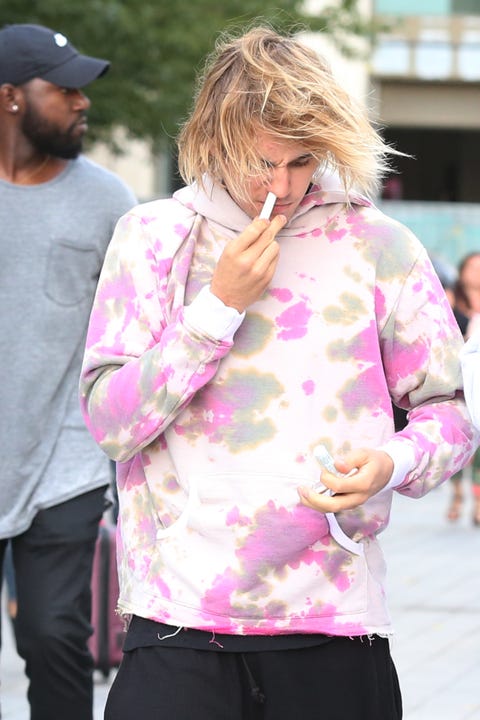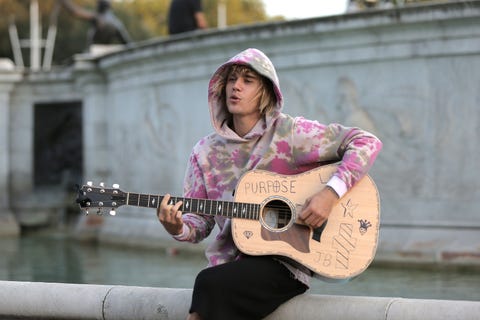 November 8, 2018
The newlyweds were seen rowing a boat in London, but they were literally going nowhere fast. Please watch and enjoy:
March 19, 2019
Their religious wedding ceremony is put on hold while Justin focuses on his mental health. A source told People, "They will still have a wedding eventually, but this is not their focus right now. They haven't sent out any new Save the Dates. They will wait until Justin feels better and is excited about planning their wedding again." Fair!
March 22, 2019
The Baldwin-Biebers bought a 1930s 6,132-square-feet Monterey Colonial brick home in Beverly Hills. In regular speak, their new house definitely makes the case for why we need an MTV Cribs revival. If you wanna see what $8.5 million gets you in one of Los Angeles's priciest zip codes, look no further than this envy-inducing 'gram of their home:
https://www.instagram.com/p/BqIqSsSBWhE
April 1, 2019
Justin and Hailey played the worst April Fool's joke on everyone and pretended like she was pregnant, which didn't sit well with their followers. People immediately started calling them out for being insensitive to people with fertility issues. He responded by saying, "There's always gonna be people offended, there's also people who don't take jokes very well, I am a prankster and it was APRIL FOOLS'. I didn't at all mean to be insensitive to people who can't have children."
https://www.instagram.com/p/BvuelVAHrOY
April 8, 2019
After posting, deleting, reposting, and editing it multiple times, Justin posted a poem for Hailey on Instagram. Some lyrical highlights include:
https://www.instagram.com/p/BwAXtOeHFms
August 19, 2019
Wedding update! After postponing their wedding three times, Justin and Hailey have their sights set on a September 2019 wedding date, which will be close to their one-year wedding anniversary. Romantic! According to TMZ, they sent out the official invites in late August and Justin is in a much better place.
August 30, 2019
During a performance at Churchome in Beverly Hills, Justin opened up about his recent struggles and said, "God is pulling me through a hard season." But even though Justin is going through it right now, he gave a shout-out to Hailey, who he said is "such a huge support in my life through this season."
https://www.instagram.com/p/B1Rd1K3lIIC
September 6, 2019
Justin posted a super-sweet Instagram of Hailey without makeup, where she looks like a dewy, skincare-loving goddess. And that would've been the end of it, but of course, trolls had to get involved.
https://www.instagram.com/p/B2DatdSHqaX
One person commented, "You don't need to do this. If you really love each other, just live and enjoy it without trying to presume to appear or force someone else to see that YOU'RE IN LOVE."
Here's what Justin has to say about that:
September 14, 2019
Hailey graces the cover of Vogue Australia and gets honest about how rough it is to have people publicly criticizing her marriage by saying it won't last. Obviously, she's not here for it.
https://www.instagram.com/p/B2aMCVDg5zy
September 15, 2019
Happy anniversary, Biebers! The two technically celebrated a year of marriage September 13, but they posted a buncha cute anniversary pics a couple days later.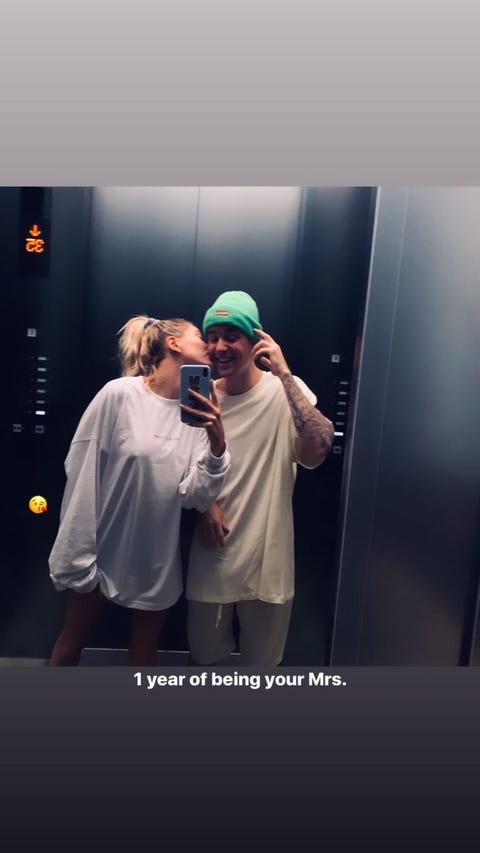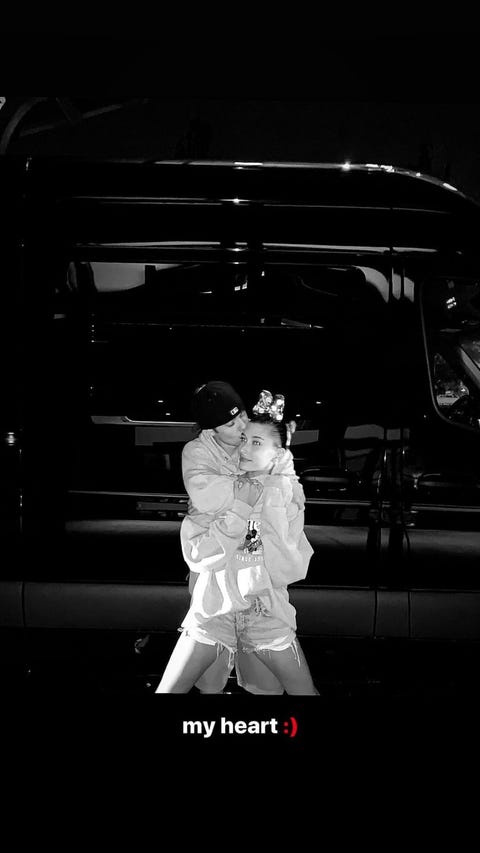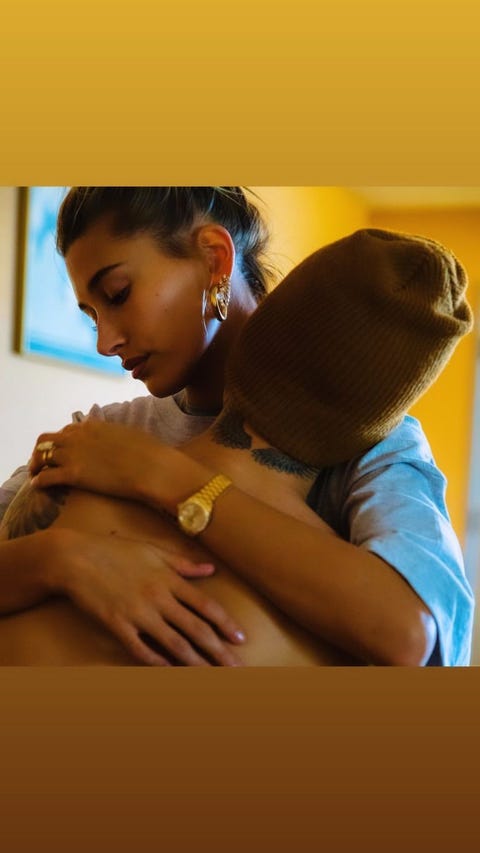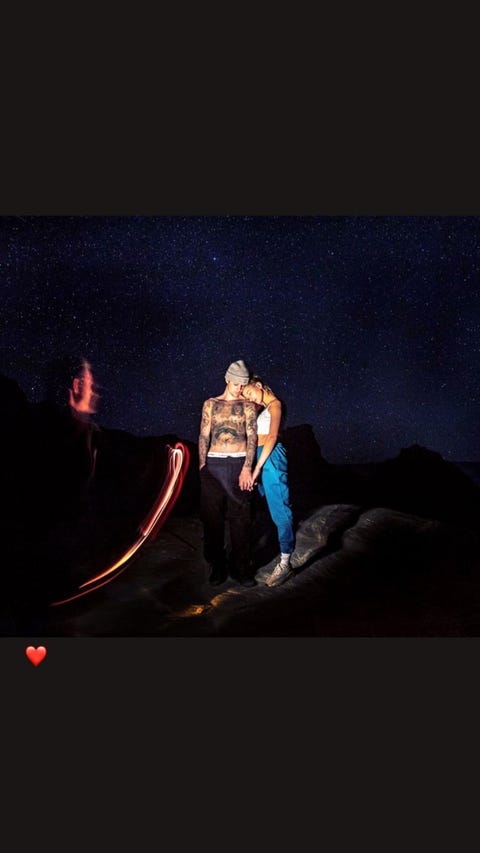 September 29, 2019
It's wedding weekend for Justin and Hailey! A little more than a year after getting legally married, the couple is gearing up to say "I do" in a church ceremony in front of their friends and family (and God, of course).
The Biebers arrive in South Carolina for the big day via private jet. Leading up to this, Hailey had her bachelorette party, Justin picked a tux, and they packed their bags for Palmetto Bluff, where they officially have their wedding.
https://www.instagram.com/p/B2-VgiaH1Ho
September 30, 2019
Hailey and Justin are spotted heading to their rehearsal dinner, and they look so happy! Hailey goes full bridal in a white minidress, which you can see right this way.
These pics are part of the couple's rehearsal, and it's all very cute…except some random dude filmed a video of Justin "humping" Hailey, which is all kinds of strange. But whatever!
https://www.instagram.com/p/B3A86TmIpZA
An E! News source has this to say about the actual festivities: "Guests arrived by boat to the rehearsal dinner on the Palmetto property. There were several water taxis that took guests over around 6:30 p.m. The dinner was on the edge of the water and was outdoors. There were many string lights hanging and lit candles. Everyone was seated at long tables and the decor was very chic and white."
"There were waiters standing greeting guests with champagne as they arrived," the source added. "Everyone cheered for them and they looked really happy to see everyone. Hailey and Justin both could not stop smiling."
Later on September 30, 2019
The Biebers have officially said "I do" in a full-on wedding ceremony, according to People! The Bieber wedding pictures are gorgeous, Hailey's gorgeous, it's just all-around gorgeous, you get the point.
https://www.instagram.com/p/B3VLmXjlfQH
https://www.instagram.com/p/B8cp_WnlhFt
https://www.instagram.com/p/B3VMJvplCEp
https://www.instagram.com/p/B3VNRH4lTSK
October 9, 2019
The newlyweds celebrate their marriage with a NSFW Calvin Klein shoot, as you do.
https://www.instagram.com/p/B3Yd2hplBPP
December 25, 2019
The Biebers celebrate their first Christmas together as a married couple, and they take Polaroids galore.
https://www.instagram.com/p/B6hBBZRlBMG
February 14, 2020
Unsurprisingly, Justin and Hailey spend Valentine's Day together, complete with hats.
https://www.instagram.com/p/B8lCaQpl7zi
March 1, 2020
It's Justin's birthday! In addition to celebrating IRL (duh), Hailey also posted this on Insta:
https://www.instagram.com/p/B9Ng2wBl99k
September 30, 2020
Justin and Hailey celebrate their first wedding anniversary!
https://www.instagram.com/p/CFxO8IzFNBG
October 5, 2020
Hailey and Justin cover Vogue Italia in a steamy shoot. Check out these pics:
https://www.instagram.com/p/CF-C_Y-JKzs
https://www.instagram.com/p/CF-e460J0s3
https://www.instagram.com/p/CF-nAm4pCCT
https://www.instagram.com/p/CGQEVoeJRND
https://www.instagram.com/p/CGQlD44pdg-
November 18, 2020
Hailey took time to clarify the timeline of her and Justin's relationship, shooting down rumors that it overlapped with his reconciliation with Selena Gomez.
She told Ashley Graham on the Pretty Big Deal podcast (via E! News) that "people don't know" she and Justin "had been talking for a while before we got back together." She added, "Contrary to popular belief, he had been single for a while and I had been single and we were kind of just trying to figure life out."
February 10, 2021
Hailey spills all the details about her and Justin's relationship in a cover story with Elle, down to why they decided to break up, how they rekindled their relationship, and how Justin grew in the time since their split.
"There was a time when our lives seemed to be going in very different directions," Hailey says about their 2016 breakup. "I actually think—now that I look back at it being married—that it was a good thing for the two of us, very healthy."
As for how they met, Hailey says that she and Justin rekindled their romance after having a chance encounter at church. "We ended up being at this church conference together in Miami, and it was the first time we'd seen each other in a while," Hailey continues. "I remember we were hanging out and I was like, 'Listen, I'm really, really happy for us to be friends again. I want us to always be cool and be friends.' He was like, 'Yeah, here's the thing: We're not going to be friends.' And I was like, 'Oh. Is that so?' I think we were both a little unsure about what was going on in the very beginning. It was familiar territory, but when a lot of time goes by, it's like getting to know a new person."
"He had grown up so much," Hailey adds. "I was actually shocked. I think I had grown up a lot too. He was somebody I'd always cared about so deeply and loved very deeply. Obviously, it took work and getting past things between the two of us, but it was all very worth it. He's an incredible, amazing man and such a good partner to go through life with. There is no one else I would have ever wanted to spend my life with except him. So, I'm lucky."
April 13, 2021
Surprise—Justin is on the cover of GQ and shares that he had a difficult time in his first year of marriage to Hailey, explaining that "it was really tough because there was a lot going back to the trauma. There was just a lack of trust…there was all these things that you don't want to admit to the person that you're with, because it's scary. You don't want to scare them off by saying, 'I'm scared.'"
The good news though? Justin and Hailey are focusing on "creating these moments for us as a couple, as a family, that we're building these memories," which sounds like they were able to work on his trauma. Justin adds that "it's beautiful that we have that to look forward to. Before, I didn't have that to look forward to in my life. My home life was unstable. I didn't have a significant other. I didn't have someone to love. I didn't have someone to pour into." Awww!
September 12, 2021
Hailey cheered on her hubs like no other while he performed at the 2021 VMAs, and it was seriously the sweetest and cutest thing to see.
https://www.instagram.com/p/CTzslthrGId
October 7, 2021
It's no surprise that Justin has wanted to be a father—I mean, he did stage a whole April Fools prank saying that Hailey was pregnant. But, it may not have to be a joking dream much longer, according to The Sun. In Justin's new Amazon Prime documentary Justin Bieber: Our World, which The Sun previewed, there's a scene where he asks Hailey if they can start trying to get a little bun in her oven (!!!) at the end of this year and OMG OMG OMG.
FWIW, this doc was shot at the end of 2020 and Hailey asked her hubby about hopes for the upcoming year, to which Justin replied: "To continue to set goals and have fun doing them, make sure I put family first. And hopefully we will squish out a nugget." Hailey beamed at the response, and Justin continued, "At the end of 2021 how about we start trying?" Can we get a backup internet for when these two shut the current one down with this news one day???
It may be some time though, so don't go holding your breath. A source close to the couple told Entertainment Tonight back in May that they weren't planning to have kids anytime soon. "Hailey is super focused on her career right now and isn't in a rush to have kids," the source told the outlet. "Of course they have talked about their future and building a family together someday, but both of them are busy with work right now and Hailey really wants to build up her YouTube channel. The two of them are very supportive of each other."
Aaand that brings us to right now! This list will be updated with the next installment of Hailey and Justin's love season.
Source: Read Full Article