Allen Iverson on the Legendary 2001 NBA All-Star Game and His Reebok Question Mid "Why Not Us?"
To any basketball-loving kid growing up in the late '90s and early '00s — this editor included — there was nobody more influential than Allen Iverson. Though the man known as The Answer took the court at a diminutive six feet tall, he did so with an iconic on-court getup consisting of an arm sleeve, headband, baggy shorts and his signature Reebok sneakers, plus an effortless swagger that belied his lion-sized heart. You knew you couldn't be as hulking and powerful as Shaquille O'Neal or leap as effortlessly as Vince Carter, but you thought maybe, just maybe, if you played hard enough you could be AI. In short, Iverson embodied the zeitgeist of basketball around the turn of the century. He was the player who fully brought the game into the hip-hop era.
Of course, anyone assuming they could jacknife to the hoop or display a killer crossover like Iverson's was fooling themselves, no matter how carefully they may have replicated his personal style. Over the course of his 14 year-long NBA career, Iverson had many memorable moments: dueling with the Los Angeles Lakers in the 2001 NBA Finals, winning the 2001 NBA MVP award, and embarrassing opponents from Michael Jordan to Antonio Daniels with his killer crossover. However, one of Iverson's most notable moments was the 2001 All Star Game in Washington, DC.
Leading an undersized Eastern Conference team, Iverson put on a 15-point scoring outburst in the fourth quarter that brought his squad back from a 21-point deficit and secured him the game's MVP award. And things were different back then. Though the All-Star Game certainly wasn't without its pageantry around the turn of the century, it wasn't thelight-hearted, fun-filled dunkfest it is today either. "Back then, when all these bad dudes got together on the same court once a year, you had a lot of ego and competition coming together," says Iverson now. "[This] drove the energy and made [the game] real competitive. Today, you can have a relationship with your rivals over social media and really be in touch all year round, so it's way less confrontational when you all finally get together."
"We had a lot of guys on that team with an underdog mentality. So on that stage, in that highly competitive environment, it's a recipe for vengeance, you know?"
With competitive sparks flying, Iverson's Eastern Conference All-Stars refused to be embarrassed, no matter how heavily the Western Conference squad was favored before the game. Their comeback was ignited by Iverson's famous sideline quip, namely asking teammates like Tracy McGrady and the aforementioned Carter a simple question: why not us? "We had a lot of guys on that team with an underdog mentality," says Iverson. "So on that stage, in that highly competitive environment, it's a recipe for vengeance, you know? We ALL started asking each other 'why not us?' and that energy carried onto the court." 1 of 2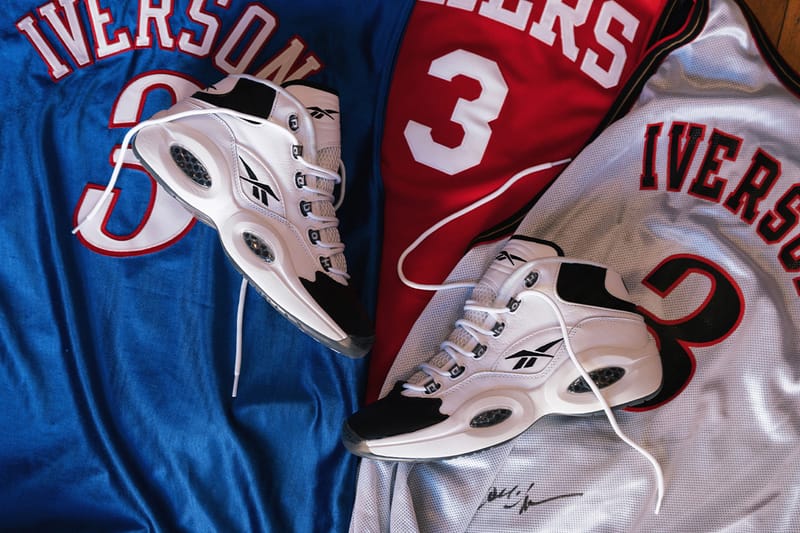 Nick Llanton/Hypebeast2 of 2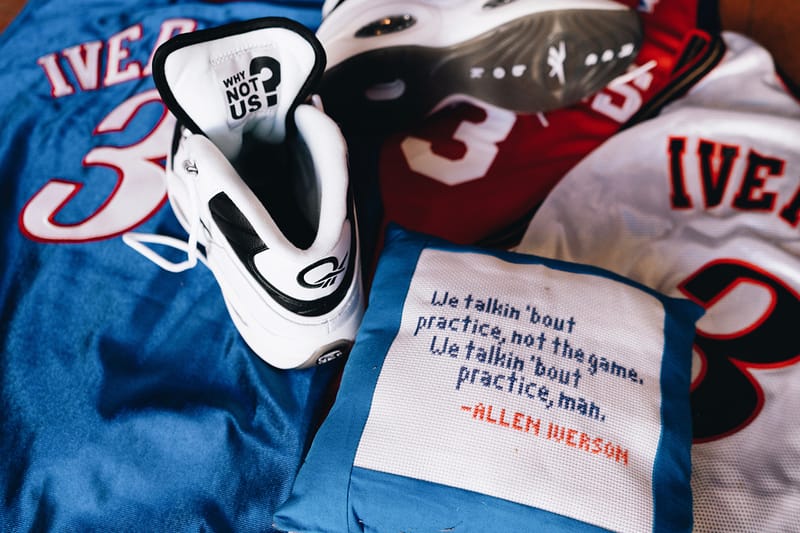 Nick Llanton/Hypebeast
The East's furious comeback quickly became a part of NBA All-Star lore, and so did the shoes Iverson had on his feet: a white and black PE iteration of his Reebok Question Mid. Though Iverson was on his fifth signature Reebok shoe — the Answer IV — by the time of the game, he was happy to hit the court in his first, favorite and most famous silhouette. "I had just gotten the pair a few days earlier and was really feeling them," he recalls. "And the Question is All-Star game worthy, you know?"
Iverson's signature line with Reebok runs fifteen models deep: the Question released in 1996 and was followed by a whopping 14 Answer silhouettes. However, when asked if he has a favorite style from his line or if that's akin to choosing a favorite child, the NBA Hall of Famer doesn't hesitate. "The Question will always be the one," he says with an audible smile in his voice. "It's my first signature shoe and that means so much. It really was a dream come true for me to get my own sneaker — especially back [in 1996] when only a few players had one. Having your own shoe means you're special, and for it to happen to me? That validation was a beautiful thing."1 of 5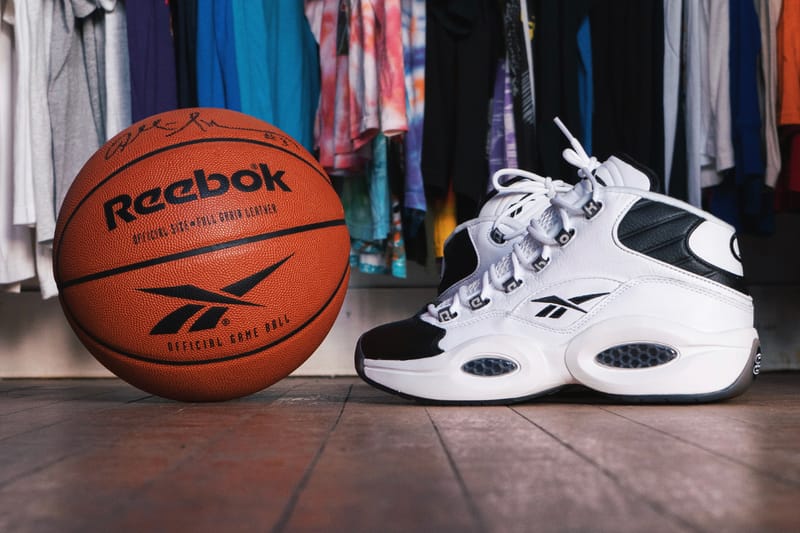 Nick Llanton/Hypebeast2 of 5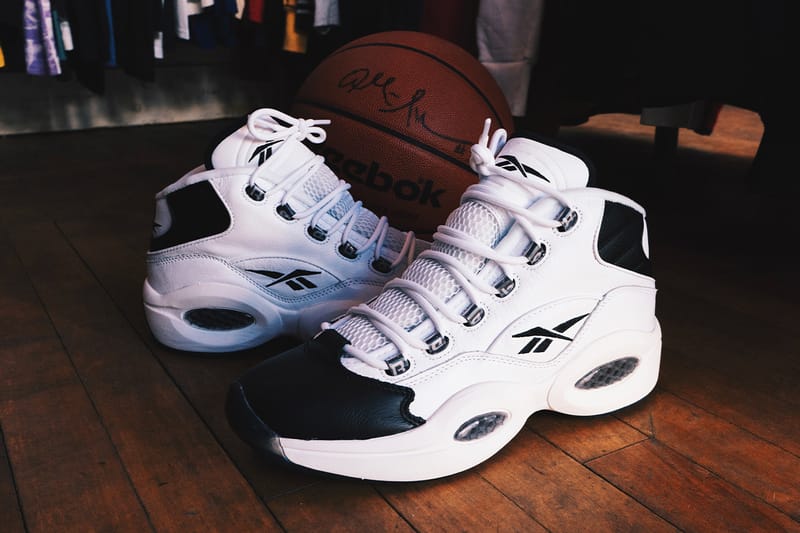 Nick Llanton/Hypebeast3 of 5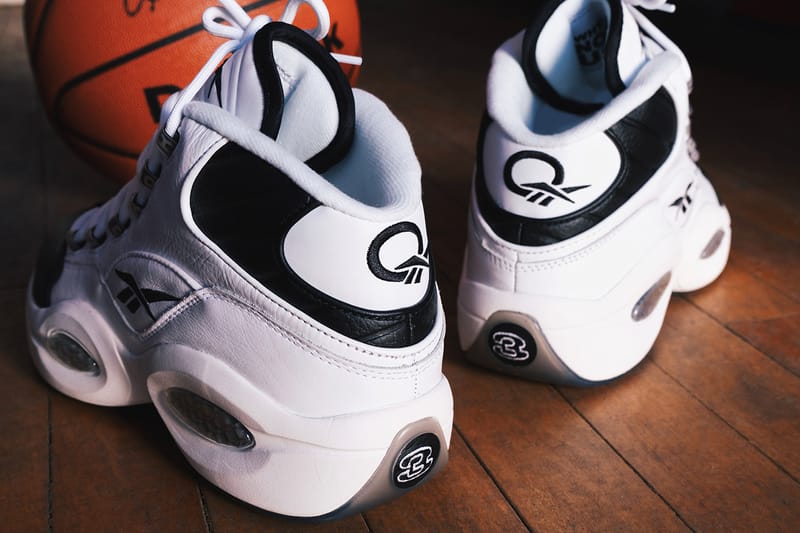 Nick Llanton/Hypebeast4 of 5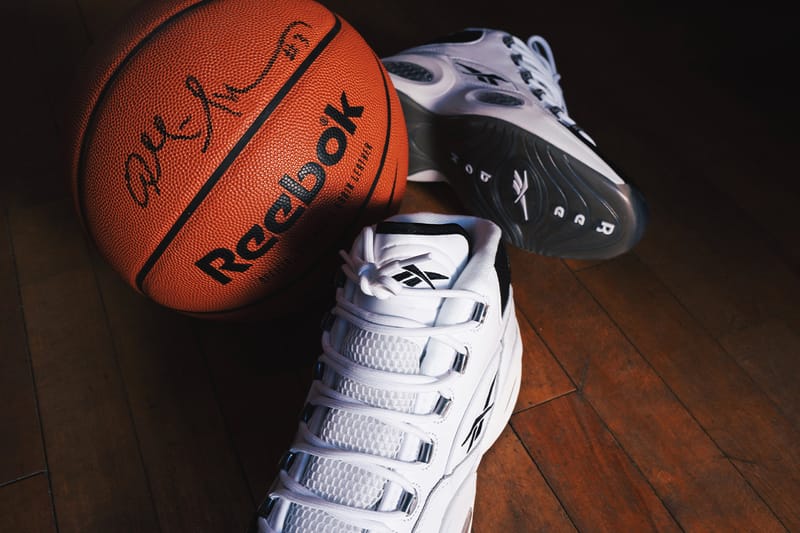 Nick Llanton/Hypebeast5 of 5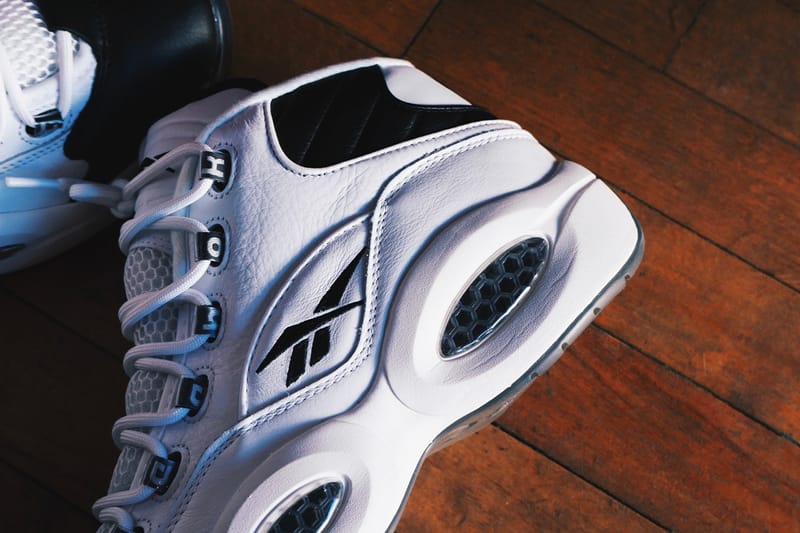 Nick Llanton/Hypebeast
The Answer's affection for his first signature sneaker is understandable. It sits in a rarified space among signature basketball sneakers, achieving a level of fame typically only afforded to Michael Jordan and Kobe Bryant's footwear. With its contrasting toe cap, clever Reebok eyelet branding, Question heel hit and signature dual-pod DMX cushioning setup, the Scott Hewett-designed silhouette is a standout piece of '90s basketball footwear, one that's still loved both on and off the court today.
This balance between performance and lifestyle wear is a near-impossible tightrope to walk — frankly, one that several modern-day signature basketball shoes fail to achieve. It provides quite a conundrum for footwear designers: how do you make a shoe that meets the performance standards of an elite athlete, but still looks good enough that a weekend warrior would want to wear it for a stroll down the street?As you could imagine, this combination of looks and performance was very important to Iverson, a player who was known for his singular style both on and off the NBA hardwood. "I loved the way the Question stood out with the different color toe cap. I think that's one of the reasons it's remained so recognizable today," he says when asked about his favorite design feature.
"If I'm being honest, shoes in my era were much better looking."
Of course, basketball footwear's technical evolution has been something to behold in the quarter century since the Question's debut. Leather has been swapped out for space-age synthetics and meshes while cushioning systems have been tweaked to deliver more responsiveness, explosiveness and every other "-ness" buzzword you can think of. Iverson sees these performance upgrades for what they are, but believes a certain something is lacking. "Today, basketball shoes are light as hell but still much stronger," he acknowledges. Then, in a classic unfiltered AI moment, he takes things a step further: "If I'm being honest, shoes in my era were much better looking. OG styles like the Questions, Answers the Pumps? Those are something else." 1 of 2
Nick Llanton/Hypebeast2 of 2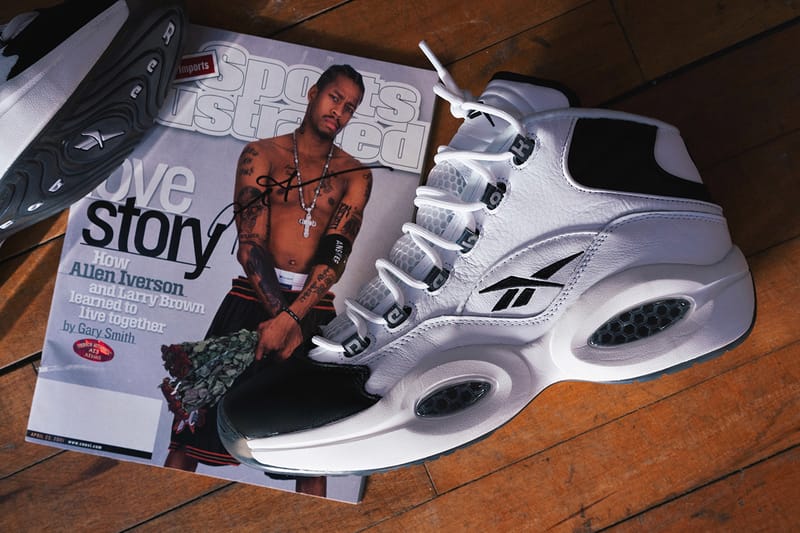 Nick Llanton/Hypebeast
If you're looking to relive hoops history, you can expect the Reebok Question Mid "Why Not Us?" to release via the Reebok webstore and retailers like Foot Locker on March 19, retailing for $140 USD.
Source: Read Full Article