Checkmate! This Queen's Gambit Hotel Room Is Dripping With Chess Pieces — Literally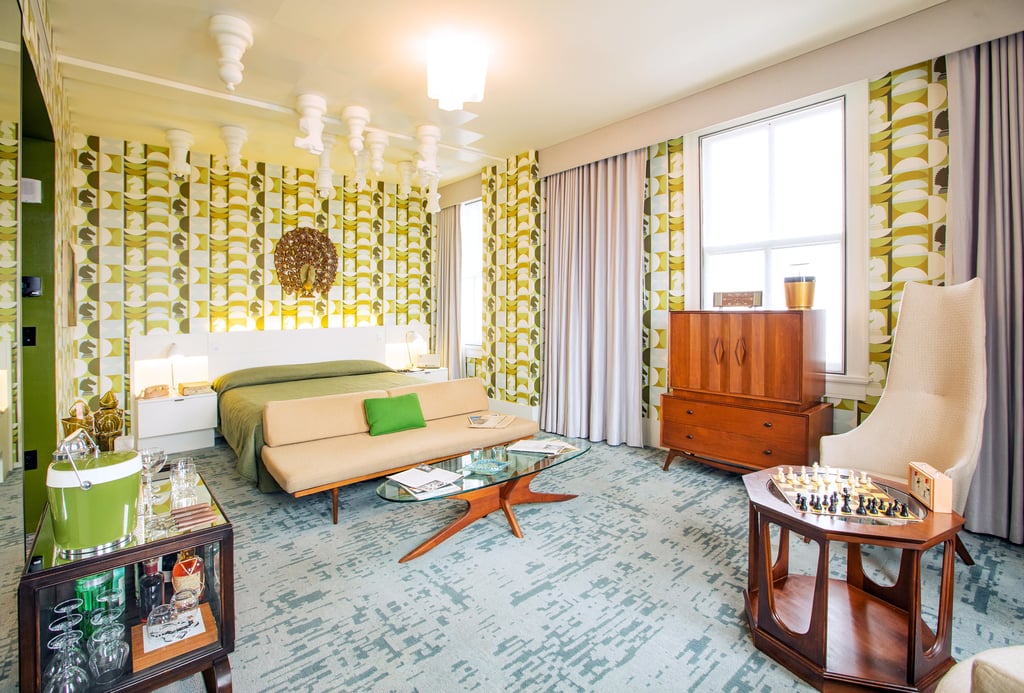 Checkmate! This Queen's Gambit Hotel Room Is Dripping With Chess Pieces — Literally

Someone give Beth Harmon a ring on the rotary phone because the bar cart is stocked and the chess pieces are aplenty in this gorgeous chess-themed hotel room inspired by The Queen's Gambit. Decked out in retro '60s decor, the "Harmon Room" at 21c Museum Hotel in Lexington, KY, is a chess aficionado's dream come true, and even includes a giant chess board installation hanging from the ceiling. So don't mind if we dip into the king and queen decanters and settle in for a game of chess.
A quick glance around the room reveals gorgeous midcentury modern furniture and antique accessories sourced from local vendors, including a vintage phone book, rotary telephone, original issues of Chess Review magazine, and a handmade walnut-and-maple chess board available for purchase. The room also includes custom artwork and wallpaper depicting dozens of knights — ya know, in case you weren't already dreaming about all the ways to take down your opponent during your next game night. VisitLex, the tourism board in Lexington, KY, is also offering an exclusive guide to the city, including landmarks and destinations from the show (think: the Herald-Leader offices, the original Morris Bookstore, Ben Snyder's Department Store, and even Henry Clay High School).
In addition to making sure the room is up to Beth's standards, the hotel chain has taken precautions to ensure all guests and staff are as safe as possible amid the spread of COVID-19. "To ensure guest well-being at our hotels, we have increased our cleaning standards even further by launching the ALLSAFE Cleanliness and Prevention Label, which represents some of the most stringent cleaning standards and operational protocols in the world of hospitality," the hotel chain wrote on its website.
The Harmon Room is available starting at $234 per night; take a closer look at the vintage room from all angles ahead.
Source: Read Full Article