Game On: See the Sprawling Cast of Scott Pilgrim vs. the World 10 Years Later
The ensemble in Edgar Wright's action comedy about a slacker musician navigating past his new love's exes, video game-style, is a veritable who's who of top-level talent.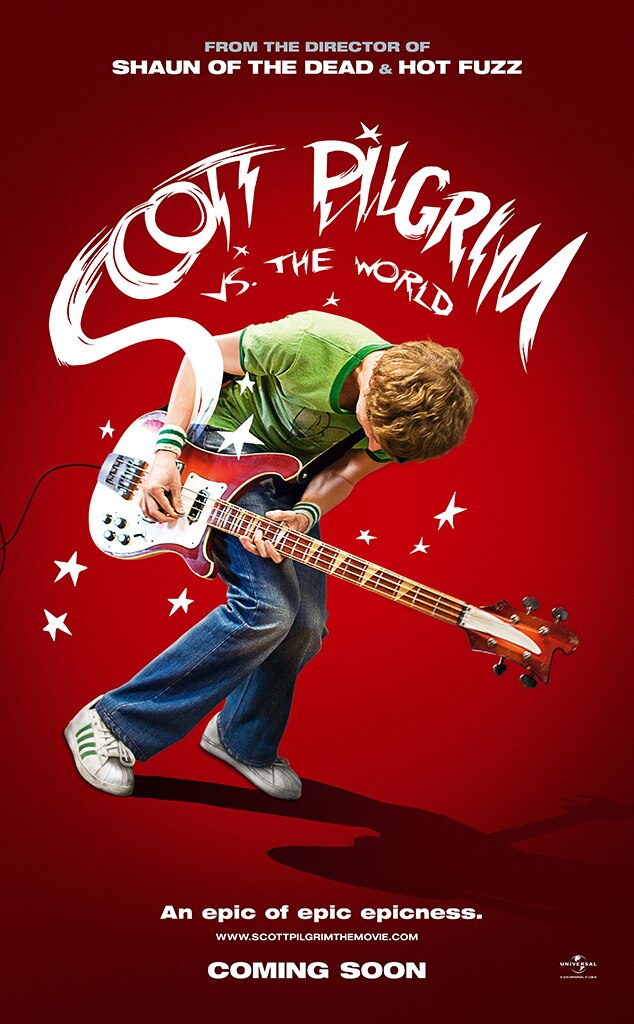 Just a few weeks ago, the cast of Scott Pilgrim vs. the World reunited—virtually, of course—to play a role in making the actual world a better place.
A few people couldn't make it, but otherwise Michael Cera and director Edgar Wright were joined by almost the whole ensemble at a table read to benefit Water for People, which works to bring clean water and sanitation solutions to communities in need around the globe.
The timing, though mid-pandemic, was otherwise opportune, leading up to the 10th anniversary of the quirky action comedy based on a series of Canadian graphic novels and starring Cera as musician Scott. Not exactly known for his initiative, he nevertheless sets off on an epic quest to achieve the holy millennial grail of a record contract and his new girlfriend's respect—one level at a time, video game-style, battling his sweetheart's exes and his own self-defeating tendencies along the way.
"Clearly we're all exactly the same and the world hasn't changed a bit," Wright observed cheekily before the read, put together by Entertainment Weekly, got underway.
In addition to being thoroughly entertained, we were also handily reminded of just what a stellar cast this movie has—and how playing a hunky but dimwitted egomaniac doesn't mean you can't also be Captain America one day. The very next year, in fact!
So, in honor of this cast coming together to make something truly special—then and now—we're checking in on how much world domination they've managed in the past 10 years. 
Spoiler alert: Quite a bit.
Trending Stories
Meghan Markle and Prince Harry Are Officially Home Owners
Kelly Ripa's Daughter Calls Mark Consuelos Thirst Trap Pics Disgusting
YouTube Star Jake Paul Breaks His Silence on FBI Raid
The Canadian star of Superbad and Juno became Hollywood's go-to delightfully awkward guy, first as a teenager and then as a young adult—kinda hipster, sorta brainy, a little bit slacker, and inevitably hilarious. After conquering Scott's universe, in which he also played bass and sang (as he did in Nick and Nora's Infinite Playlist), notable highlights include playing a jackass version of himself in This Is the End, lending his voice to Sausage Party and The Lego Batman Movie, and showing up in a number of episodes of Burning Love, Drunk History and Wet Hot American Summer: First Day of Camp. The actor-musician, who also toured with the indie band Mister Heavenly and played with his own L.A.-based outfit, The Long Goodbye, self-released a solo album, True That, in 2014.
Cera took his talents to Broadway in 2014, starring in This Is Our Youth, and again in 2018, appearing in both Lobby Hero (earning a Tony nomination for Best Featured Actor in a Play) and The Waverly Gallery—all three plays written by Kenneth Lonergan. And, naturally, he reprised the role of George-Michael Bluth when Netflix revived Arrested Development for a fourth season in 2013 and season five in 2018, also receiving producing credits because, as Cera put it, they let him into the writers room. "I didn't do anything that earned me a producer's credit, I think they just had to give me some kind of credit for being in that room," he said in 2013.
He once dated Aubrey Plaza but otherwise has led a super-private life, sparking the merest of marriage rumors when he was spotted wearing a ring in 2018.
Who knew Scott was kicking America's ass?!
After playing Ramona's ridiculous actor ex Lucas Lee, Evans signed on to star as Captain America in multiple Marvel movies—and that proved to be a winning choice. Now a veteran of three stand-alone films and four Avengers installments featuring the superhero (not including cameos elsewhere in the Marvel Cinematic Universe), the actor can pretty much write his own ticket, and he's been busy doing exactly that.
He starred in Bong Joon Ho's post-apocalyptic adventure Snowpiercer; directed, produced and starred in the 2014 romantic drama Before We Go; played the devoted single father of a genius child in Gifted; re-teamed with Cera to make his Broadway debut in Lobby Hero in 2018; played a pivotal role in the 2019 murder-mystery comedy Knives Out; helped "pahk a cahr" with fellow Bostonian John Krasinski in a 2020 Super Bowl commercial for Hyundai; and is streaming on Apple TV+ right now as a prosecutor whose son is accused of murdering a classmate in Defending Jacob.
In July, just in time for the 2020 election, the politically outspoken actor launched A Starting Point, a website designed to connect elected government officials with their communities and promote civil civic engagement—with an emphasis on civil. "An engaged electorate will create a government [that] more accurately reflects who we are and what we need," Evans, who's also an active presence on social media, said in a video introducing the site.
Past girlfriends include Minka Kelly and Jenny Slate, but, as he just confirmed on Real Time With Bill Maher days ago, he's currently single and sheltering in place near his family in Boston.
Then Macaulay Culkin's little brother. Now a member of one of the most compelling families on cable.
Actually, the veteran actor, who made his movie debut at 7 playing Kevin's Pepsi-guzzling cousin Fuller in Home Alone, has enjoyed an estimable career, mainly in indie movies such as Igby Goes Down (for which he was nominated for a Golden Globe in 2003) and The Dangerous Lives of Altar Boys, but also in more mainstream fare like Father of the Bride, She's All That and The Cider-House Rules.
After playing Scott's roommate Wallace Wells, Culkin notably co-starred in the Kenneth Lonergan-directed Margaret and in This Is Our Youth on Broadway, with Michael Cera (Lonergan strikes again!); and he was the short-lived Rye Gerhardt on the second season of Fargo. But he has since found the role he was destined for in wounded smart-ass Roman Roy on the stacked dynastic drama Succession. Culkin has been nominated for two Golden Globes for his performance and just received his first Emmy nomination for supporting actor in a drama series.
Also, J. Smith-Cameron—who plays Waystar general counsel and Roman's special friend Gerri on Succession—is married to Kenneth Lonergan. Stand back, as the secrets of this universe unfold before your eyes…
When she reported to work to play Scott's band mate's girlfriend Julie Powers in 2009, Plaza was having a tremendous breakout year, appearing in Judd Apatow's Funny People and starting her run as April Ludgate on Parks and Recreation. And completely unlike so many of the characters she's known for, the actress had nothing but glowing things to say about the experience.
"It was really fun," she told MTV News in 2009. "Edgar is awesome. He's really great. Everyone in the cast was really great—they're all a combination of really funny but also really great actors."
Parks and Rec lasted until 2015 (she also joined the recent quarantine reunion), and over the past decade Plaza's films have included reliably off-the-wall fare such as Safety Not Guaranteed, Life After Beth, The To Do List, Dirty Grandpa, Mike and Dave Need Wedding Dates, The Little Hours and Ingrid Goes West. She also tried the scream queen crown on for size in the 2019 remake of Child's Play. (And lest we forget, she provided the voice of Grumpy Cat in Lifetime's Grumpy Cat's Worst Christmas Ever.)
Plaza also has several projects coming up, including Clea DuVall's latest directorial effort, Happiest Season, a rom-com focusing on a same-sex relationship co-starring Alison Brie and Kristen Stewart. It's currently due out in November.
In real life, the actress has been with her boyfriend, writer-director Jeff Baena, since 2011.
"There's a lot of weird, really perfectly casted people," Aubrey Plaza told MTV News about the film. "Alison Pill really looks like Kim Pine."
And so Pill, fresh from a standout turn as a college student battling cancer on In Treatment, was destined to play Scott's first-ever girlfriend and Sex-Bob-omb drummer Kim. She then popped up in 2011 as Zelda Fitzgerald in Midnight in Paris and played solid producer but scattered person Maggie on The Newsroom during its three-season run on HBO.
Pill has been busy ever since, in films including Snowpiercer (with Chris Evans), the Coen brothers' Hail, Caesar!, Aaron Sorkin's directorial debut Miss Sloane and Adam McKay's Vice, playing Dick Cheney's daughter Mary. On TV, she joined the Ryan Murphy universe for American Horror Story: Cult, was in the FX on Hulu miniseries Devs and is currently starring on CBS All Access' Star Trek: Picard, which was renewed for second and third seasons before it even premiered.
Pill was once engaged to Jay Baruchel, but has been married to writer-director (and convincing Blair Witch Project actor) Joshua Leonard since 2015. Together, they're parents to daughter Wilder.
What hasn't Kendrick done since playing Scott Pilgrim's younger (but far more mature) sister Stacey?
She was nominated for an Oscar for Up in the Air right before she filmed Scott Pilgrim, then finished up her run as Bella's friend Jessica in Twilight; starred and showed off her singing voice in the sleeper hit Pitch Perfect, which spawned two sequels; became the poster girl for witty broken hearts everywhere in the film adaptation of the musical The Last Five Years; was Cinderella in Into the Woods; re-teamed with Aubrey Plaza in Mike and Dave Need Wedding Dates; screwed with Jennifer Aniston's mind in Cake; got her mind screwed with in A Simple Favor; voiced Poppy in Trolls and its sequel; helped christen Disney+ with the Christmas movie Noelle; and now has her own HBO Max show, Love Life, which she also executive-produces.
To name a few things.
Kendrick dated Edgar Wright for close to four years after he directed her in Scott Pilgrim (all appeared friendly in the 2020 Zoom reunion) and has now been undramatically dating cinematographer Ben Richardson for more than five years. They're so quiet about it, fans didn't even know Kendrick was with anybody and the Internet was fully supportive when hockey player Anthony Beauvillier ventured a hello on Twitter in December. 
"These replies have been my entertainment for the last two days," the actress graciously replied. "Thank you all for regaling me with the true tales of this man's heroism."
Knives Chau eventually realizes Scott isn't the right guy for her and ends up in a better head space, but at first she doesn't want to let him go without a literal fight.
Scott Pilgrim marked Wong's movie debut and she kept at it, appearing on the TV drama Combat Hospital in her native Canada; starring in the Sex and the City prequel series The Carrie Diaries; working with Tom Hanks and Emma Watson in The Circle; and joining the cast of GLOW in a recurring role.
In May, Wong opened up on Instagram about her Scott Pilgrim audition in 2008—and how she thought she'd blown it, so she called her dad crying, apologizing for wasting her own money to travel to L.A. and promising to watch her spending. "Even though my heart felt super Knives, I didn't believe that a young Asian girl from Scarborough with very little professional acting experience could ever book this role," she recalled. A month later, she got the call: the part was hers.
"A slew of auditions, a stunt test later, my life was about to change," Wong wrote. "I of course, bawled again."
Another obstacle faces Scott on his noble quest in the form of ninja Roxy Richter, yet she's ultimately vanquished like the rest.
Whitman followed this cult-classic with another YA fave, The Perks of Being a Wallflower, and she played Amber on Parenthood during its six-season run. Throughout, she also did a slew of voice work (that's her as April on the rebooted Teenage Mutant Ninja Turtles that ran from 2012 to 2017) and guest-starred on shows including Weeds, Masters of Sex, Suburgatory and Gilmore Girls: A Year in the Life.
She's currently starring on NBC's crime dramedy Good Girls with Christina Hendricks and Retta, and though season three was cut short due to COVID-19, they've been renewed for a fourth.
The Superman Returns star was eventually taken down a peg—by dairy, wouldn't you know? But that's how you fight a vegan with psychic powers in this world.
He joined the cast of Chuck in 2011, but Routh has never strayed far from the comic-book universe on film or TV, recurring as Atom (or regular guy Ray Palmer) on the CW's Arrow and The Flash before that became a permanent starring role on the superhero ensemble spin-off Legends of Tomorrow, which has been renewed for a sixth season. He also donned Clark Kent's glasses once again for an appearance on Batwoman in 2019.
The actor has been married to Dexter actress Courtney Ford since 2007 and they welcomed their son, Leo James, in 2012.
When Scott Pilgrim lays eyes on Ramona Flowers, that sets the whole game in motion.
While Winstead will forever be Ramona to some, she got her big break starring on Passions in the 1990s and moved on to films such as Final Destination 3, Death Proof and Live Free or Die Hard, playing John McClane's daughter. Post-Pilgrim her films have included Abraham Lincoln: Vampire Hunter, A Good Day to Die Hard, The Spectacular Now, Kill the Messenger, 10 Cloverfield Lane, Gemini Man and Birds of Prey. 
She starred in the short-lived supernatural series The Returned and the Civil War-era medical drama Mercy Street, but her most memorable role on TV so far was her turn as a crooked probation officer's crafty girlfriend on the third season of Fargo—which resulted in her onscreen romance with Ewan McGregor carrying over into the real world.
Who better to play Gideon Graves, the most mysterious ex of all, than this indie-favorite actor?
Schwartzman was starring as a struggling novelist turned private eye on HBO's Bored to Death when Scott Pilgrim came out. Then it was on to roles in more Wes Anderson films (including Moonrise Kingdom, The Grand Budapest Hotel, Isle of Dogs and the upcoming The French Dispatch) plus a turn as Disney songwriter Richard B. Sherman in Saving Mr. Banks, recurring roles on Amazon Prime's Mozart in the Jungle (he was also a producer) and Wet Hot American Summer: 10 Years Later—and now he's going to be on Fargo when it returns for a fourth season on FX. It's COVID-delayed premiere date is currently Sept. 27.
The son of Godfather actress Talia Shire and cousin of Sofia Coppola and Nicolas Cage is also a musician, having got his start as a member of the band Phantom Planet. 
He has two daughters with wife Brady Cunningham, whom he married in 2009.
The future Oscar winner hadn't even been in what's widely considered to be her breakout film when she played Scott's evil ex, Envy Adams.
Larson had done a bunch of TV, including Popular and Raising Dad, had a small role in Noah Baumbach Greenberg and had landed the role of Toni Collette's daughter on Showtime's The United States of Tara, but otherwise the Sacramento, Calif., native was fairly unknown.
Then came the critically acclaimed indie drama Short Term 12, for which she was nominated for an Independent Spirit Award and which she credits with opening a series of doors for her (most of which she declined to walk through, finding the roles to be pretty generic). She did accept the part of Amy Schumer's settled-down sister in Trainwreck, which was a big hit. But then she was cast in Room, playing a kidnapping survivor who's trying to make life right for her son in the adaptation of Emma Donoghue's novel, and she won the Academy Award for Best Actress in 2016.
And now she's Captain Marvel. Her stand-alone film, introducing Larson as Carol Danvers and her superhero alter ego, earned over a billion dollars worldwide, and a few months later Avengers: Endgame became the highest-grossing film of all time, earning $2.8 billion.
Because it's a small world and it all revolves around Scott Pilgrim, Larson dated Phantom Planet singer Alex Greenwald for about six years, and they got engaged in 2017, before splitting up last year.
It's no wonder that this many of these co-stars are all still friends—their paths just wouldn't stop crisscrossing, be it on Broadway or while saving the world in record-shattering blockbusters.
And the rapport picked right up as if no time had gone by, with Anna Kendrick pulling double duty as Stacey and Envy for an absent Brie Larson, and Chris Evans charmingly inquiring why Brandon Routh (in full Todd costume, at least from the waist up) hadn't aged.
"Vegan powers," was Edgar Wright's guess.
With that, they were ready to take it to the next level.
Scott Pilgrim vs. the World is currently streaming on Netflix.
Source: Read Full Article