Inside Gwen Stefani's Surprise Party For Blake Shelton
Gwen Stefani has certainly made no secret of her love for Blake Shelton over the years. The two haven't exactly been shy about their love since they first got together in 2015 and have repeatedly gushed about one another in interviews and across social media.
Both have swapped compliments in the public eye, with each singing superstar claiming that the other actually saved their life. "Gwen saved my life. Who else on earth could understand going through a high-profile divorce from another musician? You can't even imagine the similarities in our divorces," Shelton famously told Billboard in July 2016.
Stefani returned that sweet sentiment during a December 2019 interview with Entertainment Tonight. "Blake saved my life, everybody knows that. Like, we're just having the time of our lives, and we never expected that this late in our lives. So we're just trying to savor every moment together," she said.
Fast-forward to October 2020 and Stefani and Shelton took their relationship to the next level when they confirmed via matching Instagram posts that they were engaged after five years of dating. Stefani then seemingly hinted a wedding wasn't too far away in a June Instagram post that appeared to be taken during her bachelorette party.
So, it's no surprise that Stefani wanted to go all out for her man when he turned the big 45. Scroll on for the details.
Gwen Stefani went all out for her 'puppy' Blake Shelton's birthday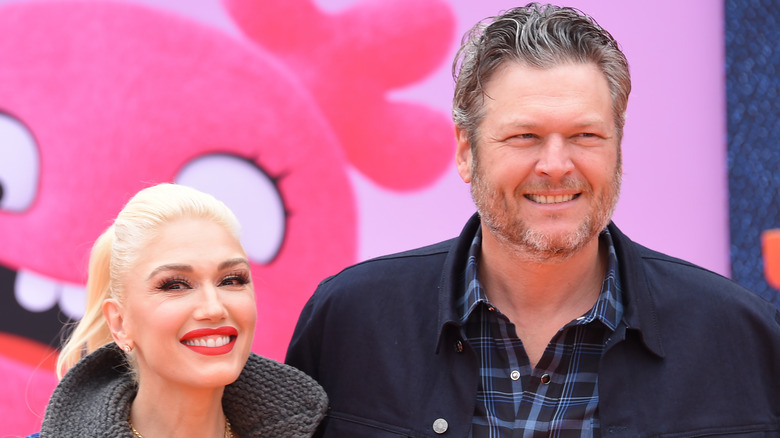 Gwen Stefani took to Instagram on June 18, Blake Shelton's 45th birthday, to reveal exactly how they spent the special day. A clip filmed from a backyard took fans inside Stefani's surprise party for her man. One of Stefani's sons ran out the back door, followed by the couple, and Shelton seemed pretty surprised by the whole thing.
The two walked out onto a deck where plenty of family and friends were waiting for "The Voice" coach to arrive. The gang yelled "surprise" as they stood next to a huge balloon display that spelled out, "HBD 45 BLAKE." A second video showed Shelton laughing and smiling with the party guests — including a man dressed as Superman — as he rocked a gold crown on a headband and a string of beads around his neck.
The third media in the upload was a sweet photo that showed Shelton and Stefani sharing a kiss on the lips. The former captioned the peek inside Shelton's big birthday blowout, "celebrating my besties b day today love u @blakeshelton #surprise #fiancé #Gemini #2021 #june18 #favoritecountrysinger gx."
Stefani also put her love for her husband-to-be on her Instagram Story. The "Hollaback Girl" singer posted a throwback snap of the singer alongside the caption, "Happy birthday puppy. We love u @blakeshelton" as well as several snaps and videos from the party (via People).
It definitely seems like Blake Shelton had a birthday to remember!
Source: Read Full Article