Joe Taslim Stays True to Sub-Zero in 'Mortal Kombat'
Over the past decade, Indonesian martial artist Joe Taslim has proved that his talents include more than just his already impressive 12-year stint with his country's national judo team. From The Raid to Fast & Furious 6 to Star Trek Beyond, the Asian actor has brought his signature kickassery to some of Hollywood's biggest blockbusters — and now Taslim is stepping into the shoes of one of his childhood's most memorable video game characters: Sub-Zero.
Joining us at HYPEBEAST, Taslim shares with us his earliest memories of the Mortal Kombat franchise, how it felt to take on the mantle of Sub-Zero, his most desired superpower, and what the new film means for greater Asian representation within Hollywood.
HYPEBEAST: Were you a fan of Mortal Kombat before joining the film, and how were you first introduced to the franchise?
Joe Taslim: Absolutely, a huge fan of the game and grew up playing it. Back in 1995, I was 11 or 12 [years old], I remember back in South Sumatra — a small island in South Malaysia — I didn't have the console so I had to go to my friend's house to play the game and wait a while for my turn. It was a beautiful memory of Mortal Kombat when the game first came out.
Now, I'm still playing Mortal Kombat 11, so you can imagine my feeling when I first got the call. It was crazy, indescribable, like a dream come true. My friends from back on the island called me when they heard the news and said "Are you crazy? We used to play this game! And I remember you used to play Sub-Zero, and now Sub-Zero is you! How crazy is that?" And I replied saying life is pretty crazy for me. Of course, it came with responsibility. As an actor I need to give this character my best, give him justice and make all the fans proud. I wanted to make myself proud too, because I was a fan as well.
Mortal Kombat is famous for its Fatalities and the unique, brutal fighting styles of its characters. As a martial artist yourself, was it difficult to replicate Sub-Zero's movements and way of combat?
Practically, I did a lot of action movies before, and I'm glad in this one we didn't use a lot of flashy stuff. Everything like the sword fights are just hand-to-hand combat. You want the feeling that if I trained martial arts hard enough, I probably can perform what I see, and that's a very important thing because if you go too flashy, you take away the logic.
In this movie — I have to be honest — I had so much fun doing it. The only part that I struggled a little bit with is that I had to wear the costume, and it was really heavy. It wasn't easy to fight with 10kg attached to your body. It took me weeks with a lot of back and neck pains to adjust to the weight and to be able to perform. I have to say though, those weeks of pain really paid off when I got to see the movie for the first time.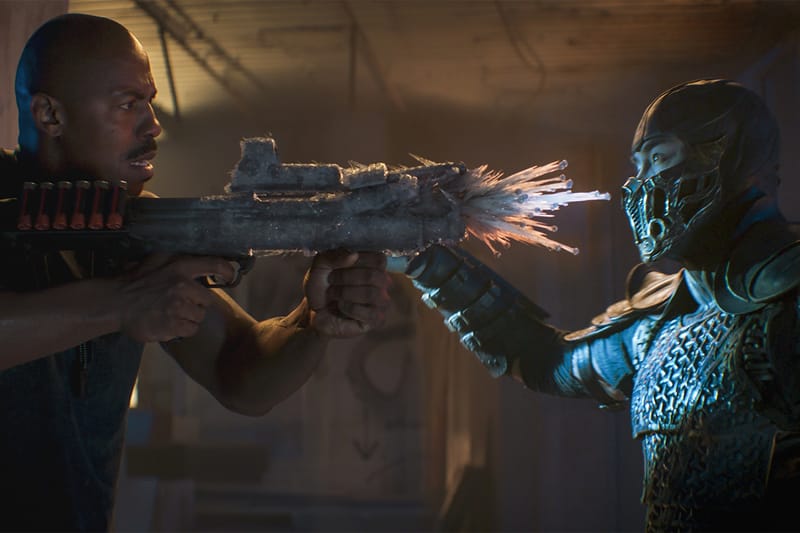 Warner Bros.
A big part of the film is following the journey of these fighters finding their special abilities inside themselves. If you could choose a superpower, what would it be?
Well I'm pretty sick for this one, because I want to have the power to read people's minds. That's the most dangerous power. You can stop everything from happening and influence a lot of people. That's true power.
Despite superhero action movies taking off in the past decade or so, Mortal Kombat is really one of the first in this wider genre to feature such a large Asian cast like yourself, Lewis Tan, Hiroyuki Sanada, Ludi Lin, Ng Chin Han and Tadanobu Asano. Do you see this film as a move forward for greater Asian representation in Hollywood?
Yes, I think representation is very important, but I also know for sure that when Simon [McQuoid] picks his actors, he wanted to be true to the game. He wants each character to represent where they came from originally. So what happened in the movie before, I think it was a gray area in terms of which race represented the characters, but in this film we want to be true, we want to be real, and we want to give justice to the game. It's important to me because as a kid when I was in South Sumatra and I watched Dustin Nguyen for the first time, an Asian American, it gave me the feeling that it was possible. I see someone who looks like me there in Hollywood with Johnny Depp in this great TV show, and it makes me think "If he can do it, I probably can do it too."
In this movie, there are a lot of Asian cast members, and you can see that Hollywood is now very diverse, open, and truthful. You know for sure that it gives hope, it gives courage, and it gives people the belief that "We are represented, we are creative, and we are talented." That energy needs to be delivered all over the world, whether you're an Asian living in the U.S. or Africa or wherever. The justice is there. Once we see that a character is supposed to be Asian but turns out to be played by a non-Asian actor, it's easy to think "We're probably not good actors. We're probably bad, and that's why they chose someone else." That feeling is dangerous — that feeling that we're not worth it — so the truth needs to be there, whether it's to the game or to the characters. Black characters need to be Black, white characters need to be white, and Asian characters need to be played by Asian actors. Hollywood belongs to everyone, not just the U.S.
Mortal Kombat arrives in theaters April 23.
Source: Read Full Article