Kanye West Speaks Out After Issa Rae Throws Shade at Him During SNL Sketch
Kanye West took to Twitter on Sunday, Oct. 17 to speak out after Issa Rae threw shade at him during her SNL sketch.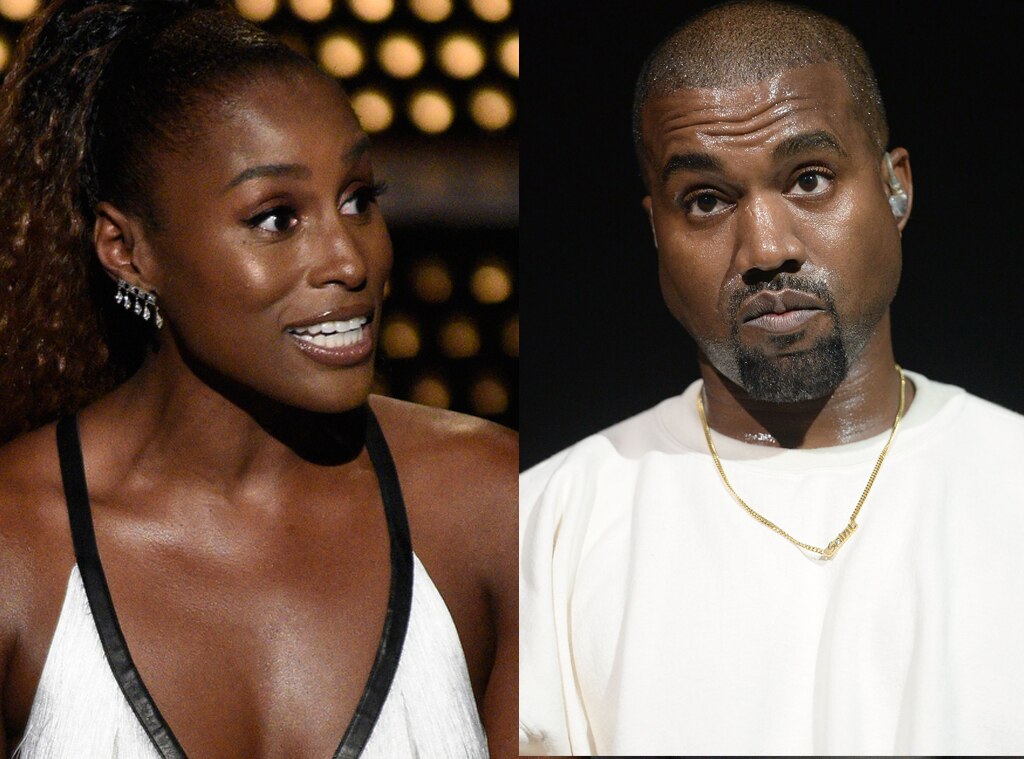 Kanye West's "Heartless" is probably playing on repeat.
Why you might ask? The Jesus Is King rapper was briefly mentioned in a joke on Saturday Night Live on Oct. 17. Host Issa Rae put her comedic skills on full display, especially during the "Your Voice Chicago" sketch.
For the skit, the Insecure creator played a lawyer representative for the NAACP who was appearing on a morning talk show with Kenan Thompson as an anchor.
Issa quipped that she was "voting for everybody Black" when discussing the political candidates. The one-liner was a cheeky reference to her red carpet interview at the 2017 Emmy Awards when she said she was "rooting for everybody Black."
Continuing the sketch, the HBO star expressed, "For too long, our people's voices have not been heard. It's our duty to stand together and take our power back." 
Towards the end, Issa then directed her comments towards the Yeezy designer and 2020 presidential hopeful. "When we come back, we'll talk about the presidential race between Donald Trump, Joe Biden and Kanye West," Kenan's character added, with Issa chiming in, "Kanye? F him!"
On Sunday, Oct. 18, the fashion mogul took to Twitter to share his thoughts about the SNL episode and Issa's hosting duties. 
"Ive always said SNL uses black people to hold other black people back," he wrote. "My heart goes out to Issa Rae I'm praying for her and her family I know that the twenty years of service that I've paid in the entertainment field has furthered our ability to be more successful."
He later retweeted the news that Adele would be hosting next weekend.
Trending Stories
Influencer Dead Of Coronavirus After Telling Followers It Wasn't Real
Hailey & Justin Bieber Enjoy Night Out After SNL Performance
Bachelorette Alum Emily Maynard Gives Birth to Baby No. 5
While Issa has yet to comment on Kanye's tweet, she did share how much fun she had hosting the long-running comedy sketch show.
"Had a blast! Thank you @nbcsnl and thank y'all for watching," she captioned her Twitter post on Sunday.
Just last month, Issa opened up about the work that still needs to be done in Hollywood when it comes to diversity. "Since we've had these uprisings, since we've had these Hollywood conversations, I've been on white-ass sets that are acknowledging why we need diversity. So I'm like, 'Something's really clicking,'" she told Bustle in September.
"But I don't know what else to tell you," she continued. "I can only show you or do it, but I'm not the one. I am tired. I got exhausted having these conversations the other day, where I'm like … I don't want to be the tokenized person for you to talk about these experiences with. But I've said that before, too, and I still am."
Watch the full SNL sketch for yourself in the video above. 
(E! and NBC are both part of the NBCUniversal family.)
Source: Read Full Article