Meghan Trainor Details 'Nightmare' Sex with 'Big Boy' Daryl Sabara: 'My P—-'s Broken'
"I wish I could make Daryl smaller," explained the singer, saying she "can't walk" and has to ice herself after "stingy, burny" sex.
Meghan Trainor is all about that bass … and not her husband's package.
During a recent episode of her Workin' On Motherhood podcast with guest Trisha Paytas, the singer got very candid about how difficult it is for her and hubby Daryl Sabara to "Marvin Gaye and get it on."
As the pair talked about having sex before, during and after pregnancy, Trainor — who is currently pregnant and shares one child with the "Spy Kids" alum — said she couldn't "have sex at all" the first time they were expecting.
"My husband's a big boy. My p—y's broken though, I have p—y anxiety," she exclaimed, prompting Paytas to ask, "Yours is little and his is big?"
"Yes!" Trainor exclaimed. "To the point where I'm like, 'Is it all in?' He's like, 'Just the tip.' And I'm like, 'I can't do anymore!' How do I fix that? Should I stretch?"
Unable to render YouTube Video.
The "Dear Future Husband" singer, 29, commented that she wished she could "make Daryl smaller with a doctor," going on to say that she "hates" how big he is and adding sex with him can be "painful."
Trainor went on to add that part of the problem is that she suffers from vaginismus, a disorder where the muscles of a woman's vagina tense up uncontrollably during penetrative sex, causing discomfort or pain.
"I thought every woman around was always in pain during and after sex. I was like, 'Doc, are you telling me I could have sex and not feel a single bit of pain?' Like, stingy burning?" she continued. "When I was making this baby, I had to ice myself after. We're not crazy, I'm a starfish, 'Get it done.' And then I'm icing myself and saying, 'There's gotta be another way.'"
She also said the "aftermath" of sex "sucks," sometimes leaving Trainor telling her other half, "I have to work today and I can't walk."
Though Trainor admitting to trying "every angle" possible, she said "each one is worse than the other." When Paytas suggested "sitting on top of" Sabara, Trainor said that would be a "nightmare." She added, "He's like, 'Let's try.' I'm like 'Please, no, for so many reasons.' I'm like, 'Don't look at me. I don't like this. This hurts way worse.'"
Despite her past experiences, Trainor was adamant she would "figure it out" and become a "star at sex."
Trainor and Sabara tied the knot in 2018 and welcomed son Riley in 2021. The two are currently expecting another baby boy.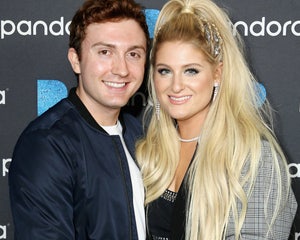 Meghan Trainor Clarifies How Many Times She & Husband Daryl Sabara Have 'Pooped Together' on Side-by-Side Toilets
Source: Read Full Article