Resilient Justin Rose takes slender lead into weekend at The Masters
Justin Rose takes a one-shot lead into the weekend
For almost three hours, as his rhythm wearied under the heat of Augusta, Justin Rose returned to a well of experience that very few players in this Masters field can claim. The Englishman had begun with a four-shot overnight lead – the second-largest in the tournament's history – but settled into a pattern of anxiety within minutes as his tee-shot at the first cannoned into the pine straw. But under a burden of duress most wouldn't withstand, with his swing faltering and the chasing pack lurching into his shadow, Rose responded admirably, finishing with a flourish of birdies to take an albeit less convincing one-shot lead into the weekend of a wide open Masters.
Having rested for five weeks prior to yesterday's exquisite 65, it was inevitable that there would first be a hangover and then questions of whether this was finally an upturn in Rose's form or a mere flash in the pan. The answer may still be unclear, with a gritty 72 only providing a light barricade to the flood of players in pursuit, but there can be no doubts over his fortitude. "The finger was getting closer to the [panic] button," he said. "It was a tough start today, poor tee shot on number one and had to chip out sideways, and then from that moment on, for the first six or seven holes I just kept leaving the ball on the greens but in really tough spots. I felt like I really hung in well and weathered that period of the round. Just little things were going wrong but didn't hit the panic button and really pleased to turn it around."
If Rose's brilliance on Thursday afforded him breathing space, there will be no such forgiveness this weekend as the field hisses at his neck. A formidable fleet of players navigated the balmier conditions on Friday, led by a surprising contender in Will Zalatoris. The 24-year-old American is making his debut at The Masters this week and has never won on the PGA Tour, however, a hat-trick of birdies to finish left him in second alongside Brian Harman.
From thereon, the familiar high-profile favourites loom. None more so than Jordan Spieth, who spent much of Thursday pinballing between the pines, but ominously seemed to have eradicated those mistakes, with a 68 continuing the 2015 champion's redemptive arc after last week's cathartic victory at the Valero Open. "I came in thinking that [I could win]," he said. "I'm in position now to think that, for sure. At the halfway point, I would have been pleased with being two back."
Just one further behind them is the Players Champion, Justin Thomas, who left the course infuriated after a sloppy putt ceded a bogey on the 18th green. That was the only blemish in an otherwise perfect round of 67 and the pre-tournament favourite is firmly in contention. "Mad is an understatement of how I'm feeling right now, it's a putt I'm looking to make and I three-putt it, you just can't give up shots like that," Thomas said. "I played really, really well today. To almost go bogey-free round this place is great. The greens were substantially more soft today."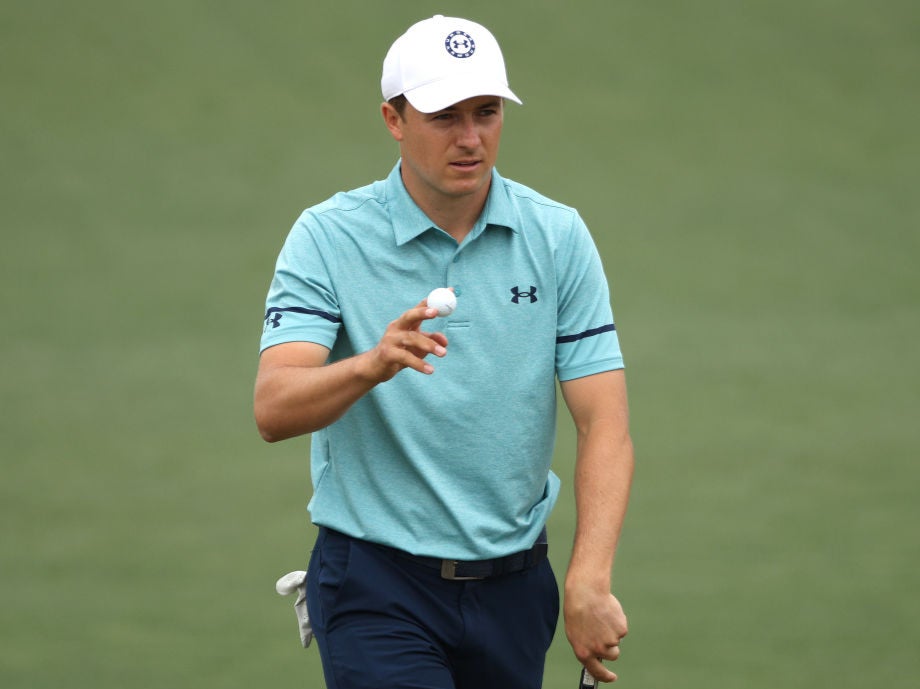 Jordan Spieth is in close pursuit heading into the weekend
Bernd Wiesberger, who blazed a trail among the early starters, Tony Finau and Si Woo Kim are all within touching distance, too, despite the latter breaking his putter in a fit of fury on the 15th green. That was of little issue to the South Korean, though, who used his three-wood to great effect and closed with three pars to remain at four under.
Augusta wreaked its vengeance on Thursday after Bryson DeChambeau's aggrandising predictions, but the US Open champion showed mettle as well as brawn to not only escape the cut but potentially bludgeon his way back into the reckoning. Five-over-par for the tournament through as many holes in his second round, six birdies alleviated the pressure of what had promised to be a rather chastening exhibition. The 'Mad Scientist' sits at one-under-par and, perhaps, his winning formula is slowly beginning to materialise after plenty of trial and error. "You have to experience failure in order to understand what success is," he said. "It's just not realistic to have success all the time. That's what's so great about this golf course."
Read our privacy notice
Read our privacy notice
There was to be no such response from Rory McIlroy, though. After a torrid opening 76, he found himself frequently lost in the pine straw again, searching for a needle to resurrect his splintered swing. The Northern Irishman missed the cut for the first time at Augusta since 2010 as did Brooks Koepka, who had worked tirelessly to regain fitness after undergoing knee surgery. "How f***ing disappointed do you think I am?" He said afterwards. "I worked my ass off just to get here, and then to play like this is pretty disappointing."
But the greatest giant-killing was reserved for the early exit of defending champion Dustin Johnson. Wrestling constantly with his swing, he cratered with bogeys on 17 and 18, guaranteeing that there will be a new winner at Augusta this week. For the time being, though, who that will be remains anyone's guess.
Leaderboard
-7: Rose
-6: Zalatoris, Harman
-5: Leishman, Spieth
-4: Wiesberger, Finau, Thomas, Kim, Champ, Matsuyama
-3: Schauffele
-2: Palmer, Smith, Morikawa, Conners
-1: DeChambeau, Jones, Cink, Hovland
Source: Read Full Article