Sam's Club Is Selling a Stella Rosa Gift Pack With 5 Different Sparkling Wines
Variety is the spice of life — which is why we always make sure our cabinets are stocked with red, white, rosé, and sparkling wines. As much as we love finishing a bottle of wine, mini bottles are perfect for the evenings when you just want a glass or two. Sam's Club is making sure that you don't risk a flat bottle of sparkling wine, because it's stocked with Stella Rosa's gift pack of one-glass bottles just in the time for the holiday season.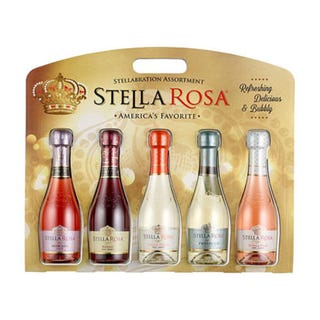 Dubbed the Stella Rosa Stellabration Assortment Gift Pack, the set gives you five wines so you can have your own tasting. It includes Moscato Rosé, Rosso Semi-Sweet, Stella Peach Semi-Sweet, Prosecco Sparkling, and Stella Pink Semi-Sweet. Whether you're in the mood for a red or rosé, there's a sparkling or semi-sparkling option to pop.
The pack includes five 187-milliliter bottles, so combined they equal one bottle and one glass of wine. The price may vary on location, but it's around $17.98, as listed on Sam's Club's website.
The Stella Rosa pack is perfect for popping in your fridge for the moment you're in the mood for a cold glass of prosecco, but it's also great to give as a gift (it is a gift pack, after all!). It comes in one package, so just slap on a bow and give it to a friend at their Christmas party or make it your contribution to the white elephant exchange. It's bound to be the most fought-after gift.
Source: Read Full Article