Sunny Hostin's WWHL Comments Landed Her In Hot Water with Whoopi Goldberg, Meghan McCain
"Whoopi said, 'Why did you tell everybody I fart all the time?'"
Sunny Hostin may have to watch what she says next time she appears on "Watch What Happens Live."
"The View" cohost appeared on Andy Cohen's late night show last month and made headlines for comments she made about both Whoopi Goldberg and Meghan McCain during the episode. In a followup interview today on Radio Andy, she shared that Goldberg wasn't too happy about something Hostin said about her … before Cohen revealed McCain reached out to him as well to share her own thoughts about the appearance.
In case you missed it, during a game in which she had to answer Andy's questions by naming one of her cohosts, Hostin cited Goldberg when asked who passed the most gas on set.
"She didn't like it," said Sunny with a laugh.
Unable to render YouTube Video.
She then began to explain how "this thing started," referring to the gassy Goldberg talk. According to Hostin, it began because Sara Haines has too many cups at the desk and every time she moved one of them around "it made this farting noise."
"So Whoopi, in an effort to kind of cover that up, was like, 'Sorry y'all. That was me,' and I just took her at her word," Hostin continued. "I didn't know it was Sara with all the waters. She should only have one cup of water anyway. We all have one cup and Sara has three and it just turned into this big thing and so Whoopi said, 'Why did you tell everybody I fart all the time?' and I was like, "Because you joke about farting all the time and I'm across from the table. I can't smell it. I don't know … whoever, you know, smelt it dealt it, so I just had no idea."
"She said, 'Thanks a lot,' but I mean, Whoopi and I are very close, so she was okay," Hostin added. "I didn't realize it would have so much pick-up, Mr. Andy Cohen!"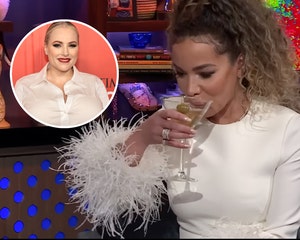 Sunny Hostin Reacts to Meghan McCain's Blistering Criticism of The View
Cohen apologized for his part in the story going so wide, before he then added that he "heard from Meghan McCain after your comments" about McCain's op-ed slamming "The View." In Meghan's piece, she said the show "keeps getting worse," before claiming the series avoided newsworthy topics "because of scandals from my co-hosts' past" and accusing the other panelists of treating her "horribly" after returning from maternity leave.
At the time, Hostin responded by saying she hadn't read the column, but believed the show was in a "wonderful place" and was "surprised" by Meghan's comments.
"I know her husband likes to mean tweet about me, which is shocking, but Meghan and I have always been friendly, we remain friends," she added, referring to McCain's other half, conservative commentator Ben Domenech — who has said Hostin is both "racist" and "has a brain with the memory capacity of a gerbil on meth" in recent Twitter posts. She also added that McCain would be a great addition to Andy's "Real Housewives" franchise.
"She never reached out to me. I just assumed she would just text me, but she has not," Hostin told Andy, before asking whether McCain was "unhappy" about her WWHL comments.
"I mean, she wasn't thrilled," he said, while Hostin interjected that she didn't say "anything negative" about her on the show. "Yeah, I know," added Cohen, who allegedly told McCain, "Looks, it is what it is."
In July 2021, McCain announced her exit from "The View" after nearly four years on the daytime talk show. In her memoir "Bad Republican," she revealed that she decided to quit because of how she felt she was treated by Joy Behar, Whoopi Goldberg and even others off-camera.
Back in May 2022, Meghan said Sunny is "the only cast member I still have a relationship with."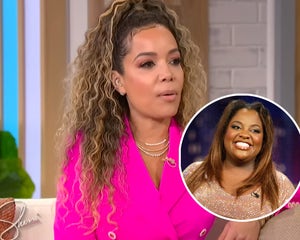 Sherri Shepherd Helped Sunny Hostin Get Fair Pay on 'The View' Using Jenny McCarthy's Salary
Source: Read Full Article