The Truth About Britney Spears Relationship With Christina Aguilera
Sometimes, pop stars fight — and in the age of digital and social media, we can easily read all of the juicy details and even hear stars vent about their beef in song. But long before Katy Perry and Taylor Swift's (on-and-off) bad blood, Madonna and Lady Gaga's shady exchanges, or even the existence of social media, two pop princesses — Britney Spears and Christina Aguilera — vied to be named queen of the genre.
It's natural that they were pitted against each other musically — their debut albums were released in the same year and were heavily saturated in sugary sweet pop sounds, they're similar in age, and their paths had crossed beforehand when they both appeared on Disney's "The Mickey Mouse Club." But when recording artists compete on the airwaves, the media and fans alike sometimes assume they are feuding in real life, and it's easy to believe that leap when we don't have evidence to the contrary. 
According to many magazines in the late '90s and early aughts, Spears and Aguilera supposedly did not like each other at all. But we decided to dig as deep as we could to find out the truth about Britney Spears' relationship with Christina Aguilera, because a lot of time has passed since they first topped the charts, so we hope old wounds are healed.
Christina Aguilera and Britney Spears may have been in a young love triangle with Justin Timberlake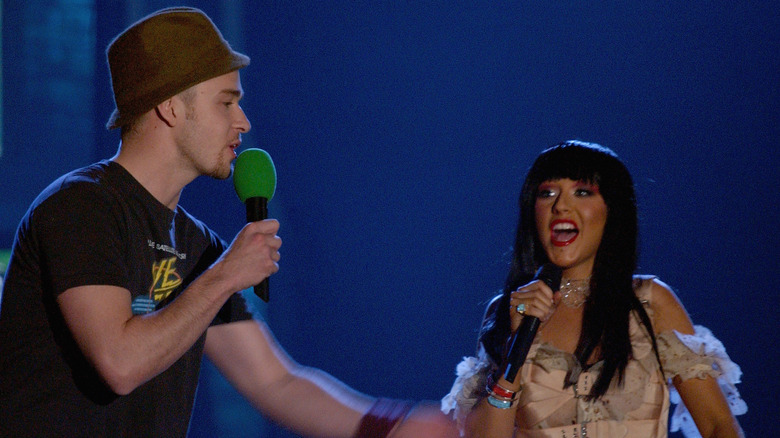 Britney Spears and Christina Aguilera appeared on "The All New Mickey Mouse Club" when they were 12 and 13 years old, respectively. The cast was full future megastars, including the likes of Keri Russell, Ryan Gosling, JC Chasez, and Spears' future ex-boyfriend, Justin Timberlake (via ScreenRant). Aguilera even told the Daily Mail in 2008 that she was friends with Spears during their short Disney tenure from 1993 to 1994: "Britney is someone that I used to hold hands with. We were silly little girls together on the 'Mickey Mouse Club.'"
Timberlake and Spears famously dated from 1999 to 2002 (via PopSugar), but the Daily Mail reported on some rumored tension between Aguilera and Spears when the former songstress went on tour with Timberlake in 2003 to promote her album, "Stripped." Per the site, Spears was allegedly "desperate for a reconciliation" and went to Los Angeles club Joseph's to see Timberlake, but instead "found [Justin] and Christina in an embrace." Timberlake and Aguilera never had a public relationship and apparently told Spears they were just friends. 
It's unclear whether there's any truth to this rumor, but in 2018, Aguilera told James Corden that she had some tension with Spears over Timberlake as a young teen during their Disney days. "Me and Britney, you know… There was, like, a thing back then," a seemingly flustered Aguilera said. "It was a good time," she added, admitting that the former NSYNC singer "had swag" as a youngster.
…Baby One More Time introduced us to the future of pop music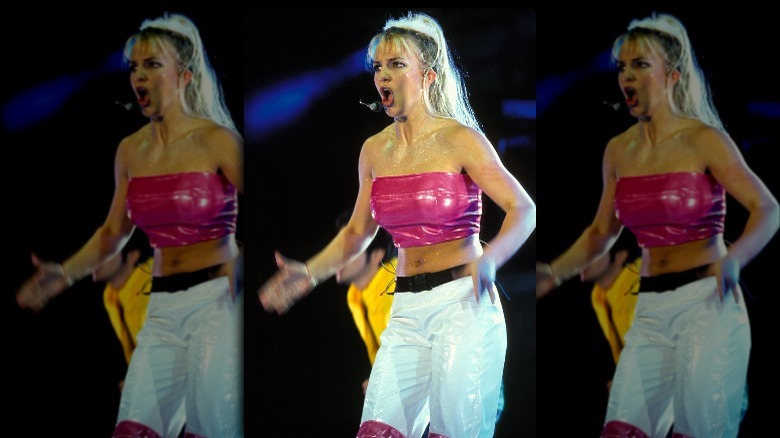 Britney Spears released her debut album, "…Baby One More Time," on January 12, 1999, with the title track of the album as her first single. According to Rolling Stone, the 11-track LP did more than just launch a pop icon's career — it was the beginning of a new era of pop music. Calling the album's sound "the alien apocalyptic robot-disco stomp of Britney" in a piece on the record's 20th anniversay, critic Rob Sheffield wrote that Spears' debut gave pop permission to sound artificial. It's not shade, it's simply the future of the genre.
"(You Drive Me) Crazy" was released to coincide with the release of 1999's "Drive Me Crazy," a romantic comedy starring Melissa Joan Hart and Adrian Grenier. Spears then deviated from the mood of her career-defining first single with a slower track, "Sometimes," to remind listeners that she was just an innocent teenager with a lot of feelings to deal with, after all. In hindsight, some of the tracks are hard not to laugh at because of their titles alone (we love you, Britney, but "E-mail My Heart" is no bop). But as Sheffield reminds us, we sure do spend a lot of time waiting for notifications from dating apps nowadays. 
In her heyday, Spears and her team always made sure her voice (and backing tracks) were in tune with the future.
Christina Aguilera didn't want her debut album to be pop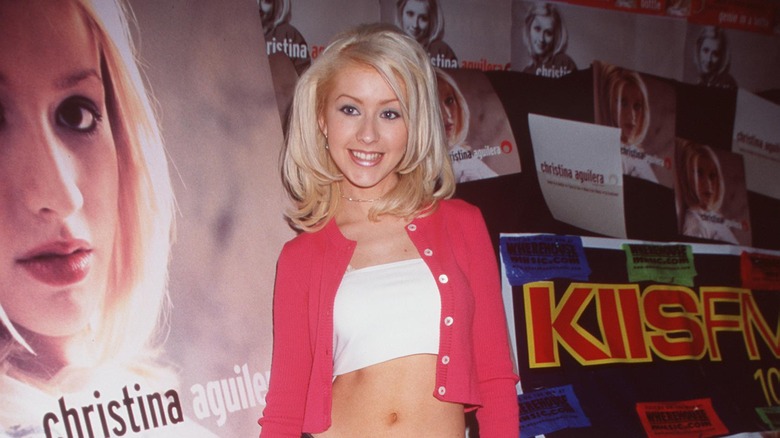 Christina Aguilera released her self-titled debut album on August 24, 1999. Given that Britney Spears had arguably ushered in a new era of pop music just months before Aguilera's release, it's inevitable that the two teenage pop stars would be compared to one another. We have to admit, there are some undeniable reasons why the women always came up in the same conversation.
Aguilera's first single off of the album was the sexy and upbeat "Genie in a Bottle." The song is also a little bit sultry — not unlike Spears' "…Baby One More Time" — and is ranked as the best song on the record by Billboard. In an article celebrating the album's 20th anniversary, the site called the tune "a generational touchstone for pop music." Future singles like "Come on Over" had similar sexy vibes, but Aguilera's second consecutive No. 1 single, "What a Girl Wants," proved that upbeat pop could have an empowering message for women, too.
Songs like "Blessed" and "So Emotional" (originally written for Selena Quintanilla's debut album, per Billboard) gave off gospel and R&B vibes that suggested the young singer wanted to take a different path than pure pop music, something Aguilera reportedly confirmed. "[The record label] clearly wanted to make a fresh-sounding young pop record and that's not always the direction I wanted to go in," she apparently once said, according to Pier Dominguez's unauthorized biography, "Christina Aguilera: A Star Is Made."
The Southern charmer versus the city girl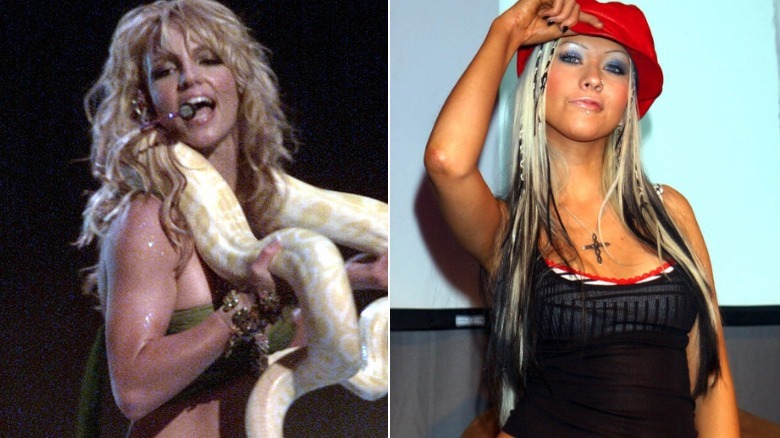 Unfortunately, once they started, the comparisons between Britney Spears and Christina Aguilera did not stop. Spears was praised as more innocent compared to Aguilera from as early as 1999, when a blunt article by The Guardian stated, "Christina has a 'naughtier' image than Britney's corn-fed, Midwest, wholesome look." A year later, "Prozac Nation" author Elizabeth Wurtzel entered the conversation in another piece for The Guardian. "I can't stand Christina — she has none of the Britney charm, none of the sugar, none of the southern honey," Wurtzel wrote. "Aguilera's music is less irritating, but her personality is more so. Britney wins on congeniality alone."
Neither Aguilera or Spears had put on boxing gloves, but Aguilera was seemingly always on the "losing" side of an imaginary fight and told Cosmopolitan in 2018 that it understandably affected her, especially when she released her "Stripped" album. "It's hard to hear yourself being called names. I remember being hurt by these commercials on MTV, pitting Britney as the good girl and me as the bad girl," the "Can't Hold Us Down" singer reflected. "It's like, if I'm going to be demure and innocent, that's okay. But if I'm going to just be myself, I'm trouble."
This battle sadly transferred over to the music, too. Spears and Aguilera both had songs that signaled a sexy image transformation with their sophomore solo records. NME called Spears' "I'm a Slave 4 U" single "funk the way God intended," while it slammed Aguilera's "Dirrty" as a "smut-fest" and "the pick of an inconsistent crop."
The VMAs kiss sparked a public feud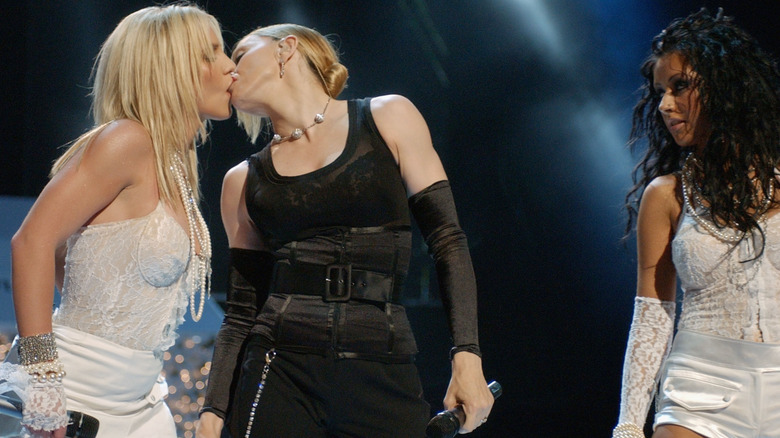 If you were at least a tween in the early 2000s, you probably remember that Madonna kissed Britney Spears and Christina Aguilera during a VMAs performance in 2003. You may not remember what they sang (a medley of "Like a Virgin" and "Hollywood") or who else joined the trio on stage (Missy Elliot). Nearly two decades later, the performance seems less shocking than potentially exploitive — but in the early aughts, it made countless headlines.
Spears had broken up with Justin Timberlake, so cameras panned to him to get a reaction to the Spears-Madonna kiss, according to Aguilera's 2018 appearance on Radio Andy. She jokingly said she felt "left out," but didn't mind. However, Aguilera previously took her first direct public jab at Spears back in December 2003, telling Blender (via CBS News), "She seemed very distant, even during rehearsals. Every time I tried to start a conversation with her — well, let's just say she seemed nervous the whole time. … She seems to me like a lost little girl, someone who desperately needs guidance."
Spears responded in the January 2004 issue of Blender. "A lost girl? I think it's probably the other way around," she shot back (via Us Weekly). "I can't believe she said that about me. When someone has been rude to you so many times, it's like, 'You know what, Christina, I'm really not about the fake anymore.'"
Christina Aguilera had a lot to say about Britney Spears' engagement ring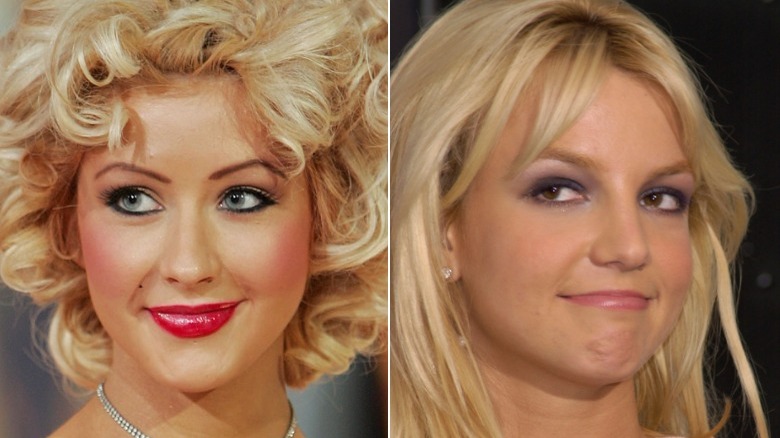 Christina Aguilera kept her feud with then-bride-to-be Britney Spears alive in 2004 through an interview with Us Weekly. "I know Britney," the "Fighter" singer said. "She's not trailer trash, but she sure acts that way." Yikes. She also had plenty to say about the fact that Spears reportedly purchased her engagement ring ahead of her wedding to dancer Kevin Federline. "I can't believe that girl bought her own engagement ring! I've seen it up close. It looks like she got it on QVC," Aguilera jabbed. 
As of this writing, we're not sure if Spears knows Aguilera made these comments, because we cannot find a public response. But we don't blame her if she kept quiet on purpose. In the pop music feuds game, silence is probably the classiest move when someone calls you trashy and judges your material possessions, after all.
But Spears liked her engagement ring, and that's all that matters. Describing it to People in 2004, she said, "It's kind of spectacular. Even though it's a really big diamond, it's still simple and elegant. It's gorgeous and classic." Of course, Spears' marital bliss sadly didn't last long after the hubbub over the engagement ring. She and Federline were married for less than three years in total, and divorced in 2007.
Britney Spears' blog squashed the beef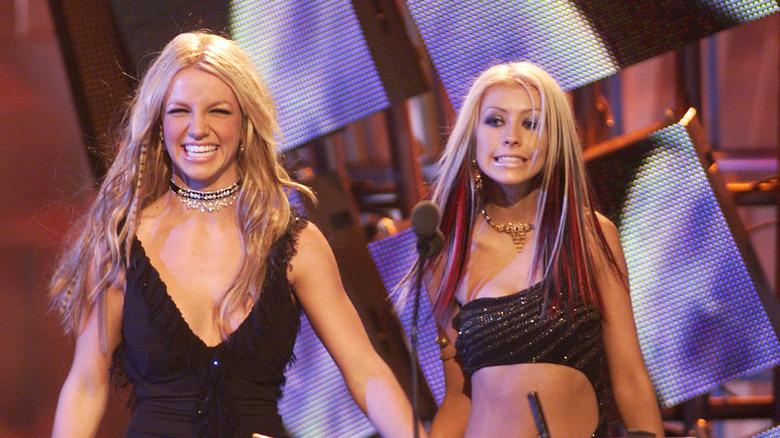 Just a year after Christina Aguilera took those seemingly cheap shots at Britney Spears about her engagement ring, the "Oops! …I Did It Again" hitmaker and her team attempted to end whispers of bad blood between the two pop stars once and for all. In a section of her official blog dedicated to fact-checking tabloid rumors about Spears, a post read (via Chicago Tribune), "Britney would love to be close with Christina again. In fact, Britney recently wrote Christina a letter telling her how happy and beautiful Christina looks lately." 
We couldn't find any proof that Aguilera responded to the note, but either way, Spears and her team seemingly took the high road. And at the end of the day, it's completely understandable that the former Mousketeers weren't holding hands as they slid up to the top of the pop charts (listen, they were busy), but we can't lie, we like the idea of a world in which Britney Spears and Christina Aguilera slay an original song at the VMAs and then co-host their own afterparty. Oh well.
Christina Aguilera congratulated Britney Spears on becoming a mom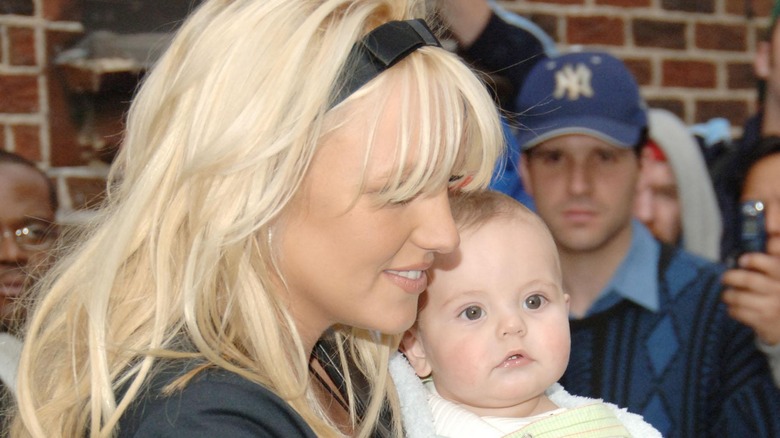 Britney Spears gave birth to her first son with husband Kevin Federline, Sean Preston, on September 14, 2005. The first child born to a '90s pop princess was a big deal, and Christina Aguilera told MTV News (via Popdirt.com) how she heard the good news. "My assistant came in the room when it happened and she's like, 'Britney had a boy!' and I was like, 'Oh my gosh!' I don't know where I was for a while when she was pregnant but it really kicked in at that point," she said. "It's like, wow, she had a baby! That's crazy! I'm overjoyed and thrilled for her." 
Aguilera noted that she even sent Spears a gift (though she kept what it is under wraps). "It's such an exciting time in her life and I just wish her the best," she added.
For her part, Aguilera gave birth to a son of her own, Max Liron Bratman, with then-husband Jordan Bratman on January 12, 2008. Unsurprisingly, there is no record of Spears making a public comment or sending a gift (but that doesn't necessarily mean the latter didn't happen).
Did Simon Cowell fuel the fire?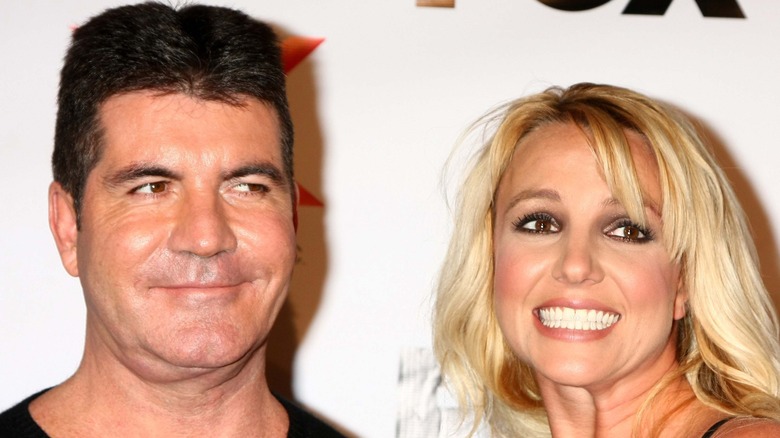 Though Christina Aguilera and Britney Spears have definitely shaded each other in public, there is no denying that the media has fueled the fire that is their alleged rivalry since the beginning of their pop princess careers. This was obvious on September 12, 2012, when Spears made her debut as a judge on Fox's talent competition, "The X Factor" — the same day that NBC aired a special edition of its singing competition, "The Voice," ahead of Aguilera's return to the show as a coach.
Neither Aguilera nor Spears had any control over when their respective networks aired what programming. But this time around, Aguilera only had positive words for Spears ahead of her new venture: "I don't know what [advice] she's going to offer specifically, but I know she's a pro," she said during a press conference (via E!). "I think she's going to give great advice."
True to form, Spears had no comment — but her fellow "X Factor" judge, Simon Cowell, sure did. "Britney's not going to appreciate the fact that Christina — who has been a bit of a rival — isn't allowing Britney to have a night of her own," he claimed to TMZ. We are going to have to take that quote with just a bit of side-eye, Simon.
In conclusion…Britney Spears and Christina Aguilera are over the drama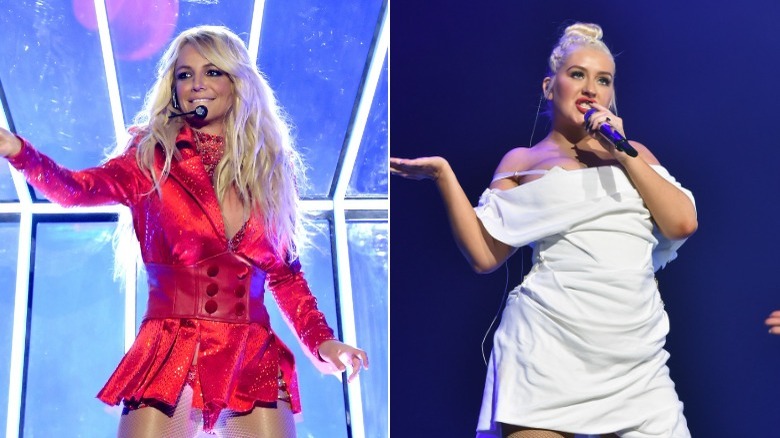 At the time of this writing, Britney Spears and Christina Aguilera are 39 and 40 years old, respectively. It's been over two decades since they released their debut albums in 1999. And they're moms now. So, although we know that they did have a little bit of an actual issue over Aguilera's "lost girl" jab at Spears back in 2003 (via CBS News), they've since grown up and seem to understand that women supporting women is so much more exciting to watch than women tearing each other down. And honestly? We love to see it!
For her part, Spears hasn't been in the spotlight as much in more recent years, largely stemming from her controversial conservatorship, which has been in effect since 2008. But in an appearance on "Jimmy Kimmel Live!" in 2018, Aguilera announced that she would be open to collaborating with Spears in the future, and that she thinks that social media would have helped them bond in the early aughts. "If we had social media back then, we would have probably done a song together or something and just squashed [our beef]," she explained, adding that she's "down" to record a song now "if [Spears'] reps say okay." 
We're still waiting for the highly anticipated Spears-Aguilera track to drop — but we don't mind, we're ready to blast it whenever it arrives.
Source: Read Full Article