The Truth About Ruth Bader Ginsburg's Relationship With Sandra Day O'Connor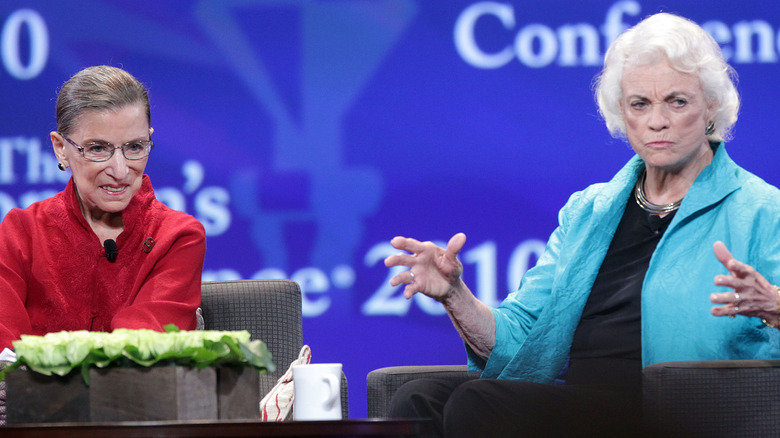 Ruth Bader Ginsburg and Sandra Day O'Connor are known as American sheroes and pioneers. Before O'Connor, a woman had never sat on the Supreme Court of the United States and for years she remained the only female on the bench, paving the way for the four women who would come after her.
The first woman to join O'Connor on the bench was Ruth Bader Ginsburg. While O'Connor was appointed by the conservative Ronald Reagan, Ginsburg was appointed by the more liberal Bill Clinton (via supremecourt.gov). Despite their political differences, the two women bonded from the start because sometimes political differences don't mean a thing when there's a common goal in mind — be the best you can be at your job and be role models for young girls who aspire to do the same as you. While one of the women has since passed and the other is no longer on the court as of this writing, their relationship and bond remain legendary.
How Ruth Bader Ginsburg and Sandra Day O'Connor became female pioneers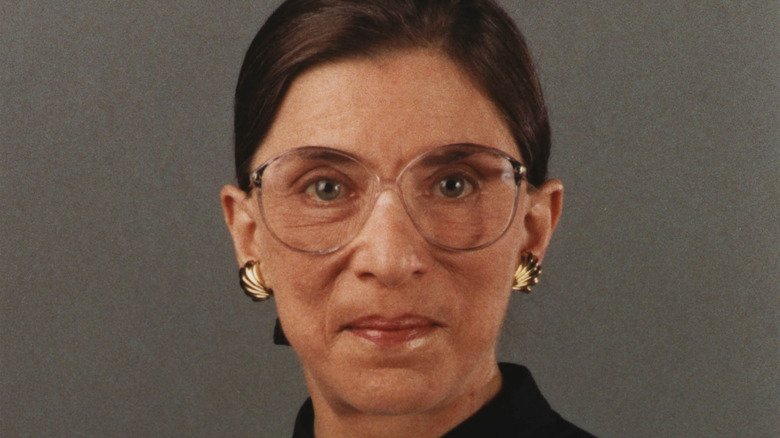 Sandra Day O'Connor and Ruth Bader Ginsburg couldn't have come from more different and diverse backgrounds. O'Connor was born on March 26, 1930, in El Paso, TX. By 1952 she had earned her law degree from Stanford University, at a time when female lawyers were few and far between — and also when female lawyers were not in high demand. That prompted her to wo,rk for no pay as a county attorney, according to Biography.
Eventually, that job led to pay, as well as law work overseas before she finally settled in Arizona and became a state senator. By 1974, O'Connor won a judgeship with Maricopa County's Superior Court, and five years later she sat on the state's Court of Appeals. Within two years, she broke an American glass ceiling when President Ronald Reagan nominated her to the Supreme Court (via Biography).
Ginsburg came from an entirely different background, born in 1933 in Brooklyn, NY. She was married before she and her husband, Martin Ginsburg, both attended and graduated Harvard Law School, with Ginsburg also having trouble finding work when female attorneys were not common. Instead, she took a job as a law professor. Unlike O'Connor who served in public office before becoming a justice, Ginsburg championed women's rights and spent the 1970s with the American Civil Liberties Union before becoming a judge with the U.S. Circuit Court of Appeals in 1980. In 1993, President Bill Clinton appointed her to the Supreme Court (via Biography).
Ruth Bader Ginsburg and Sandra Day O'Connor become Sisters in Law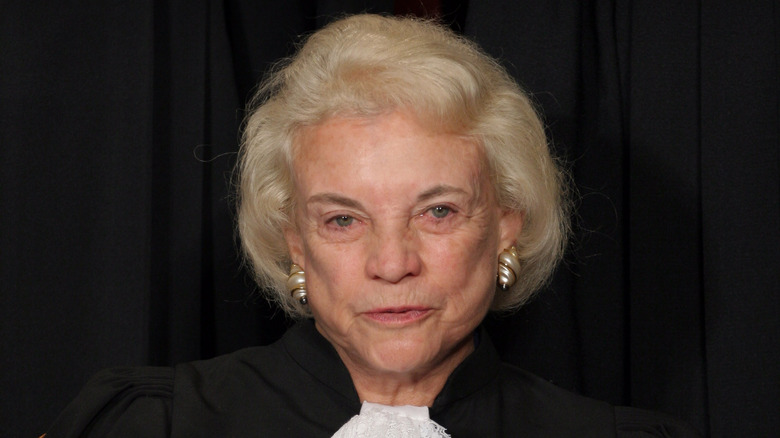 Although Ruth Bader Ginsburg and Sandra Day O'Connor came from two political backgrounds, they had one thing in common — a determination to make things more equal for American women. There was a time when women's rights was not a partisan thing and Ginsburg and O'Connor served on the court together as allies, according to "Sisters in Law: How Sandra Day O'Connor and Ruth Bader Ginsburg Went to the Supreme Court and Changed the World," a book about the two justices by Linda Hirshman (via HarperCollins).
According to NPR, the book points to one landmark women's rights case from 1996. The majority opinion of the court was that the Virginia Military Institute, which had been all male for more than a century, could not discriminate on the basis of sex, and therefore had to admit qualified female applicants. Although Ginsburg had been on the court a few short years, it was O'Connor who insisted she read the opinion when it was handed down. That was a moment that helped define the relationship between the two women.
Ruth Bader Ginsburg and Sandra Day O'Connor shared mutual respect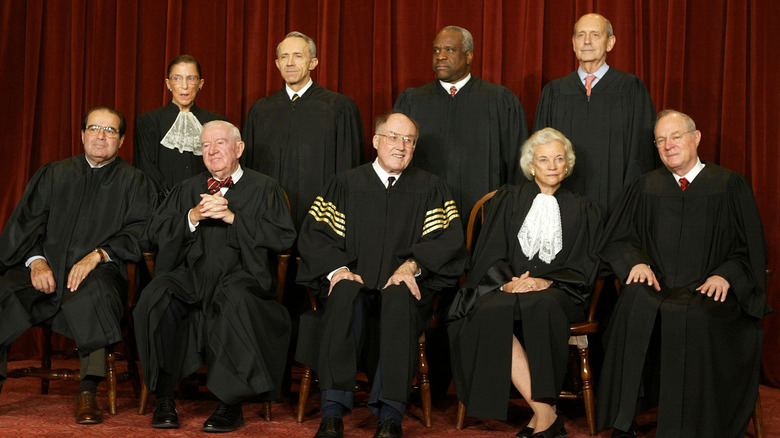 As Ruth Bader Ginsburg read the opinion, she veered from the text and looked right at Sandra Day O'Connor, saying that the decision would have been impossible without one from the longer-serving female justice in which sex discrimination in public universities was deemed unconstitutional.
"As this court said some 14 years ago, state actors may not close entrance gates based on fixed notions concerning the roles and abilities of males and females," Ginsburg said (via NPR).
While the book points out that Ginsburg and O'Connor were not exactly shopping buddies, they did have a mutual respect and admiration for one another that made them allies during a time when they were paving the way for other women to sit on the highest court in the land, according to NPR.
O'Connor left the bench in 2006. Twelve years later she would announce that she was in the early stages of dementia (via CNN). Ginsburg served on the court until her death on September 18, 2021, when she finally succumbed after battling cancer (via The New York Times).
Source: Read Full Article