The Truth About Taylor Swifts Dating History
Love her or hate her, you have to give props to Taylor Swift for her musical talent and savvy — unless you're Kanye West; then, well, it's best to keep schtum. As per Billboard, since bursting onto the scene with her first single, "Tim McGraw," in 2006, Swift's become one of the industry's top recording artists. She's scored 11 Grammys, been named "American Music Awards" artist of the year six times, and won 25 Billboard Music Awards. 
Tay has graced the covers of the world's glossy mags and has made serious bank from her music career. Like, $400 million serious. She's renowned as a prolific songwriter, and from her self-titled album up to "Folklore," T-Swizzle penned 173 songs (according to Rolling Stone). Whether she's crafting "teen country tracks," "synth-pop anthems," or something else entirely, the singer has drawn inspiration for songwriting lyrics from her own personal and romantic life.
"I'm not the girl who always has a boyfriend. I'm the girl who rarely has a boyfriend," Swift insisted in 2010 to Seventeen magazine (via MTV). However, her lyrics — and her long list of exes — would appear to tell a different story. "[She's] used her songs as a public diary to share her lessons and aches with her millions of fans," Rolling Stone mused. Well, girlfriend can try and shake it off all she wants, but we're spilling the truth about Taylor Swift's dating history. Are you ready for it?
First love torment honed Taylor Swift's breakup song skills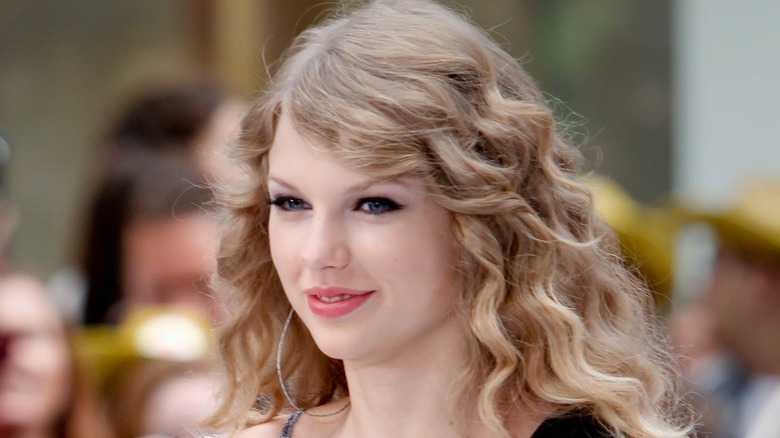 Brandon Borello was possibly the first to learn that dating Taylor Swift could make it into her song lyrics. Borello and Swift were high school sweethearts, but the romance ended as he prepared to move away for college, CBS News reported. Heartbroken Tay supposedly wrote three songs about Borello, although Spin claimed that they could've been about another boy, Drew Dunlap. 
Swift performed "Our Song" for her school talent show. "I was ridin' shotgun with my hair undone, in the front seat of his car. I grabbed a pen and an old napkin. And I wrote down our song," she sang in the aptly-named hit. "Tim McGraw" was another track about teenage romance. "It's about a relationship that I was in," Swift explained to "Great American Country." "It was with this guy I was dating, and he was about to go off to college, and I was thinking about all the things that I knew would remind him of me."
The singer-songwriter gave it her all. "When you think happiness, I hope you think that little black dress … When you think Tim McGraw, I hope you think of me," she wrote. Swift's efforts didn't go unappreciated by the man in question. "He bought the album and said he really loved it, which is sweet," she told USA Today in 2006 (via "Taylor Swift"). "His current girlfriend isn't too pleased with it, though."
Cheating high school sweetheart should've said no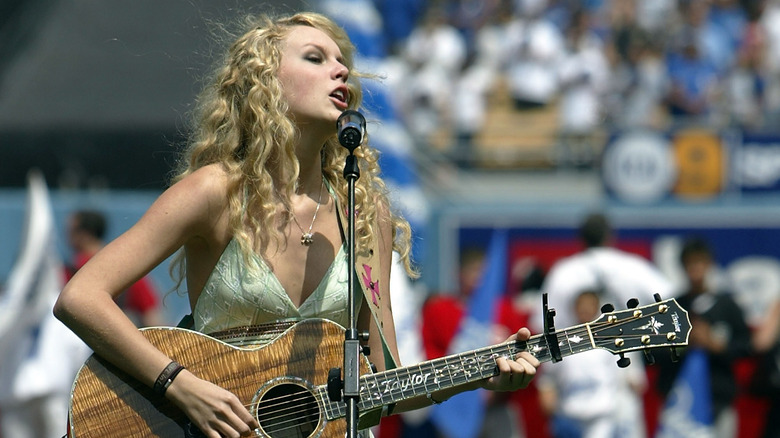 With her old high school beau off at college, Taylor Swift moved on to Sam Armstrong. Per CBS News, the two dated in high school. It seems Tay fell pretty hard pretty quick. However, it all came crashing down after she discovered he'd cheated on her with another girl. T-Swift had written sweet homages to her earlier boyfriend — but Armstrong didn't fare so well.
Sam's transgressions led to him being the subject of Swift's first breakup burn song. "Should've Said No" was the ninth track on her debut album, "Taylor Swift." And she didn't hold back. "You say that you'd take it all back, given one chance. It was a moment of weakness, and you said, 'Yes.'" She wrote. "I shouldn't be asking myself, 'Why?' You shouldn't be begging for forgiveness at my feet. You should've said 'No,' baby, and you might still have me."
Swift buried a bunch of "Easter eggs" in her album liner notes, leaving secret clues to the meaning of each song. She capitalized strategic letters that spelled out the subject. The lyrics for "Should've Said No" were all lower-case, aside from the letters S A M being capitalized whenever they appeared in the correct order. Burn, baby burn! Per J-14, Armstrong still resides in Tennessee and tries to maintain a low-key lifestyle post-Taylor Swift.
Failed freshman romance inspired Taylor Swift to write a scorcher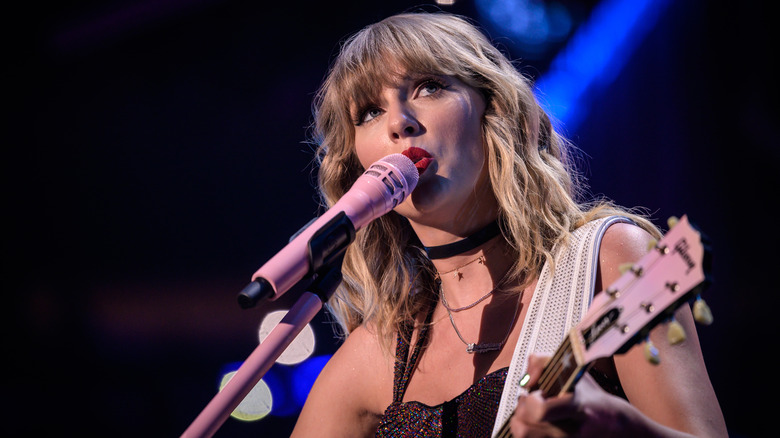 Taylor Swift and Jordan Alford dated during freshman year at Hendersonville High School in Tennessee. It was, presumably, all teen love and sweetness — until Alford started seeing somebody else. Chelsea was the "other woman" who'd actually been a close friend of Swift's before dating and then marrying Alford. Former friendship couldn't stop T-Swizzle from putting pen to paper to vent her feelings, resulting in one of her bitterest breakup songs.
"I hate that stupid old pickup truck you never let me drive. You're a redneck heartbreak who's really bad at lying. So watch me strike a match on all my wasted time. As far as I'm concerned, you're just another picture to burn," Swift proclaimed in "Picture to Burn." Don't hold back now, Tay — tell the world how you really feel.
Chelsea Alford dished to the Daily Mail in 2014, claiming her romance with Jordan Alford spelled the end of her friendship with Swift. "We were kind of good friends at school, later not so much. She dated him, that's why," Chelsea said. It didn't take long for the couple to work out that Jordan was the subject of Swift's scorching song, and they actually found it amusing. "We just thought it was funny. [Jordan] was like, 'I'm not a redneck! She makes me look like some redneck!' but other than that, we just thought it was kind of funny," Chelsea explained.
Forever and Always affair was over in 25 seconds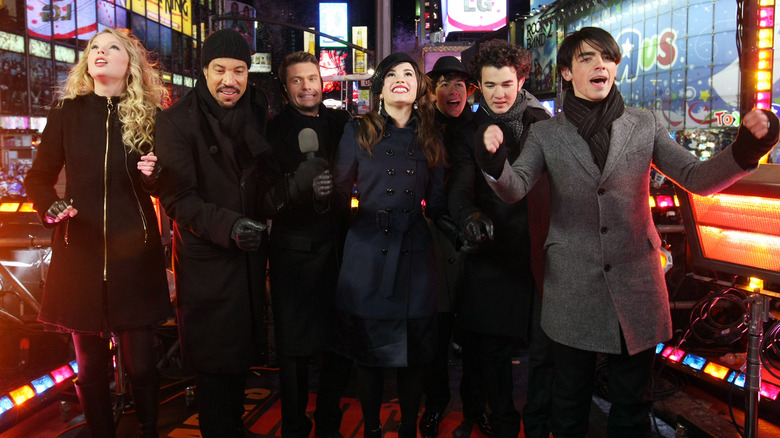 Taylor Swift was 18 when she dated Joe Jonas. The couple started seeing each other in July 2008 but kept it on the down-low. All that changed, though, when they split in October. T-Swift publicly put Jonas on blast — and she did it by doing what she does best, writing a song about him. "'Forever and Always' [is about] watching somebody completely fade away in a relationship and wondering what you did wrong," she told People.
Then, Tay went from blast to burn in 2008 after revealing how Jonas had dumped her. "When I find that person that is right for me, and he'll be wonderful, and when I look at that person, I'm not even gonna be able to remember the boy who broke up with me over the phone in 25 seconds when I was 18," she told Ellen. During a later Ellen appearance, Swift was asked what her most "rebellious" teen act had been. "Probably when I put Joe Jonas on blast on your show. That was too much," she admitted.
Jonas said he appreciated Swift acknowledging the burn. "It's something that I probably was feeling pretty bad about when I was younger, but at the end of the day, I've moved on," he said during a "Lorraine" interview (via The Sun). "I'm sure Taylor's moved on, and it feels nice, and we're all friends. It's all good. We were so young."
Taylor Swift's spring fling was just 'too nice' to last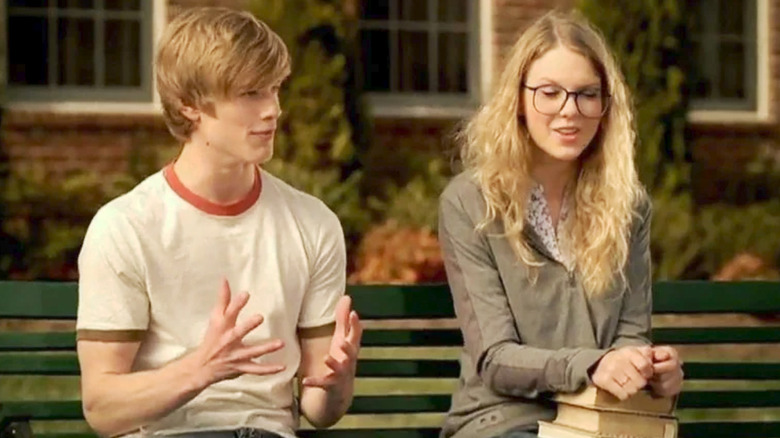 Lucas Till and Taylor Swift's romance was so brief, it wasn't even deemed worthy of a musical mention. However, Till had starred in "Hannah Montana: The Movie" as Miley Cyrus' love interest and is seen in the music video for "You'll Always Find Your Way Back Home" — a song written by Swift. He also starred as the handsome hunk in a video with Tay for "You Belong with Me." Their on-camera collaboration resulted in the couple's brief affair in spring 2009.
Till spilled the tea on their fleeting fling during an interview with MTV News. "We dated for a little bit. But, there was no friction because we were too nice," the "X-Men: Apocalypse" star said. "Most relationships work out 'cause you get along, and then you don't, and then you make up, and it's passionate, and with us, I really just liked her as a friend. That's the only reason that didn't work out."
In another MTV News interview, when asked if it was better to lock lips with Swift or Cyrus, Till was tempted to kiss and tell. "I think Taylor. I liked kissing Taylor a little more," he conceded. Till also confessed to "maybe" crushing on Swift for some time. However, the actor lamented that since finding fame, he'd struggled to find love. "All of a sudden, I can't get girls," he shared. "Aren't people supposed to do movies so that they can get girls?"
Taylor Squared went back to December after Valentine's Day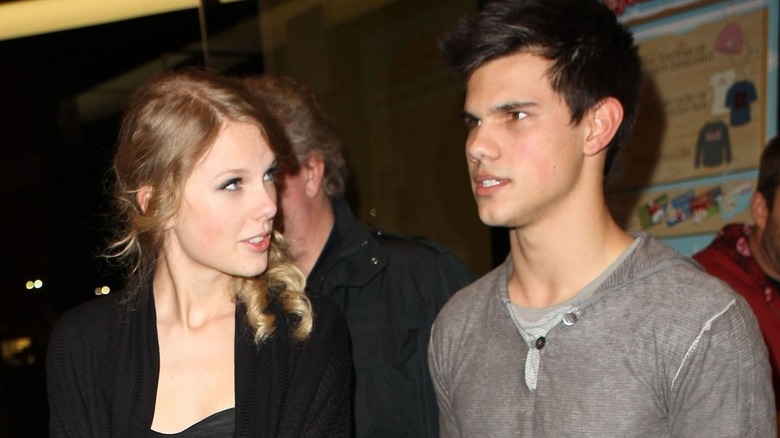 Taylor Lautner and Taylor Swift dated from August to December 2009. The couple, dubbed "Taylor squared," met on the set of the movie "Valentine's Day," where they played boyfriend and girlfriend. The romance continued off-camera but fizzled out before the film's release in January 2010.
According to People, Taylor squared was never destined to be the romance of the century. "The media made way more out of it than it is," a source in the Swift camp claimed. "They went out on a few dates and realized this was just not going anywhere." A source for Taylor Lautner confirmed that the relationship was casual: "They became good friends and then went out a few times, but he lives in L.A., and she lives in Nashville, and their busy schedules kept it from becoming more than it was."
However, Lautner made enough of an impression to spawn a T-Swizzle breakup anthem. "Back to December" was inspired by their whirlwind romance. "And I go back to December all the time. It turns out freedom ain't nothing but missing you. Wishing I'd realized what I had when you were mine," the lyrics read. During a Facebook livestream promoting "Scream Queens," Lautner's costar, Lea Michele, asked how he felt about being the subject of a Swift song. "Well, that's what she does. She writes songs. It's hilarious," he replied before bursting into laughter.
Lothario liaison led to humiliation and epic clapback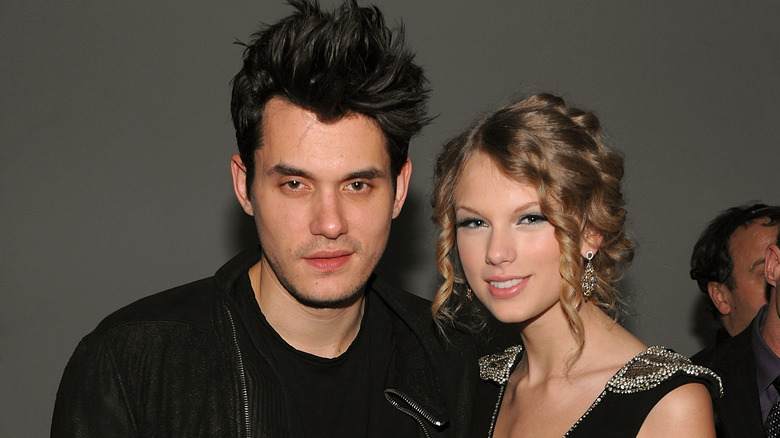 Taylor Swift dated John Mayer from December 2009 until February 2010. The legendary Lothario wooed Tay on Twitter before collaborating on "Half of my Heart" and sealing the deal in person. In June 2010, Mayer praised T-Swift's songwriting skills while presenting her with the Hal David Starlight Award. "You could put her in a time machine in any era, and she would have a hit record," Mayer proclaimed (via Independant.ie). "Don't confuse everybody loving one thing as hype. Sometimes that's everyone agreeing that it's fabulous."
However, everything changed following the release of the song "Dear John" in October 2010. "You are an expert at sorry and keeping lines blurry. Never impressed by me acing your tests. All the girls that you've run dry have tired, lifeless eyes. 'Cause, you've burned them out," the lyrics read. Mayer told Rolling Stone he felt "really humiliated" by the song. "It made me feel terrible," he lamented. "Because I didn't deserve it. I'm pretty good at taking accountability now, and I never did anything to deserve that. It was a really lousy thing for her to do."
Mayer also did a sharp 180 on his assessment of Swift's lyrical skills. "I will say as a songwriter that I think it's kind of cheap songwriting," he groused. Tay clapped back by dissing Mayer for assuming the song was about him. "How presumptuous! I never disclose who my songs are about," she told Glamour.
Alleged hookup's tragic ending left Taylor Swift 'speechless'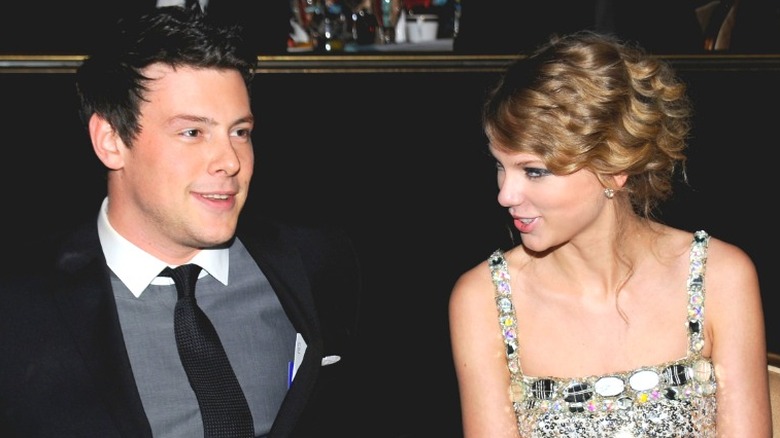 Taylor Swift and Cory Monteith allegedly dated for a hot minute in 2010. The romance rumors started after the couple was photographed looking cozy at a Nick Jonas afterparty. Further fuel was added to the gossip fire after Swift and Monteith were seen partying at a pre-Grammy event. They were even spotted bowling together with a group of friends. Swift and Monteith never confirmed — or denied — that they were dating. He played coy, insisting they were "just friends" during an "Ellen" interview. "It's cute," he said about a photo of them together. "She's lovely, by the way."
However, it's believed that Swift's 2010 hit, "Mine," was written about Monteith. "You said, I remember how we felt sitting by the water. And every time I look at you, it's like the first time. I fell in love with a careless man's careful daughter. She is the best thing that's ever been mine," read the lyrics. Swift dished to Yahoo! Music (via MTV) on what inspired "Mine." She explained it was "a confession of some sort" about a guy trying to turn a new romance into something serious. "I saw the entire relationship flash before my eyes, almost like a weird science-fiction movie," the artist said.
Following Monteith's unexpected death in 2013, Swift shared that she was devastated over the tragic news. "Speechless. And for the worst reason," she wrote in a since-deleted tweet.
A-list ex was burned to a crisp in 'true breakup album'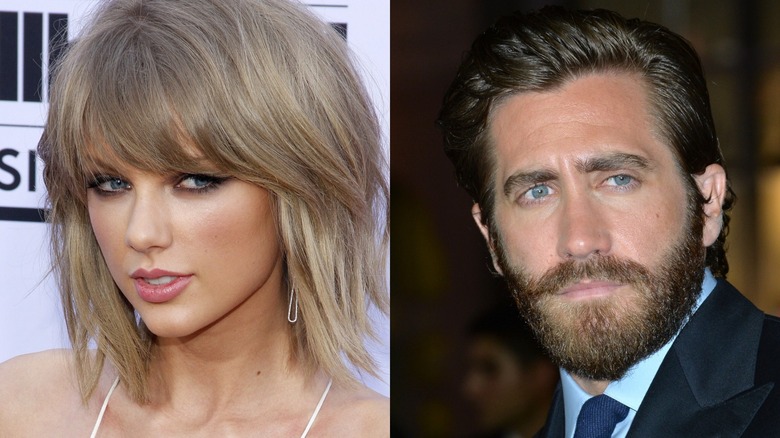 Jake Gyllenhaal and Taylor Swift got hot and heavy in winter 2010. However, things quickly turned from sizzling to freezing. Before the year ended, Gyllenswift (aka Swiftenhaal or Jaylor) was no more. According to US Weekly, Tay was "completely blindsided" by Gyllenhaal pulling a Jonas and dumping her by phone just before New Year's Eve. "Taylor is really upset and hurt," a source said. "She doesn't know what she did for him to put a stop to it. She feels really burned by him."
If there's one thing history's taught us, it's that when T-Swizzle's burned, she fights fire with blazing fire. And that's what she did — in song form, naturally. Gyllenhaal was reportedly the inspiration for Swift's 2012 "Red" album. She told Rolling Stone for their "500 Greatest Albums" podcast, "I look back on [Red] as my only true breakup album. … This was an album that I wrote specifically about a pure, absolute, to the core, heartbreak."
It is rumored that Gyllenhaal is the subject of numerous songs on "Red," including "All Too Well." Despite being burned at the musical stake, the actor took it all in good grace. "I heard from the guy that most of Red is about," Swift told Vulture. "He was like, 'I just listened to the album, and that was a really bittersweet experience for me. It was like going through a photo album.'"
Summer lovin' happened so fast it was ripped at the seams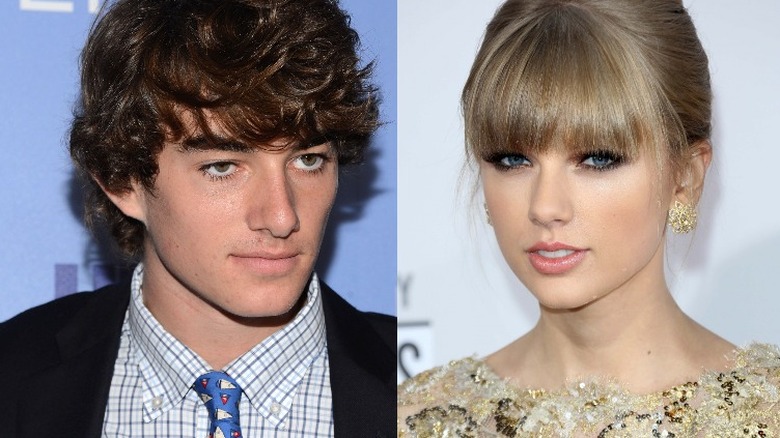 Conor Kennedy and Taylor Swift's summer lovin' happened so fast. As the legendary lovers of Venice High once crooned, she was crazy for him and thought he was cute as can be. It got colder, and that's where it ends. Their summer dreams were ripped at the seams.
Swift was a huge Kennedy fan. When she started dating Bobby Kennedy's grandson in 2012, she fell deeply, quickly. Tay was 22, while Conor was an 18-year-old high school senior. But their downfall wasn't due to age difference; it was because Swift came on too strong, too fast. According to "The Kennedy Heirs" by J. Randy Taraborrelli, Conor was spooked when T-Swift purchased a pricey pad near his family home after just weeks of dating. "This business of her buying the house on the Cape made him nervous," a friend said. "After all, it was just one property away from the compound. It seemed as if she was getting a little too attached, spending five million bucks on a house to be near the guy."
The couple split in October. "Conor's just an 18-year-old kid and wasn't ready for anything super serious," a source told Radar. "But Taylor is looking for her soulmate, and it kind of freaked him out with how strong she came on." Tay was brokenhearted, but she got a few songs out of it. It's believed that "Begin Again," "Starlight," and "Everything Has Changed" are about Kennedy.
When Harry met Taylor, it resulted in a breakup song battle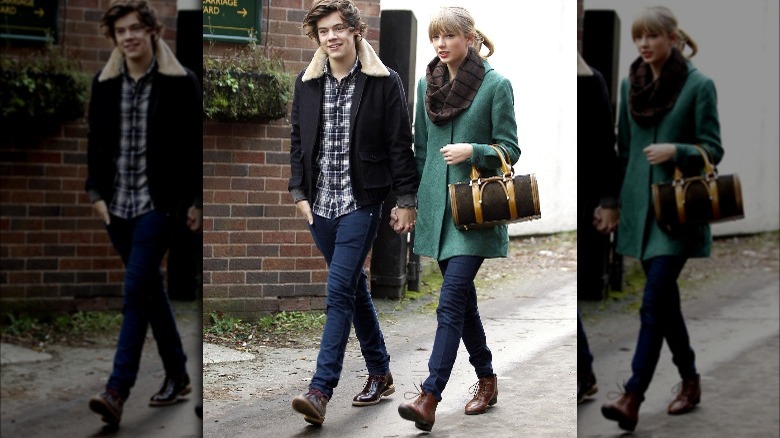 When Harry met Taylor, they went on to become pop's cutest couple for a hot minute. Sparks immediately flew after Styles and Swift collided at "The Kids' Choice Awards" in March 2012. However, it was months until they finally got together. The newly christened "Haylor" started dating later that year but reportedly split one month later, in January 2013.
According to Rolling Stone, the breakup followed a "rocky Caribbean vacation" and resulted in "at least one broken heart." Styles admitted that "relationships are hard, at any age," noting that he was only 18 when he dated Swift. "Certain things don't work out. There's a lot of things that can be right, and it's still wrong … And if you run into that person, maybe it's awkward, maybe you have to get drunk … but you shared something," Styles shared.
Styles wasn't phased knowing that Swift's "Out of the Woods" and "I Knew You Were Trouble" bops were supposedly about him. "I think it's like, flattering, even if the song isn't that flattering, you've still spent time on it, and ultimately, using Taylor as an example, she's a great songwriter," he told Howard Stern. Meanwhile, there's speculation that Styles clapped back by writing "Perfect" about Swift. "I'm not going to tell someone it's not about what they think it's about. Because I think the whole point is, it's about whatever it means to you," he diplomatically told Entertainment Tonight.
Taylor Swift's 'magical relationship' turned indifferent after 15 months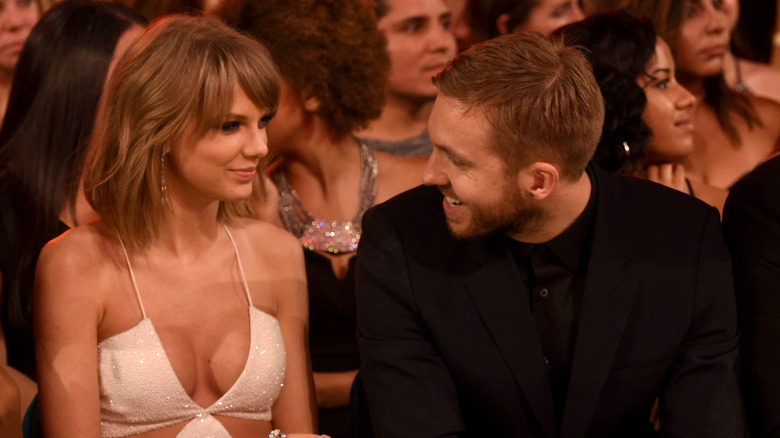 Taylor Swift's relationship with Calvin Harris was the longest one she'd experienced up to that point. The couple was together for 15 months before splitting in June 2016. Per Cosmopolitan, Tayvin met at February 2015's Elle Style Awards. But they didn't start dating until March, after Harris split from his girlfriend. In May, they went public at the 2015 Billboard Awards with a super awkward kiss/embrace "moment."
Shortly after their first anniversary, Swift gushed about Harris to Vogue. "I'm in a magical relationship right now," she said. "And of course I want it to be ours, and low-key … this is the one thing that's been mine about my personal life." However, on June 1, it was announced they'd split. Harris was chagrined — he wiped all traces of Swift from his Insta and launched a (since-deleted) Twitter tirade. He accused Swift and her team of trying "to make [him] look bad" and advised her to "focus on the positive aspects of YOUR life" (via Elle).
Swift didn't bother responding in 140 characters or less. Instead, she delivered a scathing song that very well could have been about Harris. "I Forgot That You Existed" is the opening track on her 2019 "Lover" album. "I forgot that you existed. It isn't love, it isn't hate, it's just indifference," she sings in the chorus. That one speaks for itself.
Swiddlestay was 'blissful and fun' until love tank ran dry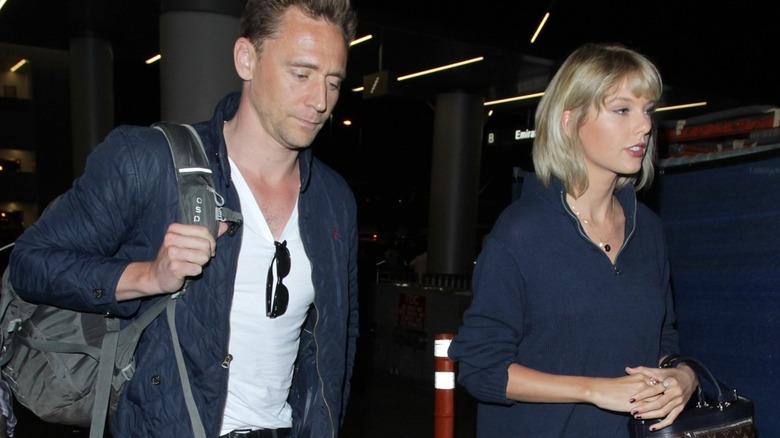 Taylor Swift and Tom Hiddleston's "secret romance" was revealed just two weeks after her split from Calvin Harris. The Sun ran pics of Taylor and Tom sitting [on a rock] K.I.S.S.I.N.G. "They were all over each other — hugging and kissing — even though there were 20 people coming and going on the beach," an eyewitness said.
Per Elle, Swiddles (or, Hiddleswift, Tiddleston, Swiddlestay — take your pick) met at the May 2016 Met Gala. They were filmed dancing to "Bring 'Em Out" by T.I . "[Swift] was very charming, and she is amazing," Hiddleston raved to MTV. In July, he confirmed they were dating and denied it was a fake fling. "Taylor Swift and I are together, and we're very happy," Hiddleston told The Hollywood Reporter, before insisting, "It's not a publicity stunt."
Swiddlestay's passion ignited quickly and burned brightly. However, despite Hiddleston's willingness to wear a "I ❤️ T.S." tank top, it fizzled and died equally as fast. "A relationship in the limelight takes work," he told GQ post-split. "And it's not just the limelight. It's everything else." Tiddleston was over in just three months. But, the brief encounter inspired Swift to write "Getaway Car." Glamour wrote that "[the song] centers on a woman, presumably Swift, using a new, great guy to essentially get away from her ex-boyfriend. … the first few weeks with this guy are blissful and fun, but they eventually run out of gas."
A happy ending to Taylor Swift's love story?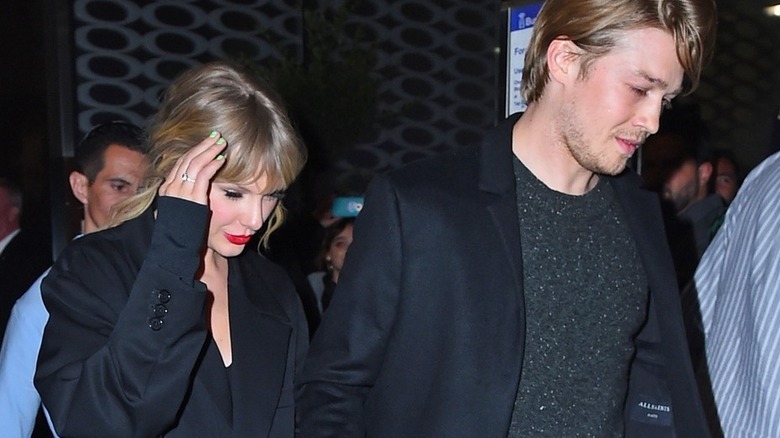 They say you have to kiss a lot of frogs to find your prince, and Taylor Swift has done plenty of paddling around the lily pond, so-to-speak. However, it looks like Swift might have finally found the happy ending to her "Love Story," thanks to Joe Alwyn. According to Elle, the couple most likely met at the 2016 Met Gala. Nobody knows for sure — because, unlike her past high-profile romances, Swift has endeavored to keep this one private. Despite Tay's 2017 album, "Reputation," featuring numerous love songs reportedly about Alwyn, the couple managed to fly under the press radar for an entire year.
In the documentary "Miss Americana" (via The Hollywood Reporter), Swift admitted that when the Kanye West beef resurfaced again, it made her want "to reset everything" and get out of the spotlight. "I also was falling in love with someone who had a really wonderfully normal, balanced, grounded life," she said. "We decided together that we wanted our relationship to be private."
In 2019, Alwyn indicated to The Sunday Times that he has zero interest in the press attention that comes along with dating Swift. Meanwhile, Taylor gives Joe props for making her life more authentic. "Being in the relationship I am in now, I have definitely made decisions that have made my life feel more like a real life, and less like just a storyline to be commented on in tabloids," she revealed in a Rolling Stone interview.
Source: Read Full Article