Three Children In New York Have Died Of A Mysterious Inflammatory Disease Potentially Linked To COVID-19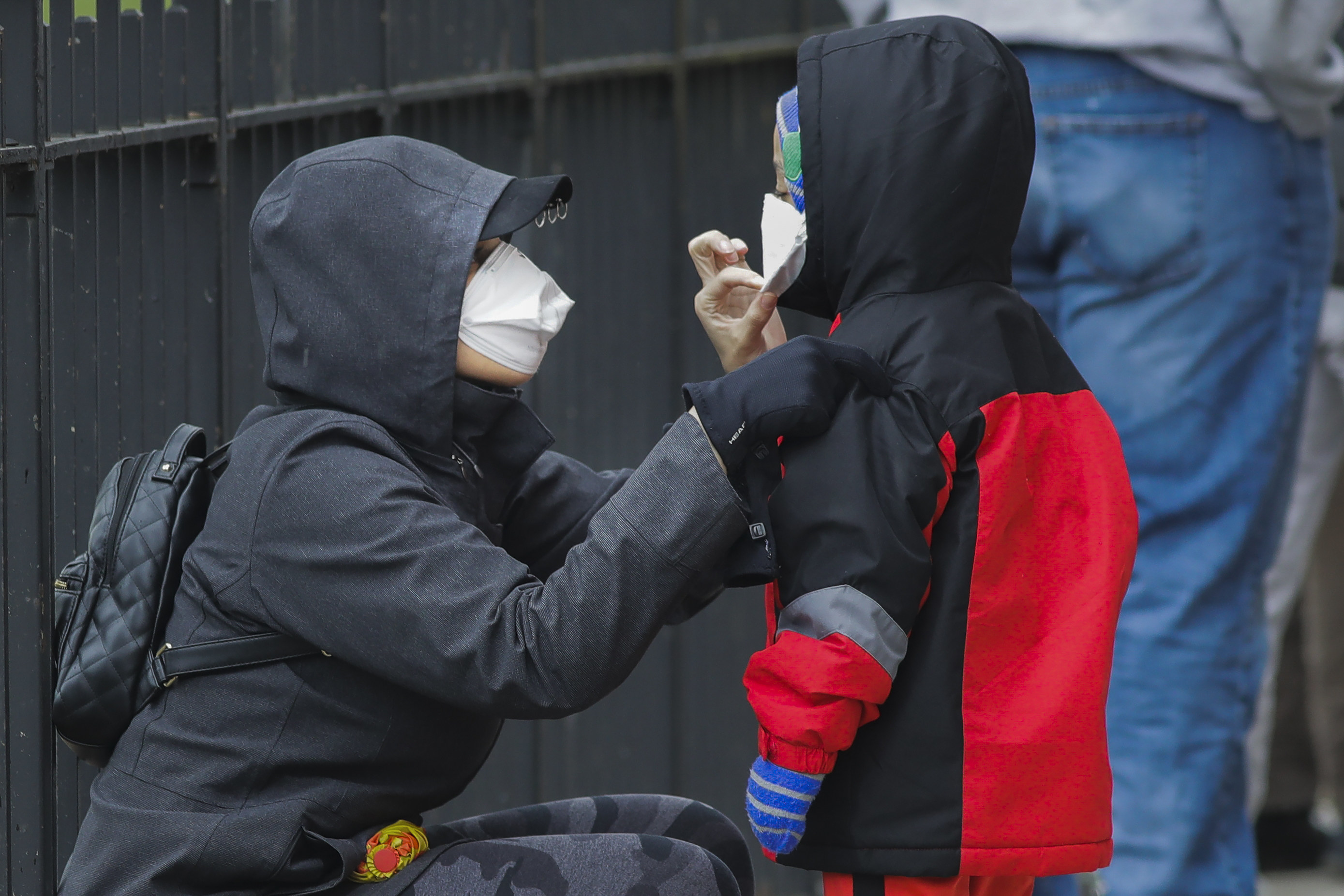 A woman and child wait in line to be screened for COVID-19 at a Brooklyn hospital.
BuzzFeed News has reporters across five continents bringing you trustworthy stories about the impact of the coronavirus. To help keep this news free, become a member and sign up for our newsletter, Outbreak Today.
Three children in New York have died of a mysterious inflammatory illness that may be related to COVID-19, Gov. Andrew Cuomo said Saturday.
The New York State Department of Health is investigating "several cases of severe illness in children and child deaths that may be related to COVID-19," the governor's office said in a press release.
There have been 73 reported cases in New York where children are experiencing symptoms similar to Kawasaki disease and toxic-shock like syndrome, including persistent fever, rash, abdominal pain, vomiting or diarrhea, and "cardiovascular symptoms" that require intensive care.
Kawasaki disease is a rare childhood illness that causes inflammation in blood vessels.
On Thursday, a 5-year-old boy died in New York City from "these COVID-related complications," Cuomo said.
On Saturday, the governor announced that three "young New Yorkers" had died of "what may be a COVID-related illness in children."
It was unclear if the 5-year-old boy was included in the three deaths Cuomo mentioned Saturday, and what the ages of the victims were. The city's health department redirected questions to the the state's health department, which did not respond to a request for comment.
While state and global health officials have said that this illness is rare, the Department of Health released a May 6 advisory for hospitals, healthcare providers, and labs about a "pediatric multi-system inflammatory syndrome potentially associated with COVID-19" for those under the age of 21.
Cuomo also directed the New York State Department of Health to work with the CDC to determine whether the remaining cases under investigation are "definitively associated with the syndrome."
"There's still so much we don't know about COVID-19, and in the beginning we were led to believe that the good news about this virus was it didn't affect children," Cuomo said in a news briefing.
"Now we have a new issue that we're looking at where some children affected with the COVID-19 virus are becoming ill with symptoms similar to the Kawasaki disease or toxic shock-like syndrome," he said. "This would be really painful news and would open up an entirely different chapter in our fight against this virus, and the State Department of Health is currently investigating these cases to learn more."
Cuomo cautioned parents to look out for symptoms of the illness and to "seek help immediately if your child is sick."
The Kawasaki disease-like symptoms "may occur days to weeks after acute COVID-19 illness," the governor's press release said. It affects primarily toddler to elementary school-age children.
Health authorities in the UK have also reported a possible link between pediatric COVID-19 and a serious inflammatory disease, saying that there was a "small rise in the number of cases of critically ill children" with these symptoms.
Many of the children had tested positive for COVID-19 and showed symptoms of toxic shock syndrome or Kawasaki disease, UK health authorities said.
At a recent COVID-19 news briefing, a World Health Organization official said they were aware about reports in the UK and some other European countries about a "small number" of such cases among children but assured parents that the illness appeared to be "very rare."
Earlier this week, the NYC Health Department said that 15 children, between the ages of 2 and 15 years, had been admitted to pediatric intensive care units between April 17 and May 1 with symptoms of the inflammatory syndrome.
Four of them tested positive for COVID-19, while 11 of them tested negative. Subsequent antibody testing turned up positive in six of the negative cases, indicating that they may have been exposed to or infected with the virus in the past.
Most children who get COVID-19 experience only mild symptoms. As of Friday, 7 children between the ages of 0-17 have died of COVID-19 in New York City, according to the health department.
More on this
15 Children In New York City Were Hospitalized With A Mysterious Inflammatory Disease Potentially Linked To COVID-19

Tasneem Nashrulla

·

May 5, 2020
Their 5-Year-Old Daughter Died Of The Coronavirus. Now They're Urging People To Take The Virus Seriously.

Clarissa-Jan Lim

·

April 22, 2020
Tasneem Nashrulla is a reporter for BuzzFeed News and is based in New York.

Contact Tasneem Nashrulla at [email protected]

Got a confidential tip? Submit it here.
Source: Read Full Article