Too 'flat' for sex? Rebuilding intimacy doesn't take much
First, the reassurance: it's not just you.
We are, of course, talking about the lack of romance many couples have been experiencing as a result of the pandemic.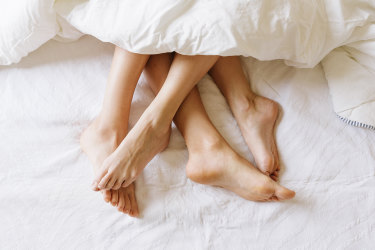 "We're always thinking that sex comes from horniness," says sex therapist Jacqueline Hellyer. "But the chance of two people feeling horny at the same time is pretty slim."Credit:iStock
"There's certainly been a huge upswing in clients; it's just insane the number of people that come to use us," says sex therapist and relationship counsellor Jaqueline Hellyer, of Sydney's The LoveLife Clinic of the number of clients who have sought out relationship help during the pandemic. "There's definitely a lot more of the sexless marriage thing happening. Both people are just feeling so flat, and they can't be bothered."
It's not without good reasons. It's not just the obvious ones either – like the fact that lockdowns and working from home have made many see their partners as a piece of furniture (rather than someone they'd like to canoodle with), and financial and health stresses all too easily turn our minds to end-of-world scenarios.
There's also the COVID-19 related obstacles to getting loved up.
"Like, if you're sort of relying on going out and getting drunk and getting home and having a shag, you couldn't do that," says Hellyer, of the impact of various lockdowns and anxiety about going out.
So, how can the pandemic-weary bring the romance back into their lives?
Firstly, pick yourself up off the couch, says Relationships Australia CEO Elisabeth Shaw.
"Trying to create romance from the couch at the end of a long day in front of the TV is, you know, a bit of a doomed enterprise," says Shaw, a clinical psychologist. It isn't just that it's where we get sucked into the vortex of Netflix after a long day – though we do. It's also that it's where we engage in so many other, non-couple related activities, like folding the laundry, writing emails, or reading storybooks to our children.
"And often, [a new] context does give us that sort of fresh focus on each other," says Shaw, which is why she suggests couples grab even small snippets of time together, whether it's for a quick meal out, or a walk around the block with the dog.
"It's just about how a couple can find a way to literally sit and look at each other. [Because] there's something about conveying [to your partner] that 'You have my full attention' that is very heartfelt and powerful in and of itself. You're staying in the moment and saying 'I've really got you and you've got me'."
It's small moments of connection like this, agrees Hellyer, that are the key to rebuilding intimacy with our partners.
"It's these tiny, little thoughtful things, this energy you want to share with your partner, it's love-infused with the sexual, and it gives [your relationship] a vitality, it gives it a bit of frisson that is different to the love that you share with other people," she says. "Like in the moment when you wake up, and you roll over and say 'Hey, good morning darling, how did you sleep?' That's a really powerful connecting moment."
Not only does an accumulation of these moments keep the oxytocin – a hormone that plays a strong role in bonding – flowing, says Hellyer, but it helps keep couples feel calmer, and safe and connected with each other.
"That safety and connection, it's a little like that's the fence around the playground, so that you can play," she says. "It's just so much easier to be physically intimate [afterwards]; that just becomes this natural flow [from] an ongoing feeling of connection and safety and trust."
Couples also need to ask themselves if they've been prioritising their relationship as much as they need to in order for it to thrive.
"We do have a finite amount of time and energy that we can then allocate to different aspects of our life, and what we need to be mindful of is to allocate those to the things that really are important in the right quantities," says Dr Rowan Burckhardt, director of the Sydney Couples Counselling Centre. "It's probably a common mistake that people will put a huge priority on their careers. If you have both people working 50 hours a week, plus there's the kids; really, what time is there leftover to connect?
"This is a tricky thing to talk about, but kids will be OK with 80 per cent love and attention from their parents [instead of 100 per cent]," he says. "If you're trying to be the perfect parents and you're trying to constantly be there for them and give them everything they ever need, you may find what gets lost is your relationship with your partner."
And, as Hellyer reminds us, it doesn't take much. Just putting the phone down and stopping to intentionally focus on each other for 10 minutes at a time – by having a cup of tea alone, or sharing a glass of wine on the veranda – is one of the best ways to cultivate romance, in even the most challenging of times.
"It kind of keeps couples in a bit of a simmer state, in a positive, 'I see you as a lover' kind of way," she says. "We're always thinking that sex comes from horniness. But the chance of two people feeling horny at the same time is pretty slim. It's actually about connection and sharing a really beautiful and pleasurable experience that enhances the loved-up-edness."
Make the most of your health, relationships, fitness and nutrition with our Live Well newsletter. Get it in your inbox every Monday.
Most Viewed in Lifestyle
From our partners
Source: Read Full Article