'90 Day Fiancé': Ashley Martson Releases Lingerie Line, Gets Mixed Reactions From Fans
Ashley Martson and Jay Smith of TLC's 90 Day Fiancé have had a complicated relationship ever since they first appeared on the show's sixth season. Many fans thought Ashley, now 33, was mismatched with her Jamaican husband, Jay, who is now 22 years old. In addition to their significant age difference, Jay was a known partier and player, while Ashley was already a mom of two.
90 Day Fiancé fans weren't wrong about the drama to come. Jay and Ashley broke things off several times amid Jay's multiple affairs. He was even talking to other women on Tinder shortly after their wedding and famously cheated on Ashley in the bathroom of a barber shop.
The couple filed for divorce twice, but recently reconciled yet again. Currently quarantined together—seemingly in Ashley's home state of Pennsylvania—Ashley and Jay have been more active than usual on social media.
Most recently, Ashley announced that she had partnered with an intimates and lingerie company to release her own collection. Fans immediately flocked to the comments to share their thoughts on the couple's reconciliation and Ashley's new business venture.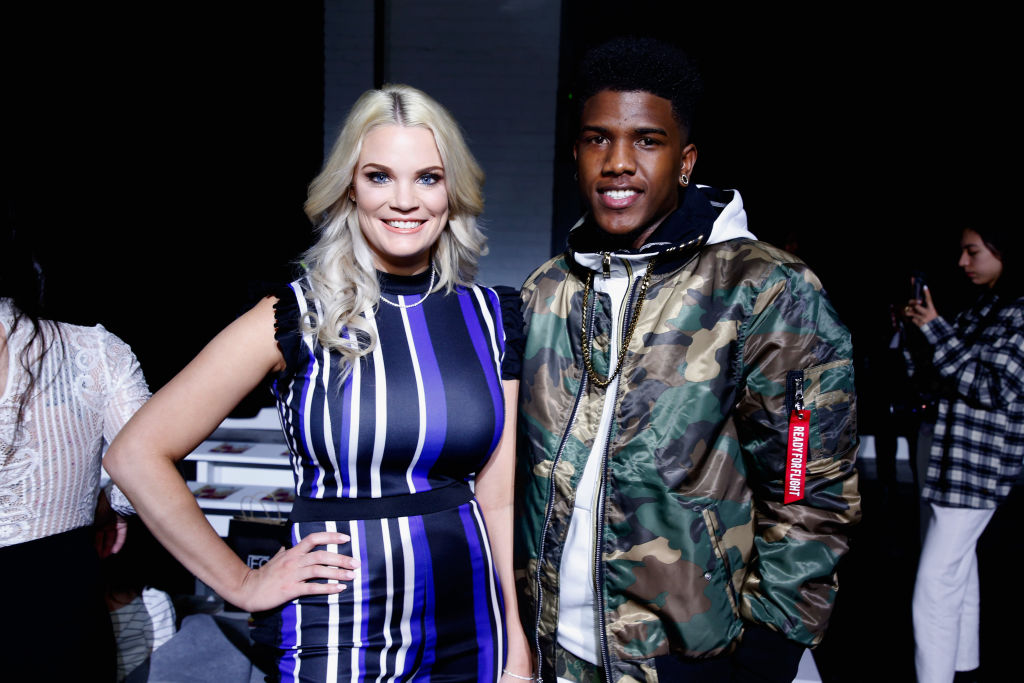 Ashley announced the launch of her upcoming lingerie line
Ashley has made the mostof her 90 Day Fiancé fame since she first appeared on the show. From the very beginning, shehas partnered with various brands and stayed active on social media to keep herfollowing strong. While she has sometimes garnered criticism for her sales andmarketing tactics, she's never shied away from the influencer lifestyle.
At the beginning of May 2020, Ashley took to Instagram to announce that she was partnering with an intimate apparel designer brand, Pulchra Intimates, to create her own lingerie line—starting with an original teddy. The 90 Day Fiancé star posed for several sexy photos in the sheer black number and an oversized hairbow.
"Hey y'all, tomorrow at3pm myself and @realhelenhoey have collabed and will be launching my first piece ofour private collection @pulchraintimates!" Ashley wrotein her first post. Then, the mom of two joked, "Disclaimer: I take zeroresponsibility for anyone who orders this and has a quarantine baby in 9 months😂 Thanks for all the love, support, and birthdaywishes."
Ashley also made it clear that she and Jay were very much back together by using the name "Ashley Smith," rather than Martson, in her new release. In a second post—in which she was again modeling her new lingerie—the 90 Day Fiancé star quipped, "Isolation sexy," adding: "Bringing Sexy Back with the new Ashley Smith Collection 💋The first release of her Lorem Redire Teddy piece."  
https://www.instagram.com/p/B_vIkJMDU5u/
'90 Day Fiancé' fans had mixed reactions to Ashley's announcement
While many 90 Day Fiancé fans flocked to Ashley's sexy photos to gush over her body and support her for working on her marriage to Jay, some critics took the chance to let the mom of two know how they really felt.
"I kind of like you… but your lupus tummy tuck didn't feel right," one Instagram user wrote under the post, referring to Ashley's early 2019 GoFundMe campaign.
The crowdfunding campaign, which was allegedly meant to help Ashley with medical expenses related to her lupus diagnosis and kidney failure, raised nearly $4,000. Fans were dubious about both Ashley's diagnosis and her true reason for requesting the money, however, with some claiming she planned to use the funds for a tummy tuck instead.
Ashley adamantly deniedthe claims of fraud, but she ultimately returned the money to donors anyway.
On Instagram, the 90Day Fiancé star clappedback at the critic, replying, "I wasn't aware there was such a thing called alupus tummy tuck. I'll have to look into it."
And while some commenters called the critic a "troll" and a "hater," the viewer stuck to her guns. She wrote back to Ashley: "Well dear, what's right is right, what's wrong is wrong… lied to honest people that donated money for her treatment, thinking that the poor lady was sick… and noticed that the money was used for a plastic surgery."
Some fans think Ashley is too aggressive in pushing products on social media
A few other 90 Day Fiancé fans told Ashley they were tired of the constant sales and marketing posts on her social media. One Instagram user questioned Ashley's choice to post about lingerie and sales during a global pandemic.
"Influencers are NOTdeemed essential," the commenter wrote. "I am saying these words kindly and not as a reflectionon how much I enjoy following you and will continue to. With the state of the world right now, millions ofpeople losing their jobs, businesses, homes and even death, it just seems soinsensitive to be posting constant ads."
Another critic agreed,writing, "I have to unfollow. I really loved you and your story. I'm notinterested in your plugs."
Other viewers simplythought Ashley's giant babydoll bow in the photo was a little off-putting whenpaired with sexy lingerie. "The big bow is supposed to make her look innocent,"a fan quipped under the modeling pics. Another joked, "The bow looks like alittle girl."
Still, not everyone wasunhappy with Ashley's announcement. Many potential customers raved about thelingerie design and asked about the sizes and international shipping availabilityfor the teddy. Others encouraged Ashley to keep up her hustle. One commenter wrote,"No wonder Jay wanted another chance 🙌😍 looking great!!"
Another encouraged Jay'swife to keep her head up amid all the criticism. "Ignore people and their rudecomments hon," the 90 Day Fiancé fan wrote. "People are jealous of happiness and accomplishments.You're doing amazing keep it up."
Source: Read Full Article