'Below Deck Med': Malia White Reveals Her Big Concern About Deckhand Pete Hunziker
Bosun Malia White from Below Deck Mediterranean expressed concern about deckhand Pete Hunziker's ability to take direction and learn on the job.
White faces her first challenge when the team docks the boat. Captain Sandy Yawn, who always shows considerable docking finesse seems to be leaning more on her deck team than usual. The boat is huge and the area where she usually docks the boat is on the inside instead of the outside of the boat.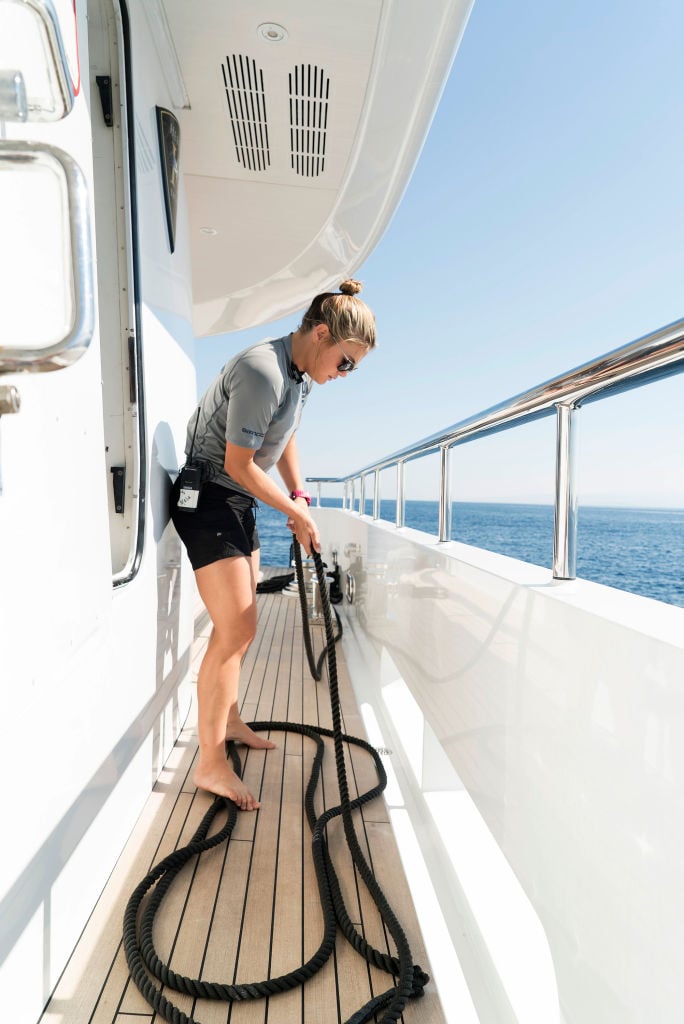 Because she has to dock the boat while still inside, Yawn's visibility is limited, which means she needs her deck team to communicate and play a larger role in docking. Yawn shared that the season 5 yacht, The Wellington is the largest not only for the series but the largest she's ever commanded.
But White is concerned because Hunziker, who is her lead deckhand, seems to think he knows better and she's concerned he'll struggle to take direction.
Can Hunziker be the student?
In a preview clip Yawn calls to the crew that they will be docking the boat. White tells the deck team to throw the fenders. The team rallies but in a confessional, White expresses her concern.
"One thing that really concerns me with Pete is his inability to be the student," she admits. "Because he views it as weakness especially when this is my first time docking and I want to make Captain Sandy proud."
RELATED: 'Below Deck Med' Season 5 Yacht Is the Largest Ever On the Series
Cameras capture the docking. White remains cool, calling out the distances to Yawn as the boat inches toward the dock. When it comes time to throw the lines, deckhand Robert Westergaard has to make a few attempts. White keeps her calm and tells him to quickly retract the rope and throw it again. Deckhand Alex Radcliffe seems to be a little confused, but White confidently and calmly delivers orders as the boat finalizes docking.
White wanted to make Yawn proud
White told Showbiz Cheat Sheet she was a little jittery about returning as Yawn's bosun because she was determined to make her proud. "[Yawn] knows what she's doing and knows how to put her foot down," White said. "So I think coming in as her bosun, I was very nervous because I obviously want to make her proud."
She also hinted about having to remind the deck team she was their boss too. "With having a female crew, it's new to a lot of people," she shared. "I think you can definitely expect the boys to get some lessons in femininity. Like how to treat girls especially when they're your boss. I have to remind [the deck team] that I am their boss. But eventually, they get the idea."
RELATED: 'Below Deck Med': Malia White Says Viewers Should Expect a 'Shocking Twist' That Even She Didn't See Coming
Hunziker was seen referring to White as "sweetheart" on more than one occasion during the first episode. He also threw around his credentials, plus tried to tell her how to move a deck chair (while referring to her as "sweetheart").
White was also surprised when she realized none of her team had experience working in the Med. "So that was a huge shock," she remarked. "Boats run differently in the Med. Plus a lot of them hadn't worked this size boat before, which was also a shock." 
Below Deck Mediterranean is on Monday at 9/8c on Bravo.
Source: Read Full Article