'Below Deck': Nico Scholly Had a 'Bad Experience' With Kate Chastain During the 100th Episode Party
Although most of the crew seemed to gel nicely during the Below Deck 100th episode celebration in January, bosun Nico Scholly says something rubbed Kate Chastain the wrong way.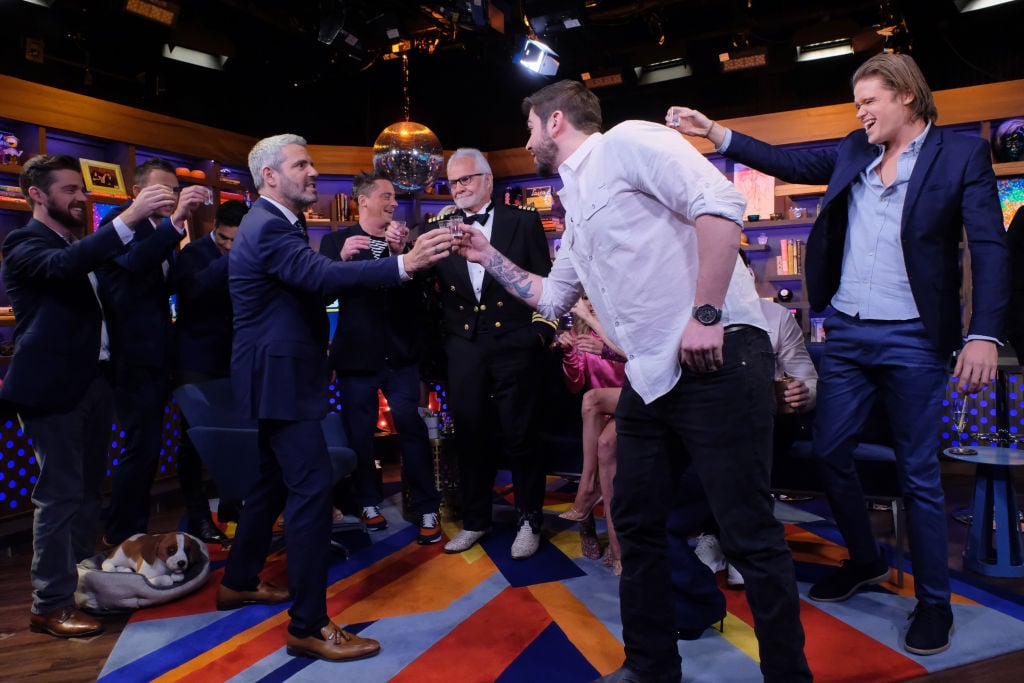 He recalls getting a negative vibe from Chastain at the party, despite thinking they always had a good relationship when he was on the show. Viewers could tell there was tension between Chastain and former third stew Raquel "Rocky" Dakota. They exchanged a few barbs during the episode.
Something seemed to be agitating Chastain
Scholly dished about life after Below Deck in a Bravo digital original. He recalled the Below Deck party, which was held in the Watch What Happens Live with Andy Cohen Clubhouse. The anniversary episode included clips from the seven seasons and also featured a few cast members from each season.
RELATED: 'Below Deck': Would Kate Chastain Work With Raquel 'Rocky' Dakota Again?
Scholly appeared during seasons 4 and 5. He shared that he always got along well with Chastain when he was on the show. "That night of the 100th episode in New York, I had a really bad experience with her, which me and her have always been friendly," he said. "But I don't know what her problem was that night, I think she was kinda a little bit agitated about something that happened that night. But definitely, when me and my girlfriend were talking to her she was not having it."
"When I was doing the seasons with her, we've always been friendly and always had a good relationship, I thought," he recalled. "But near the end, she's just exhausted from it all? Or I don't know enough to make a comment on the way she was feeling or what was going on."
Maybe this was why Chastain wasn't having it?
Scholly observed that the anniversary episode went quickly. But also he thinks more ground could have been covered if Dakota didn't "talk so much." Chastain seemed to want to clear the air with Dakota during the episode too. However, Dakota brought up some of the issues they had during her season on the show.
RELATED: 'Below Deck': Did Kate Chastain Just Admit She Drank on Charter?
Apparently Dakota made an impression on Scholly too. "Crazy Rocky," he said. Adding this was the first time he had met her. "That was my first time meeting her and hopefully the last time. I never met anyone like her in my life."
Indeed, Dakota and Chastain definitely didn't vibe during the episode. Dakota was on the show four seasons ago, but the bad feelings with Chastain clearly haven't been resolved. Chastain tried to offer a compliment to Dakota but somehow it went south.
The exchange between Dakota and Chastain was beyond awkward
Host Andy Cohen asked Dakota to recall her favorite moment. Then Chastain shared, "Jumping off the boat was iconic. You're a legend. You're not the best yachtie, but you are so entertaining and so talented. I could never dive like you, I could never swim like you, you're so talented."
That's when (unfortunately) the exchange went south. "And how come you say I'm not the best yachtie?" Dakota shot back. The two volleyed back and forth with Chastain finally saying, "This really took a turn I did not expect. I really think you're amazing!"
Dakota came back with, "Well, when you say something negative, then I just want to know where it's coming from."
Source: Read Full Article