'Below Deck Sailing Yacht': Chef Adam Learns That Love Literally Hurts
Below Deck Sailing Yacht viewers have seen a new, more vulnerable side to chef Adam Glick. He has fallen hard for chief stew Jenna MacGillivray and has been filmed having some pretty emotional moments, both heartwarming and heartwrenching.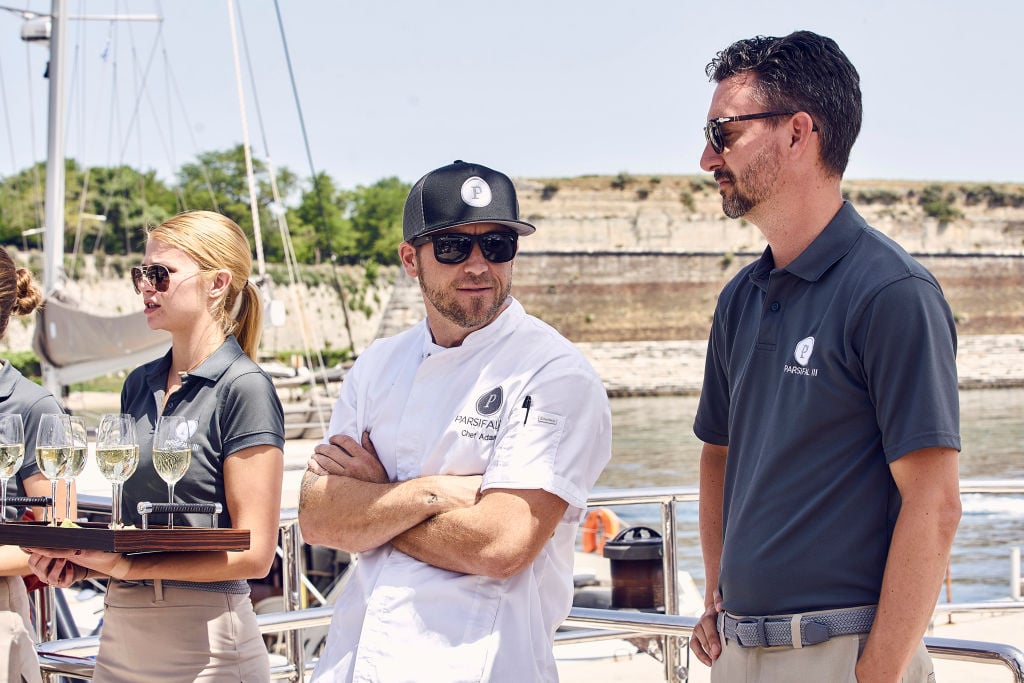 In an upcoming episode, viewers will see how Glick's affection for MacGillivray results in some pretty serious pain. Physical pain. The crew decides to create flower crowns for the guests but MacGillivray reveals to Glick that she's never really gotten flowers from a guy before. And, "I'd probably cry if you gave me flowers," she says.
Lightbulb moment for Glick. But his journey to procure wildflowers for MacGillivray results in a moment that will have viewers saying, "Ouch!"
Glick is determined to get some flowers for his girl
The minute MacGillivray shares that it would be very meaningful to receive flowers from Glick, he makes it his mission to make it happen. But he makes it a covert operation and doesn't tell deckhands why he wants them to take him to the beach.
"You mind running me to the beach really quick," he says in an upcoming clip to deckhand Chris Miller and first mate Paget Berry. "I just need to grab something off the beach." Glick says in a confessional that it is absurd that MacGillivray has never received flowers from a guy.
"I get romantic so infrequently," he continues in his confessional. "But she's been putting up with charter guests flirting with me. I want to do my best to be a good boyfriend right now. I have no time to pull this off but I'm gonna make it happen anyway."
But love hurts
Berry drives the tender and asks Glick what he needs to get. Glick still doesn't want to admit the boat ride is for personal reasons. "I gotta forage up some garnishes for my plates," he fibs to Berry on the ride to the beach.
But once Glick hits land he springs from the tender only to run directly into a large tree branch. With his forehead. Hard. As his head whips backward, Berry witnesses the entire accident. "Awe, dude," Berry exclaims.
Clearly Glick lives to see another day, but he certainly has to return to the sailing yacht with a huge headache. And probably a giant lump on his head.
He's not the only chef determined to get flowers for a crew member
Chef Ben Robinson from Below Deck was also determined to get flowers for the stew of his dreams. During season four, Robinson becomes smitten with second stew Emily Warburton-Adams. Chief stew Kate Chastain gets involved telling Robinson that Warburton-Adams shared that no one has ever sent her flowers.
Like Glick, Robinson gets that lightbulb moment too, but he's a little more careful about how he scores the arrangement. "Wouldn't it be nice if someone on the crew gave her flowers," Chastain says to Robinson. Of course, he agrees.
Thankfully all Robinson had to do was add to Chastain's current flower order. Chastain also helps him design the arrangement, which ends up being completely over the top. And results in annoying Captain Lee Rosbach when the huge arrangement keeps popping up all over the boat.
Below Deck Sailing Yacht is on Monday at 9/8c on Bravo.
Source: Read Full Article