Don't @ Me, But I'm Pretty Sure the Snail on Masked Singer Could Be Ryan Reynolds
No, it wasn't a nightmare! There is, in fact, a massive snail on The Masked Singer tonight, and TBD on whether or not he's actively trying to slime us through the TV. This cute, friendly slug sang his way through The Masked Singer's Season 5 premiere, leaving a trail of proverbial ooze behind him. But what celebrity is lurking inside the Snail's shell, desperately trying to escape, you ask? It's unclear, unfortunately, but the internet has some theories, much like the Snail has my thoughts and prayers. Here's what we know thus far:
The Clues
The Masked Singer dropped a Snail introduction video, and honestly it's pretty unhelpful. Sluggish, if you will, which I won't. In case you're too emotionally exhausted by this harrowing show to watch the clip, here's what we learned:
The Theories
Not many celebrity names have come up yet, but there's no denying that the Snail looks a lot like his relative from Sing:
And speaking of animated slugs, the Snail is also reminiscent of Turbo:
Which has lead to some inevitable speculation that the Snail is actually Ryan Reynolds. And, like, while on the one hand that would be legitimately bizarre (he is way too A-list for this show, right?), going on The Masked Singer seems like the exact kind of thing Ryan Reynolds would find amusing to do in his free time. Either way, The Masked Singer's Instagram account is clearly enjoying the speculation: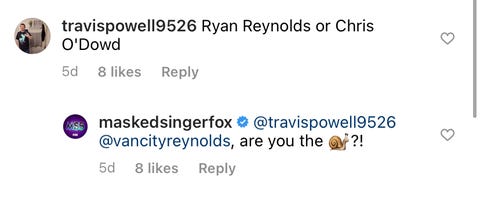 I mean…wilder things have happened on this show (see: the entire existence of The Egg), but I, for one, am taking Ryan Reynolds as the Snail with a grain of salt.
You love all the deets on The Masked Singer. So do we. Let's overanalyze them together.
Source: Read Full Article