Dr. Miami Gives Drive-Through Botox in a Local Parking Lot
Dr. Michael Salzhauer, otherwise known as "Dr. Miami," is adapting to the new curbside service lifestyle.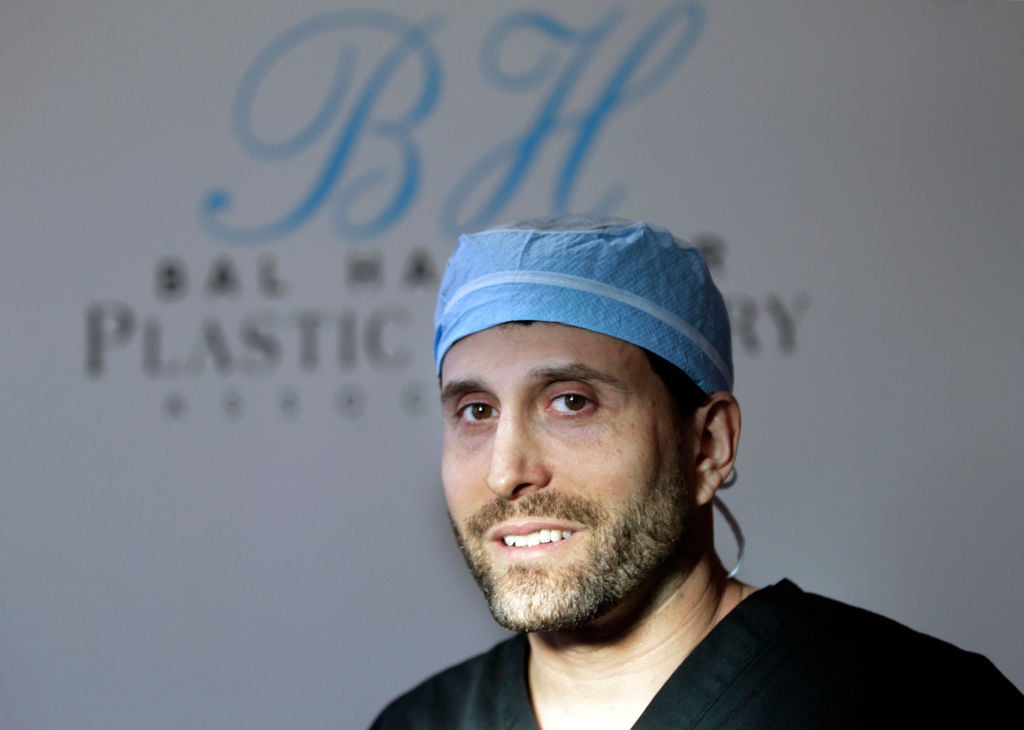 He shared that clients who are emerging from their quarantine cocoons still crave botox and he aims to give the people want they want. He shared with Miami New Times that his clients have begged him to open his office so they can come in for work, even offering "cash upfront" before restrictions were lifted. "Bribe is a strong word," he said. "But the demand hasn't stopped."
He's booked through 2022 but wanted to get his clients off to a positive start by offering botox on the go, delivered in the parking lot of a "Drive-thru strip club." Salzhauer shared a video on Twitter of how easy it is to get the procedure and now clients are blowing up his feed asking for additional work.
'Five minutes. Boom, boom, Botox'
The video shows a patient pull up to the spot where Salzhauer stands waiting, needle in hand. He's fully suited up, wearing personal protective equipment. He also asks that patients stay in their car and wear a mask.
RELATED: Robert Pattinson Once Joked He Would Get Botox if 'Twilight' Was Ever Rebooted
The patient drives up and says hello to Salzhauer. He injects her forehead and she says, "That's it?" He tells her that's it! They wave goodbye and the procedure is complete.
"Just wear a mask, put your head out the car window," Salzhauer told Miami New Times. "Pull right on up. Five minutes. Boom, boom, Botox, and they're on their way." Although his tweet indicates he's performing the injections at a local strip club, he told Miami New Times he's actually giving them in the parking lot at his Bal Harbour office.
"Starting this Sunday 5/24— I am offering Drive-thru Botox from 12-5pm @ Dr Miami Tower. Sign up and schedule online— link is in my IG story. SPACE IS LIMITED. Stay tuned for deals and savings… This is for real. Welcome to 2020!" he shared on Instagram.
Fans want more than botox
Patients see how easy it is to get botox so why not other procedures? Some asked for lip fillers, but he's limiting the drive-through practice to botox. Others wonder about his signature procedure the Brazillian butt lift. However, it's unlikely Salzhauer is going to perform that one on the fly.
RELATED: Dr. Miami Explains Why This Popular Celebrity Plastic Surgery Procedure Is so Deadly
He discussed the complexity of the procedure with Showbiz Cheat Sheet and how he's been working with physicians throughout the country to ensure the operation can be performed safely. Salzhauer said knowing where and how to inject the backside is vital to not only achieve the desirable result but the safety of the patient.
"One of the things where the learning curve is knowing where to inject the fat and where not to inject it," he said. "If injected in the wrong place, for instance too deep into or under the muscle, the fat can go into a vein and travel to the heart and lungs and you die."
Salzhauer told Showbiz Cheat Sheet that at least 12 or 13 women have died from this operation alone in South Florida since 2010.
Source: Read Full Article