'Grey's Anatomy': Was Ellen Pompeo in Season 17 Episode 12?
It's hard to imagine Grey's Anatomy without star Ellen Pompeo. After all, she's remained a fixture on the long-running medical drama from its inception through its current season. While Pompeo's been absent from the occasional episode, her character was in Season 17, Episode 12, "Sign O' the Times." But was the actor there?
Ellen Pompeo stars as Meredith Grey in 'Grey's Anatomy'
When Grey's Anatomy began in 2005, the first shots in the pilot showed Pompeo's character, Meredith Grey. She started her intern year at the Seattle hospital where her mother, Ellis Grey, once worked. She befriends her fellow surgical interns and begins to learn from the doctors.
Over the years, other characters have come and gone. But Meredith remains at Grey Sloan Memorial (named for two deceased co-workers). She's chief of general surgery, an award-winning attending, and mom to three children. But of those who were with her in the beginning, only two remain.
She's open about making a lot of money for the show
Pompeo has spoken about what keeps her working on Grey's Anatomy so many years later. "I made choices to stay on the show," she said on the podcast Jemele Hill Is Unbothered in 2020. "For me, personally, a healthy home life was more important than career," she added, citing her husband and children.
"I made a decision to make money and not chase creative acting roles," Pompeo continued. "I'm never that thirsty because I'm financially set." The actor makes around $575,000 per episode. She also earns money as an executive producer of the Grey's Anatomy spinoff, Station 19.
Meredith has been unconscious for most of Season 17
Grey's Anatomy Season 17 has been a different one for Pompeo. Though she's always shared the burden of screen time with an ever-changing ensemble cast, Meredith often finds herself in multiple storylines. But this year, she's spent the majority of the time in a hospital bed with COVID-19.
Meredith contracted coronavirus in the season premiere and has been unconscious for much of the following episodes. When she's awake, she's often on a beach, talking with the deceased. The action of the show has revolved around other characters and not Meredith, most of the time.
Pompeo didn't even appear in 'Sign O' the Times'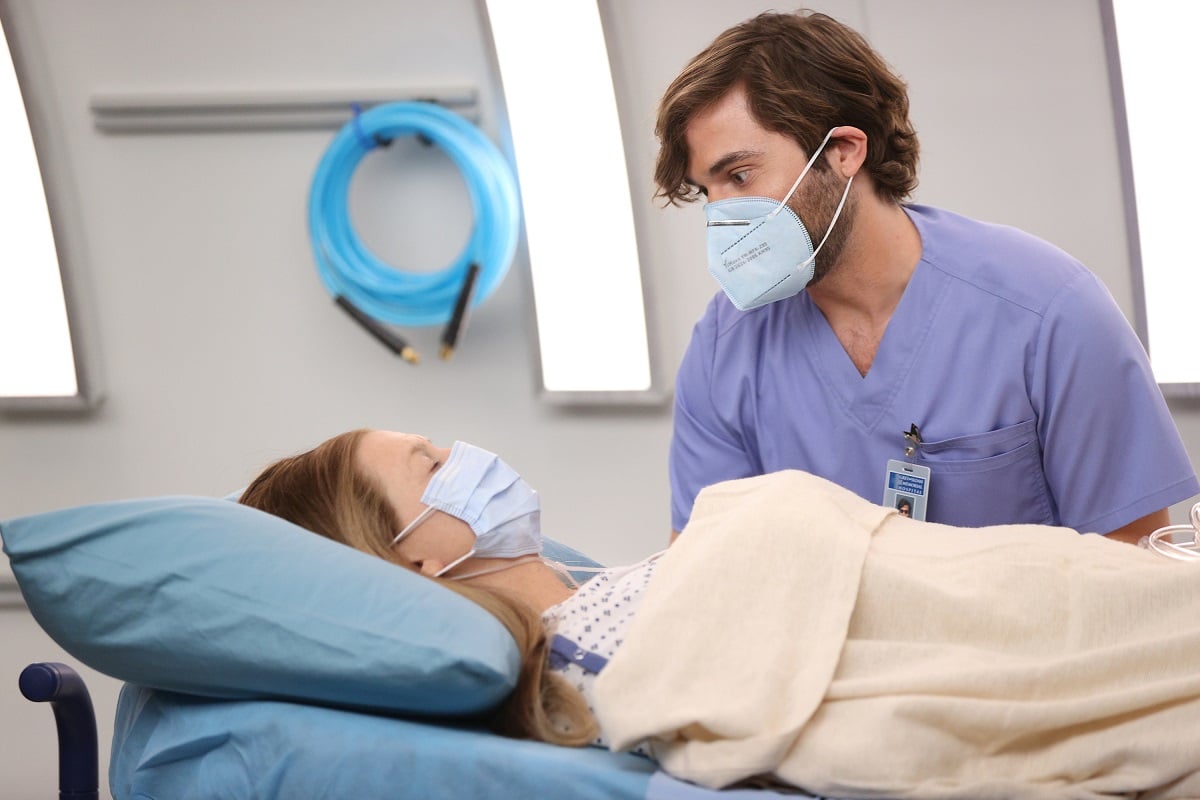 Following "Sign O' the Times," which aired on April 16, 2021, TV writer Carina Adly Mackenzie commented on the actor's easy task in Grey's Anatomy Season 17. "The amount of money Ellen Pompeo has made lying in a bed pretending to sleep this season," she wrote.
In this episode, Meredith is unconscious the whole time. A Twitter user replied, "I also saw [Grey's actor] Giacomo [Gianniotti]'s story [behind-the-scenes] + it was a dummy(?) in the bed.. so it's mostly not even her in those shots." Mackenzie replied, "Yeah, I mean, they're def not going to risk someone's life when her face isn't in the shot," referring to the continued measures taken to prevent COVID-19 spread.
Source: Read Full Article