How Much Is Carson Kressley Worth?
Carson Kressley became a household name when he starred in the 2003 reality series "Queer Eye for the Straight Guy." Kressley immediately became its fan-favorite host, and he's been a pop culture fixture ever since. The original "Queer Eye" reality show was a breakthrough in many ways, and many fans wonder what Kressley has been doing since the hit series and his net worth.
In an interview with The Advocate, Kressley addressed the Bravo series. Kressley said the "fab five" were just "five gay guys who happened to be themselves. We weren't playing characters, and we weren't using anybody else's words. We were just five gay guys who happened to be, I think, pretty good at their jobs, in interior design or fashion or grooming."
As noted in The Advocate, the original "Queer Eye" series came out a few years after Matthew Shepard was murdered and at the end of the AIDS crisis. Kressley addressed why the reality show helped build bridges. "And just helping people, that dynamic was a little bit different. Sometimes even me personally, I would be a little bit scared of big, macho, straight guys, and maybe they had some misconceptions about me, and we were allowed to have a dialogue on the show, and help each other out. I think that was one of the reasons the show was received so well …"
Keep scrolling for more on Kressley and his net worth.
Carson Kressley's net worth may be higher than it appears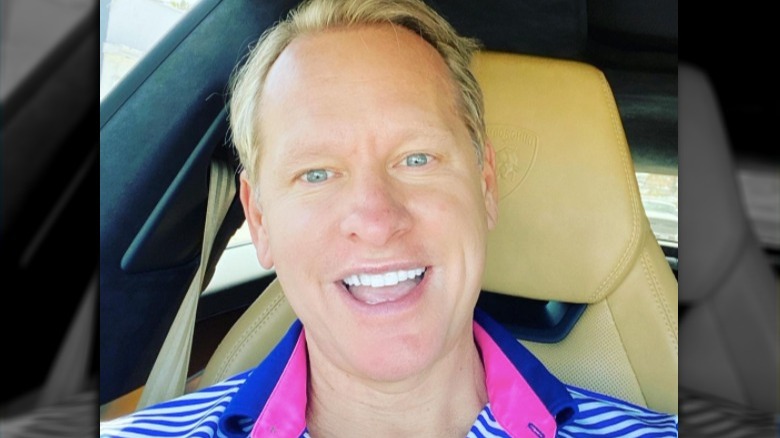 According to Celebrity Net Worth, Carson Kressley has a net worth of around $8 million. Not bad! Those millions may be due to the fact that though he became famous for "Queer Eye for the Straight Guy," Kressley's TV success didn't stop there. Kressley hosted two reality shows, "How to Look Good Naked" and "Carson Nation," via IMDb. While neither of those shows caught on like the "Fab Five" series, Kressley's massive 155 acting credits on the showbusiness site listed under "self" may hint that he's kept the momentum going. Kressley has been a judge on "RuPaul's Drag Race" since 2015. On the judges' panel, he gives incisive critiques and can often be seeing iconically nodding his head to the lip syncs. He was also a contestant on "Dancing with the Stars" in 2011, per The Hollywood Reporter.
Kressley has a preppy pad on New York City's Park Avenue which he showed off to Open House TV in 2019. It includes a "dining nook," and a stunning terrace. Kressley has worked for Ralph Lauren, and has sold his fashion collection on QVC for years. Kressley's brand is called Perfect, and it's a line of comfortable yet fashionable clothing. In Kressley's net worth profiles, any earnings from his QVC line are not mentioned. Due to that factor, and his many guest appearances on reality television shows, his total net worth could be even higher! 
Source: Read Full Article