Inside The Tragic Death Of Carol Burnett's Daughter
Carol Burnett is an American icon. She's a talented comedian and actor who has been entertaining us for decades. She's best known for "The Carol Burnett Show," which ran on CBS from 1967 to 1978, per IMDb. She has more than 80 credits as an actress as well, including recurring roles on "Mad About You," "Hawaii Five-O," "Hot in Cleveland," "All My Children," and her own sketch comedy show, "Carol & Friends."
Burnett was married to television producer Joe Hamilton from 1963 to 1984, per The New York Times. They had three daughters: Carrie, an actor and singer; Jody, an actor and producer; and Erin, a singer. Burnett's fame and wealth couldn't protect her family from tragedy, though. Burnett's eldest daughter, Carrie Hamilton, started using drugs and alcohol when she was 13. Her daughter's addiction was a factor in her divorce, per the Los Angeles Times.
Burnett's youngest daughter, Erin, also battled addiction, leading Burnett and her third husband, Brian Miller, to petition the courts to be named legal guardians of Erin's teenage son Dylan, per The Blast.
As if that wasn't enough tragedy for one family, in 2002, Carrie died.
Carol Burnett thinks about Carrie every day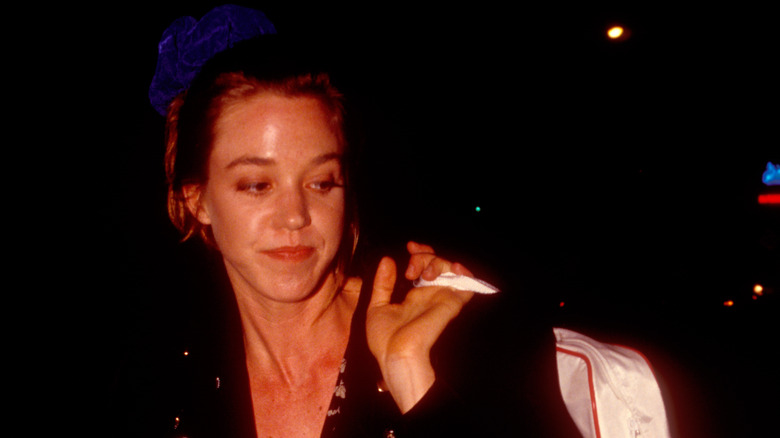 A parent should never have to bury their child, no matter how old that child is. Unfortunately, in 2002, Carol Burnett's oldest daughter, Carrie Hamilton, died. Carrie had battled substance abuse for decades and been in and out of rehab facilities, and Burnett blamed herself for Carrie's issues.
In an interview with ABC News in 2006, she said, "I thought… was there something I should have seen, something I should have known, something I would have spotted? You know, what did I miss? Was I not strong enough?" she said. Carrie beat her drug addiction by the time she was 17.
Carrie went on to have a successful career as an actor, singer, and playwright who had roles on "Fame," "thirtysomething," "Beverly Hills, 90210," and "Murder She Wrote," per IMDb. She also played Maureen, the lesbian performance artist in a 1996 revival of "Rent," per The New York Times.
Unfortunately for Burnett and Carrie, their story did not have a happy ending. Carrie was eventually diagnosed with lung cancer, which spread to her brain. She died as a result of pneumonia related to her advanced cancer, per People. "I think of her every day. She never leaves me…I just feel her," Burnett told People in 2018.
Source: Read Full Article