Kylie Jenner Fans Think Anastasia Karanikolaou Dumped Her Bestie for Kylie
Ever since Jordyn Woods' very public falling out with the KarJenner clan, we've been seeing a lot more of Anastasia Karanikolaou. Though she and Kylie Jenner have been good friends for years, fans argue that they've spent way more time together in the past year. Suddenly, Karanikolaou has become Jenner's right-hand woman and seems to have filled the position of the 22-year-old's best friend.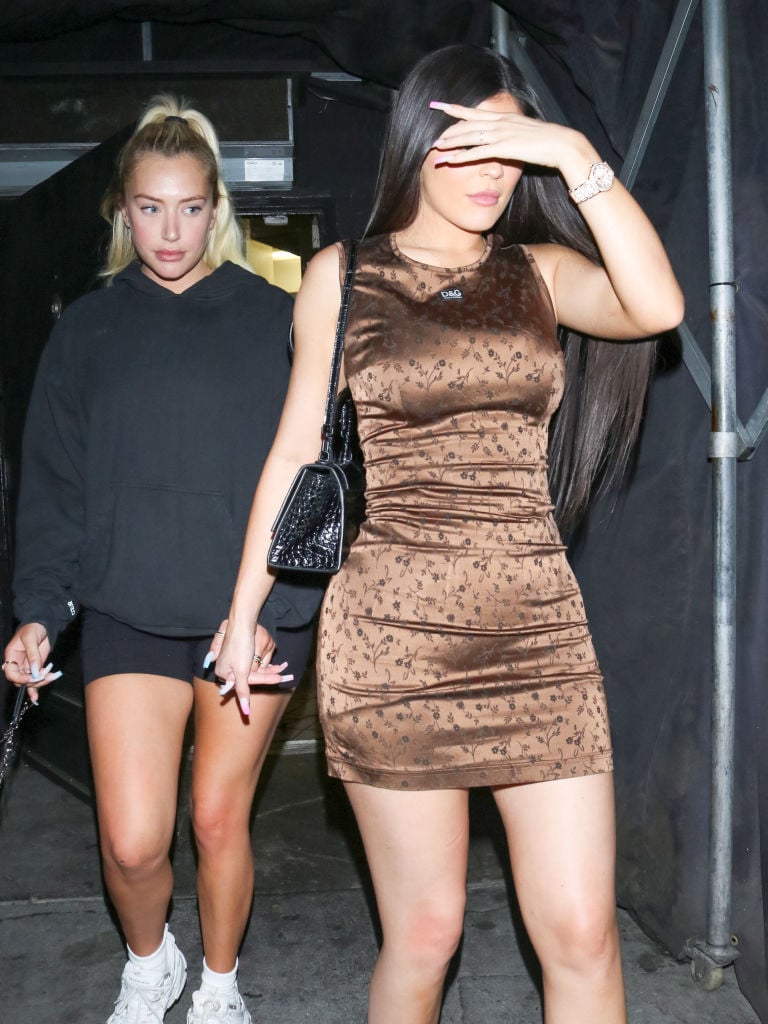 Since Woods has been out of the picture, Karanikolaou and Jenner have been practically been inseparable. The pair have traveled together to beautiful locals like Turks and Caicos, taken ridiculous amounts of "twin photos" together dressed in identical clothing, and even broken California's Stay At Home mandate, that was issued due to the coronavirus (COVID-19) pandemic, to spend time together.
Kylie Jenner and Anastasia Karanikolaou have been inseparable lately
Jenner was first spotted outside Karanikolaou's house, sporting no shoes and no makeup. But, after the backlash she received, Karanikolaou seems to be quarantined with Jenner in her new Los Angeles home. While quarantined together, the pair have been making tons of TikTok videos, lounging by the pool, learning dances, having pizza parties, and taking pictures of one another.
RELATED: Kylie Jenner Fans Mistake Her Recent Photo for a Mugshot
But, what Jenner's fans seem to appreciate the most is her remaking scenes from Keeping Up with the Kardashians on TikTok with Karanikolaou. And while some fans are thrilled that the young billionaire has a friend to spend time with during this pandemic, others are accusing Karanikolaou of ditching her other friends in favor of Jenner. Many of Jenner's most loyal fans have pointed out that Karanikolaou doesn't seem to be hanging out with her friend Kelsey Calemine as much anymore.
Karanikolaou's friend Kelsey Calemine
Calemine, also known as @fatherkels is an Instagram influencer with 2.7 million followers. She gained popularity after actress, Lucy Hale, reposted a meme that said she looked like the child of Hale and Jenner. She is also very good friends with Karanikolaou and has been for some time now. But, despite the fact that the pair hung out in late April, Jenner's fans have been speculating that Karanikolaou ditched Calemine for Jenner.
RELATED: Kylie Jenner's Daughter, Stormi, Has an Instagram Page, but 2 KarJenners Don't Follow Her
"Does Stas even hang out with Kelsey anymore? They used be to such good friends but it seems she ditched her for Kylie, 😔" one person wrote on Instagram. "It looks like they don't even hang out anymore. And don't tell me quarantine because Stassie doesn't even live with Kylie," yet another person chimed in about Karanikolaou. Others agreed that Karanikolaou and Calemine were spending less time together, but speculated other reasons as to why that could be the case.
Fans think Karanikolaou ditched Calemine for Jenner
"Kelsey has a boyfriend now so I think Stassie decided to get her own place in respect of privacy between Kels and her boyfriend," one of Jenner's fans began. She then added that the only reason Karanikolaou and Jenner had gotten closer is because of the fallout with Woods. "Also, Stassie is just a rebound for Kylie. Yes, Stassie and Kylie have been friends for years, but Kylie always placed Jordyn as number one. Stassie has only been featured on KUWTK and twin pics since last year lol," the fan pointed out.
RELATED: Kylie Jenner Fans Think She Misses 'Her Real Best Friend' After Watching Her Recent Videos
Of course, fans can speculate all they want about the relationship between Calemine and Karanikolaou. Perhaps the Instagram models are still close but can't currently spend time together because of the pandemic. Perhaps they still talk all the time, but simply don't publicize their relationship as much on Instagram and other social media platforms. Perhaps they've simply grown apart and aren't super close anymore. Or perhaps Karanikolaou really did ditch Calemine to be Jenner's number one girl. Whatever the truth is, it certainly won't be keeping us awake at night.
Source: Read Full Article