'Sister Wives': Kody Brown Once Had a Failed Courtship With a Mystery Woman That 'Devastated' Two of His Wives
Most fans of TLC's Sister Wives are well-acquainted with fundamentalist Mormon polygamist Kody Brown and his four wives: Meri, Janelle, Christine, and Robyn Brown. But before Kody married Janelle, he actually courted another potential wife as his first wife, Meri, looked on.
In the Browns' 2012 joint memoir, Becoming Sister Wives: The Story of an Unconventional Marriage, Meri—along with Kody's third wife, Christine—got candid about Kody's first failed courtship with a plural wife.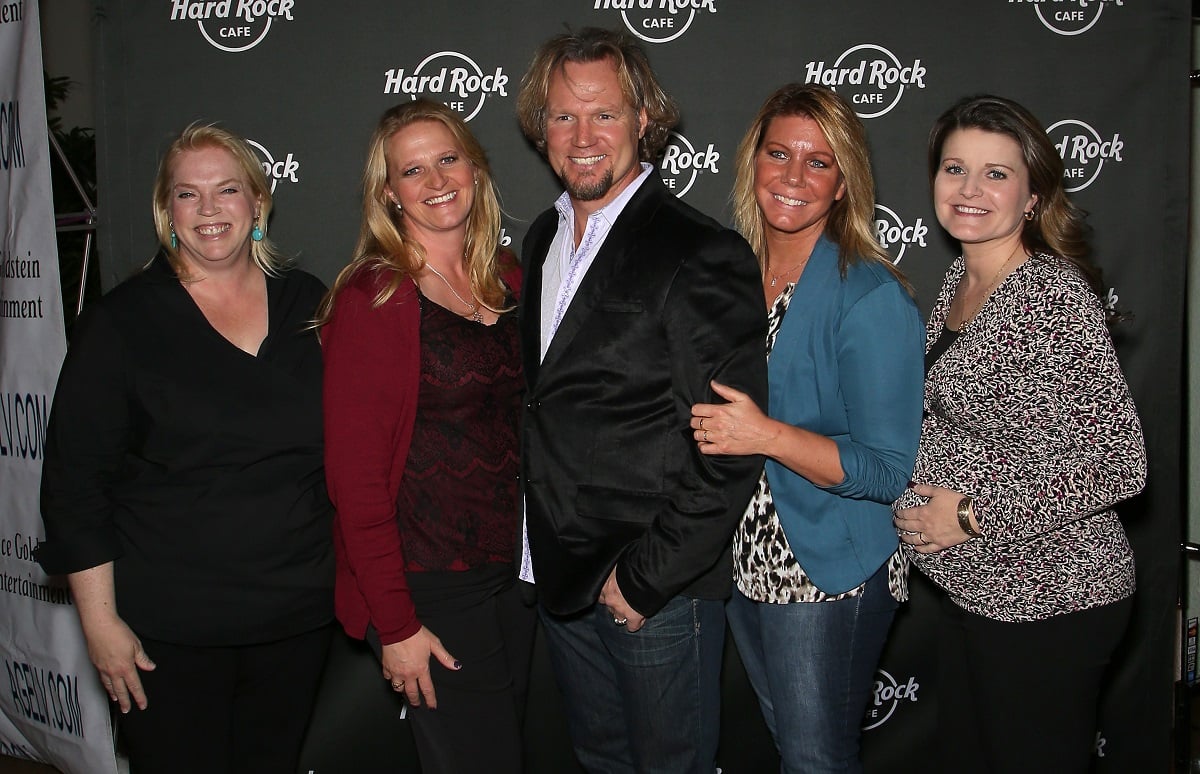 Kody courted another woman before marrying Janelle
Kody married his first wife, Meri, with the understanding that other wives would come into the family at some point. While Kody converted to a sect of fundamentalist Mormonism (the Apostolic United Brethren, or AUB), after growing up in the mainstream Church of Jesus Christ of Latter-Day Saints, Meri was raised in a polygamous family. She fully expected her relationship with her new husband to be polygamous as well.
To that end, Kody and Meri looked for other women to add to their family. Within their faith tradition, wives are usually very involved with the selection of plural wives, so as to avoid jealousy and improve the fit for everyone.
According to Christine—who, by that time, was very interested in courting Kody—she was immediately "very threatened" by the daughter of a local family in their church. When the young woman in question saw a picture of Kody, she knew that she might become competition for his heart.
"I felt very threatened by her," Christine wrote in Becoming Sister Wives. "She was beautiful and thin, and I was immediately afraid she'd catch Kody's eye."
Christine was brokenhearted to learn about Kody's potential wife
Despite her fears and jealousy, Christine introduced the woman to Meri and Kody—with whom she was close friends—during a youth conference for members of their faith. According to Kody's third wife, her fears about the woman becoming a potential second wife for Kody were "well founded." Kody and Meri showed an "overwhelming and undeniable" interest in the woman, with Meri becoming "instantaneous best friends" with her.
"I was heartbroken and jealous," Christine wrote, adding that she was "tortured by the fact that Kody seemed to find her more attractive than [her]."
Then, one day, one of her worst fears came true: Meri and Kody told Christine that they were hoping to bring the new woman into their family.
"I was devastated," Christine wrote of the revelation. The Sister Wives star continued, "It ruined my day. In fact, it ruined my year. I decided right then and there that I was not going to marry Kody, no matter what happened."
According to Christine, this decision "wasn't because of Kody." Instead, it was because of the new woman who seemed to have stolen his heart.
"She was too young and too cute," Christine confessed. "And I just couldn't see her in my future." For some time after that, the Sister Wives star even broke off her friendship with Meri and Kody due to her pain and disappointment over Meri's new potential sister wife.
Meri said the failed courtship devastated her
Ultimately, however, the courtship failed. Kody married Janelle, his second wife, instead, followed shortly after by his third wife, Christine.
Perhaps surprisingly, Meri was just as disappointed as Kody in the failed courtship. In Becoming Sister Wives, she explained that she had hoped to develop a close relationship with any future sister wives she might have.
So, when Kody's first wife developed an instant friendship with the woman he was courting, she took it as a sign that everything was going as planned. In fact, Meri took it as a sign of nothing less than divine intervention.
"This girl and I loved hanging out together and spent lots of time on our own without Kody," the Sister Wives star wrote. "As I saw it, we were on our way to achieving the sister wife ideal I'd always imagined."
Meri and Kody had been married for less than a year during the courtship—and the girl in question was just 18 years old. So, Kody's first wife believed they might have "mistaken a crush for love."
Still, when things didn't work out between Kody and his potential wife, Meri said she was "devastated" and even felt "personally betrayed." Kody had lost a potential partner, but Meri had lost one of her closest friends at the time.
This might give more insight into Meri and Janelle's difficult relationship shortly afterward. Because Meri was so close with Kody's previous potential wife—and because Janelle had already married and divorced Meri's brother—perhaps she felt particularly distant from the woman who would become Kody's second wife.
Source: Read Full Article