'SNL': Watch Adele Sing Her Greatest Hits in Hilarious 'Bachelor' Sketch
Adele hosted Saturday Night Live for the first time ever on Oct. 24. The star first appeared as the musical guest on the show in 2008 (which famously launched her career in the United States overnight) and then again in 2016.
Given that H.E.R was the musical guest, fans wondered if they would hear the "Rumour Has It" singer show off her famous pipes, and she most certainly did.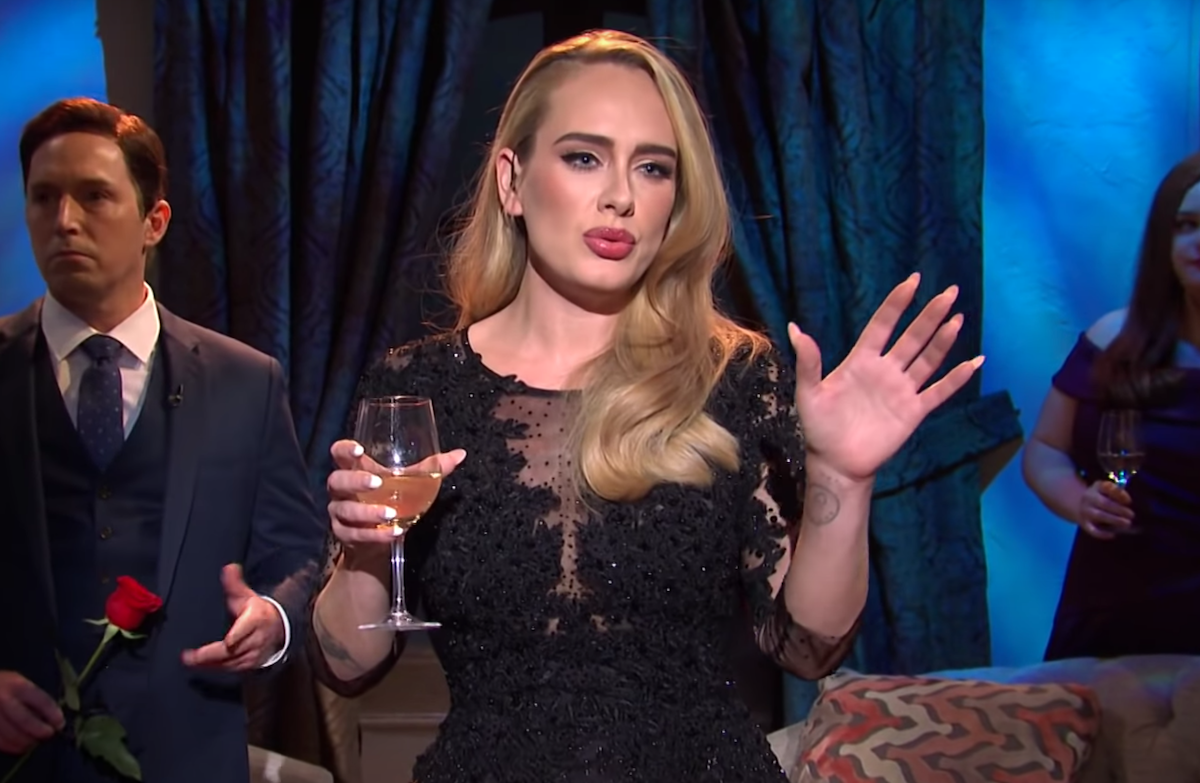 Adele took part in the classic 'SNL' 'Bachelor' sketch
The variety series has a recurring Bachelor "hunk" sketch that pokes fun of ABC's The Bachelor franchise. In each rendition, the women compete for the man's attention. Past versions have been called "Car Hunk" with Jessica Chastain, "Pilot Hunk" with JJ Watt, and "Virgin Hunk" with James McAvoy. This time around, Adele was one of the contestants. And no, she wasn't playing a character. She was playing herself.
"Hi, I'm Adele Adkins," the Grammy winner started off. "I'm 32. You may know me from being the singer, Adele. I'm here 'cause I've had a lot of heartbreak in my life. First at 19, and then sort of famously at 21. And then, even more famously at 25. But I have a really good feeling about Ben K. It's only night one, but I can already tell he's going to be the next love of my life."
As the women competed for Ben K.'s (Beck Bennett's) attention, Adele took a more direct approach by demanding most of the bachelor's time. When another woman won the first impression rose, the star had a bit of a meltdown and employed one of her iconic breakup songs.
Adele sang 'Someone Like You,' 'Hello,' 'When We Were Young,' and 'Rolling in the Deep' on 'SNL'
After she sang a few bars of the hit "Someone Like You," Ben K. assured Adele wasn't being sent home just because she didn't the first impression rose. And then, Heidi Gardner chimed in with this sage (and hilarious) advice.
"Yes, girl. And there's, like, 40 episodes left, so I'd pace yourself emotionally," she warned. "'Cause we've been here 10 minutes and you've already sung that a few times."
And sang, she did. The "Chasing Pavements" crooner ended up singing "When We Were Young," and "Hello" throughout the rest of this scene, changing up the "Hello" lyrics at one point to say, "Hello from inside this bush!"
The star closed out the sketch by performing 'Someone Like You' to the 'SNL' audience
Near the end of the scene, Adele had another freakout when SNL newcomer Lauren Holt asked to talk to Ben K. She ended up breaking her wine glass with her bare hand and sang part of "Rolling In The Deep," to which Holt joked, "OK, I'm a huge fan, but I don't feel safe with her here."
When Ben K. finally had enough and told Adele to leave the mansion, she responded with grace.
"I don't if I would call this a mansion, but I understand. Good luck, ladies, and thank you, Ben. I will now leave, and I will go quietly. I promise. There will be no more drama from me."
"Woah, that's so sad," Holt said.
"I know, I kind of wanted her to finish 'Someone Like You,'" Bennett replied. And of course, that's when Adele came back and finished the sketch with a longer rendition of "Someone Like You." Classic Adele.
She might not have been the musical guest, but Adele wouldn't let her fans have just a little singing, as a treat.
Source: Read Full Article