'Sweet Magnolias' Season 1 Recap: Everything to Remember Before Watching Season 2
Pour out a margarita and settle in for a return visit to Serenity. Sweet Magnolias Season 2 premieres Feb. 4 on Netflix, and based on the trailer, it's going to be another season full of drama and touching moments. But before fans dive into the 10 brand-new episodes, they might need a refresher on where we left Maddie, Dana Sue, Helen, and everyone else at the end ofSweet Magnolias Season 1. 
Maddie started over in 'Sweet Magnolias' Season 1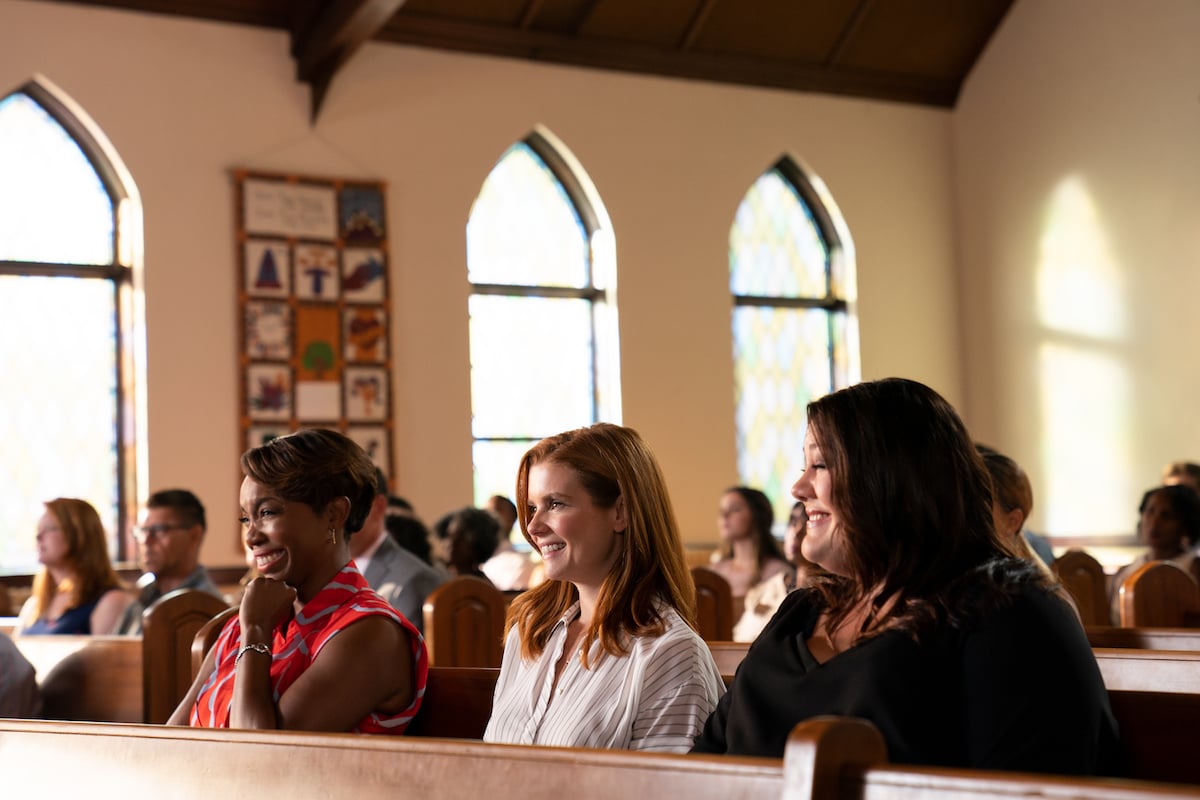 Helen is the most cool and collected of the Sweet Magnolias. But that doesn't mean that she doesn't have troubles of her own. The successful lawyer's life was turned upside down with her ex Ryan (Michael Shenefelt) returned to Serenity. The two rekindled their romance, but the relationship hit a speed bump when Helen told him she wanted kids. Ryan was adamantly against becoming a father, and the two broke it off for good at the end of the season. Fortunately, Helen was able to take comfort in a new friendship with Erik (Dion Johnstone), a chef at Sullivan's. Their relationship was still platonic at the end of season 1. However, there are signs things between the two could turn romantic.    
Bill tried to patch things up with Maddie 
Bill's affair with Noreen and his divorce from Maddie fractured his relationship with their kids, especially the older boys, high school baseball star Ty (Carson Rowland) and the sensitive and creative Kyle (Logan Allen). Bill's ham-handed attempts to win back his children's affection sometimes backfired, as when he bought Ty a car without getting Maddie's approval. The extravagant gift also led to some tension between Ty and his younger brother, who sometimes felt overlooked in his own family.
Meanwhile, Bill and Noreen were having trouble of their own. Eventually, she decided to leave Serenity and return to her hometown. That was a blow to Kyle, who'd developed a bond with Noreen. With Noreen gone, Bill realized he wanted his ex-wife back. He told her wanted to get back together in the season finale. However, a family crisis interrupted them before she was able to respond.
The kids had plenty of drama of their own 
The adults aren't the only residents of Serenity dealing with some serious drama. Ty is the standout player on his high school's team (he's even being scouted by the Atlanta Braves). That caused conflict with his teammate Jackson (Sam Ashby). There was also a bit of a love triangle between Ty, Kyle, and Annie. Kyle had a crush on Annie and Annie had a crush on Ty. At one point, Annie gave Ty a drunken kiss, which made Kyle jealous. But Ty was dating a girl named CeCe (Harlan Drum), even though there were hints he also had feelings for Annie. 
The tension between the teens boiled over on prom night. After Annie ditched Kyle to go to the dance with her friend Simon (Michael May), he decided to hang out with Jackson's younger sister Nellie (Simone Lockhart) at her house. When everyone show's up at Jackson's place for a prom afterparty, a fight broke out between Ty and Jackson. Kyle tried to intervene, but Ty brushed him off, causing Kyle to flee the party. He drove off in his brother's car and got in an accident. All the adults rushed to the scene to see if he was OK. Unfortunately, Kyle's fate was left up in the air at the end of Sweet Magnolias Season 1. Plus, it turned out that someone else from the party got in the car with Kyle. But their identity – and whether they survived the accident – is a mystery. 
Sweet Magnolias Season 2 premieres Feb. 4 on Netflix.
Check out Showbiz Cheat Sheet on Facebook!
Source: Read Full Article