'The Bachelor': Ben Higgins Said He and His Fiancée, Jessica Clarke, 'Never' Tell Each Other When They're Sad
Love is in the air for a number of Bachelor stars. While many know Ben Higgins for falling for Kaitlyn Bristowe on her season of The Bachelorette, he then seemed to find love when he was The Bachelor. Unfortunately, none of Higgins' on-screen relationships seemed to work out. But it's all been for the best, as he's now found love with his new fiancée, Jessica Clarke.
Clarke and Higgins appear over the moon now that they're planning a wedding. And Higgins recently took to Nick Viall's Viall Files podcast to talk about his relationship. He mentioned one interesting detail about his romance — and that's that he and Clarke don't tell each other when they're sad. Here's what he said.
Ben Higgins proposed to Jessica Clarke with all of her family present
Higgins privately messaged Clarke after seeing her photo on Instagram — and it seems it's all history from there. "Because of a reason I still can't explain (other than the fact she's obviously beautiful) I felt I needed to message her," Higgins explained on Instagram. Now, the two are thriving and preparing for their wedding, as Higgins popped the question at the end of March 2020.
Unfortunately, the coronavirus (COVID-19) outbreak put a damper on Higgins' original proposal plans. But he was still able to convince Clarke that they should travel to visit her family, as they knew he was going to get down on one knee with them present.
"I went back to a pond behind her house, and we had set it up with sunflowers near a bench," Higgins told Entertainment Tonight. "It's right in their backyard, but a little hidden. I proposed and her family and mine were watching from a distance, and then we all celebrated together."
Clarke loved the proposal, too. "Central Park would have been magical and special in its own way. But it's really cool that we just got to be together last night and not really have to talk to anyone else but my family," she said. "It was great. It was perfect. I couldn't imagine it a better way."
Higgins said they're waiting to share a bed until they're married
Higgins and Clarke have been in a long-distance relationship since the beginning, so they're used to time apart. But Higgins also noted that even when they're together in quarantine, they're sleeping in separate bedrooms.
People notes Viall asked Higgins on The Viall Files if Higgins and Clarke if they sleep in the same bed — and Higgins revealed that they're sleeping in separate beds while quarantined at Clarke's family's home. "Right now she has a bedroom upstairs at her parents' house, I'm in the downstairs," Higgins noted.
Not only that, but Higgins noted he's waiting to have sex with Clarke until they're married. And they're also expecting the coronavirus to impact their wedding plans, extending their engagement.
He told Nick Viall that he and Clarke don't express sadness to each other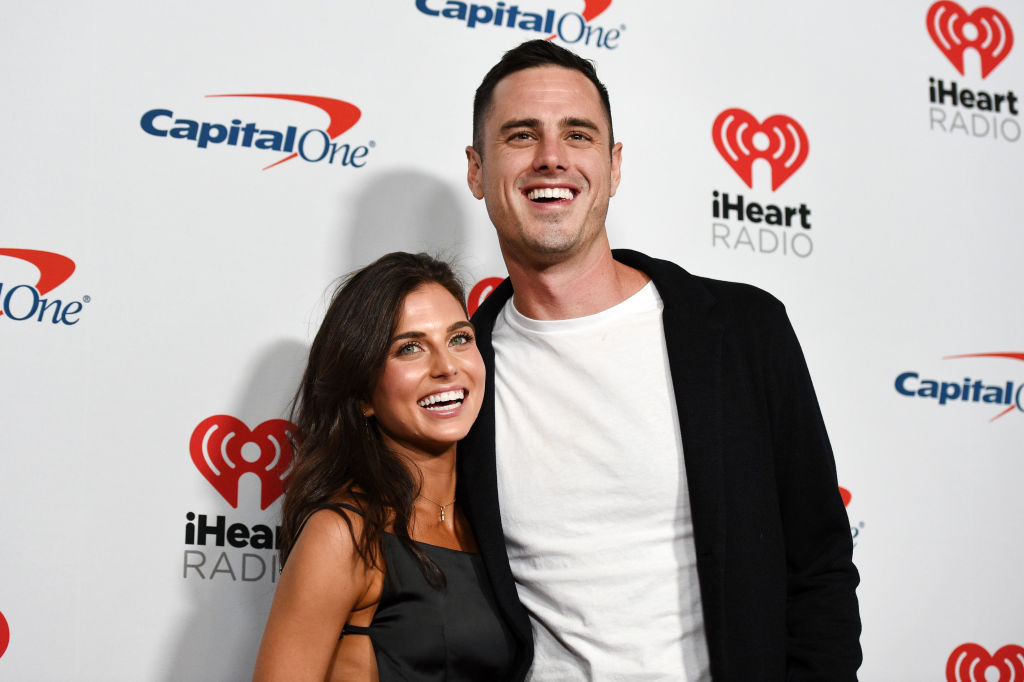 Viall and Higgins continued to talk about Higgins' relationship with Clarke on The Viall Files. And Higgins noted that because he and Clarke are in a long-distance relationship, they purposely try not to express sadness to each other.
"We've never communicated our sadness," Higgins told Viall. "Not in terms of life, not in terms of variables outside of our relationship, but when we leave each other, or when we're missing each other, we have chosen not to communicate that unless it's an a healthy, uplifting way." Higgins then added that constantly telling each other they'll be "sad" when they have to go their separate ways will cause a "heaviness" in the relationship that neither of them wants.
"That's one thing, it's helped us a ton because our communication is typically positive and uplifting," Higgins added.
We're not sure if this would work for every couple — but if it works for Higgins and Clarke, that's all that matters!
Check out Showbiz Cheat Sheet on Facebook!
Source: Read Full Article