'The Circle' Season 3 Is Fully Coming—And You Can Apply to Be On It
Remember when you made a summoning circle for The Circle Season 3 and it was all extremely meta? Well, good news for you, it worked: Netflix's deranged reality show is coming back for a third season sometime in the distant future (probably 2022, but more on that in a moment). In case you aren't already fully on board with this truly addictive series, it's a little different than other shows lurking on Netflix. Mostly because The Circle doesn't drop all at once for everyone to binge—instead it kinda does things ~the old-fashioned way~ by dropping episodes in weekly installments. We have a full breakdown of how The Circle works if you keep scrolling, and here's what we know about Season 3 so far…including how you (YES, YOU!) can apply to be a contestant:
Season 3 is 1,000 Percent Happening
Okay, so here's the deal: Netflix renewed The Circle for Season 2 and Season 3 at the same time, thank god. But…when will it drop? No official word yet, but a little lazy detective work makes it pretty clear it won't be for months. Season 1 premiered in January 2020 while Season 2 premiered in April 2021, which makes me think it's safe to assume that Season 3 will air in the early part of 2022.
It'll (Probably) Be Filmed in the Same Building
I mean, unless Netflix wants to throw down for a whole new set—but why would they do that when they already have an entire building set up with a giant neon circle attached to it, ya know? By the way, fun fact about The Circle's filming location via Decider. Much like the contestants on the show, it's lying to us. The establishing shots of The Circle make it seem like it's set in Chicago, but nope, it's fully filmed in the U.K.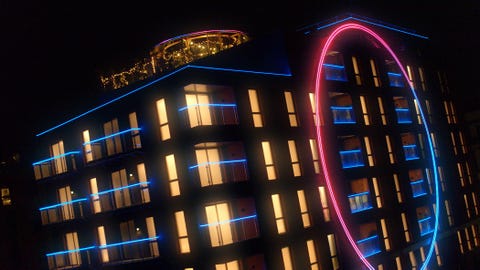 You Can Apply!
The Circle's casting site is still live and taking applications for "future seasons." Since Season 2 is already airing, we can only assume they're talking about Season 3, so have at it.
APPLY HERE
And, in case you're new here, let's go through some other quick details:
WHAT Is the Circle?
A reality show hosted by comedian Michelle Buteau that involves contestants being trapped in a large apartment building, where they're essentially in a popularity contest and can only communicate through social media. This means that the players can fully pretend to be other people and catfish each other.
WHAT Is the Prize?
The Circle is an absolutely deranged concept for a show, so perhaps you're wondering why any human being would voluntarily subject themselves to this. Allow me to tell you: (1) the promise of fame, duh, and (2) a $100,000 cash prize—if they win. (Oh, and the Fan Favorite receives $10,000.)
HOW Do You Win?
Contestants on The Circle are forced to rate their fellow players, and then the top-voted people (aka the "influencers") vote to "block" (aka eliminate) their fellow contestants until there's just one person left with the highest rating—who gets to take home $100,000! Alliances form, friends, enemies, and frenemies are made—basically you're getting paid to live out a social media nightmare on national television, it's casual.
If all of this sounds intriguing to you, please be advised that Netflix has old episodes of The Circle Season 1 available for you to stream, and The Circle Season 2 is currently airing weekly. Happy chaotic viewing!
STREAM NOW
You love all the deets on reality TV. So do we! Let's overanalyze them together.
Source: Read Full Article