The Masked Singer Unmasks the Snow Owls
The Masked Singer said goodbye to its first-ever duo contestants in the Group A finals on Wednesday night.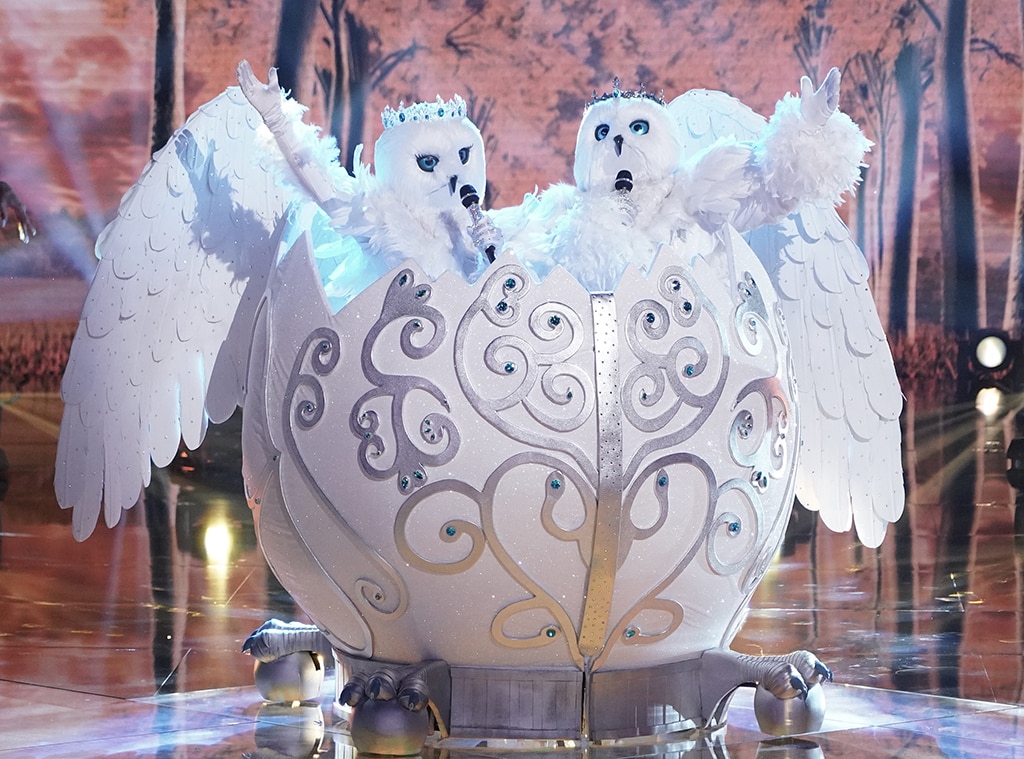 Another Masked Singer mystery solved—and this was a big one. 
Tonight, we said goodbye to our favorite confusing duo known as the Snow Owls. After weeks of us trying to figure out not just who they could be but what relationship they have to one another, we now know that they're married stars Clint Black and Lisa Hartman Black. 
We didn't guess it, and honestly we never would have. Clint has been a country music staple since the late '90s and Lisa is both an actress and a singer, best known for Knots Landing. 
The Owls leave behind just two remaining singers in Group A—the Sun and Popcorn, both of whom appear to be fairly well known singers if our guesses (and the internet's guesses) are correct. 
The Sun sounds an awful lot like LeAnn Rimes, and many of the clues fit too. The very first clue we ever got for the sun referenced a burning torch, and LeAnn performed at the 2002 Winter Olympics opening ceremonies. Alaska was in the clues tonight, and she and husband Eddie Cibrian starred together in a 2009 movie called Northern Lights, which was set in Alaska. 
Popcorn sounds an awful lot like Taylor Dayne, the '80s and '90s pop star who many younger millennials know as the singer of "Supermodel" on the Lizzie McGuire Movie soundtrack. Another popular hit is "Tell It To My Heart." 
Keep up with the entire season four cast below! 
"You can try and figure out who we are, but as for who is more talented, it's a tie." 
Clues: We haven't seen them together in a while but now it's time for a family reunion, he's a prankster who once covered their house in snow, a pearl, a rose, Hollywood, Magnolia and "Quarrel Canyon." He was going through a messy breakup and she acted as his anchor, DAL on a basketball, a light up D, she had an opportunity "fit for a queen," she took a leap of faith and he was her knight in shining armor, a witch's hat. 
"If you're trying to figure out who I am, here's a hint: This sun knows how to shine like a torch even during the freezing winter."
Clues: Gold Member, extreme seasons, felt like the center of the universe but the spotlight was too much, Mickey Mouse ears, frozen, A Quiet Place, feels like the sun is a reflection of her. She missed out on a lot of childhood growing up in a fractured home, now she's discovering childhood outlets, into the woods, loves dirt in her toes, cauldron, immaterial girl, she's burning ugly rumors, a magic eight ball, Alaska, Baltimore, Mexico, Cows. 
Guess: LeAnn Rimes. Her performance of "Cuz I Love You" sounded exactly like the time Rimes casually sang it and Rimes performed at the 2002 Olympic torch-lighting. 
"Mirror, mirror on the wall, what makes me the biggest miracle of all?"
Clues: Snacks and the City, goldfish wearing hoops, tiger, built a career around love but she's a "hard-corn" hustler, works long nights "rushin'" from one job to the next, meatloaf, snake, apples, a little cheesy, she jet sets to exotic places with royalty. She wanted to step out of her comfort zone and loves "flirtin'" with Nick. She wasn't always healthy and had trouble eating or sleeping until she found her voice, soap opera vibes, 16 candles, hair crimper, Rubix cube, rainbow flag, Venus, Matzo ball soup with bunny ears, a fancy sewing kit, her BFF is a former Masked Singer contestant. 
Guesses: Taylor Dayne. Just listen to her sing. 
"If you want to know who's behind the mask, you'll need to figure out who's under my hats."
Lots of Hamilton references in the first clue package: Young, scrappy and hungry, started out in the rat race but kept growing and grinding until somebody said yes to this and he got to be in the shroom where it happens. Lots of Mean Girls references in the second clue package, along with a lot of random things: Pharell's big hat, a grasshopper playing a violin, hot dogs, gardening supplies, a giant beet wearing a tie, Jordyn Woods as the Kangaroo in the Burn Book, two black beetles on a lunch tray, Santa giving off some Elton John vibes with crazy sunglasses and platform shoes.  
Guesses: Billy Porter, Todrick Hall 
"I assure you that even though I may be cold-blooded, I have a warm and glowing flow with H20."
Jellyfish was in her own little underwater kingdom until she decided to break out and do all the things she missed out on, like wearing flower crowns at Glowchella and taking pics with other fish. She was really close to her dad, and for years he would wake up at 3 a.m. and drive her to "gigs" in far away lands.  
Random clues: The Little(ish) Jellyfish, Dua Lipa and Billie Eilish lyrics, baby powder, the USS Big Bird, yoga, 7:20, a stingray with a mullet playing a triangle, a double-sided light saber, cereal. 
"I'm a broco-lean, mean, heart-pumping machine. After all, it's how I got my six-pack."
The first clue package for Broccoli made it seem like he was a younger social media star. He was even making "BrikBroks" and talking about being a kid "rolling with the OG," but there was nothing young about his voice. He said a contest "greased the wheels" for his career and now he works for the biggest artists. Performing is his passion and he's been on many stages, and he's always wanted to be a Broccoli.
Random clues: Dogs that are actually peppers, soup, cheese, a Mariachi band, a license plate reading "LD1ESMN," Foodfellas, Copabanana, the number 900, 6:00 a.m., a bacon pineapple pizza, 3-7-2-6-5, Black 26 on a roulette wheel.
"A special set of keys reversed my game forever. Tic-tac-whoa." 
Clues: Grew up in Hollywood, a fish in a pineapple, naturally into water, Italy. Performed as a kid, skull and crossbones, the number 5, his father didn't believe in him, Shazam, he wants to put the toxic parts of his past behind him, a pinata filled with little dolphins. 
"Living in the ocean can be dangerous, so it's always good to find a quiet place to hide."
Clues: Felt trapped by her insecurities, too shy to release the fire burning inside, felt lost in the world, a warthog, always swimming up stream, gets to stop playing tug of war with herself and gets to explore the "dauntless diva" within. She's tame in her normal life but in the costume her inner diva comes alive, she tried to make a name for herself but got rejected, green light, rodeo, Daisy Duke shorts, stayed in her room for a thousand years spilling her soul onto the page, experienced unimaginable loss and pain lately, a balloon filled with feathers designed to help "not confuse." 
"Some might say that my career had a magical start."
Clues: People think he's shy and he lets others absorb his spotlight, "dance with the stars," candybars, time to turn the tables on the world because he doesn't want to be "hair today," gone tomorrow. It's taken some rough patches to get here, Up, got some news about his mom that shook his world, his mom wanted him to continue the ride so he pushed forward, dimes, a bedtime story, Ken should know exactly who he is.
"If you want to know how I instantly appeared, here's the prescription number to my identity." 
 Clues: Library, he wanted to "heal pain," the Caribbean, a book called "How to Get Yourself Out of Debt," a fire extinguisher, his dad helped him get on a path to success by lighting a fire inside him. He could barely pay rent, two dollars, a croissant, doctor scrubs, manual labor, pink cadillac, a bottle of milk. 
"It's very fitting that I have so many appendages. After all, I'm known for having a lot of hands to latch onto."
Clues: He's a father figure and a scoundrel, a worry wart and a maniac. Yarn and chocolate chip cookies. He's easy on the eyes. 
"If you want a hint about me, I own who I am. I know my voice can go high, but my dishes go deep."
Clues: She always speaks her truth and has a big mouth, loves making waves, wants to feed a performance that will get people talking, ice cream with cherries on top 
"If you're looking for a hint about this Baby Alien, all you have to do is look to the stars."
Clues: used to be on the Tony Awards stage, the Liberty Bell, roses, sleeps in a crib, "stuck in second gear." Baywatch, he's been roasted before, has had his public relationships probed, had close enounters with money-hungry sharks, wants to help other baby aliens avoid the same traps, a toy firetruck, Joel McHale is hot on his trail. 
"If you're looking for a hint to my identity, you should know I share something in common with a powerful giant."
Clues: He's had a roller coaster career, music is in his blood but he became the butt of jokes when he took a big risk and crashed and burned, $3, drummed up towering success, he's in the driver's seat and he's off to the races. He's survived and thrived by seeing the big picture and staying above the drama, peaches, his whole world recently became crashing down, his life was transformed in the blink of an eye, had a terrifying episode that scrambled his brain, he defeated his invisible predator and now he's at a crossroads in life, but as long as he has his herd he'll be fine. A green apple, Fox, a domino with two fours. 
"Check the gremlin manual and you'll see I can thrive when the temperature is a cool 66.5 degrees." 
Clues: Checkered history, has a fluffy side and adores all animals, loves to cook. 
"If you want a hot clue to finding my identity, just look into stocks and bonds." 
Clues: His lair is a bit humid, he loves a funky outrageous costume, he's on a quest to be the best, his fire is "dangerous," he switched gears and now he has a lot of gold, a bone, the Statue of Liberty
Revealed to be Busta Rhymes in episode one.
Trending Stories
Selena Quintanilla's Family, Netflix Hit With Lawsuit Over New Series
Julianne Hough Alludes to Feeling "Lost" After Ryan Seacrest Split
Halsey Reveals the Heartbreaking Reason Why She Changed Her Name
The Masked Singer airs Wednesdays at 8 p.m. on Fox. 
Source: Read Full Article