'The Office': A Deleted Scene Shows Why Phyllis Doesn't Like Dwight
The characters of The Office didn't always make their true feelings about each other known, which is normal for co-workers. But there are some scenes that revealed which characters don't like each other and Jenna Fischer has talked about them.
One of those scenes involved Phyllis Vance (Phyllis Smith) revealing why she doesn't like Dwight Schrute (Rainn Wilson.) Find out the reason why and more about Dwight's character.
Dwight doesn't like 4 co-workers on 'The Office'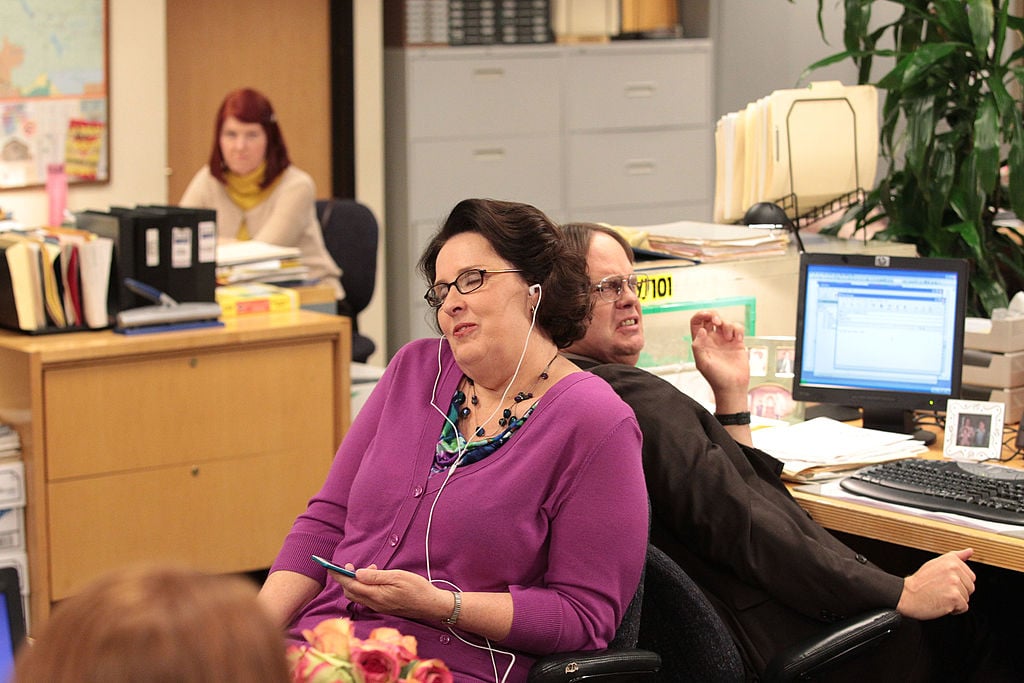 Dwight made it known he doesn't like multiple co-workers in the episode "Drug Testing." That episode shows him investigating who was smoking weed in the parking lot after half a joint was found.
There is a scene where he reveals how he feels about the people he works with and he says, "I like the people I work with generally with four exceptions. But someone committed a crime and I did not become a Lackawanna County volunteer sheriff's deputy to make friends, and by the way I haven't."
Angela Kinsey and Fischer talked about the episode on their podcast, Office Ladies. They came up with their theories on who these four exceptions could be.
Fischer and Kinsey agreed that he doesn't like Jim (John Krasinski.) After all, Jim spends a lot of time pranking Dwight. Then they had some interesting picks.
Fischer said Creed (Creed Bratton) could be one but didn't give much of a reason for it. "I would say Toby (Paul Lieberstein) just because Michael (Steve Carell) hates Toby and Dwight loves Michael," Kinsey explained. 
Fischer added, "Maybe Ryan (B.J. Novak) and Kelly (Mindy Kaling.)" Kinsey noted that Dwight would see him as competition, and given how Ryan's career goes throughout the series we know he is ambitious like Dwight. "Maybe 'cause he's competitive, maybe one of the other sales reps. I don't know," Kinsey said.
There isn't a confirmation on who Dwight doesn't like but there is another character who made her feelings known about her co-workers. That would be Phyllis.
A deleted scene shows Phyllis doesn't like Dwight
Multiple characters turn against each other once their complaints are made public in the episode "Conflict Resolution." There is a scene where Michael reveals Phyllis complained about Angela. She denies this and said she's actually friends with Angela.
However, Phyllis has been parking in a spot that Angela likes to use. Angela complained about it and Phyllis leans in and tells her "I don't like you."
We find out that's not the only person she doesn't like in the office. "In a deleted scene she tells Dwight she doesn't like him!" Kinsey revealed on the Office Ladies podcast.
The deleted scene is on YouTube. It shows Phyllis talking to Dwight. "Come on Dwight, I think it's actually healthy to get it off your chest," she tells him. "I'm done talking. I am a Schrute. We don't back down," he tells her.
We then find out why she doesn't like the farmer. "You're arrogant and pompous. I don't like you," she says before turning around in her chair. It's too bad the scene didn't make the cut in the show. We could have found out if Dwight felt the same way about Phyllis if he could respond.
Source: Read Full Article