'The Office': How Jim Was Really the 'Dwight' of the Stamford Office
Jim Halpert (John Krasinski) spends a lot of time pranking Dwight Schrute (Rainn Wilson). But there is a season of The Office where Jim basically becomes him and that's when he moves to the Stamford office. Find out the multiple ways the character became the "Dwight" of that location and more.
John Krasinski refused to audition to play Dwight Schrute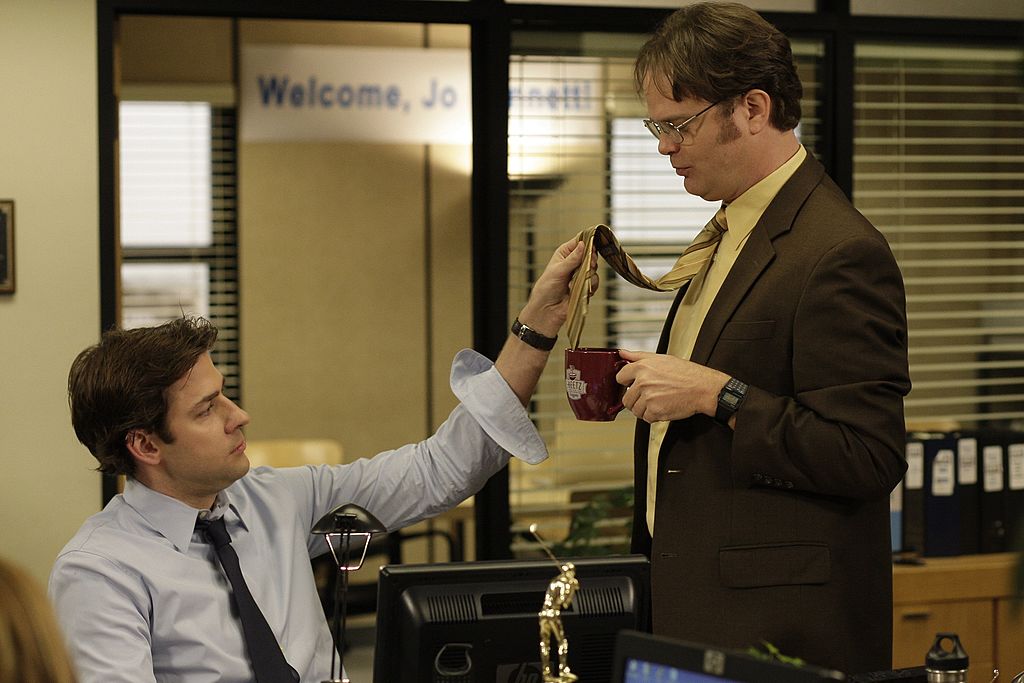 RELATED: 'The Office': Oscar Nuñez Calls Steve Carell 'Insane' for Improvising Their Big Kiss
Krasinski was offered to audition to play Dwight before Jim. The actor revealed why he decided to pass up the opportunity.
"They said you're going in for the role of Dwight and I had been a huge fan of the British show and I was like 'I don't know man. That's not…I don't know if I'm right for that role,'" he said on the Office Ladies podcast. "And so I weirdly had no idea what I was thinking I said, 'You know what, I read the pilot.' And I said, 'I want to put my best foot forward. Let me know when they're casting Jim.'"
Luckily his instinct was right because he got the role of Jim. Jim's life begins to change with the introduction of Karen in season 3.
Karen's was changed after her first episode on 'The Office'
RELATED: 'The Office:' Jenna Fischer Created Juicy Lines for Pam's Mysterious Call Before Her First Kiss With Jim
The first episode we see Karen (Rashida Jones) is in "Gay Witch Hunt." She is one of Jim's new co-workers in the Stamford office. Jenna Fischer and Angela Kinsey talked about this episode on Office Ladies.
Kinsey said she texted Jones about the premiere. "She said 'I was so damn nervous.' She told me she was convinced she was gonna get fired," Kinsey said. 
The character had a different look with her bangs pinned to her forehead and less makeup in the beginning. "They just thought that Karen was gonna be a little bit more gruff and kind of a meanie," Kinsey said. "And then she said Greg [Daniels] decided to soften her and so in the next episode she's a little softer. She's not quite so sour."
Jim is Dwight because of his new job and how he is treated
RELATED: 'The Office': Jenna Fischer Reveals Which Scene Was the Hardest to Get Through Filming 'Dinner Party'
A fan noticed Jim mentioned he got a promotion in the episode. But they asked the Office Ladies hosts if that's really true.
"Yes, in the script that talking head is extended," Fischer answered. "They cut out for the episode. He explains that he is the assistant regional manager of Stamford. He is basically Dwight of Stamford."
"And there is a great deleted scene on the DVD box set. It's my favorite from this whole episode. Karen is Jim," Kinsey later said. "Karen pranks Jim. She sets his dial out number to go to Hong Kong. So every time he dials that out he calls Hong Kong and is like 'What the heck?' And then you see sort of like Karen smirk."
She revealed that Karen also mocks Jim when he says he's assistant regional manager. Karen does call Jim out in the episode for kissing up to the boss. This is something Dwight was always guilty of doing. It leads to some funny moments but it's also interesting to see how things are turned on Jim this season.
Source: Read Full Article