The 'Pretty Little Liars' Cast Agrees on the Season 5 Scene That Was 'so Embarrassing'
The hit ABC Family/Freeform hit series Pretty Little Liars featured plenty of dramatic twists and turns. But that doesn't mean there weren't fun and lighthearted moments as well. Here's what the cast of PLL said when asked about specific scenes and seasons from the show.
'Pretty Little Liars' aired for seven seasons
PLL began airing 2010. At first, it was about a group of teenage girls — Hanna Marin, Emily Fields, Spencer Hastings, and Aria Montgomery — who discover their missing best friend, Alison DiLaurentis, is deceased, and they're being stalked by unknown tech genius who is known simply as "A."
Throughout its run, the series evolved to include new cast members and mysteries. Alison is revealed to be alive, but their problems just never seem to end, even into adulthood. That is, until the series finale, when their ultimate foe, A.D., is unmasked.
The cast reunited to talk about the show in 2020
RELATED: 'Pretty Little Liars' Movie: Why the Cast Says 'We Should Do It' And Why 'It Has to Be Pretty Extreme'
Almost three years after PLL ended, much of the cast got together for a virtual reunion. In support of Feeding America, moderator Damian Holbrook hosted the event through Looped for Cast4Good.
Lucy Hale (Aria), show creator Marlene King, Ian Harding (Ezra Fitz), Janel Parrish (Mona Vanderwaal), Sasha Pieterse (Alison), Tyler Blackburn (Caleb Rivers), Troian Bellisario (Spencer), Shay Mitchell (Emily), and Ashley Benson (Hanna) were in attendance.
The hardest scenes to shoot involved a lot of emotions
The group answered questions from Holbrook and those sent in by fans. One fan asked, "What was the hardest scene to film in the whole series?" King said it was "the goodbye scene," (above) adding, "It was emotional. It was hard to keep it together." Pieterse agreed, saying, "It was really difficult."
Mitchell then chimed in. "I say those scenes or the ones we laughed the most at." She continued, saying it was "just impossible" to film many of her scenes with Benson, Blackburn, and Harding. She even admitted to pinching herself to keep from laughing, saying, "We just couldn't pull it together."
The Christmas episode in 'Pretty Little Liars' Season 5
RELATED: Ezria Fans Rejoice: 'Pretty Little Liars' Stars Ian Harding and Lucy Hale On Their 'Katy Keene' Connection
One particular episode had a few of those scenes: Season 5's "How the A Stole Christmas." King referenced the final scene in which the group was starring at a light display, saying, "I hear Ian saying to Lucy 'dead babies, dead babies,'" presumably to help her stay serious at that moment.
The moment that is likely most referenced from the episode is the above scene, in which the Liars' significant others (played by Blackburn, Keegan Allen, Harding, and Lindsay Shaw) dress up in scandalous Santa costumes. "That was so embarrassing," said Benson. Harding agreed, "it was pretty brutal."
That scene was a bit of a callback to a previous one from the episode, in which Spencer dons a sexy Santa outfit. "I had to give Keegan a lap dance when he was in a wheelchair," Bellisario reminded the others. (For Spoby fans, King said during the reunion that "they're endgame" and are happily together following the events of the series.)
On their favorite seasons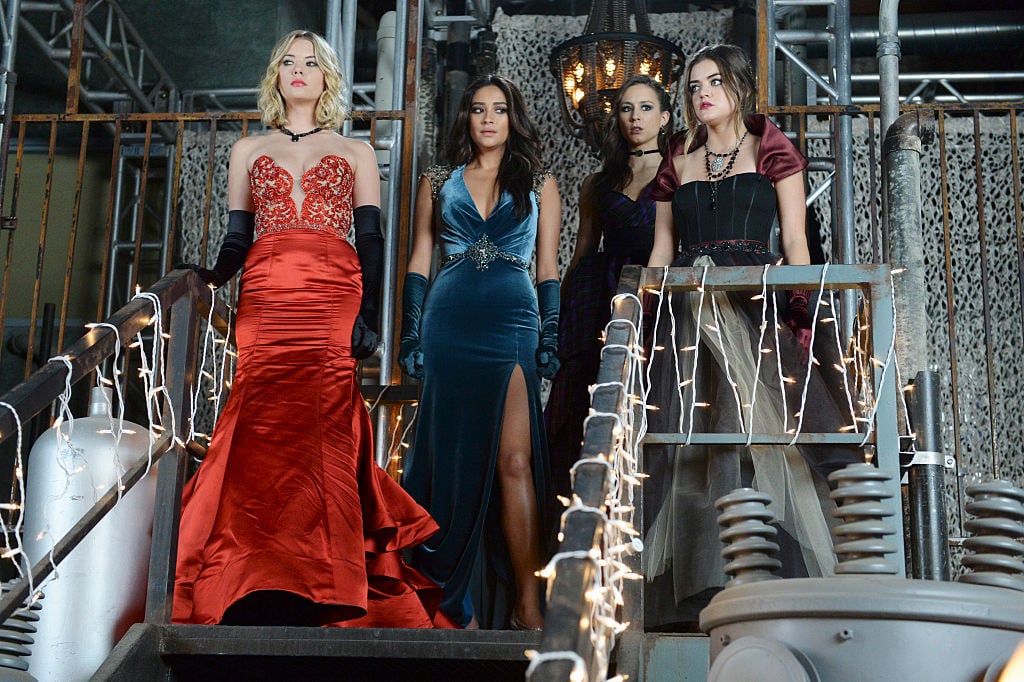 Even with all of the embarrassing moments, this time in the series led was nearing the peak of PLL for the cast. Of his favorite season of the show, Harding said, "I loved, as some would call it, the great leap forward," in the second half of season 6. "It was such a great tool to just jump forward five years and now we find these characters at different parts of their lives."
For Bellisario, her favorite time was actually just before that, when the girls are in the dollhouse at the end of season 5 and beginning of season 6 (seen above). She said, "That was when it felt like we really, as a show, got what we were doing."
Source: Read Full Article